Europeans 2019, day one: Zagitova in the lead, James and Cipres close to their big dream
January 24, 2019
By Titanilla Bőd (Új Szó)
Photos © Oxana Shkrebtienko (LMDJ)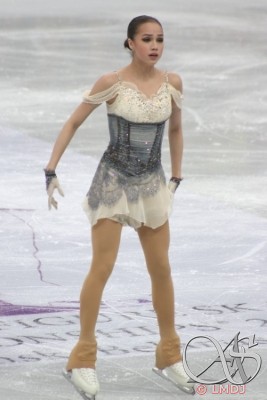 Change can appear in different forms and have different effects. Skaters competing at the European championships in Minsk have experienced different kinds of changes (changing phones, programs, continents...), but one fact seems unchangeable: both leaders after the short program, Alina Zagitova for ladies and Vanessa James and Morgan Cipres for pairs, are truly loved by the public.
Cutting off the wire
Alina Zagitova placed only 5th at Russian Nationals. A disappointing result for the Olympic champion, but she didn't let this affect her. "If something doesn't go so well, I'll start the new year fresh and leave everything that was bad behind in the old year. That's what I did. I only take the good things with me. After Russian Nationals, my parents took away my phone and gave me another one, without internet, so I'm now reading books and studying for school. Studying is important, I won't do figure skating for my whole life," Alina told the press after her performance, which earned a huge applause in the Minsk Arena.
She landed a triple Lutz - triple loop combination, a double Axel and a triple flip and earned 75 points. This means she is in the lead, while Sofia Samodurova is second and Alexia Paganini is third.
There could be a big battle for the bronze medal, because the difference between Paganini in third place and Laurine Lecavelier in sixth is just 2.35 points. Viveca Lindfors is only 0.03 points behind Paganini, while Nicole Rajičová in fifth place earned 1.56 points less than the winner of the small bronze medal.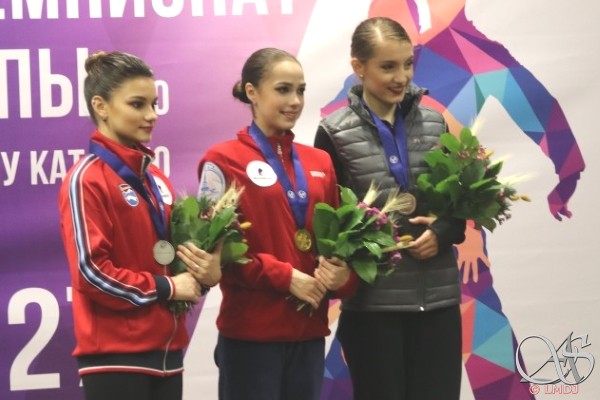 New life of Nicole
Rajičová had previously been in the top six twice at the Europeans, so her result shouldn't be a surprise. However, after the Worlds in Milan she decided to have a completely new life. "I was fed up with skating. I put away my skates and thought: 'I have achieved what I wanted, why suffer more?'" She started working, but then made another change: despite being born and raised in the U.S., she moved to Bratislava, the city of her origin, where she has a big family. She started working as an analyst and soon realized that in a relatively small city it's easier to fit skating into her time schedule. "I try to practice six times a week, I keep in touch with my coach Igor Krokavec and my father via FaceTime. I send them videos and discuss my elements. I set different goals than before, I had to re-learn all the jumps. I definitely did not expect such a performance in Minsk, my goal was to skate two decent programs," Nicole confessed in the mixed zone. Her short program to "Love Story" was more than decent: it contained a triple Lutz - double loop combination, a triple loop and a double Axel, all level four spins and steps, and all elements earned a positive GOE. Nicole had tears of joy in her eyes when she finished skating.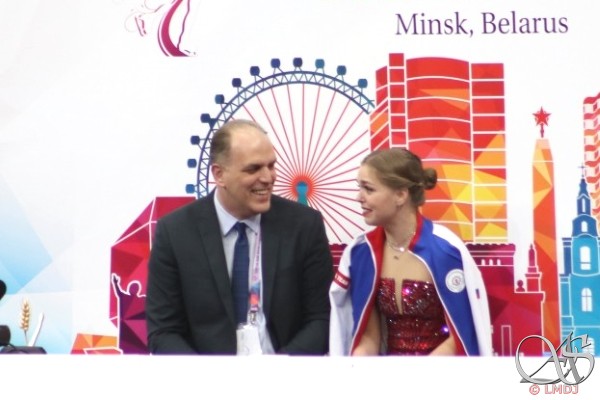 Pairs and emotions
Lot of fans had tears in their eyes when Vanessa James and Morgan Cipr├Ęs finished their short program to "Uninvited" by Alanis Morisette. They lost some levels at the spins and steps, but the whole impression of their passionate and powerful program couldn't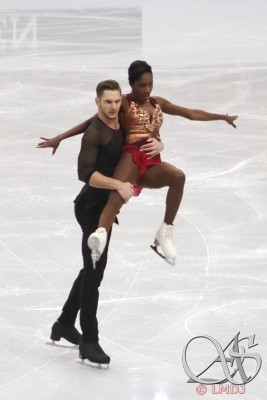 be spoiled by those minor things. Once again they enchanted the audience and earned a personal best score of 76.55 points. "We've had a few errors in our short program in the middle of the season so we had to go back and rethink what was missing and what to make better. We weren't sure how it was going to be, seeing as we hadn't performed it in competition but we are very proud and happy to have made these changes," Vanessa James explained.
Defending champions Evgenia Tarasova and Vladimir Morozov made an even bigger change: they got back to their last year's short program, Piano Concerto No. 2 by Sergei Rachmaninov. "Our coach convinced us that we should go back to it. Or maybe he insisted on it," Vladimir commented on this decision after their performance. It was not flawless as Evgenia wobbled on the triple toe loop. "It was a bad mistake and after that we couldn't really show the full set of emotions that we would have felt with a clean skate," Tarasova admitted. The Russian pair is second with 73.90 points, while the Italian duo Nicole Della Monica and Matteo Guarise are currently third with only 0.20 points less, after performing a very energetic short program to Joe Cocker's "Never Tear Us Apart". How to achieve such a feat? Matteo gave us the recipe: "We push every day at our maximum, every movement, with our choreographer screaming at us, 'stronger, faster, stronger, faster, push, push', and you keep falling and falling. Then one day comes when you stay on your feet and skate a good program, when you can show not only good skating but good emotions, and I think that is the only way."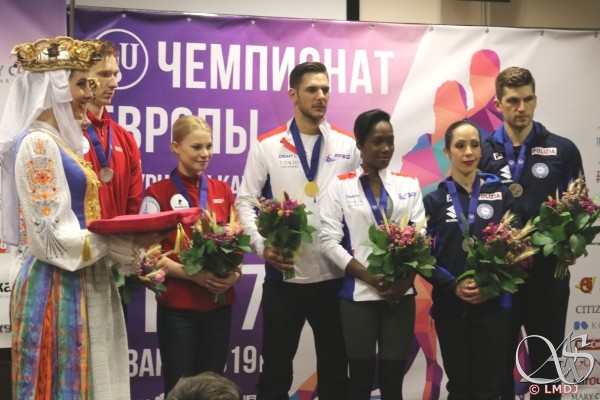 Don't miss our social media updates (containing text updates and fun pics) on Twitter and Facebook.