Europeans 2019, day three: Sofia Samodurova crowned European queen
January 26, 2019
By Titanilla Bőd (Új Szó)
Photos © Oxana Shkrebtienko (LMDJ)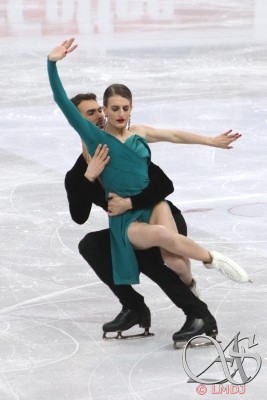 Sofia Samodurova climbed from second to first position in ladies free skating at the Europeans in Minsk. There is no surprise in ice dance competition, reigning champions Gabriella Papadakis and Guillaume Cizeron are in the lead.
Favourites in the lead
Rhythms of tango filled the air in Minsk Arena in the afternoon during ice dancers' rhythm dance. As expected, four-time European champions Gabriella Papadakis and Guillaume Cizeron are in the lead. They showed their trademark airy and soft style even in such a characteristic dance as tango, and earned a new season's best, which in their case means a world record: 84.79 points. "It all went really well. We are proud indeed of what we have done. Technique-wise it was on point as well," Gabriella commented on their performance. She also spoke of what they feel about always being favourites: "It's true that this is a situation we're in since a few years, but in any case, the competition isn't decided in advance. Even if it might seem easy from the outside, for us it's not and we always fight. Indeed, it also adds pressure."
"We were really concentrated on all the technical elements that we've been working on. Indeed, it's only the second competition of our season. For me it didn't feel like it was the best performance that we could show, but it's interesting to know that even if we're not at 100% we can still deliver," Guillaume added.
Over 80 points
Only two couples surpassed 80 points in Minsk. The second one was Alexandra Stepanova and Ivan Bukin, who earned 81.37 points for their energetic tango. "We loved the crowd that supported us so much from the beginning to the end. Ice dance to us is when you show your emotions, your theatre, your show and the technical part at the same time. This is what our sport is about. We're very happy to have surpassed the 80 points, especially at such a competition as the European Championship," Alexandra told the press. Ivan Bukin always has a smile on his face, but this time it was even wider. "When you go out on to the ice, you're a bit nervous anyway, but when the crowd starts to cheer, to support, then all your fear goes away and you're feeling the energy. This is amazing, great," he said.
Italians Charlène Guinard and Marco Fabbri had to skate right after the Russian couple, but they didn't allow to be bothered by their competitors' high score. "We didn't think about it. It changes every competition. Sometimes the couple before us had a high score, but maybe after we have a higher score. We don't think about it. We just think about our performance," Charlène said. This time they received 79.05 points from the judges.

Costly fall on twizzles
The tango of Victoria Sinitsina and Nikita Katsalapov is often referred to as the best tango of the year. It really has all the attributes a tango must have: passion, fire, power, even some cruelty. But this time, the Russian dancers experienced the cruelty of skating gods: Nikita fell on a twizzle, Victoria also lost her balance. This mistake cost them lots of points and they are currently only fifth with 70.24 points. "We were well prepared and fully under control and together, but there was just this embarrassing and frustrating mistake. We had to switch our thoughts off and just keep going," Victoria stated. Nikita covered his face in his hands in the kiss and cry. "I went in to the twizzles perfectly and confidently, I controlled the entry and rotation, but I just came down, I don't know exactly what happened. I can't excuse it or justify it. Maybe I hit a tracing in the ice, I'm not sure. I can only apologize for my mistake and thank the crowd. If they hadn't supported us so well,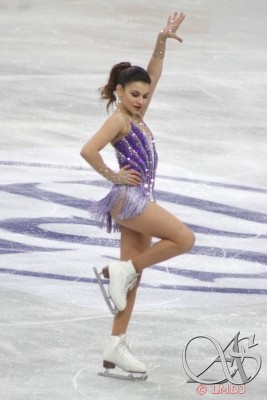 I don't think I could have come back from it. I'm so disappointed," he said in the mixed zone.
A new name to learn
Sofia Samodurova, European champion. Since Friday evening it is true. The young student of Alexei Mishin delivered a perfect performance of the free skate in Minsk. She landed seven triples, including a triple flip - triple toe combination and technique-wise she had the strongest program of the night.
"I am overwhelmed by emotions now, I can't find words to describe what I am feeling now. I am European Champion and that's so awesome. My coach told me to stop crying, but I can't, these are just my sincere emotions. Probably I am happier about the fact that my coach is pleased with me. I didn't know how Alina skated. I tried not to listen to her score before I skated and just focused on my own program," Sofia commented on her result.
A huge teddy bear as consolation
Alina Zagitova has been struggling throughout the season, but in Minsk she was flawless in the short program. In the free skate, however, she made too many mistakes - fell on the second jump of her triple Lutz - triple toeloop combination, there was a big error on the solo triple Lutz, and some wobbly landings on both triple flips. In the free skating Alina ranked only fourth, but overall she managed to keep the silver medal.
"Every medal is good, and today I could have easily ended up without any medal," she admitted at the press conference. She couldn't really answer what happened, and she seemed heartbroken and devastated, although trying to stay professional. A huge smile appeared on her face when she was asked about a present - a gigantic teddy bear that two flower girls had to carry off the ice. "I actually haven't seen the bear yet, but I'll probably take it home."
Bronze for Finland
It's been seven years since the last European medal of a Finnish lady - Kiira Korpi won the silver in 2012 in Sheffield. In Minsk, Viveca Lindfors stepped on the podium. She was fourth after the short program, but had a real shot at the bronze, and she took the opportunity. There were some minor errors in her program that contained six triples, but it was still enough for Viveca to reach the podium. Stanislava Konstantinova delivered the second-best free skate of the evening, but she lost too many points in the short program, so she ended up fourth.
"It feels a bit surreal because I have wanted this, but at the same time I can't believe it's true. I'm so happy because in the six minutes warm-up I felt my back was worse. I was so nervous, but I just went for every jump and it worked out. My general goal was to feel good in the ending position, to feel like I gave it my all and I think I did," Viveca said happily.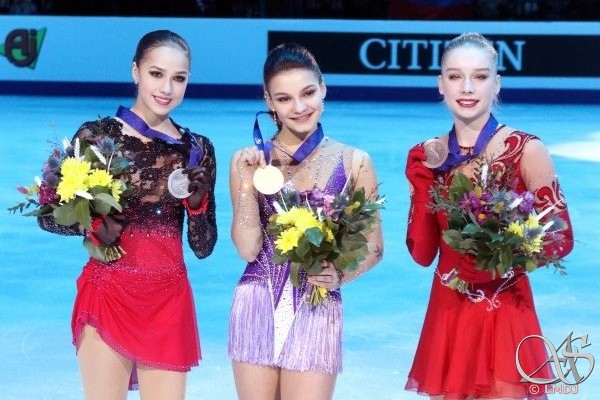 Don't miss our social media updates (containing text updates and fun pics) on Twitter and Facebook.