Europeans 2019, day four: Javi says goodbye in style
January 27, 2019
By Titanilla Bőd (Új Szó)
Photos © EMJO (EMJO-EYES Photography)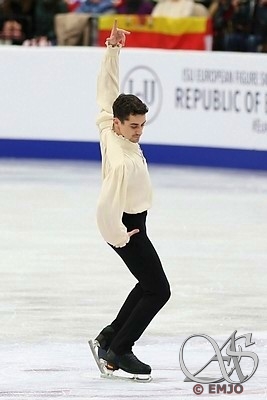 Javier Fernández ended his spectacular career in style at the Europeans in Minsk, where he was crowned champion for the seventh time in a row. French ice dancers Gabriella Papadakis and Guillaume Cizeron danced to the top for the fifth time in a row.
Rise and fall
There weren't many flawless performances in men's free skating in Minsk Arena on Saturday. Skating first in the penultimate group, Matteo Rizzo lifted the crowd from their seats with his passionate and technically packed free skate to "Bohemian Rhapsody", but at that very moment nobody could expect they were clapping for the bronze medalist. "I feel really good, it felt very emotional at the end, as I reached the end of the program I was really giving everything I had inside," the Italian skater said right after his performance. Then he was sitting in the "green room" waiting for the others to skate, and he saw how almost everyone faltered. "Of course, there are a lot of emotions inside me, as going from tenth to third place was kind of incredible, and I'm really proud of myself and the work I and all my team have done. It brings a lot of joy and emotions, so I'm really happy about this. It was very unexpected because I was first in the third group so 11 skaters had to skate after me and there was a lot of time before the result, so we just watched and waited. We couldn't have expected this but it's amazing," Rizzo commented later. Michal Březina, known for his trademark triple Axel, struggled with this jump and with his quads, Maxim Kovtun almost didn't have a clean jump in his program, Daniel Samohin missed his quads and the chance to grab a medal… "It was the first time I went for two quads and I think the pressure got to me a little bit, my legs got tight at the end of the program and that's where the mistakes came. I'm happy with the beginning but I'm very disappointed with myself about the end of the program," Březina said with self-criticism. "I wasn't at practice this morning because we thought that might be better, but honestly that was a bad skate," Kovtun commented on his performance. Daniel Samohin couldn't really find words: "No comments really. I don't have much to say, unfortunately." On the other hand, it was great to see new faces, skaters from the new generation, like Daniel Grassl or Kévin Aymoz, leaving a significant mark on international level. "I was really excited for my first Europeans and I've really enjoyed it," Daniel Grassl, who finished 6th, said. "I am proud of myself because I fought to the end even if it was difficult," Kévin Aymoz added after his 4th place.
The greatest show
Skating to the energizing melodies of "The Greatest Showman" Alexander Samarin left his all on the ice. He delivered the technically hardest free program of the day, with a quad Lutz, a quad toe loop and two triple Axels, and even though at the end of the program he looked very tired, he fought till the end and got a reward: the silver medal. "It was tough emotionally and mentally. Obviously, you want to be among the leaders, and this is a big responsibility. I tolerated the physical pain until the end of my program. Yesterday I tried to talk less to people, I was focused and only answered to the messages of relatives and the closest people. I am endlessly happy that I was able to make not only myself happy, but also my coach, she is pleased with me. But I want to note that I made many mistakes, there were shaky landings, many jumps were 'dead', there was no energy left," Samarin said.
Farewell of a legend
The ice was still covered with presents for Samarin when Man of La Mancha took the ice for the very last time as a competitor. Some of his fans were worried about his stamina because of lack of practice, however, Super Javi, as he is known, left no doubt he is still in top form and can deal with any pressure. It was not a flawless performance, but it was clearly the best performance of the day, a performance worthy of a champion. "I think it's good for the world to know that not only skaters from strong countries can appear. Everyone has his own story to tell. I hope I can develop skating more in my home country, try and make it bigger, but I hope with the work I was able to do I've made history, and in 20 years some people will still recollect my name. Maybe not, we'll have to see, but I'm proud of what I've done and still have a lot of work to do to make it even better at home for figure skating," Javi said at the press conference when asked about his legacy to the sport. Throughout his career he reached an incredible consistency, always doing his best when it was needed. What was his secret? "I think you need to understand the person you are and the kind of athlete you are. Pretty much the people around you will tell you that. At the end of the day a skater has to be complete, and that doesn't mean five or six quads in a program but being complete," Javi explained.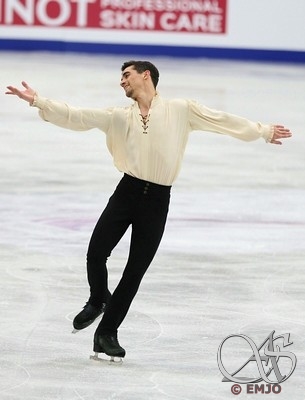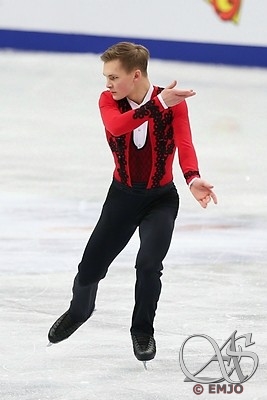 Kolyada hitting the ice hard
Mikhail Kolyada had it all to stand on the podium in Minsk. He had a real shot even for the gold medal, being the leader after the short program, earning almost ten points more than Fernández. However, he couldn't live up to the expectations. He fell on his opening quad Salchow, then he landed the quad toe, but fell again on triple Axel. And it was a hard fall, he grabbed his hand with a painful grimace. Nonetheless, he continued the program, but there were just too many errors. In the end he finished fifth. "I fell on the Axel and it started to hurt. I don't know what happened, but maybe it is broken. I broke my right arm about ten years ago when I slipped on the street after rain and it kind of feels the same. But I didn't think about stopping. No matter what happens, I wanted to skate the program to the end and show the maximum," Mikhail said.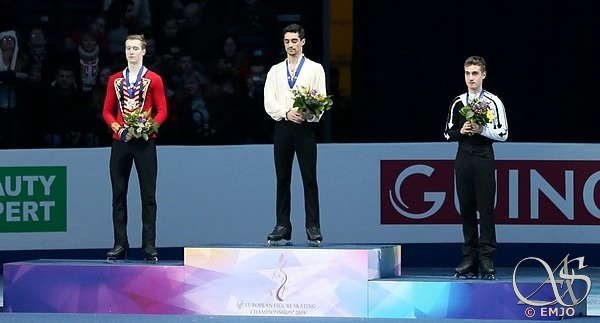 G+G close to perfection
You might say their domination is boring. You might say they are not taking risks with changing their style every year. But when you watch them on the ice, their fine movements, their lightness and crystal-clear elements, you realize that Gabriella Papadakis and Guillaume Cizeron are winning consecutive gold medals for a reason. And this reason is that they are on a different level than anybody else in the current field.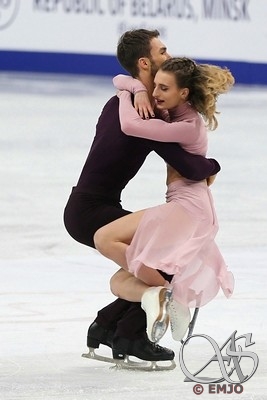 "We are really happy, that skate was almost technically perfect. The crowd was really uplifting, and we couldn't be more grateful to them and to be surrounded by our amazing team. We remember this arena from Junior Worlds, and I remember it seemed really huge then. It still seems pretty big now, but the crowd really lifted us and helped our performance. The fifth European title is probably a little bit less of a surprise than the first time, but we are still so proud of what we achieved," Guillaume said after their lyrical free dance. The silver medal went to Aleksandra Stepanova and Ivan Bukin, who gave their all in their dynamic free skate. "For us it is really nice to get the silver medal after we had two bronze medals at the Europeans. It is a big step forward for us," Ivan Bukin said with his trademark smile. Italy got another bronze medal thanks to Charlène Guignard and Marco Fabbri and their "La La Land" free dance. "We've worked a lot throughout this year. We started from less than zero. I was a single skater before I started my ice dance career and, with her previous partner, she never really achieved a high level. Step by step, we built a strong partnership on the ice because off the ice we were a couple. It's really rewarding," Marco Fabbri revealed their story.
Minsk memories
Minsk is not really a city that captures the heart of a tourist, but for figure skating fans it will remain a special place forever. It will be the city where one of the biggest icons of the sport had his last performance, so in some ways it will be a symbol of the end of an era. It was the era of this cutie Spanish guy, who had funny and enjoyable programs, and who showed the whole world that with hard work everything is possible. He's become one of the best, most complete skaters of the world, who will be remembered for decades. It was an honour to follow this extraordinary career.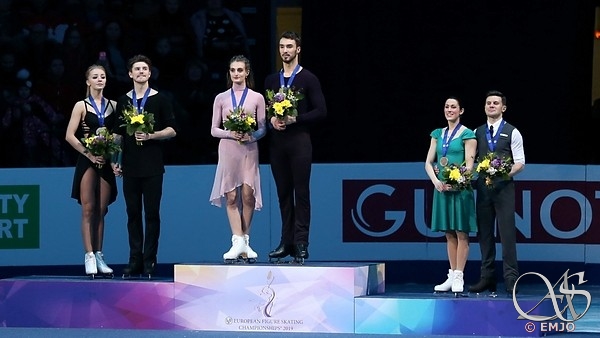 Don't miss our social media updates (containing text updates and fun pics) on Twitter and Facebook.