2019 Euros tidbits
February 6, 2019
By Reut Golinsky
Photo © Reut Golinsky
When you work during a big event, sometimes there really isn't enough time to process all the information you're constantly receiving; usually you need a few more days to digest and put in order your memories and experiences. This article is our attempt to recall the moments and share with you some more of the highlights from the 2019 European championships in Minsk.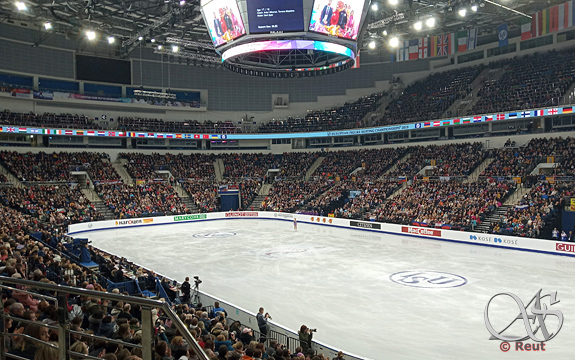 5-year challenge
Being in trend with the recent social media tendencies, it's interesting to look back at a similar "highlights" article we had after the Europeans 2014 in Budapest. Five years is a long period for figure skating — two Olympic Games were held since, and a new generation has grown up both in Europe and in the world.
Only one journalist from Spain was accredited in 2014, he introduced himself as "that one journalist from Spain" before asking questions. Of course, with years and with more and more success Javier Fernández has been gaining, the interest of Spanish media has grown significantly.
Tomáš Verner gave us journalists many funny moments during the press conference back then, the official site even jokingly proposed selling tickets to press conferences next time. Now, five years later, everyone can enjoy all the press conferences thanks to the ISU live streams on the social media platforms. Tomáš continues to be funny and lovely, but now only as a coach and sometimes as an official.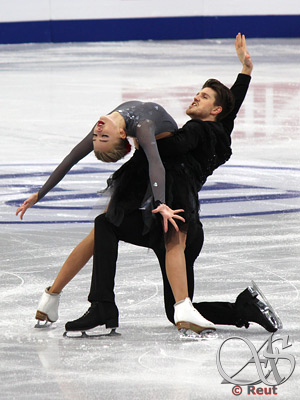 Anna Cappellini and Luca Lanotte, Nelli Zhiganshina and Alexander Gazsi, Peter Liebers, Julia Lipnitskaia, Konstantin Menshov, Kim Lucine - they all have moved on since then; some are more involved in skating, some less. Curious fact is that Pavel Ignatenko, also mentioned in that article, musical editor and harmonist for his fellow skaters even back then, is now working as a musical producer and DJ; he participated in the event this year... as a DJ for the after competition party.
New generation of skaters has come, new faces have become familiar. During the season 2013-14 we couldn't know yet they will become prominent players on the European arena. Evgenia Tarasova and Vladimir Morozov were still competing in juniors, although showing a lot of promise already. But we hadn't even heard about Alina Zagitova, who didn't compete at the international level then, same with Sofia Samodurova. Mikhail Kolyada won his first junior Grand Prix medals that season, while Alexander Samarin has landed his first triple Axel in competition, and Matteo Rizzo finished 30th at his first Junior Worlds. Alexandra Stepanova and Ivan Bukin were quite struggling in their first senior season, their first Europeans and first European medal will be only in 2015. Gabriella Papadakis and Guillaume Cizeron finished 15th in Budapest; their soaring rise will start only a year later, with their first European gold and four more to come.
Mixed zone pros and cons
A lot of things happen simultaneously during the competition — practices, performances, draws or press conferences, mixed zone interviews. You can't be everywhere and by choosing something you always miss something else. For example, if you go down to the mixed zone, you miss performances which come next. But then sometimes you might experience unique moments there which you couldn't witness otherwise, like it happened during the last warm up group of pairs' free skating.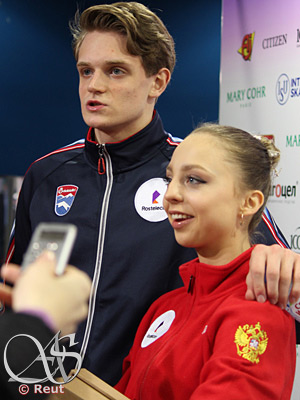 Aleksandra Boikova and Dmitrii Kozlovskii were not in the mood to talk to the press. Dmitrii made a mistake on their side by side triple toe loop which could have costed them a medal. "We don't have much to add, we already discussed all these things yesterday [after the short program], European championships are amazing... the public here is wonderful... organization is on a very high level..." Dmitrii was telling with slight annoyance in his voice. "You know, sometimes athletes make mistakes which can't be explained, I made mistakes on [side by side] jumps only 2-3 times during my whole career. It was just a stupid accident, even though it's generally accepted that nothing happens by chance; maybe it was stress, maybe the fact that this competition was too close to the Russian Nationals which was the most important competition for us and we gave everything there... You need to understand that we're not robots, we're human beings and we make mistakes. A lot of factors — external and internal — influence what we do; whatever happened today, happened, we can't say what will happen next, we'll be working towards our next competitions and..." He stopped in the middle of the sentence because the points for the Italian pair were being announced. When they saw that they were above the Italians in the final standings, which meant at least a bronze at that point, the mood in the room switched completely! There were a lot of hugs and laughter, and words about miracle and a merciful fate. They stayed for much longer in the mixed zone, answering all the questions and even hinted that they had a new exhibition choreographed especially for this event. "And now we know that we didn't prepare it in vain!" Aleksandra noted with laughter. "Tamara Nikolaevna [Moskvina] definitely knew something," Dmitrii joked.
Shira Ichilov and Vadim Davidovich about their first Europeans and being strong together
For the Israeli ice dance couple Shira Ichilov and Vadim Davidovich it was their first European championships, and the fact that Vadim comes from Minsk made it even more special.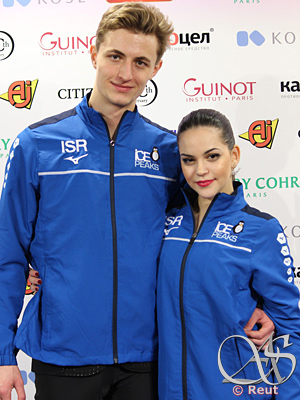 For me personally this talk was special because for the very first time in my career — and quite possibly in the history of figure skating? — this mixed zone interview was conducted in Hebrew. Well, partially in Hebrew as Shira's Russian has improved much more than Vadim's Hebrew, so in the end we switched to Russian.
You just finished your rhythm dance at your first Europeans and qualified for the free. How does it feel?
Shira: The feeling is really good. I think we came here first of all to compete with ourselves, but also to show ourselves to the world, and it felt great.
Vadim: For us it was a very important "rehearsal" towards Worlds, to qualify for the free dance there will be more difficult. And we tried ourselves here on this high level of the competition, in such a big venue, with such a big crowd...
Have you never performed in front of such a big audience before? Not even at Junior Worlds?
Shira: Not as many people... not like here.
Vadim: There was a lot of public, but less than here. To tell the truth I care less about how many people watch us. The moment our music starts I completely retreat into myself and see only Shira. We're together and it's less important who is nearby and what is happening around. Even if we're doing a step sequence in front of the judges, I look towards them, but don't see them. And only at the very end, when we strike a final pose, I notice all these spectators.
The audience was very warm and welcoming today, I enjoyed performing here. You know I was born here, in Minsk, I skated here...
So you probably have a full stand of friends and relatives here?
Vadim: Well, yes. (laughs) They all came to cheer for me. But I also like this event in general, the hotel, the rink...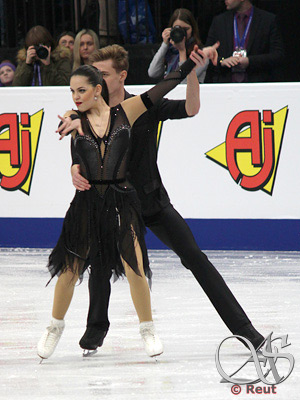 This arena is not new for you, right? You've already competed here.
Vadim: Yes, we've been here two years ago for the "Ice Star" competition. But then, of course, the audience was much smaller. It was exciting to perform today, but it was a nice feeling.
Tell me a little bit more about your programs.
Vadim: Music for our rhythm dance was chosen fast, with the help of our coach Galit Chait. She proposed "Chicago", we thought about it for a week, and then started working on it. It was choreographed by Galit and by Alexei Gorshkov, who came to our rink and spent a month with us helping with this program. We're satisfied with how we skated it today; this is how it was planned from the beginning of the season.
Alexei also proposed a musical piece for the free dance and we even started choreography, but then I convinced everyone that we need to change it. We spent another month looking for music and in the end we took "Notre Dame de Paris".
I saw this musical; I also watched various performances to this music, trying to learn how to express it and all the emotions it brings. I was especially inspired by Meryl Davis and Charlie White's routine (free dance during the season 2012-13). Every week, sometimes even a few times a week, I was re-watching their program and I felt that I really wanted to skate to this music too.
At the Israeli Nationals this season there was another ice dance couple, in juniors, who train with you and who also use "Notre Dame". How did this happen?
Shira: They came to our group with their free dance ready, and we were already working on our program back then. So it was just a random coincidence.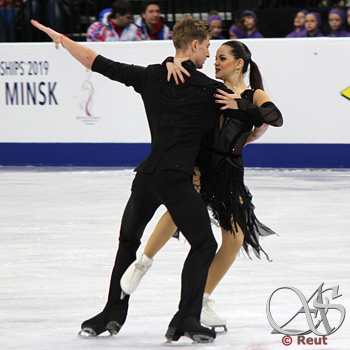 Do you portray any characters from the story or is it more abstract?
Vadim: It's something more abstract. It was also determined by the musical pieces we chose. For example, if we've had taken "Belle", we could portray Esmeralda...
Yeah, it might have really suited Shira to be Esmeralda...
Vadim: Yes, but it suited me less to be Quasimodo! (laughs)
So which abstract ideas, thoughts, and feelings do you show?
Vadim: We have three pieces and three parts. In the first one we show our feelings towards each other, in the second one our connection is broken, we argue and fight. And in the third part — the strongest one — we're united again and go against the whole world.
Shira: And when we're together, we're strong!
Deniss Vasiļjevs about being "charged up" by his fans and chances of adding spirals to his programs
In the mixed zone after his free skate Deniss addressed our serious and less serious questions about his season, fans and more.
You had huge support here in Minsk, including during all your practices. How important is it for you? How much is it needed?
I think it's very important for me, I find that it gives me extra power,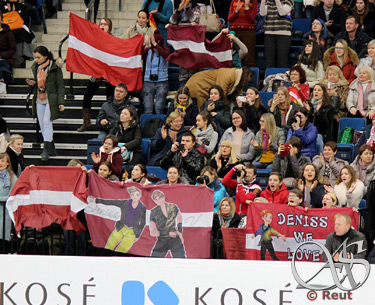 extra confidence and satisfaction, especially when practices go well and there are fans who are supporting me and cheering for me, because my practices are like mini-shows for me. All this support helps me and really charges me up.
So did you feel "charged up" enough here?
I think so. The fans were super nice to me during the practices, it helped a lot. Unfortunately I couldn't really perform the way I wished, but every time it's a new experience and knowledge gained.
Last year at Europeans you were third after the short program, fourth overall. Did you have any expectations, plans for this year? Or do you have more of "every competition I start anew" approach?
Basically it's closer to the latter, but from myself I did expect to show a quad, because lately I was doing clean long programs. I can't call my quad consistent yet but every day I succeeded to land at least one. So I expected from myself to do better than I did, because I was also much better prepared.
Last season you started much earlier, with Lombardia Trophy, but this season, not including Japan Open, your first competition was much later, in Minsk. Why did you decide to change the "rhythm" of the season?
Stéphane (who joined the conversation): I can answer that. I don't see it as starting later, we started with Japan Open, which was at the beginning of October. I think it was quite early actually, we took Japan Open as a competition to show the [long] program. I think it's important to have enough competitions, but it's also important to have competitions where you will show what you need to show.
It's sad that today he was not able to show what he can do in practice, because he has improved a lot in training, he is much more consistent, but unfortunately he couldn't show this consistency during the performance.
Let's move to less serious questions. Deniss, the highlight of the holiday season for your fans was your performance in dinosaur onesie (during the "Magic Circus" show in Champéry) and the spiral you did then. First of all, great costume, keep using it! Second, it was a very lovely spiral; would you consider adding it to you programs, maybe not competitive ones, but exhibitions?
We'll do our best. (smiles)
And another one - you mentioned once to you fans that you would have loved to do a cooking master class. It might be a bit complicated to do it during a fan meeting, but you can always do this as a live stream on social media or record a video of it. What do you think?
When I was asked about the master class, I answered what I felt, and I still feel the same way. I really liked that idea because it could be a different experience I never did, I'm sure not a lot of fans had something like that, so it could be fun.
But to make something with a video is pretty complicated if you want to make it well. It matters very much how you see things, how you see them the first time, and that makes it very complicated to do something like a video. It requires tons of work to really make it the way that the first impression will be powerful and positive.
Stéphane Lambiel about respecting his old rivals and unexpected challenges he met in Minsk
During the fan meeting on Saturday morning, Stéphane Lambiel shared his coaching wisdom with his fans.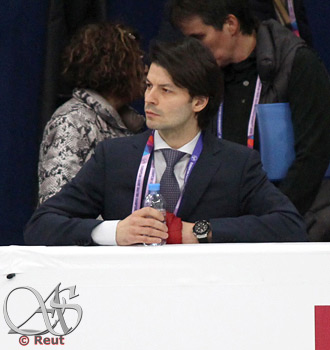 About the challenges he meets as a coach:
"You probably know me as a very emotional person. As a coach you need to put your emotions aside, you have to find the stability that creates a peaceful environment for your students. So that's a big challenge for me, but I'm working on it. I think the more I move forward, the more I learn about myself, the better I can work as a coach."
About his former rivals — Tomáš Verner, Brian Joubert, Evgeni Plushenko — now becoming his rivals as coaches:
"I was reading a text yesterday, with the title 'Are rivals your friends or your enemies?' They were and are my rivals, of course, but I see them as my friends. They are a part of my life, part of my job. I respect their work so much, as competitors before and as coaches now, I know how hard this job is, and I thank them for pushing me to improve myself."
About dealing with the situation when the student is not able to do what he/she is told:
"If the person is not able to do what I ask, then there are other things we can work on. For example, if it's a difficult jump we're working on, and I see that we're stuck, I will not force it. We will stop where we are, we will move to other things to work on and then, at the end of the practice, I will do the exercises that should help the problem that we faced. And if the person is not only not able to do it, but not able to go on the track to work towards something, then it's a different situation, because the mindset, the attitude is not there.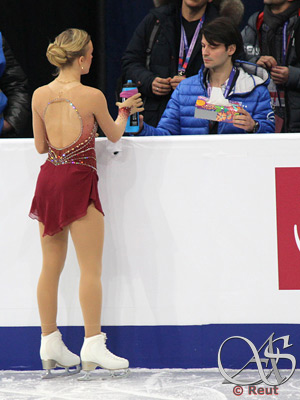 Then you have different ways [to solve it], usually it's a problem of frustration, of motivation, so you give them a break to come back to themselves. Or they can work on endurance, usually I give them endurance exercise either on the ice or I ask them to go to the gym and to bike, so that they can make their body work, and when you work on endurance your mind is released and you're back on track. There are many ways to work on a mindset; you just have to see how the student is doing."
About his main goals and tasks as a coach:
"The main point of coaching is to guide your student where he/she wants to go.
My task is to keep their environment positive, being a coach means to me that I need to put them in such conditions that they can express themselves the best they can. That's my role and that's my job."
Keeping an environment comfortable and calm for your student might require not only carrying around the things he might need, like water or tissues; sometimes it will require from the coach to be very resourceful and creative. Like when during the "Ice Star" competition in Minsk earlier this season Stéphane needed to find — and fast — elastic to fix Deniss' costume. This story (which is certainly a must-see) and many others, including the one about learning a throw Axel to broaden Deniss' skating horizons or his explanation about the necessity of one-sleeve costumes, can be watched on our FB page, where we streamed this fan meeting live. Just like we did last year, also at Europeans. So who knows, maybe it will become a nice tradition?
Facts and figures
The ISU European Figure Skating Championships were held in Minsk, Belarus, for the first time in history. Minsk has hosted the ISU World Junior Figure Skating Championships in 2012 as well as ISU Junior Grand Prix events.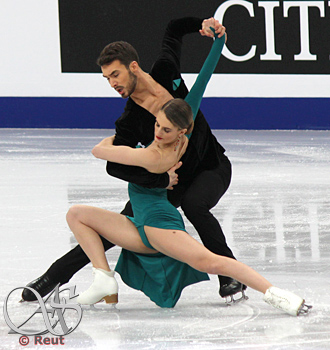 145 skaters from 34 ISU members had been entered for this 112th edition of the European Championships: 37 men, 36 ladies, 11 pair skating couples and 25 ice dance couples; among them Olympic and World medallists.
All six reigning European champions were back hoping to defend their titles in Minsk — ladies champion Alina Zagitova (RUS), men champion Javier Fernández (ESP), ice dance champions Gabriella Papadakis/Guillaume Cizeron (FRA) and pairs champions Evgenia Tarasova/Vladimir Morozov (RUS) — but only Javier, Gabriella and Guillaume succeeded in doing so.
39-year-old pair skater Zoe Jones (GBR) was the oldest skater competing at the championships, while ice dancer Marco Fabbri (ITA) was the oldest male skater. The youngest competitor was the 15-year-old Ekaterina Ryabova of Azerbaijan; the youngest male skater competing was Austria's 16-year-old Luc Maierhofer.
Based on the data provided by the Skating Union of Belarus:
105 000 spectators attended the championships, among them 90 000 were ticket holders and 15 000 were invited from schools and other organizations;
Around 30 000 tickets were sold to foreign fans from more than 30 countries, including Russian, Ukraine, Japan, Germany, Italy, Slovakia, France, Latvia, Lithuania, Czech Republic, and even Chile;
Over 400 representatives of the media, local and international, were accredited for this event;
The competition was broadcast in over 20 countries, including USA, China, Brazil, and Japan.
King of Spain bids farewell
Javier Fernández was the most experienced skater at the competition in Minsk, it was his 13th consecutive European Championships. It was also his last. The news that Spanish champion wants to compete for the very last time aiming to add 7th European gold to his medal count were announced long ago. We all came to Minsk prepared, but still not ready to say goodbye. The countdown has started: his last short program, last draw, last practice, last competitive performance, last K&C, last press conference... And when for the umpteenth time that day he was asked to maybe, just maybe consider competing for a bit longer, coming for another Europeans or making a comeback in case some major ISU championships takes place in his home country, he smiled and then politely but firmly said: "No."
It was not easy to accept that and he will be hugely missed, but he is not leaving the ice. He will continue to perform and bring joy with his skating, he will continue making a revolution, his revolution on ice.
And although he was modest or truly not sure about it but we are: in twenty years' time people will remember his name. They will remember "SuperJavi", who was very opposite from being a superman; he was a simple guy from Spain who started from the very bottom — 28th at his first Europeans, 35th at his first Worlds — and with a lot of work and dedication reached the stars.
Gracias, Javi, for your patience towards journalists, kindness to rivals and young skaters who looked up to you, for your beautiful and versatile programs, for always being an inspiration, for everything you did for this sport.