Maé Bérénice Méité: "I have goals and I am not a quitter"
April 10, 2019
By Maria Bagdasarova
Photos © Polymnia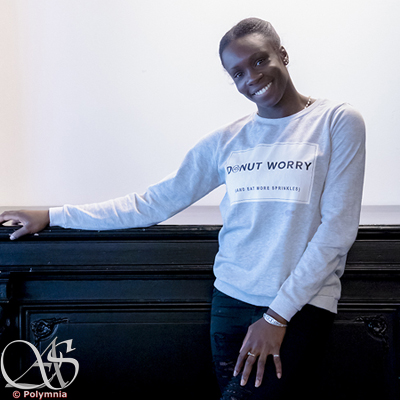 Maé Bérénice Méité has been competing internationally in the senior circuit since 2010 and she is one of the most seasoned athletes in the field. To the present date Maé Bérénice has taken part in nine European and five World Championships and represented France twice at the Olympic Games - in Sochi in 2014 and in PyeongChang last year.
Maé Bérénice however feels far from being done yet and sets her sights on another Olympics - in Beijing in 2022.
In order to reach her goals, at the end of last season she ventured a coaching change having moved from Chicago, where she trained under the tutelage of Shanetta Folle for two years, to Tampa to join the camp of Silvia Fontana and John Zimmerman.
"The work I did with Shannetta Folle for those two seasons helped me greatly. A lot of what I have now is the result of that work. My consistency, although I still need to work on it, is getting better, skating skills have improved. Shannetta is a big part of that. She did a huge amount of work that perhaps was not very visible at the time, but you can see the potential now. But after the Olympics I needed a team rather than just one coach. It is important to have different sets of eyes that can see different things. This way you improve even more than when you train with one person all the time and only occasionally work with other people. I wanted to be with a good team on and off ice for four years so that I could build something solid and would not have to change in the middle of four years. Now I have something set and keep on going."
Maé Bérénice does not deny that her decision was inspired by successes of her teammates, French pair skaters Vanessa James and Morgan Ciprès.
"I saw changes in the work of Vanessa and Morgan and loved what Silvia and John did with them. So I wanted to understand how they worked, what made them look that good, why they reached their goals. It was inspiring."
When asked where she finds motivation to keep on going when the technical level of figure skating has risen dramatically over the last couple of seasons, Maé Bérénice maintains that it is not about the age, but about goals one sets for themselves.
"I know that I have not done everything I could. I have goals and I am not a quitter. I will not lie, sometimes I do want to quit and focus on my studies.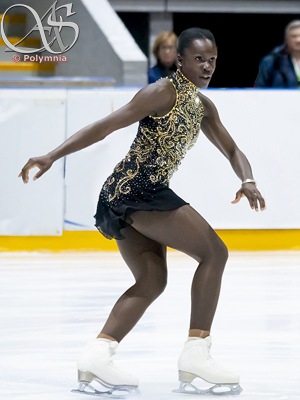 But I will not be able to do so until I feel that I have accomplished something for myself, for the country and for everybody who supports me. I learned to never give up on my dreams. And dreams are meant to be crazy, so I am crazy and I try."
Maé Bérénice Méité started her 2018/2019 season in September at the Autumn Classic International in Canada with a good outing which earned her a podium finish next to 2018 US Champion Bradie Tennell and two-time World Champion Evgenia Medvedeva.
In November she competed at two Grand Prix events - NHK Trophy and the Internationaux de France de Patinage - where she was placed 10th and 8th respectfully. She finished the calendar year 2018 on a high note by winning her fifth French national title.
At the European Championships in Minsk in January 2019 Maé Bérénice was 7th and although it was an improvement of her standing of the previous year, she finished behind her compatriot Laurine Lecavelier and was not eventually nominated to compete at the World Championships in Saitama.
"Europeans were hard to accept. It is always disappointing not to be the one selected for the World team, but at the same time it was a good way for me to learn about what I have to work on even more to be where I want to be in four years. For me the main goal is not now. Right now, I am just building something for the next seasons. It is always frustrating not to reach goals that you set for yourself, but at the same time, we are in this sport to learn and to enjoy. This season I have learned how to enjoy my skating more. Many people told me that my skating skills have improved, my programs were different, and that they could see a change in me. It is not the big change that I want yet, but if people can see some progress, it is good. It means that everything is now for me about more work, trust and confidence in everything I am doing."
In February, Maé Bérénice competed at the Challenge Cup in the Hague where she placed fifth. In both programs, she made errors in her opening jumps that were planned combinations and had to adjust the rest of the jump content.
"I had troubles with my combinations at the Challenge Cup so that is something I have to work on. But I skated more freely and enjoyed those performances much more than the ones I did at Europeans. In Minsk, I was more focused about the jumps and trying to gain points. In the Hague, I was enjoying being on the ice."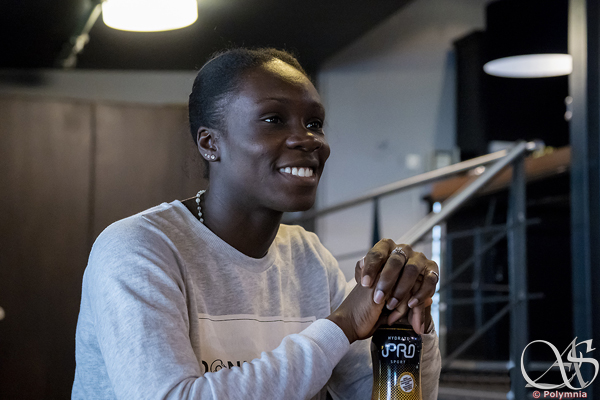 Maé Bérénice set a very specific goal of reaching 180 points overall for her last two competitions of the season - the 29th Winter Universiade in Krasnoyarsk and the World Team Trophy. In Krasnoyarsk she received the honour of being the flagbearer of the French team at the opening ceremony. She had two solid skates which earned her 179.56 points and a fourth-place finish.
"I want to post season's best scores, skate better than I did earlier in the season, trust myself even more and be confident in whatever I am doing. I am ready, I just want to show what I do every day at practice. Trust and confidence are the main goal."
Her short program for 2018/2019 season is to Rihanna's single Stay.
"We wanted something emotional. I am athletic and I have to do something that is fast and powerful. I wanted to show that you can be powerful and elegant. Together with the team, we listened to some songs of John Legend, Christina Aguilera and then we thought that Rhianna could be good too. John and Silvia were ok, I was ok with it, and we took this piece.
Creating the story of the program, I follow the lyrics. The program is about a lover who wants her lover to stay. I am just trying to feel that emotion. How I would feel if I wanted someone to stay."
It is obviously not the first time Maé Bérénice chose contemporary pop music for her routine, but this short program stood out in her repertoire for many people.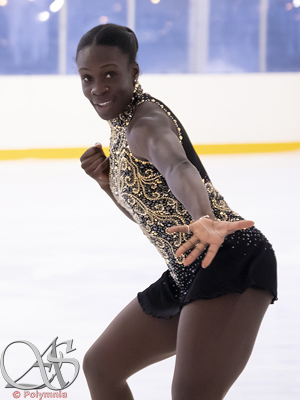 "It is about the work I have been doing and how I relate to this program. I can feel it and commit to the choreography. I do not think only about the jumps but really enjoy the in-between. It took me a while to be able to do that and I am glad that people can see it. It is a step for me."
She collaborated with 2014 Olympic Champion in ice dance Charlie White for her free skating to Nyah by Hans Zimmer from Mission: Impossible 2 soundtrack.
"I did a tour in Japan with Charlie in 2014, so I already knew him. He has many ideas and obviously knows how to move because he is an Olympic Champion in ice dance. The work with him didn't feel like work. We were creating on the ice, it was an amazing experience. As for the theme, I really wanted to do something Spanish. We looked for good music that would fit my personality and the body type and we came up with Nyah."
Maé Bérénice emphasizes that her training and everything around it has become more structured and she has a precise plan to follow.
"I am more rigorous with everything I do. I have a plan and habits. I can no longer train five-six hours without feeling tired like young girls do. My body is not the same. I suffered from an injury for four seasons. I recovered, but I am now more aware of details. With age and experience, you understand that everything is important - your diet, what you do off-ice, hours of sleep you get. Now I just piece everything together and hopefully in some time it will come together and you will see me do better."
According to her, the role of proper nutrition in skaters' performances should not be underestimated. She has been keeping to a new nutrition plan recently.
"It is more a lifestyle, rather than just a diet. I do not restrict myself, I can eat whatever I want, but I know how my body reacts to certain types of food and what kind of food I need, how much of it and when. I learned all of that. But it is also fun for me to cook, try new smoothies or freshly pressed juices. I know that my body is different from other girls. I am athletic and muscular. It is hard for me to look like others, but I try my best to be as fit as possible, so I can do what I need to do the way I am."
Shortly before the Olympic Games in PyeongChang last year, Maé Bérénice took part in the video production for the Olympic Channel where the anatomy of a figure skate was analysed through different tests. One of exams focused on brain and evaluated her reactions and abilities to get rid of distractions during competitions.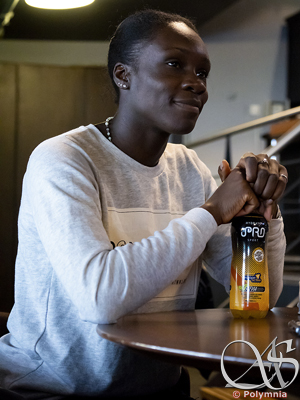 Before the free skate at the Challenge Cup in the Hague, she warmed up at the sold-out stands of De Uithof while the men's competition was under way. She explains though that her preparations differ from event to event.
"Each competition is different. Sometimes I like to feel the energy of the crowd. But I do not look at anybody, I stay in my world. It is similar to when you step on the ice and you hear all the people screaming for you. You do not see them, but you feel their energy. Sometimes I need that, but there are also times I need to be quiet."
Lately Maé Bérénice has been spending a sizable amount of her time watching figure skating competitions and when she competes nowadays, she does not leave the arena until the event finishes, she stays to watch others perform.
"When I was a child, I liked skating because it was fun. I liked speed and jumps, but I did not know much about the sport. I did not like watching competitions.
Earlier in my competitive career, I would leave once I was done. Today it is different. I have to see what others do to understand what I have to work on, where I have to go. This is how I evolve. Those people are better than me, and I want to reach their level. I do not know how long it will take me but if they can do it, why cannot I? It is a very good motivation. That is how I learn and that is why I have been devoting my time to watch others compete over the past two or three seasons."
One of the highlights of 2018/2019 season for her was being on the French team at the European Championships in Minsk where her French teammates Vanessa James and Morgan Ciprès won the title in pair skating and Gabriella Papadakis and Guillaume Cizeron clinched their fifth European crown in ice dance.
"I was there on the team in 2011 when Florent Amodio won his European title and Brian [Joubert] was second. It was a special moment. This season was special again when Vanessa and Morgan and Gabriella and Guillaume won in Minsk. You could really feel the true team spirit - everybody was happy for everyone. These are unique moments to share that make you appreciate people even more."
Maé Bérénice will have a chance to experience this special team spirit again very soon at the upcoming World Team Trophy where she will compete as part of Team France on 11-14 April 2019 in Fukuoka, Japan.