Europeans 2020, day two: Dmitri Aliev writes his glorious poem
January 24, 2020
By Titanilla Bőd
Photos © Joy & Mireille Geurts
Dmitri Aliev was crowned European champion for the first time in his career, while Gabriella Papadakis and Guillaume Cizeron are eyeing their sixth continental title. Thursday was also a very emotional day in the Steiermarkhalle.
The guy to be happy about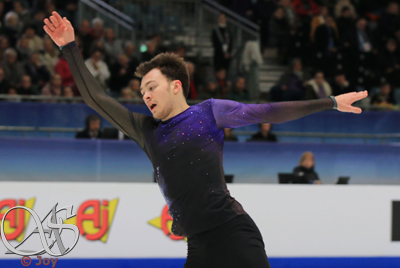 Three quads and seven triples, performed with extraordinary self-confidence to the powerful melody of the Sound of Silence. This is one way to describe Dmitri Aliev's free skating and it is technically true - but as a poem is much more than just the sum of the words and rhymes and metaphors, a figure skating program is much more than the jumps and the music.
What makes it a whole are the emotions, and the new European champion performed a very emotional free skate. He was crying on the ice when he finished it and he was crying on the podium: there is no doubt that Aliev is a deserved champion.
"The practices here were weird and interesting for me because before leaving I had a good practice, but prior to that I always made mistakes. Which of course makes you doubt yourself. But when I come to the competition I try to disconnect from all of that. Once I came here I was charged with energy, I love the atmosphere at the rink, the first time I entered the rink, I felt good, I felt at home. Focusing today was not easy and when the guys started the warm up and the first guys were skating my ears and elbows were on fire and I thought it's wrong. I told myself important words which I found myself, perhaps they helped me," Aliev explained.
Finding the right words is not unusual for him: in his spare time he likes to write poetry. In fact, he does the same on the ice. "I've been writing poetry - the things we live through... it's easier for me to work through when I put it on a piece of paper. Our sport is like a song or a poem and we write the program like a poem."
The guy to be sorry for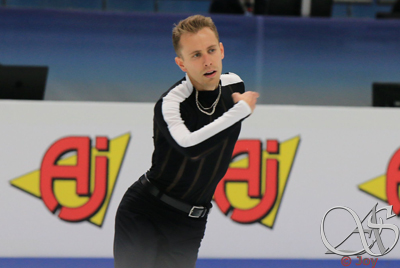 "Yesterday, love was such an easy game to play, and now I need a place to hide away..." The lyrics of the Beatles song became symbolic for Michal Březina. Going into the free skate as the overnight leader he could not repeat his performance from the short program.
He seemed very sharp in the six-minute warm-up, but he was the last to skate in the group and taking the ice before his routine he popped the Axel several times. He admitted that his legs were shaky and he would have needed a minute or thirty seconds more to get ready.
Březina opened his free skate with a popped Salchow, then he fell on his second attempt of the quad Salchow, but courageously went for it again ("As I popped the first one, I realized that I still have a slot," he explained it afterwards), just to fail again...
The rest of the program was clean, but it couldn't be enough for a medal, even though it was definitely within reach for Březina. After he finished his free skate, he was kneeling on the ice for a good few moments - it was a heartbreaking sight. "I was just thinking about what I'd just done. And I also tried to absorb the atmosphere, because who knows if I'm here also next year...", he commented on his thoughts. In the end he finished 7th, and placed in the top ten at Europeans for the 11th time in his career.
The gap I
0,03 points - that was the gap between the men's silver medalist Artur Danielian and bronze medalist Morisi Kvitelashvili. Both of them earned their first European medal; for Artur it is also his first European championship. "I did not expect to be on the podium. My goal was to show a decent skate, to make a name for myself at the senior level and to prove that I can compete with the senior skaters and look decent compared to them. I did a lot of work before Europeans, it was good, consistent and skating here is the result of the work we have done," the 16-year-old Russian said. Skating to an instrumental version of La Traviata he landed two quad Salchows and seven triples.
Morisi had three quads and five triples in his free skate. "We set the highest goals and I was trying to show my best skating. Today some things worked, some did not, I will keep working, to show better skating," he told the press.
Daniel Grassl had the second best free skate of the night but missed the medal by less than two points. However, he showcased his jumping ability by attempting and landing three different quads (one was underrotated), and the three not very common ones: Lutz, flip and loop. "I am very happy about my program. I was a little bit nervous but everything went as I expected. I got some underrotated jumps, which I didn't feel, but I will work on it and try to improve for my next competition. My favorite thing about today's free program is that I skated with all my heart and I gave everything that I had to the public," Daniel said with a huge smile.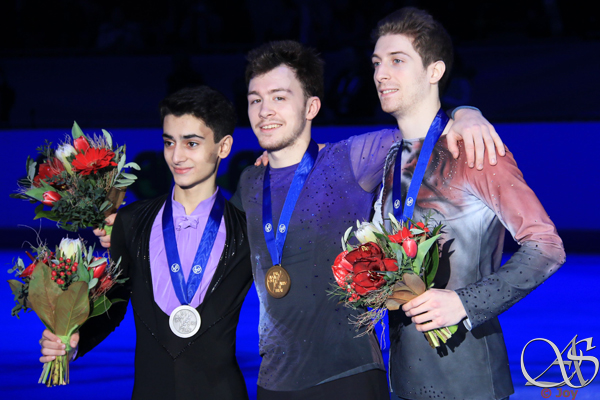 The gap II
0,05 - this is the gap between the leaders Gabriella Papadakis and Guillaume Cizeron and Viktoria Sinitsina and Nikita Katsalapov in ice dancing after the rhythm dance. The first position of the French was expected, the such small difference is indeed a surprise. But heading into the free dance none of the couples wants to look at their opponents. "We did a great performance, we are happy about it, we have almost the same points as Nikita and Viktoria. We are not really surprised. We did a good program, we skated well, and I'm sure they deserve to be there, too. We'll see on Saturday what happens," Gabriella told the press.
"We are motivated by our performance," Nikita said when he was asked if they are motivated by Papadakis and Cizeron.
Charlene Guignard and Marco Fabbri are third with a bit bigger margin, but they are also not bothered by the points difference. "We'll try to find our direction, we are not thinking about the result, we just want to perform well, have a great free dance even better than today and we'll see what happens," Marco stated.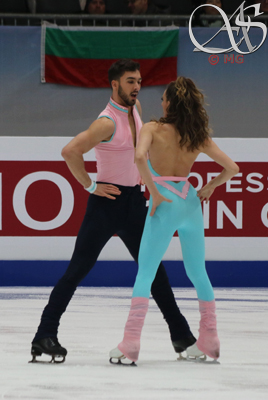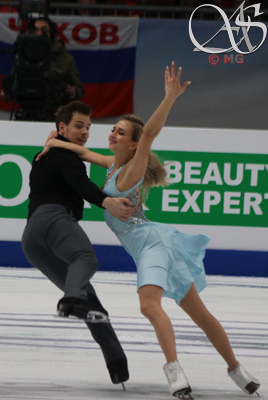 The rhythm
One, two, three, stretch!
Singing in the rain, just singing in the rain...
Grease lightnin', go grease lightnin'!
Melodies of musicals filled the Steiermarkhalle as ice dancers had a specific task for the rhythm dance this year - they had to choose from musicals. Some of them welcomed the idea, for others it was a step out of their comfort zone. "In France the musicals are not an important part of the culture unlike in the US. But we still have some and we've seen a lot when we were younger, a lot of French ones. It's probably not a style we would have picked on our own, so it was quite an exciting challenge to find something we could relate to and have fun with. It's different from what we were doing so far and brings back memories like a school dance of the 80s. We are having a lot of fun. We are surprised how much we love it," Guillaume explained about their music choice from the musical Fame.
Sinitsina and Katsalapov skated to Singing in the Rain; their coach helped them to find the right music. "Unfortunately, we were not able to attend any musicals this year but it didn't prevent us from picking our amazing music. Zhulin helped us choose it, and we were inspired by Kurt Browning also. We love that musical, it lifts our spirits and we don't have to pretend," Viktoria said.
Guignard and Fabbri have also chosen a classic piece, Grease, and it's obvious from their presentation that they are totally fond of it. Marco confirmed it: "We love musicals, we love Grease! It's one of our favorites and we enjoy performing to it. The hard part is that you have to stick to the character and you can't create your own. But we really enjoy our program, it's something we have fun doing."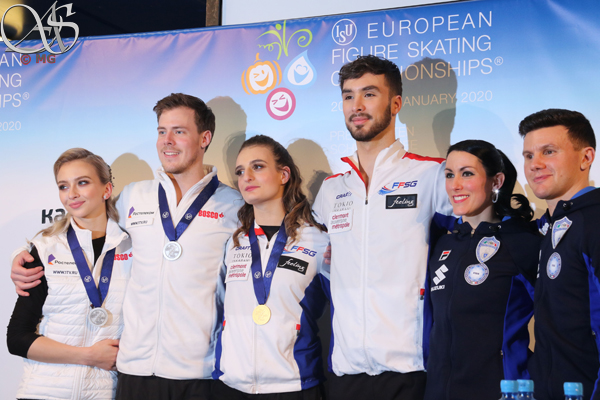 Don't miss our social media updates (containing text updates and fun pics) on Twitter and Facebook.