Europeans 2020, day three: Boikova and Kozlovskii take the gold and the hearts
January 25, 2020
By Titanilla Bőd
Photos © Joy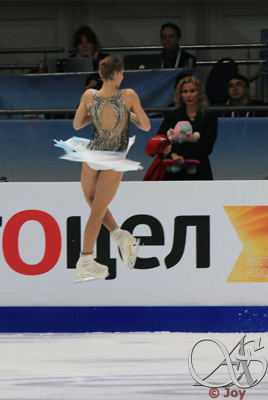 Russians dominated the third day of competition at the Europeans in Graz; in ladies three Russian girls are in the lead, and in pairs three Russian teams took the podium.
The letter
A, what else? The A-team earned A's for their performances in Graz: Alena Kostornaia, Anna Scherbakova and Alexandra Trusova delivered short programs of the highest technical difficulty. Kostornaia landed a triple Axel; Trusova also went for it, but doubled in the end. That doubled Axel was the only element among the three girls that earned a negative GOE; the three Russian competitors executed everything else with perfection.
Kostornaia is in the first place with 84,92 points, but she was not totally satisfied with her score. "Yes, I skated clean, I did all my elements, but I would love to improve with every competition and it seems I went down," she commented on her performance.
Scherbakova was more satisfied: "I loved skating today, I'm satisfied with my skate, it was a working performance."
Trusova was a bit disappointed about the Axel: "My coaches explained what the error on the double Axel was. The double Axel is an easy jump and I want to do a triple Axel so badly."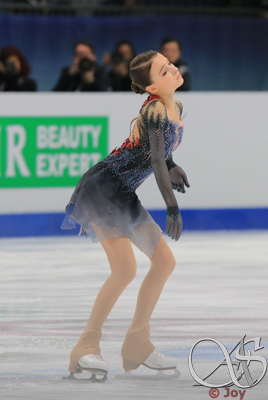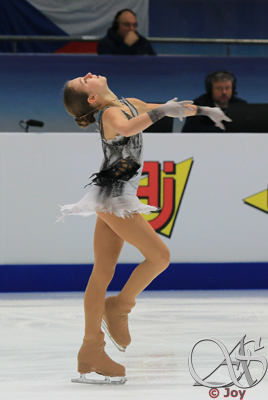 The girls giving it all
You don't have to be in the top three to put out a performance that gives joy to the audience and to the skater, and sometimes these moments are even more memorable. Alexia Paganini of Switzerland and Mae Berenice Meite of France had great fun out there on the ice.
For Alexia it meant the fourth place, and she didn't hide her joy: "I was really happy with my performance. I was actually pretty nervous, more than usual I think, because I really prepared the best ever going into this competition and I really, really wanted to deliver here. I fixed my levels now, finally I got all level fours."
Mae Berenice made the spectators dance with her energetic, dynamic performance to "Mas Que Nada", which was a demonstration of how enjoyable life is. "I had so much fun today. There was a triple-triple combination and I got a season's best score. My program is already fun but performing it in front of many people is just amazing. I feel like in Brazil during the carnival. The lady who made my dress is Brazilian, so she knows everything about the carnival, and we wanted to use the colours of the Brazilian flag. It also goes well with my skin tone," she said about her short program.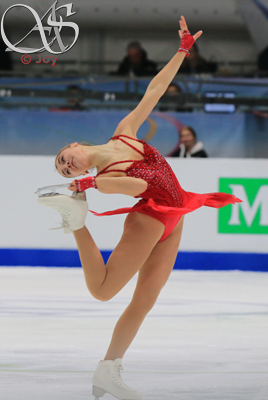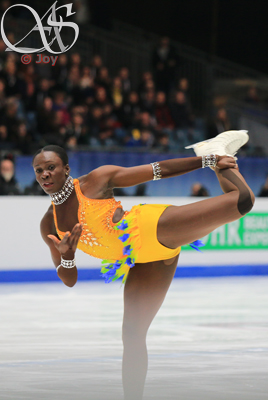 The sweep
Russia took all the medals in pair skating. Daria Pavliuchenko and Denis Khodykin skated to "Tron: Legacy" and impressed the audience with their unusual and creative lift and throw entries. "We are satisfied with our performance, except for one small mistake and one big mistake," Daria said. Denis added an interesting detail about his mental preparation: "I learn how to be not too calm. At the last competition I was too calm and relaxed and here this calmness started to bother me, so I was trying to prepare myself differently."
Evgenia Tarasova and Vladimir Morozov,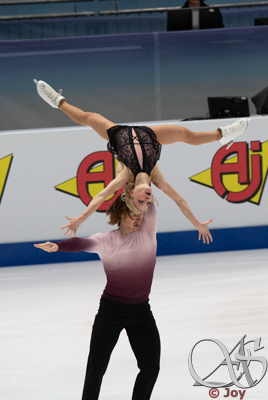 who skated to "Te Amo", were far from their best performance but they still managed to climb up one place and grab the silver, even though they had just a double Salchow and missed the combination. "Today it was hard to skate. The good thing is that the arena was full, and we could feel the support," Vladimir tried to find something positive in their Graz experience.
The door was wide open for Aleksandra Boikova and Dmitrii Kozlovskii to take the gold and the 2019 European bronze medalists were not going to miss the chance. Skating to a James Bond theme song "Writings on the Wall" they were absolutely flawless. They started with a triple Salchow, then a triple toe loop-double toe loop-double toe loop combination. All of their lifts were level four, and she beautifully landed the throw flip and loop. Nobody noticed that there was a moment in their program when they were a bit lost. "I even forgot something in the middle of the program. The program overall looked whole, but for us, in our heads, it was separate parts," Aleksandra revealed. "This was one of the hardest free skatings we've done recently. I felt that she got a bit lost and I tried to pull her out of it. Usually you focus on the difficult elements and other elements you do on autopilot, but today all elements demanded concentration and we're happy we were able to deal with that specific pressure," Dmitrii added.
The gesture worth of a fair play prize
It was uplifting to watch their joy as they finished their program, funny to follow their excited Kiss & Cry interview and moving to see him getting emotional when the medals were presented.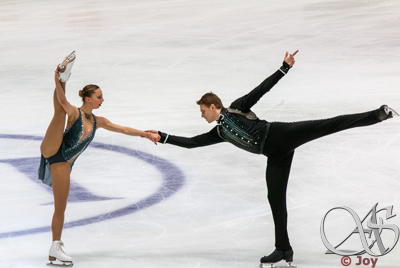 Aleksandra Boikova and Dmitrii Kozlovskii lived every moment of their triumph to the fullest, not hiding emotions and still staying extremely humble. When the Russian national anthem started to play, Dmitrii just raised his hands towards their compatriots on the second and third steps of the podium and invited them to the top. When all six skaters were there, Dmitrii lifted his flower bouqet triumphantly to the air. And they were singing along the anthem together, loudly, as a very lovable small choir.
The message
Dmitrii Kozlovskii wasn't shy during the Kiss & Cry interview and he thanked everyone for support in such a composed way it seemed he had prepared the speech. "I want to say to everyone here, thank you for coming, thank you for your energy and for your attention. Thank you, wonderful country of Austria and wonderful city of Graz!"
When they finished their lap of honour, Dmitrii took the microphone again, thanked for the support and energy in Russian and added: "Travel with your sportsmen, please!"
A simple message, so commonly heard from football players and coaches, but not often emphasized by figure skaters. But for every athlete, the support can give them wings, and Dmitrii and Alexandra were just flying on Friday night.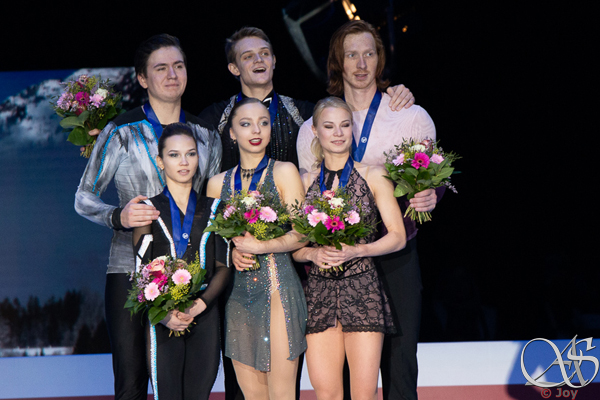 Don't miss our social media updates (containing text updates and fun pics) on Twitter and Facebook.