Music on Ice 2020
August 20, 2020
By Reut Golinsky
Photos © Reut Golinsky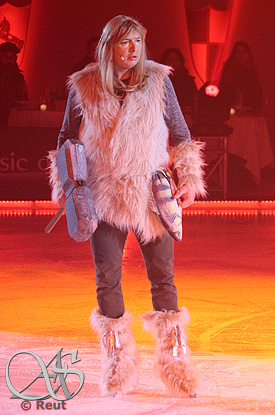 Charming Bellinzona, with its fairytale castles, was a natural birthplace for the "Music on Ice". Enchanting show celebrated its 10th anniversary last January and we were there to watch, to enjoy, to admire all the creativity and magic, and to talk to the cast.
In the show's unique approach of combining figure skating, theatre and live music, this year's storyline went as follows: in a small village there are celebrations as the new year cycle begins. Children of the villagers are dancing around the magical crystal when suddenly... the vikings arrive! They want to claim all this territory and the crystal as theirs. After a long and high-pitched "argument" consisting of performances from both "camps", they all finally agree to live together, in peace and harmony.
The cast, impressive as always, included Kimmy Repond, Juulia Turkkila and Matthias Versluis, Deniss Vasiļjevs, Eliška Březinová, Samuel Contesti, Elena Leonova and Andrei Khvalko, Ryan Bradley, Annette Dytrt and Yannick Bonheur, Stéphane Lambiel, hosts (leaders of each group) Maurizio Margaglio and Laurent Tobel, and singers Sebalter and Scilla Hess. We had a brief talk with some of them after the second show.
Adagio skaters Annette Dytrt and Yannick Bonheur, who participate in shows all over Europe, including the big productions like "Holiday on Ice", "Revolution on Ice", finally came to Bellinzona. And they loved it there!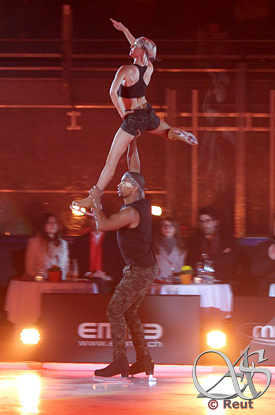 It's always a joy to see you, things you do are just... jaw dropping.
Annette: Thank you!
Tell me more about the programs we saw today.
Annette: Our first program was to "Saliva", with the mix for the fast part after that. And it's actually one of our favourite numbers because we really like its choreography. We did this number in other shows, like, for example, in "Revolution on Ice", and we feel that the audience really likes it. And the other one was to "Never Enough" from the famous movie "The Greatest Showman". We wanted to show something slower, it's a very emotional, lovely song, and in this program we can show more feelings.
Yannick: It's more about skating, and communication between Annette and me. We try to share our emotions with the audience, and it's more about what we feel inside.
All those unbelievable holds and lifts that you do, do you create them yourselves or with acrobats or other professionals? I was just trying to imagine your process, that you try something crazy and then you say: "No, this is not crazy enough!" Because some of the tricks you're doing are almost inhuman really.
Annette: Thank you. The thing is I've never even done pair skating, and when I started to do it, Yannick taught me to do some lifts. And then, of course, we always want to improve, to get even better, to create something special, different from the others.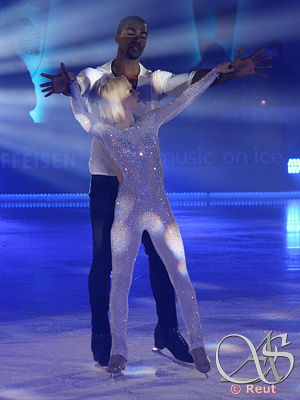 Yannick: It's a lot of work.
Annette: Yes, it's a lot of work and trust.
Yannick: We always try to push ourselves further. We know, when people watch us it looks a little bit scary. But when I hear them screaming, it gives me even more motivation. We try to find things that other people never did before us, because we know the audience always likes to see some new acrobatic elements.
Is this your first time in this show?
Both: Yes.
How does it feel? What was special about it?
Annette: It was nice. We heard a lot about this show, so it was a great feeling to finally be a part of it. And, of course, the Swiss Italian audience is just amazing.
Yannick: Also, the way they change the ice, all the decorations around are really nice. With tables and chairs [on the ice], we're much closer to the public and we can communicate with them better.
For the Finnish ice dance couple Juulia Turkkila and Matthias Versluis it was the first meeting with the audience since the unfortunate mishap during the 2019 CS Lombardia Trophy. Juulia sustained a neck injury during a practice session in Bergamo and this eventually forced them to withdraw from all the competitions planned for the season.
Juulia, so happy to see you back on the ice, you were missed. How are you feeling now?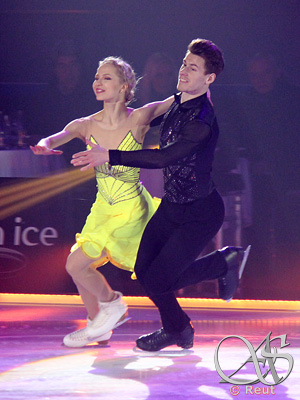 Juulia: We feel very good now. It was a long recovery, I got back on the ice in December. And now, at the beginning of January, we started doing lifts. So it feels really good. (smiles) Matthias: It was, of course, a big disappointment when it happened at the beginning of the season, but we tried to look on the bright side. I had time to work more on my skating, so now we feel really good during practices together, it feels nice. So we're looking forward to competing again.
It's not your first time in this show, right?
Juulia: It's our third time! We were here last year.
Matthias: And our very first year together we skated here too.>
What is special about this show? What do you like about it?
Matthias: Of course, there are a lot of top skaters in the cast. And it's great to take part in a show and be surrounded by such big skating stars. Juulia: Also, the live music...
Matthias: Yes, that too. And the audience is always connected [to the performers]. We enjoy coming here so much!
Two words about the programs you skated here.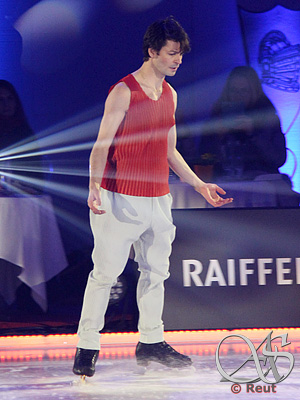 Juulia: The first one was our rhythm dance for this season, but it was a little bit changed and adjusted.
Matthias: ...because the ice rink is smaller. And then we did the piece with the live performance.
Juulia: It was choreographed especially for this show, but we used some elements from our free dance.
"It became a great tradition for me to come to Bellinzona every year, to this small but very pretty town, with its castles," St├ęphane Lambiel, the headliner of "Music on Ice" since its very first year, said to his fans during the fan meeting. "There are not so many opportunities to meet in Switzerland and, well, in Europe in general. All ten years here in Bellinzona, it's always nice to see you. And the show is very nice and friendly, the cast is rather small but we're all good friends, old good friends..."
It became a nice tradition for us too! Absolute Skating has been there almost from the very beginning, covering "Music on Ice" shows since 2012.
Check our reports and photo galleries: