A very special Nebelhorn Trophy 2020
November 30, 2020
By Judith Dombrowski
Photos © Judith Dombrowski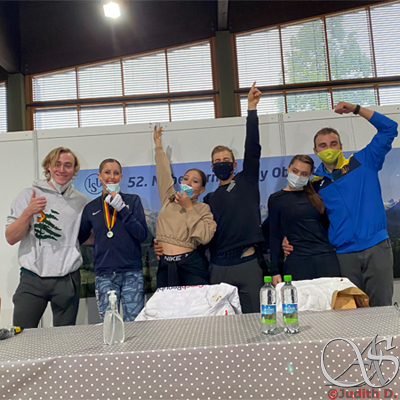 In between travel restrictions, precautions, fears, and worries, a small village in the German Alps dared the big step to proceed with the first official ISU Figure Skating competition since the outbreak of the COVID-19 pandemic. The 52nd Nebelhorn Trophy in Oberstdorf took place from 23rd to 26th of September. This enchanted skating fans all around the globe but most of all delighted the skaters themselves who were finally able to show their beautiful new programs.
Unfortunately not yet to a live audience, but a live stream brought the performances into the homes of many fans all around the world.
"We are so happy to finally skate again in a competition!" - this was definitely the most-heard sentence during the press conferences after each discipline.
The competition became possible thanks to a strict hygiene concept developed by the organizers. It was mandatory to wear a mask at all times, and the skaters were only allowed to take it off while performing, and for the very few official photos. There were strict walking routes and mandatory spots to disinfect your hands. Only a limited number of press was allowed and every accredited person had their one specific seat at the arena.
"I felt really safe!" gold medalist Deniss Vasiljevs from Latvia stated after the free skate and silver and bronze medalists Gabriele Frangipani from Italy and Nikolaj Majorov from Sweden confirmed the same sentiment.
Men: Latvia's Deniss Vasiljevs surprised himself
It was definitely the story of the tournament. The fan favorite from Latvia, only in 5th place after the short program, stepped on the ice with an atypical smile of confidence on his face, about to land the best jump of his life.
"I was wondering, should I be worried about that smile?"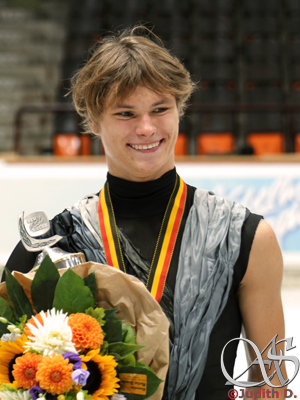 coach Stéphane Lambiel reported afterwards. "Before the free skate I tried to calculate in a sense what would matter more: if I'd do good, or if I wouldn't do good. And I found out that there was no reason to be afraid," Deniss himself narrated those last thoughts that had been going in his mind before his music started. He speeded up, took off, and jumped - a textbook quadruple Salchow, rewarded with a 2,52 positive GOE score. The program went on - excellent jumping with only one mistake on a planned triple flip combination. Even more impressive for the audience was Deniss' excellent and passionate performance to Prokofiev's "Romeo and Juliet". A performance rewarded with 83,20 program components points by the judges. A score that made the difference to the rest of the field and rewarded the skater from Lativa with the gold medal.
But the special moment for Deniss, his coaching team, and his fans around the globe was that quadruple Salchow. After working on this jump for years and years, after never succeeding in competitions, and after numerous questions of the skating world whether he could ever reach the top without a quadruple jump, he surprised everyone that day but mainly himself. "I was ready to do the quad but I didn't really expect it to happen at this point. It happened in the end and it shows that I am able to do more than I think myself," he exclaimed afterwards. "I never ever landed a quad Salchow of this quality like today."
Someone who had never lost the belief in his student's abilities was coach Stéphane Lambiel. "I never lost the trust in Deniss. Not even for a second. He is more powerful than he knows himself," he stated and complimented his student. "Congrats on taking this opportunity. You made the right choice. You made me very happy today. Very happy!"
Deniss was definitely the shining star of the men's event but the young second and third-ranked skaters deserve honorable mentions.
Both Gabriele Frangipani from Italy and Nikolaj Majorov from Sweden still skated partly in the Junior ranks last season and showed impressively that they are ready to compete with the adults. The second-ranked Italian stated after his free skate: "I am really happy with my performance. I want to show other skaters that I am here, I am here to fight for the top positions. I want to show that I improved a lot since last season." Frangipani landed a clean quadruple toeloop during his free skate and only lost to Vasiljevs by a total margin of 1,43 points.
Nikolaj Majorov is the younger brother of Sweden's Alexander Majorov - two-times Nebelhorn Trophy medalist himself in 2017 and 2018. "I didn't expect to win a medal here but it is really special to me. It showed me that I am capable to win a medal in a big international competition like my brother did.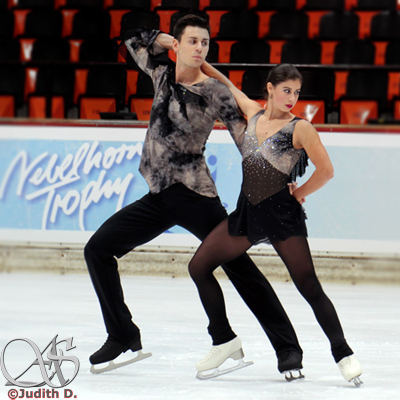 So I am proud to follow in his footsteps," Nikolaj told after the competition. He also reported that his older brother had chosen the music and choreographed his samurai-themed long program.
Pairs: Italy's Rebecca Ghilardi and Filippo Ambrosini take gold
The pairs event was overshadowed by the withdrawal of the leading pair after the short program - Minerva Fabienne Hase and Nolan Seegert from Germany, who had been really excited to show their new long program to Birdy's "People Help the People", were forced to withdraw after the final practice because Minerva suffered an injury. The pair that took the bronze medal at last year's Rostelecom Cup was really looking forward to skating freshly recovered at the [ed. later cancelled] Grand Prix in Grenoble.
After the favorites had pulled out, it was between Germany's Annika Hocke and Robert Kunkel and Italy's Rebecca Ghilardi and Filippo Ambrosini to take the title. Both pairs struggled to cope with the pressure and made quite a few mistakes in their long program. The Italian pair finally won by a margin of 0.35 points and were really happy about their unexpected gold medal.
After taking the silver Germany's Annika Hocke saw the positives: "We are really happy to be able to skate again in a competition. It was as always great fun to skate here in Oberstdorf. It was surely different from previous years. But trying to get something positive from this difficult coronavirus time, I think we all grew in a way closer together as everyone went through the same difficult situation." Her partner Robert was rather disappointed about their performances: "We are a little bit sad that we couldn't show our full potential and what we are capable of."
Ladies: Eva-Lotta Kiibus - Unexpected gold for Estonia
The ladies' field had the most competitors from the most different countries. The short program especially was an amazing event where many top skaters showed beautiful and clean performances.
During the free skating though, many ladies struggled. The winner was Estonia's Eva-Lotta Kiibus,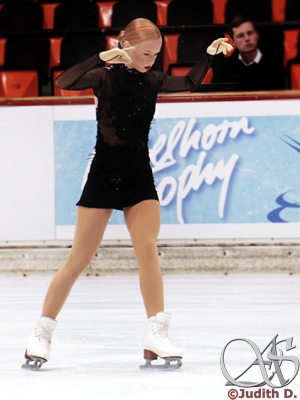 who had showed her potential last season already with an amazing 7th place finish at the European Championships in Graz. She explained after her win that it had been a challenge for her to have a day off in between the competition. "It gives you a lot of time to think. I tried my best not to lose my focus too much. I definitely still need to work on that," she explained, "but of course I am really happy with my victory here. It gives me a lot of confidence." Eva-Lotta is also proud of her two new programs choreographed by Benoît Richaud. "The long program allows me to show how much I love skating, especially during the step sequence. And I really love my short program so much as I am a huge fan of Harry Styles who sings the theme song 'Sign of the Times'."
Silver medalist Alexia Paganini from Switzerland had been in the lead after the short program with a passionate and beautiful performance to the song "Caught out in the Rain" by Beth Hart. During her Spanish-themed free skate she unfortunately fell three times and dropped to the second place. "I need to work on getting my focus back after something happened," she told after the free skate.
Bronze medalist Jenni Saarinen from Finland had just moved her training base to Oberstdorf to train with Michael Huth. She was quite happy with her performance. "It was a great opportunity for me to see what is working in the program and what is not, what we need to change. As I just moved here three weeks ago, it's a new situation for me with the coaching team."
Ice dance: Siblings Natalie Taschlerova and Filip Taschler from the Czech Republic establishing themselves in the senior ranks
New faces on the scene in ice dance: the gold and silver medalists both fully moved up to the senior ranks this season, and the third-placed couple from Ukraine just started their second senior season. All three couples skated with passion and showed a lot of love for their sport.
Siblings Natalie Taschlerova and Filip Taschler were really happy about their victory. "We don't care that we are brother and sister, on the ice we are actors," Taschler told after their performance. "During our free dance we are telling the story of the tango dance, and want to show the freedom and happiness this dance brings along."
The young British pair Sasha Fear and George Waddell came all the way from Canada to Oberstdorf. "We are very happy to compete here. Our free dance tells the story of two people falling in love."
The Ukrainian pair Darya Popova and Volodymyr Byelikov earned the bronze medal and also portrayed a love story in their free dance. Their conclusion of the competition was: "In general we did a good job, but also had a few mistakes, we will try to do it better during our next competitions." All in all this ice dance event was a great opportunity for the young couples to shine on the big stage.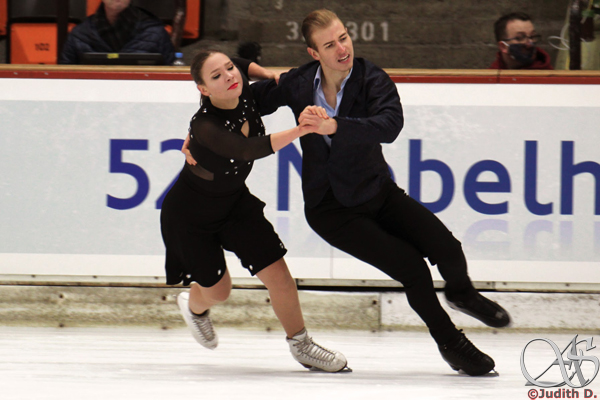 In the name of all the athletes, coaches, and fans we deeply thank the organizers of the Nebelhorn Trophy - Deutsche Eislauf-Union and Eissportzentrum Oberstdorf - for this amazing opportunity to have a safe, very well organized event under clearly difficult circumstances.
The biggest thank you goes out to all the amazing athletes in our sport who keep working hard during these challenging times, never lose their spirt and love for the sport and keep delivering amazing performances and creating magical moments that move our hearts. Thank you!