The 2021 Autumn Classic: sneak peek into the Olympic season
October 21, 2021
By Reut Golinsky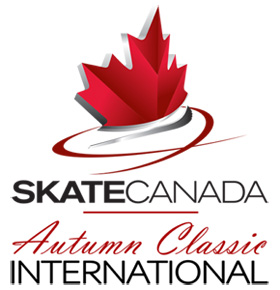 Photos © Eva Maria Jangbro (EMJO), Reut Golinsky, Jay Adeff/U.S. Figure Skating, International Skating Union (ISU)
With the earlier events of the Challenger series, streaming options, and virtual mixed zone opportunities available, we now have the luxury to see new programs and learn more about them before the Grand Prix series starts.
The 2021 Autumn Classic International was held in Pierrefonds (Montréal), Québec in mid-September and gave us a sneak peek into what we might expect this Olympic season. Check out some highlights of the event and read stories behind the programs you are going to see at the first two Grand Prix events - Skate America and Skate Canada.
Riku Miura and Ryuichi Kihara: upping their game
Riku Miura and Ryuichi Kihara looked great, won both segments of competition, and took gold overall. All this, while their training arrangement this off season was far from ideal. Since Worlds 2021, they have been training alone in Japan while having FaceTime lessons with their coach, Bruno Marcotte. They could come back to Canada only a week beforehand when the government opened the borders. "They did the work by themselves at home in Japan, and that's what true champions do," Meagan Duhamel said during her commentary.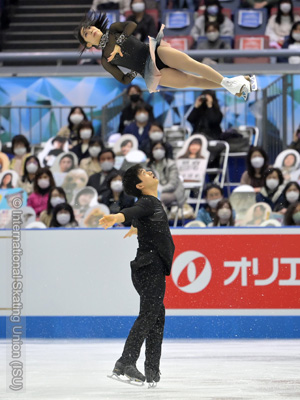 "We're very happy to be back at our home rink, we really wanted to get back here. We're just getting back into our routine, but it still feels really strange to be back, six months is a really long time," Riku and Ryuichi said.
The pair kept both routines from the previous season. "We always knew that we wanted to skate our short program for at least two seasons," Ryuichi explained. "After Worlds we knew for sure that we wouldn't be able to come back to Canada because of the travel restrictions. So it was decided by us and our coach that we should keep both programs."
"Choosing those programs was a process, with a lot of discussions with our coaching team, and it was coming together rather organically. Both our programs are not detailed interpretations of the lyrics. And 'Hallelujah' doesn't bring any religious connotation. Because we couldn't do many events last season and it was tough, what we were trying to do mostly was to express how happy we were to be back on the ice, to be able to skate. So, we're mainly trying to express joy and happiness about everything and skating in particular," they said.
Finishing in top ten at Worlds 2021 was only a beginning, this season they aim higher: among their goals the pair lists a medal at least in one of the Grand Prix events, top 5-6 placement at the Games and 200+ score (which they already achieved here, getting 204.06 points overall).
"Objectively, it's true that we got very good scores at Worlds," Riku said, "but I have to say we lacked practice, so it wasn't really our best. It was important for us to do very well in our first competition. And since we skated well here, it is going to be a really good start for the season to come."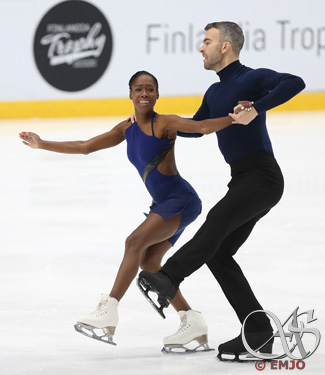 We're looking forward to seeing Riku and Ryuichi compete at Skate America.
Vanessa James and Eric Radford: in a learning phase
At the end of April, Vanessa James and Eric Radford made a splash when they announced their comeback together as a new Canadian pair team. Theirs were among the most anticipated performances of the event. And probably of this season.
Meagan Duhamel was one of the commentators at the pairs' event. From the very beginning she addressed an elephant in the room: "This is definitely not something I ever thought I'd have to do, to commentate on Eric. I thought his competitive career ended with mine in 2018. But I need to respect his decision that he made to continue even if it was a disappointment to myself, personally. I think that a lot of people watching, they know me as Meagan the skater. But my family, my friends know me as Meagan the crazy skating fan. And me, just like all the rest of the skating fans around the world, I'm curious to watch them today. I'm curious to see how they are going to do. I wish them the chance to achieve anything they want with this new career that they are embarking on together."
She also found a lot of nice things to say after their performance: "I think overall this short program left a better impression than the one we saw earlier this summer. They have changed their program and their music since their debut in August and I did enjoy this program and this music a little bit more." She mentioned "nice quality on the triple twist, nice and smooth throw triple Lutz with a nice landing position." Lifts were always Eric's forte, she said, he "was always very smooth in his lifts, getting the job done." And she was objective and self-aware when she noted: "Their long lines definitely match and create a different picture than they created for Eric and I."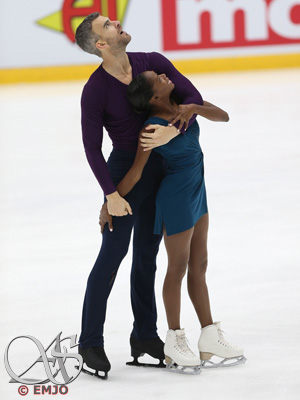 "We have a lot of experience, but it was a long time ago," Eric said. "When we go out there, we're waiting to find how we feel, and we need more time to figure that out. I think by the end of the season, with a bit more comfort, we will be able to bring the joy of skating. That's where we connect and that is part of the reasons that we're doing this comeback in the first place." "We're still in a learning phase, we hope to feel more comfortable and improve each time we step on ice," Vanessa added.
Their mindset is to enjoy the moment and every competition: "It's one of the few opportunities we're going to have to show the world our skating."
Vanessa and Eric won silver with 184.01 points overall. They also competed at the Finlandia Trophy at the beginning of October where they slightly improved their score and finished fifth with 190.58 points. Their first Grand Prix event will be Skate Canada.
Ashley Cain-Gribble and Timothy LeDuc: keep moving forward
Ashley Cain-Gribble and Timothy LeDuc started their season later than they planned due to Ashley contracting the coronavirus earlier this summer. "It's just been working back from that," she said, "understanding the illness and what is going on with it, and just recovering fully. We have a plan ahead of us and this is just the start, we'll just keep moving forward from here and keep building, so that I feel 100% again."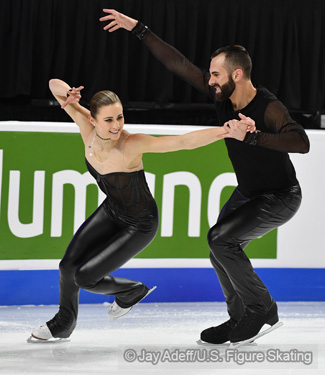 "This is our first competition, so this is our baseline, and we will build from here," Timothy added. "And that is our goal as athletes, taking steps forward in a way that we can at the time that we can. Today is a step forward, tomorrow there will be another one, as will be the next competition. We feel like we've chosen two amazing programs this year that showcase everything we're good at, everything that makes us unique and special."
When asked about their last season's short program, powerful and dynamic piece to "Never Tear Us Apart" by Bishop Briggs, and the very different direction with "The White Crow" they chose for this season, Timothy answered: "We really loved our short program last season, but we really love this program too. We are skaters that love to show versatility, we love to show all aspects of our artistry and athleticism, so we're always trying to do different things, to challenge ourselves. Last year was a different style for us and at the completion of the season we thought: 'OK, it's time to show something we haven't exactly done before.' This is mostly a traditional ballet program, with some traditional elements mixed with some modern things as well."
Ashley and Timothy enter their Grand Prix season, Skate Canada being their first event, with two bronze medals under their belt: one from the Autumn Classic (170.64 points) and one from Finlandia Trophy (193.00 points).
Karen Chen and Young You: chasing Olympic dreams
Karen Chen's first appearance this season, her short program, didn't go well. "This was totally not what I've been practicing, at all," she admitted. "I've been practicing well at home, and so doing what I did out there tonight was shocking to me. I'm definitely disappointed but I guess you need to start somewhere, and I can only go up from here."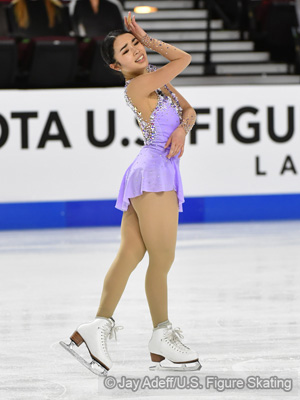 The 2017 U.S. national champion presented her new program choreographed to "Lady Caliph" by Ennio Morricone. "It's a piece I've heard somebody skate to in the past, but it hasn't been overused. And it's something that I really feel connected to, I think it is beautiful but also powerful, especially the ending. I had worked with Maxime Rodriguez, he helped to compose a more powerful ending, a moment for the spiral, things like that."
And she kept her free skate (to "Butterfly Lovers' Violin Concerto" by He Zhanhao and Chen Gang) from the previous season: "I made some music changes, towards the ending and in a footwork section. We also added more technical difficulty to my jumps and changed some choreography aspects as well."
Coming to the Worlds 2021 as an underdog and then finishing fourth and giving her country a chance to have three spots at the Games - it sounds like her Worlds 2017 story repeated itself four years later in Stockholm. But a lot has happened since. "Many things have changed in the last four years," she said, "not only skating related but also just personal. I went to Cornell University for a year. And although it was one of the most stressful years ever, trying to balance school and skating, I don't regret that decision. I felt I learned so much about myself and I grew so much as a person. And that for some reason helped me gain clarity in this sport that I do and truly love. That's why I decided to take two years off to focus on skating. And so here I am really chasing my Olympic dreams."
Karen finished fourth at the Autumn Classic with 173.00 points and sixth, with 202.49 points, at the Finlandia Trophy a few weeks after that. Skate Canada is scheduled to be her next event, and we're wishing her to have two good performances there.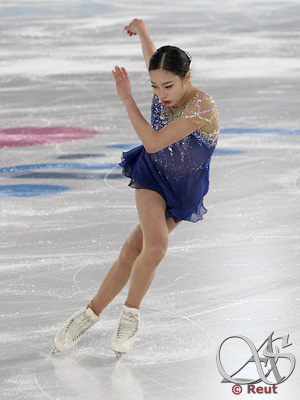 The previous season was not easy for Young You. Considered one of the frontrunners at the NHK Trophy, she had a bad short program and finished last in that segment. A decent free skate allowed her to rise to seventh overall. Later in the season she placed fourth at the National Championships and was not named to Korea's team for the Worlds 2021.
"Because of the COVID I was in Korea, and I was doing a lot of quarantines, so I feel that my body was really 'loosen up' and it was really hard to train it back," she explained in the mixed zone. "But this year, from the very beginning of the season, I went straight back to Colorado and trained until now, so I think I'm more prepared than last year and I feel more confident."
The 2020 Youth Olympic champion starts this season with two new programs and a higher success rate of the triple Axels: "I think it's better than last year, I think in more than half of the times I try it I succeed."
It is quite symbolic that she chose "I Dreamed a Dream" as one of the musical pieces for her free skate: "Since I had a hard time last year with the lockdowns, I listened to a lot of music for the Olympic season. And I decided to do 'Les Misérables' because I think it really matched with my situation last year and it's a powerful piece, [fitting] for the Olympics."
The main goals Young You set for herself this season: not to get injured, not to have bad performances, try to have good competition every single time until the Olympics. So far, she has finished on the podium at both events she entered: silver with 182.88 points at the Cranberry Cup and silver with 180.25 points at the Autumn Classic. Her next step will be Skate America.
Two very special dances and the stories behind
Carolane Soucisse and Shane Firus were pleased with their season debut in Pierrefonds. The team was created in 2016 and initially trained in Montreal but in April 2020 they announced their move to Carol and Jon Lane and Juris Razgulajevs in Scarboro, Ontario. They credit their new coaching team for their confidence, saying that they "changed the way of training, the way to approach every single day, every single competition" and "helped to use all the potential."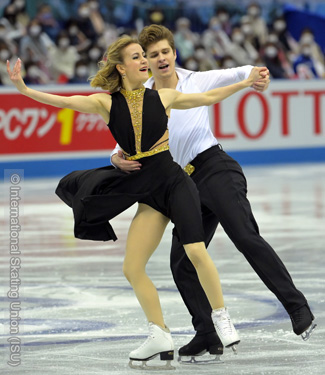 Fun fact: their free dance was inspired by... a commercial!
"Carol originally had the idea," Shane revealed, "she saw that music being used in IKEA commercial (it shows a couple of former figure skaters once again enjoying 'skating' and reliving their passion while sliding around their living room on their socks - ed.) and she thought that would suit us perfectly. She showed it to us, and we liked it, we haven't done that type of style before. "That's always been a music that I really love, and I really wanted to do," Carolane added, "but there was never the right time or... the right partner. And it feels like everything fell into place for us."
The team uses an interesting combination of the original song for the first part and instrumental arrangement for the second. "We wanted to have a contrast," Shane said. "The first piece ('Hier encore') hasn't been used that much, so we wanted to highlight it. 'La Bohème', the second piece, has been used before, and the instrumental version can hold itself up to the vocals of the first part. I think that with words it could be 'too much'."
"It has a bit more rhythm, more energy to it," Carolane added.
"Dance is the hidden language of the soul," said Martha Graham, American modern dancer and choreographer, in one of her interviews. Her style, the Graham technique, reshaped American dance. Her work inspired Caroline Green and Michael Parsons' intricate and beautiful free dance, which stood out among the programs we saw that weekend. "That was incredible. I had chills right from the beginning," Kaitlyn Weaver said in her commentary after their performance. "Every element, every transition was unique."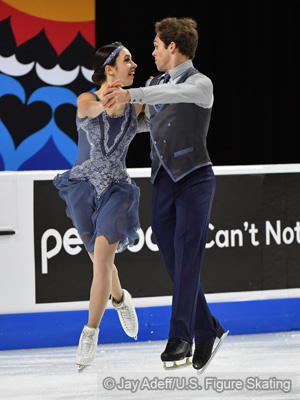 "We took a lot of inspiration from Martha Graham's incredible choreography", Caroline said. "The fact that we've taken it onto the ice has been really special, it was a really rewarding experience." "We wanted to make a program that no one has ever seen before and that I don't think anybody else could do," Michael added. "We're really proud of it. Basing it on the modern dance off the ice, we tried to tell a story and control the atmosphere just with our movements."
The story behind is abstract. "It's almost up to your interpretation," they clarified. "Since it's very simplistic, it has something that everyone can relate to."
They say they are feeding off each other's creativity, which they've grown over their partnership, and that the choreography of each program is a collaborative process between them and their team (Alexei Kiliakov, Elena Novak, Jimmie Manners, and Meredith Jones). "We'll start and try some stuff and they'll direct us towards where we want to go in terms of the program and its construction. These programs really feel like us, our own product, we really try to put ourselves into them. Our coaches did a very good job in giving us a framework to do that. These programs are only going to grow as we grow."
Don't miss these couples and their beautiful free dances at Skate America and Skate Canada respectively.