2021 Worlds tidbits
August 12, 2021
By Reut Golinsky
Photos © International Skating Union (ISU), Reut Golinsky
The skating world waited for this competition with a mixture of excitement and anxiety. There were so many questions which nobody could answer, so many things to worry about. Will the skaters be able to perform after such a deranged season? Will they be able to even come to Stockholm, with all the logistical challenges involved? Is it fair to hold this competition as a main Olympic qualifying event? Will it feel too empty and sad without the audience? And most importantly, will they all be safe?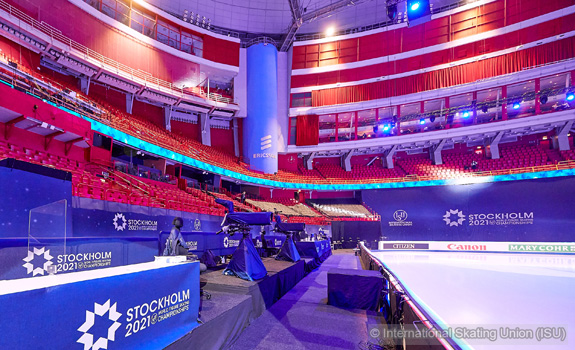 Weird, unusual, intense
Strange season led to strange Worlds, with "bubble" rules, no audience, and virtual work for journalists. Was it still better than no Worlds at all? Based on mixed zone conversations, happy faces and smiles from those who finally got a chance to compete and show what they worked on for the entire year, the answer is probably "yes".
"It feels a bit weird but at the same time it's organized really well," Kirill Khaliavin elaborated about the "bubble" arrangement. "The only difference between this competition and others is that we can't see the city. But we've already been to Stockholm before, so for us it's a bit easier. The competitive part is very well organized, and it feels more like a camp.
We got five days of practicing and it was practice-back to the room-eat-sleep-practice again. But the whole experience is immaculate. If there is a need for a 'bubble' in the future - hopefully no, but if there is - the 'bubble' this event had is a very good example."
"We do miss the warmth of the people... hugs and touch," Sara Hurtado added.
"Of course, it's very unusual, I've never experienced something like this before," Aleksandra Trusova said. "Overall, everything is OK, there is enough space in the hotel to wander. On the 11th floor there is a balcony, so you can be outside too. Also, it's great that from the hotel's restaurant we can see the ice and watch other skaters train."
"It is quite intense," Stéphane Lambiel shared his impressions with us during the official practices day. "The stress is rising. Everyone is super excited after such a long period of time without competitions. We feel this adrenaline, which is a forgotten feeling, almost. Everyone is starting to recall how it feels, so it's quite interesting to be here."
Stéphane had students competing in ladies and men, but for the ice dancers the stress and waiting were even longer. Unlike the usual competitions, when the competitors could come to the venue a few days later, according to their schedule, this time everyone had to enter the "bubble" together. For those who started their competition only on Friday, such a long wait could potentially lead to a burnout.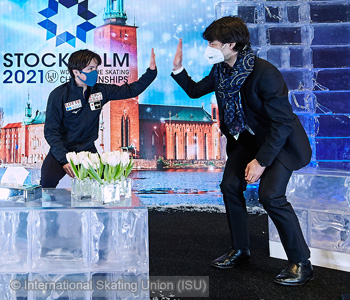 "Yes, this could have become a problem," Kirill agreed. "That's the type of the sport where such tiny nuances might make a big difference, little things can destroy the whole performance. But it just comes with the experience."
"We know ourselves, listen to our bodies and to each other," Sara said. "You manage your energy. You tell yourself: 'Ok, let's do this in a more relaxed manner or let's challenge ourselves more today'."
For an artistic sport like skating, empty stands and no reaction from the audience could become a significant drawback. Skaters always mention how the public's energy raises them up and helps them to perform.
"In my opinion, to have one person watching or to have ten thousand people watching doesn't change the fact that there is a performance and there is a certain amount of attention," Stéphane explained. "There will be for sure a lot of people behind their screens, so the idea of having a crowd and having people watching still holds. And I'm sure that through the performance my students will be able to reach out to all those people that are interested, that are following figure skating. I really don't feel the amount that we have [present at the arena] will change their perspective. It is more about the fact that they finally will be able to perform and there will be a lot of people watching and following them."
Getting to meet first-timers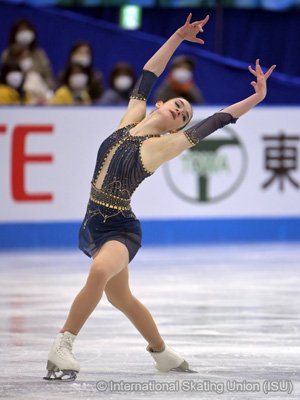 After such a complicated season, full of events' cancellations and the drop in motivation which consequently followed, no doubt these championships were highly anticipated by many. But especially by those who've qualified for the senior Worlds for the first time. We caught up with three of them in the mixed zone after their short programs.
Lara Naki Gutmann, Italy
Congratulations on winning your first National title this season. It must have been special for you.
In Italy we had a lockdown for three months, from March 2020. It was pretty tough being back on the ice after such a long pause. And then I also injured my ankle, so I fully recovered only a few months ago. And that's why I was super happy when I won.
I know that this season there were "Italian Grand Prix" series held. Tell me more about it.
It's a new series of competitions in Italy, this year was the first time. I did two events, in Trento and Turin. And then there was a final in Bergamo. This year they organized it because there were not so many international competitions. I hope, I'm not sure but I hope they can continue [with this format] in the coming seasons too, because it was a great opportunity to have high level competitions in Italy. And it gave us, skaters, an opportunity to compete more.
Skating to "Scheherazade" for the free skate is an interesting choice for you, you usually skate to a more modern music.
I chose this music with my choreographer, Prisca Picano, and my main coach, Gabriele Minchio. It was a decision we made together. I wanted to do something different from other seasons and I really like this music and feel very comfortable skating to it.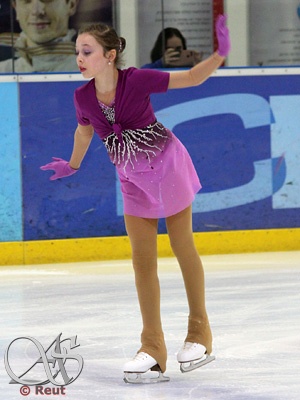 Nelli Ioffe, Israel
I'm really happy that I could come, that I could meet the minimum TES requirements and partake in this event. At the same time, I was really anxious, because I felt the responsibility [to perform well]. But I really enjoy being here, I'm sure this will become an unforgettable memory.
Were you happy with your performance?
I wasn't completely happy, there are certain areas I need to work on and you always have things you can improve. But overall, I'm glad that I could overcome my anxiety. There was quite a big pause [between the events] and I'm just glad to be back to competitions.
You got your TES score at the Challenge Cup a month ago, they also had some kind of "bubble" there, how did it work?
When I came there the feeling was a bit surprising at first, kind of a forgotten feeling as I didn't compete for a long time, it was almost a year since my previous competition. Yet I wasn't very anxious there. I liked the organization, and their "bubble" was actually a little bit less strict.
You didn't do a triple-triple combination here, do you have it in general?
It's not stable enough yet to add it to my programs. But I'll work on it and will show it next time. I'm working on triple loop - triple loop too (she did triple-double in her program - ed.), but probably triple flip-triple toe will be the one we'll add first.
Tell me a bit more about your programs.
Usually, I'm the one who chooses the music for my programs. I need to take the piece which I really, really like, which I can feel and understand how to interpret it. It should be a musical piece I can get a thrill out of when I skate.
I really like my free skate music ("From Sarah with Love" by Sarah Connor), I think it suits me well as I'm also gentle and delicate. For the dress we tried to make something simple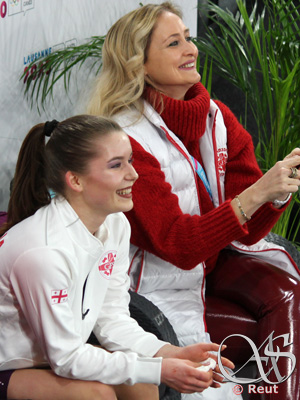 but refined.
Alina Urushadze, Georgia
The music choice for your short program is very unusual and so is your costume.
This music ("Asturias" by Isaac Albéniz) was proposed by our choreographer, Nikita Mikhailov. My coach loved it immediately while I was really against it at first, but they succeeded in persuading me and in the end, it worked out pretty well.
With the costume there was a whole other story. We usually work on my costumes together, discuss them with my coaches and seamstress and even with the president of our federation, Mariam Giorgobiani, an entire "consilium" is usually held. It was my coach's idea to have a leotard; I had a leotard once before, in juniors (for SP in season 2018-19 - ed.), we liked it back then and so decided to try it again this season.
Last time I saw you perform live was in Lausanne, at the Youth Olympics. How was that experience for you?
The Youth Olympic Games were probably the most memorable event in my whole career. The more so will be the Games 2022. So, of course, I really want to qualify for them here.
And what was the most memorable moment?
Well... everything! Starting from our arrival, how we were greeted, the whole Olympic atmosphere. This was my first time performing at a big arena for a big crowd. The energy was absolutely crazy, from the very beginning of my program everybody was cheering. And this is what I really miss here, the audience. But a lot of people follow and watch online, so it's nice to think about it and it helps to skate well.
Alina made her dream come true and qualified Georgia - and most certainly herself - for the Games in Beijing.
Lara and Nelli still have a chance to do this at the beginning of the season, but the fight for the remaining quotas is going to be tough.
Golden in black-and-red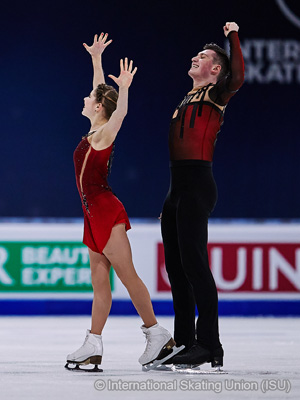 Junior champions Anastasia Mishina and Aleksandr Galliamov were among the most impressive first-timers of the Worlds 2021. And although their gold could be seen as a surprise, they were definitely entering this competition as medal contenders. We had a brief chat with them after their practice before the competition started.
So, welcome to your first senior Worlds! How does it feel?
Aleksandr: Yes, this is indeed our first senior Worlds, because we did compete at junior ones, but now it's seniors. We already got used to this rink, we really like the whole atmosphere here.
Anastasia: There are a lot of restrictions and this, of course, feels less comfortable. We would have loved to feel a bit freer...
Aleksandr: But after two days spent here, we already got used to this. Of course, it's unusual, but what can we do, these are the safety rules, and we can't do without them.
Anastasia: And we are really happy that the World Championships are taking place, in any format.
Due to restrictions this event will be held without an audience. Did you have any concerns about that?
Aleksandr: We've already had experience competing without an audience, it happened at the 5th stage of the Russian Cup. Of course, it's a bit awkward, but at least now we know what we should expect, it won't be a novelty for us.
Anastasia: The more so since on the junior level it happens quite often that we don't have a lot of public coming. And we haven't forgotten it yet, how it feels to perform for such a small number of people.
I know that before this event Olympic medalist Ksenia Stolbova joined your coaching team.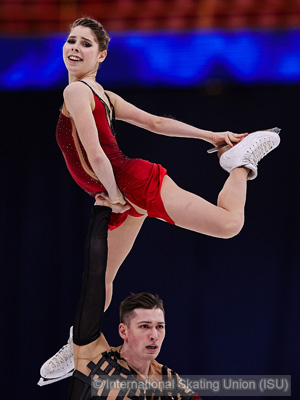 What did you work on with her?
Aleksandr: She came to consult us and we're really grateful for her help. There were certain areas and topics she helped us with.
Anastasia: She also brought a very much needed outside perspective. Ksenia doesn't see us every day and she points out things which she notices immediately because of that, while our coaches might not see them.
Just one small observation. I noticed that you use a lot of black and red in your costumes.
Anastasia: Yes. We just love the colour red and so do our coaches. And I think it suits us well.
Aleksandr: Yes, we really love these costumes, now we only need to perform well in them and bring joy to spectators.
Well, they definitely did that. Two brilliant programs earned them their first Worlds gold and brought a lot of joy to their fans.
Beautiful but short-lived
With this season being uncertain, choreography options limited and sometimes technically challenging if done virtually, it was understandable that many skaters decided to keep their programs from the previous season. But there were others who made a bold decision and went on with presenting new choreographies even if in some cases it meant those will be shown to the wider audience only once.
Kirsten Moore-Towers and Michael Marinaro's gentle and moving free skate to "The Blower's Daughter" by Damien Rice was the highlight of the pairs' event.
"I've loved that song for a long time," Kirsten explained. "The first time I heard it was when Dubé and Davison were skating to it (FS for seasons 2006/07 and 2007/08). They had a lot of success with it so we weren't sure if we should use this piece of music, because it has already been done, and done very well. But ultimately, we decided that we loved it so much and connected to it.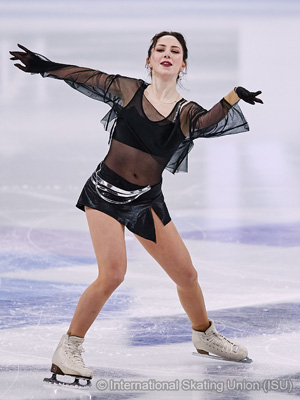 And in addition, we felt like we could do it differently, because we're able to use the lyrics whereas 12 years ago they were not allowed, were not able to do that. So we hope that you found ours to be different from theirs and enjoyed it as well, we really loved skating to it."
"It was definitely a pleasure to create it with Julie Marcotte, we always have a blast working with her," Michael added. "Bryce Davison grew up in the same area as both of us and was definitely highly looked up to when we were 10-11 years old. It was fun and exciting to put a new spin on a classical piece of work that he and Jessica have done in the past."
Despite the great feedback their program got, they said from the very beginning they were not planning to keep it for the Olympic season. A few months later, Kirsten announced in an Instagram post that they're bringing back their free skate from season 2019/20, "Carry You". "We love it and felt it somewhat 'unfinished' when the 2020 World Championships were cancelled. Hope to skate it for you in person this season," she wrote.
Elizaveta Tuktamysheva changed her short program mid-season and took a completely different direction: from a classical "Spartacus" and the "eastern look" of her dress to the very modern tune and costume.
"It was my idea," she said. "When we choreographed this new program (to "Lovely" by Billie Eilish and Khaled) I knew that it's a bit unorthodox for figure skating. It's modern, it's Billie Eilish and Khaled, so I wanted my costume to have some modern elements. Not to have something more 'typical for skating', with rhinestones and classical silhouette. That's why I asked my coach's permission for this more innovative dress. As my coach gets with the times, he said: 'Yes, let's try'. And I think it turned out quite well, it's close to my style off-ice and I really like it."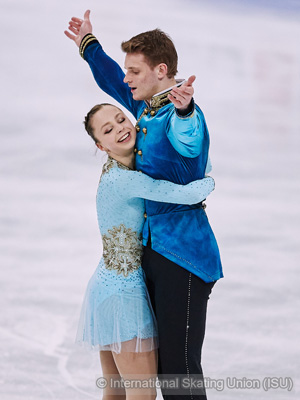 Aleksandra Boikova and Dmitrii Kozlovskii made changes to their short program right before the Worlds, taking music from the famous "Howl's Moving Castle" instead of "The Captivating Star of Happiness" they had during the rest of the season.
"We liked the previous SP we had," Dmitrii said. "But we also like the music we took now." He watched and loved the animated film too: "I was really touched by it. To tell the truth I can't say I'm a big fan of this style in general, but this film was indeed powerful, moving, and very emotional." "There was no risk," Aleksandra assured us. "We just changed the music." This raises a legitimate question though: aren't we always told that music and choreography of the program should be strongly connected?
Deniss Vasiļjevs loves creating new programs, one season he even had two different short programs "at once". This season he had two exquisite programs which he showed only twice. So, we asked him if there was any chance he would keep them for one more season.
"I really appreciate the challenges that come with every program, and I love to work on them," he answered. "In fact, I want to experience new things, I want to move on. This was a good program, people saw it. Great! Allow me to bring a new program that will be even more inspiring. In my opinion, it's a process that only goes up. I would love to go even higher instead of plateauing, because every time we do new programs, we also learn a lot about ourselves. And the more we work, the more we improve. Honestly, I would love to bring something new and inspiring."
Just recently he announced that he keeps his free skate. And although we agreed with all his arguments above, it will be great to enjoy his "Romeo and Juliet" for a little bit longer, and his passionate "Tango" will be missed.
Facts & Figures
The ISU World Figure Skating Championships were held in Stockholm for the eighth time after 1947, 1934, 1922, 1909, 1905, 1901 and 1897. Sweden has also hosted the ISU World Figure Skating Championships twice in Gothenburg (2008, 1976).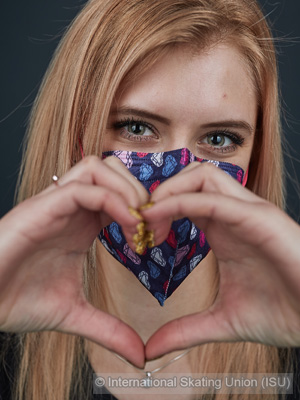 Moreover, Stockholm was the host for the ISU European Figure Skating Championships in 2015 and for the ISU World Synchronized Figure Skating Championships in 2018.
41-year-old pair skater Zoe Jones (GBR) was the oldest skater competing in the Championships (date of birth Jan 14, 1980). 33-year-old Valtter Virtanen (FIN) was the oldest male skater competing in the Championships (DOB Jun 4, 1987).
The youngest competitor was the 15-year-old Haein Lee of Korea (DOB Apr 16, 2005). The youngest male skater competing was Kazakhstan's 16-year-old Mikhail Shaidorov (DOB Jun 25, 2004).
There were two sets of siblings competing at the Championships: Eliška Březinová and Michal Březina (CZE) in the ladies and men's events; Natalie Taschlerova/Filip Taschler (CZE) in the ice dance event.
There was one husband-and-wife-team competing: Misato Komatsubara/Tim Koleto (JPN) in the ice dance event.
Under the Court of Arbitration for Sport ban, Russia was not allowed to use its name, flag, or anthem. Hence, Russian skaters competed under a modified flag of the Figure Skating Federation of Russia, "FSR" was used instead of the usual "RUS", and Tchaikovsky's Piano Concerto No. 1 replaced the national anthem during award ceremonies.
Like in previous penultimate Olympic seasons, most of the Olympic berths were assigned according to the results of the Worlds 2021. However, a new qualification rule was introduced. If a country has earned the necessary points for three/two spots but did not have three/two skaters qualified for the free skate/free dance, that last entry was not automatically reserved. Such ISU member may enter participant/s to earn one additional quota at the designated qualifying event, Nebelhorn Trophy 2021, alongside other countries/skaters competing in this qualification.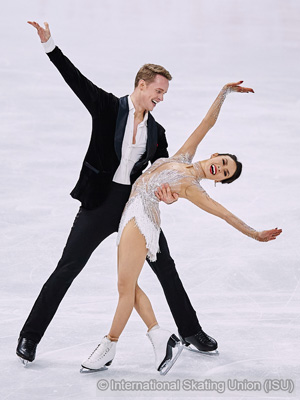 List of the currently secured quotas per country (with * near those which have a chance for additional entry):
Men: USA (2*), Japan (3), Russia (2*), Canada (1*), France (1*), South Korea (1*), Italy (2), China (1), Georgia (1), Switzerland (1), Estonia (1), Belarus (1), Latvia (1), Czech Republic (1), Mexico (1), Ukraine (1), Sweden (1), Israel (1)
Ladies: Russia (3), USA (2*), Belgium (1*), Japan (3), Austria (1*), South Korea (2), Azerbaijan (1), Canada (1), Estonia (1), Sweden (1), Netherlands (1), Bulgaria (1), Germany (1), Georgia (1), China (1), Czech Republic (1), Great Britain (1), Finland (1)
Pairs: Russia (3), China (2*), Canada (2), USA (2), Italy (2), Japan (1*), Austria (1), Germany (1), Hungary (1), Czech Republic (1)
Ice dance: Russia (3), USA (3), Canada (3), Italy (1*), Great Britain (1*), Spain (1), Poland (1), China (1), Lithuania (1), France (1), Germany (1), Japan (1), Ukraine (1)
Essential hope
At the beginning of the season, US pair skater Mervin Tran shared on social media his musings about whether it was right to participate in the skating event amid a pandemic. "Look," he wrote on his way to the Skate America Grand Prix event, "it's not lost on me that we're in a pandemic. I understand that my lifestyle and livelihood are both non-essential; however, the sport of figure skating provided me the structure to motivate myself and strive for excellence. It's kind of a big deal to me. It's been a positive influence in my life... So here we are heading off a big ol' non-essential event. It's one of the few amateur sports that has been able to organize on this scale. Despite this 'non-essential' label, I do believe that what we're doing right now is kind of important to a lot of people."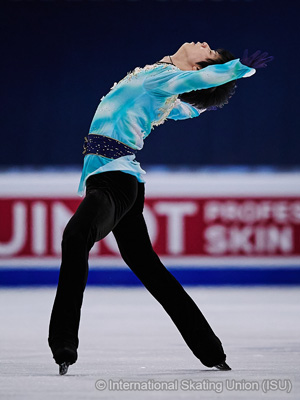 Because of the coronavirus pandemic's immediate threat to human life, "essential work" is widely understood as work deemed necessary to meet basic needs of human survival and well-being. And, yes, figure skating is not in that category. Yet for many of us, struggling in our daily life with different aspects of the pandemic, an opportunity to follow figure skating competitions was an escape, one of the means to deal with tough reality. After this season-no season, choreographies via Zoom, no ice time, and practices in backyard during lockdowns, skaters came to Stockholm ready, showed us high-level performances, entertained us, but first and foremost gave hope and inspired us all to persevere.
In the mixed zone of the World Team Trophy, journalists asked Yuzuru Hanyu what made him change his mind and compete in that event.
"The biggest trigger was one of my sponsors," he answered. "I was on the ANA ('All Nippon Air') flight, from Sweden back to Japan, and I realized that the flight was empty. When I got to the airport it was completely dark. People overseas told me that the airports look like ghost towns and that's indeed what it was like. What used to be a gate to a different "world had turned into almost a hospital reception. But the ANA employee who accompanied me said that even though they couldn't congratulate me, they still got a lot of courage and hope from my performance.
[At the beginning of the season] I felt that it was important for me to stay at home so that I wouldn't give the virus to anyone, and I wouldn't cause people to come to the competitions, go to the airports and spread the virus.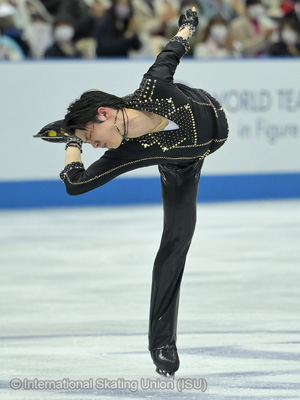 That's why I withdrew from the Grand Prix series. And I still feel that way. But I also understand that lots of people have lost their jobs, there are lots of people who are struggling. Despite that an effort was made for this competition to happen, the reporters and others who are [working] here... I think that if there is a way for me to do something that will support these people then that would be meaningful. So, I feel conflicted, but I definitely feel better about taking part in this competition."
Watching the Summer Olympics, one can't help wondering about how Beijing 2022 will look like. A year and a half after "cancelled Worlds" 2020, we see that we're still not back to normal, "the world without corona" is not here yet. And probably won't be in half a year. Hoping for the best and then cancelling events in the last minute, like it happened too often this season, is not a solution. Going with it as if there is no pandemic is neither. Even if we're talking about a relatively young age group, coronavirus can potentially lead to a life changing career-ending damage, and unfortunately there were examples to this.
Did the "bubbles" at Worlds and the World Team Trophy work? Or they just got lucky? With junior Grand Prix events just around the corner and senior series roster announced, are there precise safety protocols defined? And, even more importantly, will they actually be implemented and followed? Will there be any consequences for organizers who decide they know better and endanger participants of the events they're holding? With the new - Olympic! - season officially starting next week, we need those questions to be answered as soon as possible.