2021 World Championships Preview
March 22, 2021
By Reut Golinsky
Photos © Soren Andersson, Jay Adeff/U.S. Figure Skating, International Skating Union (ISU), Reut Golinsky, Emma Svensson/Frida Moller Studio
With two Grand Prix events cancelled and the other four held as domestically run events, we were able to follow the progress of only some of the skaters coming to Stockholm this week. We invite you to recall Grand Prix stories and highlights as a preparation towards the excitement of the Worlds 2021.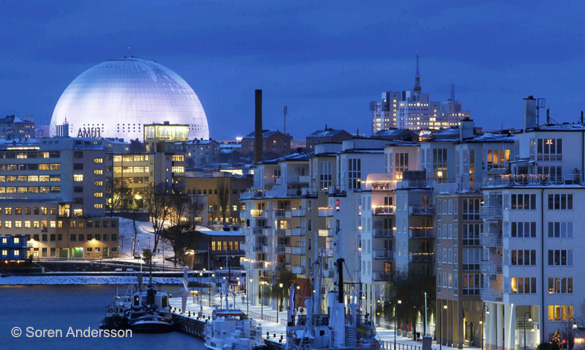 Skaters are coming to Stockholm with different backgrounds and personal situations.
Some, like Wenjing Sui and Cong Han, who had to withdraw from the 2020 Cup of China due to Cong's hip surgery, didn't compete since the Four Continents. Some, like the Canadian team (except Keegan Messing), could compete this season only "virtually". And some, like Shiyue Wang and Xinyu Liu, were even coached virtually: "We've been having online classes and because of time difference we have two sessions a day, one in the morning and one in the evening. We haven't been able to train together with our teammates back in Montreal, but we're trying to believe in our goals and keep competing," they said during the Cup of China.
Alexa Scimeca Knierim changed partners, teaming up with Brandon Frazier last spring, and they started skating together only in May! Winning the 2020 Skate America and becoming national champions later in the season gave them a confidence boost towards their debut at the international stage.
The Russian team must be feeling confident and ready too as they got a lot of chances to compete at various domestic events. Thanks to the very high level in all disciplines now in Russia the battles they won - sometimes against each other - were not easy at all.
Just like in the good old days, Tamara Moskvina is bringing two top pairs, both with eyes on the podium: the 2020 European and Russian champions Aleksandra Boikova and Dmitrii Kozlovskii and the 2019 world junior champions Anastasia Mishina and Aleksandr Galliamov. Both pairs had their ups and downs during the season and sometimes the dynamics in the group and the positions of leaders and those trying to catch up was changing. Which one is easier: to follow or to lead? They answered this question after their short programs at the Rostelecom Cup.
"Each position has its pros," Anastasia said. "It's easier to be first [after SP], because you're more confident, you have a certain margin [in points]. But being second is easier in a way that it's less nerve-wracking, there is less attention on you, you feel better. So, each place has its advantages."
"I'm sure and I think others will agree with me that it's not easy no matter your standing", Dmitrii added. "In both cases we're nervous. Also, we're not a contact sport, we go on the ice, we perform our elements, we show the result of our work, we get points for that, this is it.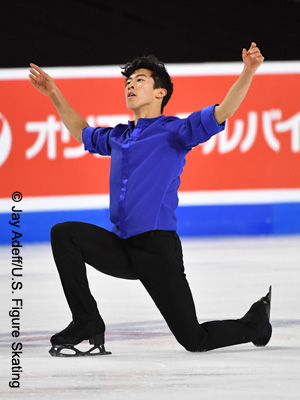 Of course, we all want to skate clean, to show our best, and I can't say that for some it's easier than for others. We all compete having the same conditions, at the same time, on the same ice, we all train really hard."
Objectives and goals the Worlds participants set for themselves vary too.
For leaders in men, Nathan Chen and Yuzuru Hanyu, this is going to be a "rehearsal" before the "final battle" at the Winter Olympics. Last time they met was at the Grand Prix Final in Turin a year and a half ago. Both showed this season that they are at the top of their game, so their "duel" promises to be exciting.
For Russian quad-wonder women, Alexandra Trusova and Anna Shcherbakova, a lot more will be at stake, as the rivalry between their coaching camps has been one of the main topics in rumours, discussions, and media. Although in her recent interviews Alexandra says she is focused on clean performances and not on medals, no doubt she is willing to prove that the decision to change coaches this off-season was the right one for her.
Many skaters are coming first and foremost to qualify their country for the Games. Among them is Misato Komatsubara who expressed her hope to do so during the NHK Trophy: "Keiji (Tanaka) and other friends have already made it to the Games, and I think we are at the starting line; we want to be proud to be Japanese and we want the young ice dancers to be proud of us."
"I will do my best to qualify for the Olympics and bring the best results possible back to my family, friends, coaches, and my country," her partner and husband Tim Koleto wrote on Twitter. He became a Japanese citizen last November, turning them into an Olympic eligible couple-something they patiently worked on for a very long time. Now they need to earn a spot, but also to win the right to represent Japan at the Games.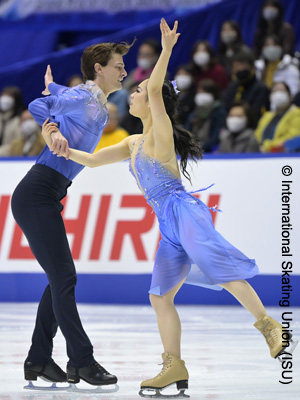 And a newly created couple Kana Muramoto and Daisuke Takahashi are determined to challenge them. "Of course, we are aiming for the Beijing Games!" Kana said at the NHK Trophy. "We are a team that has just started. We are very excited, and coaches are telling us that we will bring a new breeze into this world."
Some skaters will try to guarantee an Olympic berth not only for themselves but also for their teammates. For example, Sara Hurtado and Kirill Khaliavin will fight to bring home two spots so that Spanish federation won't need to make a difficult choice between them and Olivia Smart/Adria Diaz. This won't be an easy task as they resumed training only in December following Sara's shoulder surgery.
Alexei Bychenko's dream is to experience the Games again. Will he be able to bring with him Daniel Samohin or Mark Gorodnitsky? He succeeded to do this four years ago in Helsinki, although it was a very close call. Can he secure two spots now, being four years older and with a whole new generation of skaters coming?
Here's our short conversation with Alexei in the virtual mixed zone at Skate America:
With Sergei Voronov retiring you're now the official grandpa of the men's field. How does it feel?
On one hand it's hard to continue pushing myself, but on the other hand it's interesting to compete with all these guys, this totally new generation, they motivate me. It's not even about competitions, it's more about me trying to do my best, keep myself in shape. I've finally started enjoying figure skating, less fighting [at the competitions] though.
How is your health? Last season you said you wanted to recover and take things slowly.
Everything is going well. Finally, I got back in shape. Because after the tough previous Olympic cycle, after 2018 I've spent almost half a year recovering. I had many "things to fix" - my back, my knee, my feet; there were some problems and injuries. So, I took the time; last season I started to slowly get back and this season I hope I'm getting back to my usual shape. I'll try to keep working to reach the Olympic season. Everything is fine and hopefully will stay like that.
So, the main goal is still the Olympics?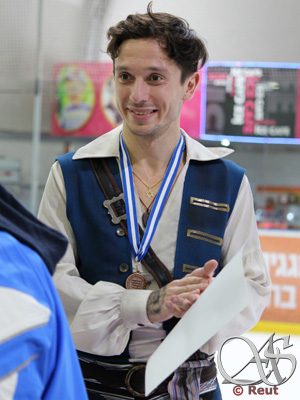 Of course! I thought about quitting after 2018, but then I kept skating. And now I have a goal. I didn't check whether there was someone at the men's event at the Games who was 34 years old, but maybe I'll even set some record as the oldest man skating [in singles at the Games]. (smiles)
Are you keeping your programs from the last season?
Yes, with the current situation we couldn't invite Pasquale Camerlengo to choreograph new programs, although we already had some ideas of what we wanted to do. But unfortunately, he couldn't come. Hence, I kept both programs, same music, and some small changes, especially in the free skate to make it more difficult than last season, but mostly the same.
Are quads back?
Yeah, sort of, it depends on the mood. (smiles)
Daniel Samohin who also competed at Skate America said that he was slowly recovering, trying to be ready for the Olympic season: "I'm feeling better mentally, physically it's slowly getting there too. I'm still working on my knee and my shoulder, getting them stronger. The plan is to let myself heal towards the next season."
As China will be hosting the 2022 Olympic Games, there is an additional pressure on the Chinese team.
Wenjing Sui and Cong Han would want to set themselves as absolute leaders towards the next season. And - together with Cheng Peng and Yang Jin - to secure the maximal number of spots in pairs.
Boyang Jin and Han Yan will try to do the same in men. Both looked strong at their home Grand Prix event.

Last September Boyang got his new short program choreographed by Shae Lynn Bourne and this change of style worked for him:
"This program is a new challenge; in my previous short programs the music was quite quick, now it's a modern piece with piano. The tempo is different too, I have enough time to think and adjust my breath and so I feel that I'm able to control this program pretty well."
But skating without an audience - the way the competition will be held in Stockholm, too - was a challenge: "Without the audience I feel like I'm not excited enough, I feel like it's just another test skate. But I imagine the audience in my heart and I'm thinking that they are cheering for me, this way I have more motivation".
After a disappointing few years, it looks like Han Yan is on a comeback trail. Keeping his beautiful short program for a third season in a row helped: "Even though I've been skating this program for a long time, I've been changing details a little bit, year by year. For me to have the right feeling I have to familiarize with the program and get more experience with it. I know what to do as soon as the music starts and for me it's not just a program, it's been with me for the past three years and it means a lot to me."
He showed two smooth performances with well executed jumps, but none of them were quads.
"I've been doing quad toe and quad Salchow at practices," he clarified, "and the success rate is actually quite good. Preparing towards the Cup of China I had only one month and was a bit in a rush. But to improve the technical score I would like to add them at bigger competitions, maybe at Worlds or Olympics. The audience hasn't seen me performing quads for a while and they might think I forgot them, but I actually look forward to doing them. Yet, for me it's important that the audience enjoys the performance. If I put too much effort on quads, maybe there are other things I won't be able to do as well."
Talking about quads, we expect to see a lot of those from several "heavily armoured" ladies.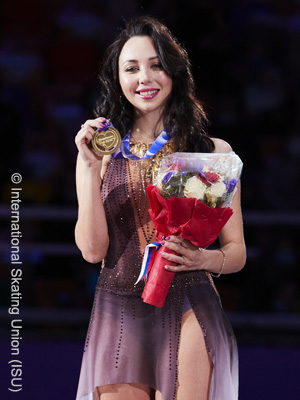 The first and the only quad performed in ladies' senior competition at Worlds was a quad Salchow by Elizabet Tursynbaeva in 2019. But in the past two years a lot has changed. Russian ladies have multiple quadruples in their arsenal: Lutz and flip for Shcherbakova and Lutz, flip, Salchow and toe loop for Trusova. And Rika Kihira has just recently landed a quad Salchow at Nationals.
Alexandra Trusova has also gained a lot in presentation; her skating became softer and more feminine. When she was asked about it during the Rostelecom Cup, she answered: "Yes, I do feel that. But I think this is something which can be observed better from a distance, by others. I really enjoy this feeling; we work a lot on this side of my skating both during my regular and additional training sessions."
And, of course, we shouldn't underestimate Elizaveta Tuktamysheva's triple Axels. Liza is also the only competitor in ladies who has previously won the Worlds' title. Young You and Alena Kostornaya - two other ladies who successfully mastered triple Axels at competitions - will be missed in Stockholm.
Although this year was no doubt hard on everyone, some were able to find a silver lining to it.
Many skaters mentioned that they finally had time to take a much-needed pause, to rest, and be with their families more, to take time to heal from injuries, to discuss new strategies with their teams.
Kaori Sakamoto, who won her first Grand Prix gold at the NHK and showed decent performances winning silver at Nationals, credits this to the "forced time-out" from the ice. "I couldn't skate for a month and a half," she said, "so I was able to work more on my strength. I think this has contributed to the fact that there were no major falls [in my performances] this season. These six weeks have helped. I have more power than last year; the stamina is helping me to put more effort into the expression of the music and other parts of the program."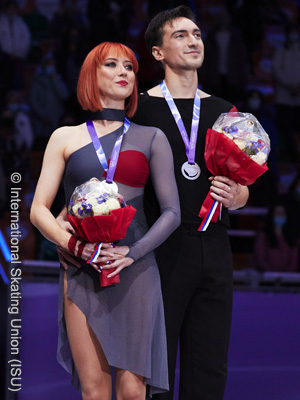 When asked about their significant improvement in scores this season, Tiffani Zagorski and Jonathan Guerreiro pointed out the same reason:
"A lot had to do with the fact that we were able to take time and reflect, to discuss where we're going with our programs, to focus on the direction we're taking as a couple, on what we actually want to show on the ice. It was good that we had time to re-analyze our programs and really think about what we're doing. Now we're both injury-free, knock on wood, we had the time to recover, to work a lot, and improve in things we were lacking, add a bit of polish.
We also had a lot of off-ice physical preparation, which really helped us to then be able to transfer that onto the ice and make sure that our programs are stronger. It was the combination of everything: being injury free, working, analyzing everything off-ice."
It's been more than a year since the Worlds 2020 was cancelled, something which hadn't happened since the Sabena Flight 548 crash in 1961. This year was difficult and challenging - for medical staff and essential workers, for parents and children, for the people all over the world. We, fans, missed following competitions while skaters missed competing and showing us the result of their work.
"Trying to train without a goal was very hard," Keegan Messing recalled during Skate America. "I know that when I got the notification that there is a possibility for the Grand Prix series to happen and I might be able to compete this year, it put a goal in front of my face. And it allowed me to train that much harder. I feel like we have to try and get back to what was normal." With the coronavirus not going anywhere anytime soon we need to define a new normal and find safe solutions to continue with our lives.
Former Canadian ice dancer, now coach, choreographer and host Asher Hill wrote on his Twitter: "I have mixed feelings about Worlds happening, but the athletes are excited to compete, and I support them." This reflects our feelings too. We are here to support skaters and skating fans, and we will be "virtually" covering this event on our social media.
So stay tuned. And stay safe. And keep being positive while testing negative!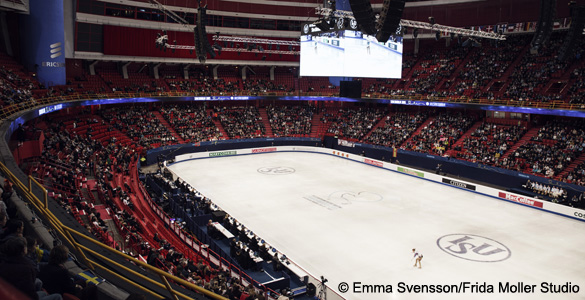 Don't miss our social media updates on Instagram, Twitter and Facebook.