Brian Orser: "I always want to be loyal to every skater"
February 9, 2022
By Judith Dombrowski
Photos © Judith Dombrowski
Brian Orser is a man with a lot of experience and he has been a shining presence in the figure skating world for about 4 decades now. He attended countless World Championships and even Olympic Games as a skater, and now for many years as one of the most successful coaches of the sport. But just like everyone else, Brian found himself in a very new and different situation during the last years.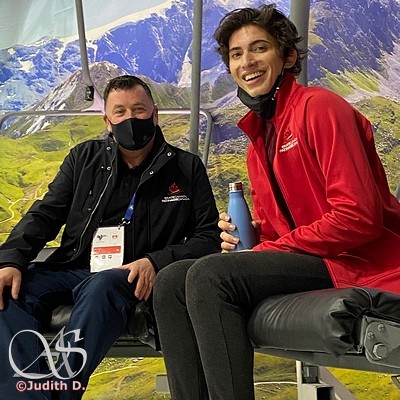 I met him in Courchevel, France where he accompanied his student Corey Circelli during the first ISU Junior Grand Prix of the season. We had a very relaxed and interesting talk about the adjustments he and his team had to make during the pandemic, how he developed as a coach, and he also revealed his personal favorite programs of this season.
Brian was relieved being back on the road for the 2021/22 season:
"It feels really nice", he admitted, "I am seeing the light at the end of the tunnel. I hope everyone stays diligent and gets vaccinated as I think this is really the answer, globally."
The Covid-19 restrictions in Canada had been some of the strictest worldwide and it had been difficult for Brian's many international skaters to come back to Toronto where he and his team teach in the famous Toronto Cricket and Curling Club. A big new цhallenge for the team:
"I had a good year and a half with the skaters I taught in Canada. It was a big challenge to keep them motivated, as so many competitions were cancelled or held virtually. Also a lot of teaching was virtual, we had a lot of Zoom lessons, sometimes with a 12 or 15 hour time difference," Brian told us.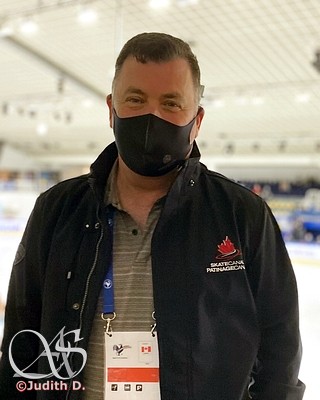 A lot of these virtual lessons were held with Chinese skater Boyang Jin, who noticed after a while that he needed face-to-face coaching. "We were trying, trying, trying and even hired lawyers to get him to Toronto but it was impossible!" Brian described the situation. After all, Jin decided to go back to his former coaches. So did Russian star Evgenia Medvedeva, who returned to her former coaching team in September 2020 after training with Brian for more than two years.
"We had no idea at the beginning that the situation would be going on for so long. Soon after Evgenia left in April 2020 we were able to skate again in Canada. I think if she had just stuck it out, it would have been a totally different season for her, because she would have been able to stay. We had lots of ice time, it would have been all fine as she had been in Canada already. But after she left it became impossible for her to come back."
"Another example is Katya (Ekaterina Kurakova). She moved on as she couldn't come back to Canada and I understand that. It was super fun working with her. She is such a talent and really thrived at our school. I wish her only the best." Kurakova now trains with Italian coach Lorenzo Magri in Egna, Italy and will compete at the Olympic Games for Poland. Medvedeva was forced in the meantime to end her competitive career due to a chronic back injury.
But some international students continued working with Brian and his team, even if mainly virtually: "I worked remotely with Junhwan Cha. He sent me videos, I watched them and gave him some comments. The same with Yuzuru (Hanyu). He also sent me some videos. He made the decision that he would be staying in Japan. It's his choice and I accept and support it. I offer him my help and do what I can remotely."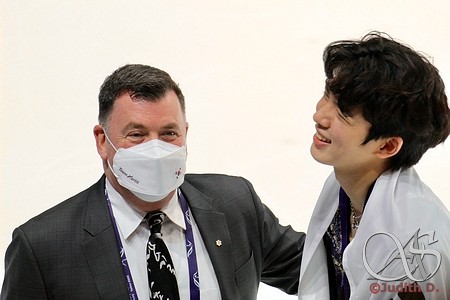 Brian also revealed that Junhwan has his personal favorite programs this season: "They are amazing, exciting and beautiful. He worked with Shae-Lynn (Bourne) and I think they did a great job. He has always been a beautiful skater but he continues to grow and I am really proud of him."
The Korean proved his coach right with two convincing performances at his two Grand Prix events where he finished 3rd and 5th. His short program to the "Fate of the Clockmaker" became a fan favorite.
Orser went to the Junior Grand Prix in Courchevel with Canadian junior skater Corey Circelli, who has a very interesting history: Circelli used to participate in singles and in ice dance competitions until 2019.
"He is now totally committed to singles", said his coach and added: "It's a really unusual path, isn't it? Usually you switch from singles to ice dance, for him it was the other way. Every one in skating would look at him and say: he is the perfect ice dancer. He is flexible, he is musical, he is passionate, he is strong. But single skating is his passion and so it's the right decision for him. The ice dance experience helps him a lot with his components, musicality and his tempo." Corey finished this competition as well as his second Junior Grand Prix assignment in 4th place.
"He was very nervous as this was his very first time out there again in front of an actual technical panel and an audience since the pandemic started.", Brian admitted.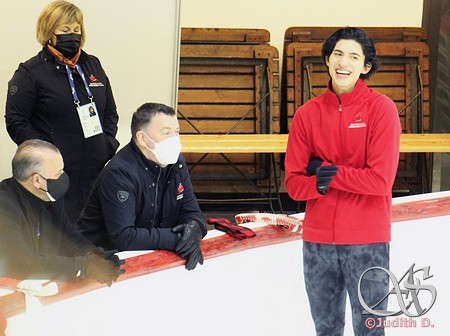 Corey, as well as some of Brian's other Canadian students also profited from the situation, that their international training mates were stuck in their home countries.
"A bit of the silver linings of the pandemic was that I was able to work very intensely with the skaters that were actually there," Brian acknowledged. "Before, with Yuzu, Junhwan, Evgenia, Katya and many others there, I would have much less time to work with Corey, Conrad (Orzel), and Joseph (Phan). Now I had the time to work with them intensely as well as with a couple of very strong juniors who will come in to the Junior circuit next season."
Brian also thinks that the pandemic helped him develop as a coach: "I think I became a more technical coach. We did a lot by Zoom and off-ice jumping classes and I really started to understand the value of it. In North America we never really focused too much on that. When I was a kid I used to have a lot of energy so I did a lot of off-ice jumping by myself. As soon as there was any flat surface I would go there and jump double and triple Axels. So I did it for fun but it was never enforced officially as a training tool. Now it became a training tool, rather out of necessity when the rinks were closed. But the kids came back stronger because they had been doing this."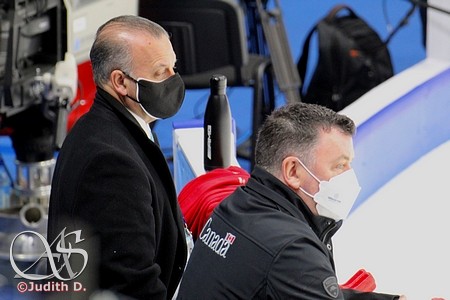 After flying around the globe with his skaters for many, many seasons, Brian also noticed that it was good for him personally to settle down a bit: "I was getting tired and a little burned out. I always want to be loyal to every skater. You want to be able to be there with them at every competition. And to be completely honest, it's exhausting. But now I had a year with just my usual routine and my own personal life."
Brian used this extra time to relax and to discover new things: "We did a lot of cooking. For the first six weeks when we were completely shut down I was going on YouTube and learned how to do sourdough bread for example. That was fun. I also spend more time up in my cottage, as I have a summer home up at the lake (in Port Carling at the Muskoka Lakes, Ontario.) I've owned this house for about 26 years now. It's so peaceful and beautiful so I got to spend a little bit of time up there. I caught up on different shows on Netflix. For example, I am a big fan of 'The Crown'. I also loved the 'Big Little Lies' series. I also watched a lot of documentaries. I tried to learn about historical people and events too."
The pandemic also provided him more precious time with his husband of 12 years, Rajesh Tiwari:
"I got to spend a lot of time with my husband. We've been together for a really long time, but I've been traveling a lot. He appreciates figures skating, but if he comes to an event he would maybe go and watch Yuzu or Javi and then leave. But it's also good to have someone not to work in the exact same field as you do. And he often sees how stressed out I get by my job, because it does consume my life at times and makes it difficult to balance my personal life. So during the pandemic we've had so much time together which was very nice!!" With a laugh, Brian then added: "But now we are both kind of looking forward to getting back on the road."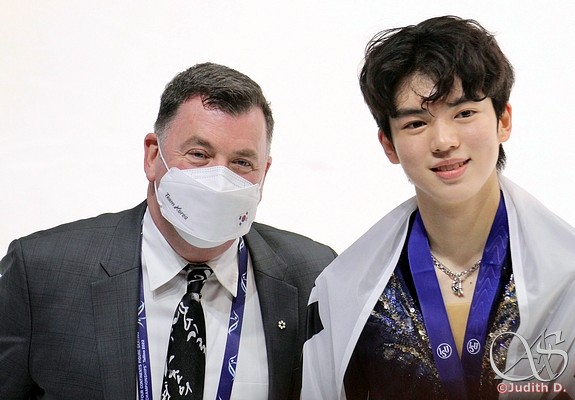 The road leads Brian, his coaching team and his skaters to the Olympic Games in Beijing. Brian hopes that everything will go on as planned:
"I think Tokyo 2021 set a pretty good example. They handled it pretty well and the Summer Games are an even bigger event. I have my fingers crossed that everything can go on as planned!"
We really hope the same for you, Brian, your skaters, and everyone in our sport.