ISU Four Continents Figure Skating Championships 2022
January 30, 2022
By Reut Golinsky
Photos © International Skating Union (ISU), Jay Adeff/U.S. Figure Skating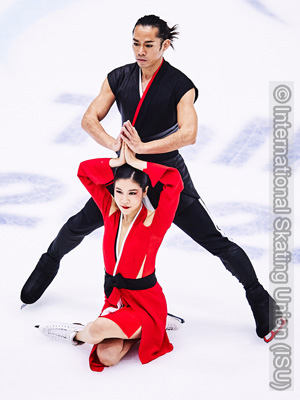 If a few years ago someone had told you that the ISU Four Continents Championships 2022 would be held in Europe and Daisuke Takahashi would win silver... in ice dance, would you have believed it?
Indeed, due to the exceptional circumstances after the original host, China, returned the event, Tallinn stepped in to take over. And indeed, back in 2020 Daisuke Takahashi started his, so far pretty successful, career in ice dance.
Have an ice memory*
Tallinn has hosted multiple skating events of various calibers, including two European championships (2010 and 2022) as well as the Junior Worlds 2015 and 2020, six Junior Grand Prix events, Tallinn Trophy and Tallink Hotels Cup. So, not surprisingly, for many participants this was not their first time in Tallinn and visiting it again brought back nice memories.
Kana Muramoto's first ever competition in ice dance was at this arena, at the Tallinn Trophy 2014. Back then she skated with Hiroichi Noguchi. Evelyn Walsh and Trennt Michaud competed here at their first junior Grand Prix together in 2016.
"It's kind of cool," Trennt said, "We walked around and visited some places, there are some we will go to on the day off tomorrow, to re-create photos with our coaches. It's always well run here; it was well organised last time and so it is now."
Hae-in Lee, silver medalist now, finished fifth last time she was here for Junior Worlds. She was happy to get a "revenge": "I'm super happy. Last time I came here, in my free program I made one mistake, so it was really sad, but this time I'm doing well and I'm very happy."
"We didn't want to do this competition, but we had no choice (TES in this competition was a qualifying criterion for Australia's Olympic selection - ed.)," Kailani Craine explained, "so I'm definitely glad it's in Tallinn, because I love Tallinn. I've been here twice before, for the Junior Grand Prix and Junior Worlds, I have really good memories from Junior Worlds, it was really fun."
Single. Double. Trouble.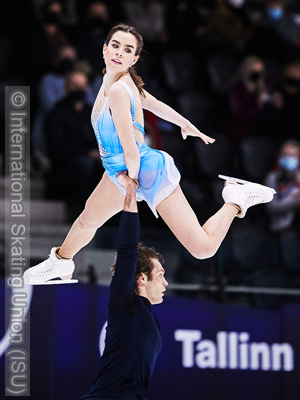 With Tallinn not being a particularly large transport hub, - to say the least - with multiple cancelled and rescheduled flights due to the new COVID wave and stormy weather for some of the participants the road to Estonian capital was long and winding.
"We missed both the flights and our bags - our flights were redirected, we didn't have our bags, it was a mess," Caroline Green shared. Evelyn Walsh and Trennt Michaud's journey, for example, took 41 hours from the moment their plane took off! They had two practice days to have a rest and recuperate before the competition. But not everyone was that lucky. "We haven't even been here for 16 hours," said Corey Cirelli after his short program. "We got here last night around 7 pm and then we were lucky enough to be given 30 minutes on the practice rink. Our first flight was cancelled because in Toronto we had a crazy snowstorm. We tried to travel again on Tuesday and our bags got lost because there was a 10-hour delay, in the end the bags were here before us." As if this was not enough, when he was already in Tallinn, he also got stuck in the elevator on the 21st floor! "But we are here in the end," he concluded his dramatic story.
With so many troubles, health safety concerns, withdrawals, certain journalists calling it a "something of a stepchild event" was it even worth it to have these championships? It was enough to see skaters' faces in K&C after a good performance or listen to them in the mixed zone to know the answer.
"It was a joy to be out there, especially in a big event like this..."
"When I was told I'd go I was excited; I grew up watching it; it's a big thing for me..."
"It's a great opportunity to show myself to the world..."
"Four Continents was one of the competitions I aspired to, so I was honoured [to be selected]..."
"I got confidence from this competition..."
"I really wanted to get to the Four Continents, I thought I wouldn't have a chance, but I got this opportunity..."
These are just a few of the quotes.
Nothing worse or beginning of a new chapter?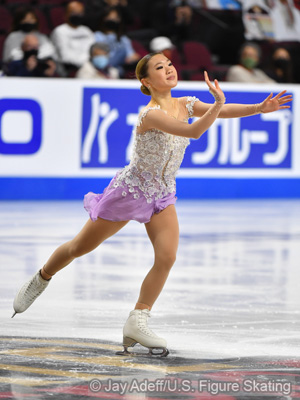 This event was a great opportunity to shine for those skaters about whom we know less, a confidence boost for those who missed selection to their national Olympic team, a chance to rebound, to finish the season on a high note.
"Being here means so much especially after Nationals," Audrey Shin said. "I was disappointed with how I skated [there], I also had food poisoning last week and I was thinking that I might have to withdraw. So, I'm just happy to be here, happy for this opportunity as I've always wanted to compete at the Four Continents."
"Our goal this year was to do all we could to make it to the Olympic team, but we knew it was a long shot so even while not making the team we set ourselves up very well for the next four years and this is a great starting point for that journey," said gold winners Caroline Green and Michael Parsons.
Meagan Duhamel wrote a passionate Instagram post in which she shared her own experience of "competing at Four Continents when your ultimate goal was to skate in Beijing at the Olympics." She wrote: "There's probably nothing worse in Olympic sport than to be in your position. The emotional roller coaster you just went on in the past 2 weeks between Nationals and 4CC is real. Yet you survived and found a way to deliver. Use this moment to reboot your career. My 2010 4CC was the beginning of the greatest chapter of my career."
"Sidenote:" she added. "This is a terrible reality. In 2010, the banquet host, whom was a member of the ISU, told to all the medal winners 'Congratulations. Even though the best weren't here'. At that point, all we could do was laugh."
Perhaps that completely tactless remark was factually correct - not all of the best non-European skaters competed in Tallinn that week. But we certainly did not lack beautiful programs and truly winning performances.
They don't just excel, they Axel
Korea and Japan dominated the singles field with somewhat "mirroring" podiums: gold for Korean Junhwan Cha with silver and bronze going to Kazuki Tomono and Kao Miura from Japan, while in the women's field, it was Mai Mihara's gold for Japan with the rest of the podium being Korean - Hae-in Lee got silver and Yelim Kim captured bronze.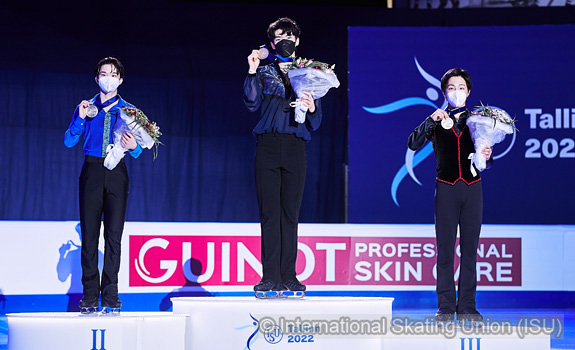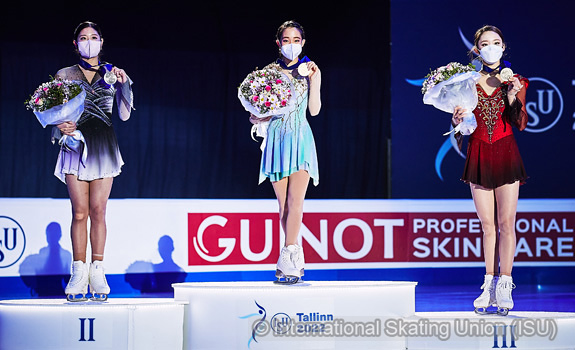 "I was a little nervous, but I tried to enjoy the competition," Junhwan said. "My goal was to do what I did in practice, to give all my energy to the audience. I feel I succeeded in that. My goal is, of course, the Games and I see these last competitions I participated in as part of my road to Beijing, part of the training process."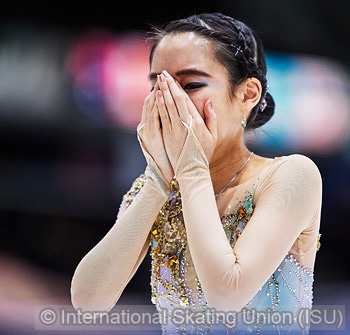 The Four Continents was always a special competition for Mai, she medaled all four times she competed in it and has a full set of medals: two golds, silver and bronze. After finishing in a disappointing fourth place at Japan Nationals in December, and not making the Olympic team, she finished her season with two beautiful performances improving all three of her personal best scores.
"I am incredibly happy now," she said. "I was so nervous today, maybe because I was skating last. I was crying even before I went on to the ice. But I was so happy to be here representing Japan. There was a lot going on in both my programs, but I'm glad I was able to skate until the very end. I really want to thank the audience whose support gave me strength."
Team USA led in the medal count in both pairs and ice dance: a one-two finish in pairs with Audrey Lu / Misha Mitrofanov and teammates Emily Chan / Spencer Akira Howe, gold for Caroline Green / Michael Parsons and bronze for Christina Carreira / Anthony Ponomarenko. For all four teams it was their debut at the Four Continents (although Michael competed in 2018 with his sister Rachel). Canada claimed one bronze in pairs thanks to Evelyn Walsh / Trennt Michaud, while Kana Muramoto / Daisuke Takahashi made history for Japanese ice dance by winning the first ISU Championship silver medal.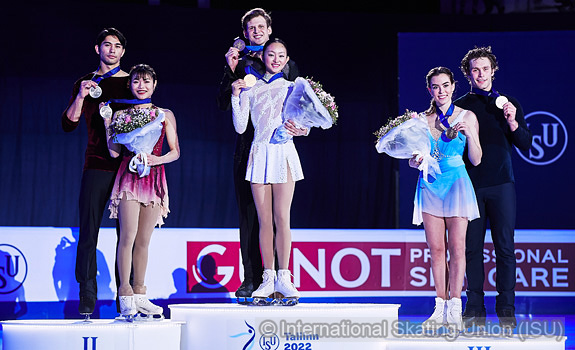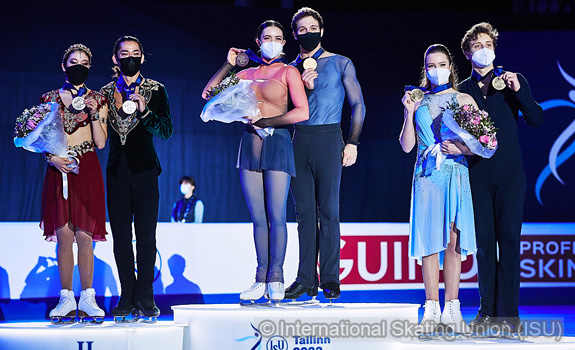 "It's just been incredible; this week has been amazing and having such a quick turnaround from Nationals is difficult but so worth it. We grew so much as a team just from the last competition and coming into this one, so much more confident in ourselves and our programs. We've learned so much about ourselves and come out of this season with a renewed sense of confidence in ourselves and our team.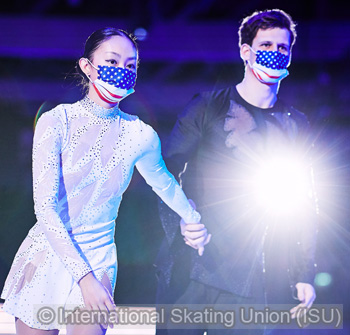 We're so proud, happy, and thankful that we are here, and we were able to skate our best against such great teams. It was a wonderful competition to watch, with some unique programs and from so many different teams," Caroline and Michael commented.
"Preparation was definitely rough, but we kept pushing, kept fighting. We didn't show our best performance for the free skate, but we were happy that we had a very solid short program. So, we're going to go back and start training harder. We're happy with the win but there's always more we can improve. It never stops," said Audrey and Misha.
An honourable mention goes to Daisuke Takahashi who continues to impress and inspire. "We didn't have that much time to practice before the Four Continents, so overall I think we did a good job. I'm very happy to be on the podium for the first time in a championship [as an ice dancer] and I can hardly put my joy into words. But I'm more frustrated that my performance was not so good. Last year I wouldn't have felt that way, but this season I was able to gain a lot of experience and climb the podium. That's not only thanks to Kana, but also thanks to Marina (Zueva, coach) and many other people that supported us. Overall, I'm happy to have achieved all this," he noted.
Eat. Sleep. Dance.
One of the most intricate and captivating dances of the season was created by Caroline Green, Michael Parsons and their team to the music by Ezio Bosso. It was a highlight of every competition they entered and eventually brought them Four Continents' gold.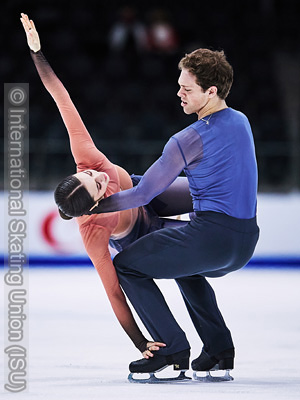 "This program really is us", Michael said. "We didn't try to tell a story that we haven't lived. It's about the feeling that we have in the program and the feeling you get when you watch it. Because it's genuine and it's very easy to pull from and experience every time we skate."
We saw this program evolve since the Autumn Classic International. What was the feedback to it throughout this season?
Michael: It was exactly how we expected. In the beginning of the season, it wasn't very good, because it was something very different that we haven't done before, a new direction that we would like to take as an ice dance team. So, of course, earlier this season there were a lot of mixed reactions but as we've polished it, as we've performed it more at the competitions, as people have seen it more, the feedback has been very, very positive. It's very encouraging for us; it makes us understand that this is a very special program.
Caroline: We've also received a lot of feedback from a lot of former skaters. It's been incredible to see that they really appreciated what we were doing. They feel like we're taking skating in a new direction, and they are excited. That's just been really motivating for us.
As someone who saw it live in Turin and took over a hundred photos of it, I should say that it also photographs really well. And every single frame is aesthetically pleasing and different.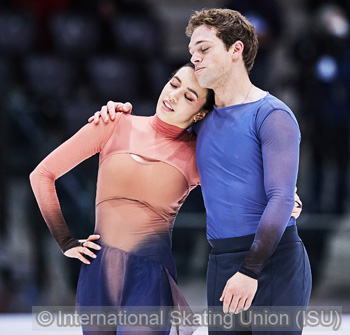 Caroline: We were focusing a lot on building shapes, there isn't a single moment in a program that's not intended to. We just really put a lot of care, making each and every second of it really special, there is no moment when we're doing hand to hand cross over.
Michael: Credit goes to our coaches, they made us train in a way that if you take a photograph of any moment, it should be a good photograph.
It was a little bit sad to bid farewell to this beautiful dance, but "this is only the beginning," Michael assured his fans in his Instagram post. "Every year we're going to take different approaches to show that this sport can be unique. We're really trying to carve our own spot in the sport and we're going to continue carving," they promised.
* Titles were partly inspired by the funny slogans which were used in the decorations of the rink: "Eat. Sleep. Skate", "I don't Excel, I Axel", "Have an Ice day", "Single. Double. Trouble."