Tina Garabedian and Simon Proulx-Sénécal: achieving an Olympic dream for Armenia
February 11, 2022
By Maria Bagdarasova
Photos © Seán Gillis/Europe On Ice, Iana Saveleva, Joy, Mireille Geurts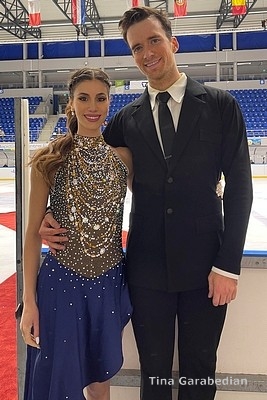 In Beijing, ice dancers Tina Garabedian and Simon Proulx-Sénécal will be the first Armenians in 16 years to compete at the Olympic Winter Games in figure skating. For a country of 3 million that in the last two years had to go through the ordeals of a full-scale war and the brutal impact of the pandemic, remarkable achievements like this are a much-needed remedy to lift spirits and bring back hope to a nation with a vast culture and history that is facing testing times.
Shortly before the athletes' departure from Montreal to Beijing, Absolute Skating caught up with Tina and Simon to discuss their journey to earning the honour of taking part and displaying Armenia's flag at the biggest sporting event in the world. It's a journey that called for resilience – something inherent in the Armenian spirit.
Being Armenian in Canada
Armenia is one of the oldest nations in the world. Due to the loss of statehood and many foreign invasions, Armenians established communities throughout the world. Following the Armenian Genocide, hundreds of thousands of survivors found refuge all over the globe, forming the Armenian diaspora, which further expanded after the collapse of the Soviet Union. Today, an estimated 7 million Armenians live in more than 100 countries.
According to the Office of the High Commissioner for Diaspora Affairs of the Republic of Armenia, there are 90,000 Armenians in Canada. The majority of them are descendants of Armenian genocide survivors from the Middle East.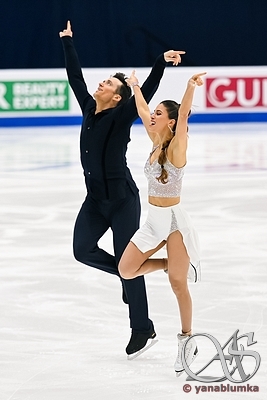 Tina Garabedian's parents came to Canada from Lebanon during the Civil War. Living a life as Armenian as possible is sometimes perceived as a duty for many diaspora Armenians.
"I was born and raised in Canada, and my family placed a lot of importance on both of my sisters and I preserving our Armenian identity. I went to an Armenian school up to seventh grade. We speak Armenian at home. In time, it became also my priority to keep the culture alive although we live in Quebec. I recently got married to an Armenian," Tina explains.
"As I was growing up people had difficulties pronouncing my last name: that 'ian' suffix was unusual. But thanks to competing internationally I went from almost being scared to tell people that I was Armenian, to now being very, very proud when I hear my name called out. I am so happy to be able to show others in the world who we are."
Simon Proulx-Sénécal does not have any Armenian ancestry, and he has become what is called Armenian by choice. He doesn't shy away from the fact that when he teamed up with Tina in 2015 he didn't know much about the country, its history and culture. "I had to learn. Thankfully we got to go to Armenia a good number of times. As soon as I landed there on our first visit, I felt weirdly at home. Armenians are such nice, welcoming and generous people, very family-oriented. They always want to take care of you, to give you the best. I really fell in love with Armenia and developed an attachment to the country," he says.
Tina's first visit to Armenia coincided with the start of her ice dance journey under the Armenian flag. "When planning our family trips, we kept on putting off our first visit to the country," she says.
She recalls the profound impact of her visit to Tsitsernakaberd Armenian Genocide Memorial complex and the powerful image of Mount Ararat. Although it is not in Armenia's current territory today, it appears on the country's national coat of arms. It is visible from many points in Armenia and carries a major symbolic importance for Armenians all around the world.
"I am glad that I got to see those places in person. I really fell in love with the place and the people, and everything it offers," she says.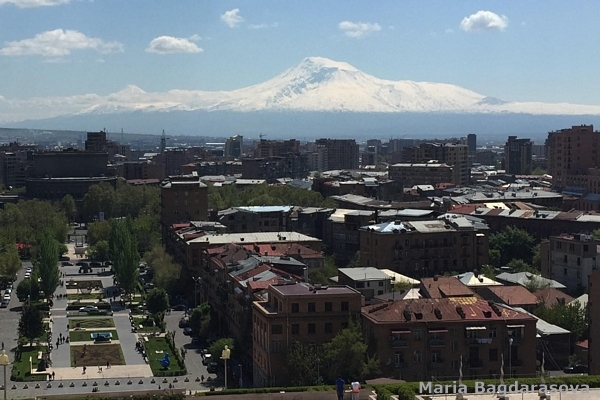 A journey in figure skating
Tina started skating at the age of five and competed in singles until the age of 14. At that point she joined her two sisters on the Laval synchronized skating team. Skating with so many people at once felt overwhelming, so Tina switched to ice dance which seemed a perfect middle ground between single and synchronized skating.
"As a single skater you don't pay too much attention to the other disciplines like ice dance or pairs. And as a person who was doing jumps, I thought that ice dance was easy and not cool. It was when I saw Tessa Virtue and Scott Moir win the Olympic Games in 2010 that I fell in love with the sport and decided to give ice dance a try," Tina recalls.
Tina skated with her first partner Alexandre Laliberté for two seasons in juniors. In the second year of partnership the team approached the Figure Skating Federation of Armenia (FSFA). Unlike some of the other federations from former Soviet republics, FSFA requires the athletes, or at least one of the athletes in case of an ice dance or a pair team, to have Armenian origin in order to represent the country. FSFA was enthusiastic to have an ice dance team on board.
Simon's journey on the ice started at the age of four when he joined his older brother in hockey. At the age of seven he realized that he didn't like the game too much, so he asked his parents to sign him up for regular skating. When he was older, he decided to go to a sport study program in high school and following the recommendations of one of his coaches he then switched fully to ice dance. Simon competed for Canada for several years before teaming up with Tina in 2015.
"Both of us split from our previous partners at the same time. We were in the same training school and did a try-out; our coaches saw a very good match and we started our partnership together," Simon reminiscences. In their first two seasons together Tina and Simon were coached by Elise Hamel and Shawn Winter.
The team took part in three ISU European and World Championships before taking a year-long break after the 2017/2018 Olympic season. On their first try, Tina and Simon fell short by just over 2 points to qualify for the Olympic Winter Games in Pyeongchang at the 2017 Nebelhorn Trophy.
During their year off, Simon joined Canadian Synchronized Skating Team Nova with whom he won the Canadian Nationals and participated at the ISU World Synchronized Championships 2019.
"I had to fall back in love with skating. In the season 2017/2018 I felt I was so focused on the results and training that I did not enjoy it that much. I kind of lost my passion for skating. Being on a synchronized skating team surrounded by so many skaters, feeling their passion for the sport and their willingness to learn and improve brought back that love," Simon explains.
"I realized that I hadn't gone as far as I wanted to go in skating. That is when Tina and I reconnected and understood that maybe we hadn't done everything we could have. We decided to get back together and try to qualify for the Olympics for Armenia. With that focus on our ultimate dream we re-teamed."
Olympic qualification: through adversity to dreams coming true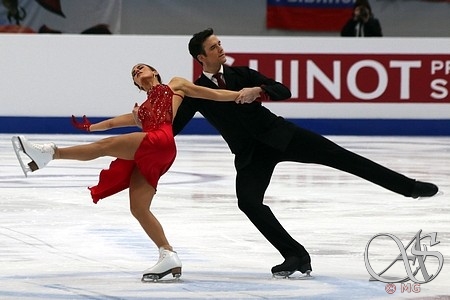 With the Covid-19 pandemic taking over the world in March 2020, international figure skating competitions had to be put on hold, with numerous events cancelled including the 2020 World Championships in the team's hometown of Montreal as well as the 2021 Europeans in Zagreb. That meant that after teaming up again in 2019, Tina and Simon had a chance to compete at only one ISU championships, the Europeans in Graz in January 2020, where they placed 17th, their best placement in the event at the time.
After a 14-month hiatus Tina and Simon arrived at the 2021 World Championships in Stockholm determined to compete and hoping to earn an Olympic spot for Armenia. The team however was not allowed to take part in the competition due to what turned out to be Simon's false positive Covid-19 test result. ISU health protocol was not very detailed at the time and provided no alternative solution other than precluding the athletes from competing in the case of a positive test. Tina and Simon's unlucky experience was aggravated by miscommunication, scarcity of official laboratory documentation and an overall lack of goodwill and cooperation on the part of the ISU and the organizing committee.
"They said that they did what they had to do with the protocol that was in place. In the case of a positive test result, they needed to isolate the individual right away which they did. I fully agree this is essential in order not to put anyone at risk. I just think that they should have had a plan B or emergency protocol in case of a situation like ours. It was the first big competition during the pandemic and I feel they were not prepared for this scenario," Simon says.
"Based on what I saw at the 2022 Europeans in Tallinn, this season the ISU are doing much better. Back then it was all new for everyone, but now with PCR and rapid antigen tests the process is much clearer. It is just sad that it was us who took the hit pretty hard at the worst possible moment."
With the ISU having updated the Olympic qualification system ahead of the Games in Beijing, Tina and Simon had to reach the free dance in Stockholm by finishing top 20 in the rhythm dance in order to qualify for the Games. Their highest finish at the World Championships was 22nd place back in 2018, in their first year of training at the Ice Academy of Montreal, but the team was confident that the progress they had made with the help of their coaches over the previous three years would help them finally achieve the milestone of reaching the final in Stockholm.
"We knew we had improved, but not being able to compete and see the actual response from the judges was the most frustrating part. Not being able to display what we have been working so hard on throughout the pandemic," Simon explains.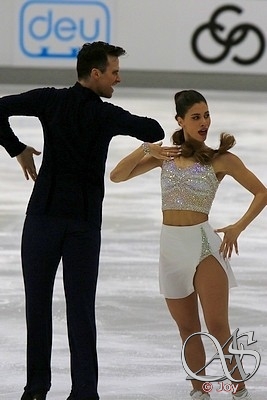 "It was important for us to show that we hadn't quit, we were still there and aiming for the Olympics. We were there, we were ready, we had done all the practices. We expected to qualify there. It was hard to accept," Tina adds.
The remaining chance for Tina and Simon to achieve their prime objective of qualifying for the Olympic Games was at the Nebelhorn Trophy in Oberstdorf, Germany, in September 2021. They needed to finish among the top four teams there.
Upon the team's return to Canada from Stockholm they had to do two weeks of obligatory quarantine, but the psychological impact of what had happened at the World Championships forced them to take a longer break before resuming training. "We got back on the ice and it didn't feel good. There was a lot of anger and sadness and we needed to deal with it outside and come back fresh and ready, in order to move on and earn our Olympic spot at the Nebelhorn Trophy," Tina recalls.
For their rhythm dance this season Tina and Simon chose to skate to Respect, Bridge Over Troubled Water and Think by Aretha Franklin. The narrative of their routine is the team's response to the painful experience they had to go through at the World Championships in Stockholm.
The idea was suggested by Simon after he saw the trailer for the Aretha Franklin biopic Respect. "When I first heard the song that now opens our rhythm dance, I felt that I could hear my inner voice saying: 'We're here, we are to be respected and to be looked at. Don't second-guess us, we are ready, see us skate, have fun with us,'" he explains.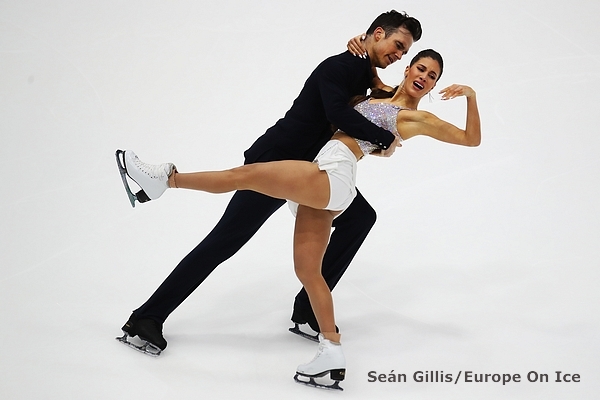 To accompany the Midnight Blues pattern dance element, the team uses Bridge Over Troubled Water. "In this second part we try to portray how you get from everything that happened and build the bridge to go to the other side to succeed," Simon adds. "With everything we had to go through, this concept really speaks to us. It was even a part of the coping process. Having songs that really move you helped us throughout the current season."
Two very confident performances in both segments of the competition at the Nebelhorn Trophy revealed how the significant progress the duo had made could translate into scores. Tina and Simon improved their personal best total by more than 16 points. They were placed fourth overall, but third in the Olympic qualification which meant that the dream they had been eyeing for so long finally became a reality.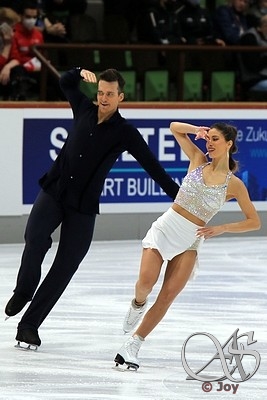 "After the break we took post-Stockholm, we got back together really focused on what we had to do in order to qualify," Tina recalls. "Having a clear goal really helped us in our preparation. We were training a lot better than we had done in the previous year, we felt even more ready. In Oberstdorf, our coaches were very happy with our consistency at practices. We trusted that we just needed to perform like we did at home and in training. The results followed."
Despite having attained their vital goal, as athletes with competitive and perfectionist mindsets they were not completely satisfied.
"The rhythm dance was one of our best performances. In the free, we made a little mistake in the exit of the stationary lift that cost us a level and a couple of GOE points. Without that mishap, we would have probably finished second because only 0.71 points separated us from the second place. It cost us a medal," Tina recalls.
However, it was the feeling of relief, happiness and accomplishment that prevailed.
"Obviously we were very happy we qualified," says Tina. "It was our life goal and the fact that we were able to achieve it was amazing. We were also lucky to have my parents, my now husband and Simon's partner there with us. Having your loved ones to support you when this big moment comes is special. It was a very emotional moment. With all the work we had put in, we deserved it. We had a nice celebration afterwards."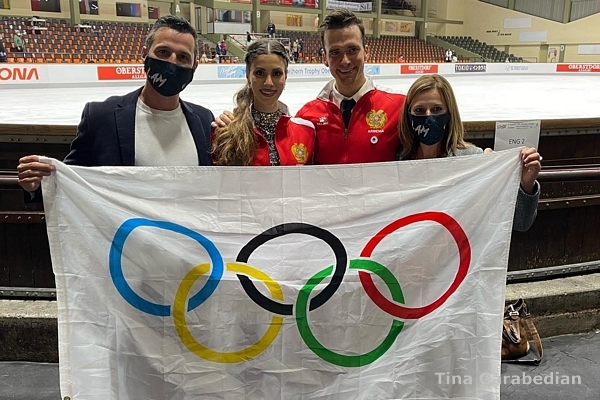 Alongside Tina and Simon, there was also an Armenian single skater, Slavik Hayrapetyan, who was trying to earn his Olympic spot at the qualifier event in Oberstdorf. Armenian born and bred, Slavik who trains in Yerevan under the guidance of his father Samvel Hayrapetyan, delivered two solid performances, but his total points were regrettably not enough to secure another Olympic ticket for Armenia in a very tough men's field.
Despite the defeat, Slavik rose above his own ambition and demonstrated true team spirit and sportsmanship. "Slavik approached us afterwards to congratulate us, shrugging off his own disappointment and saying that he was fine as long as there was at least someone to represent Armenia at the Games," Tina says. "It really touched my heart that he was so happy for us in a situation when he could also have gone himself – because this is also how we feel. Yes, we want to go, but it is not just me and Simon individually, it is the flag we represent and that is special in itself."
"We are really proud, and all the comments and the support we received from Armenians around the world have been very heartwarming. It is cool that we get to do this for the country," Tina adds.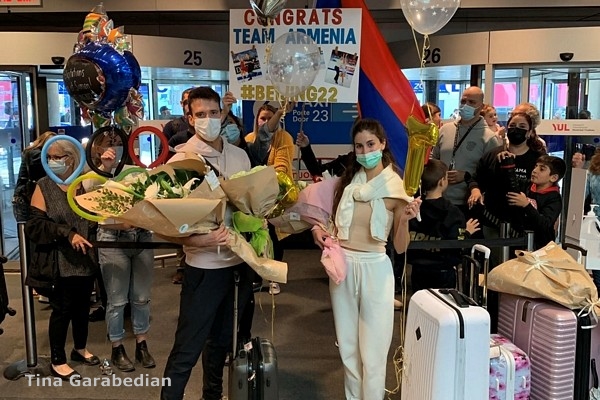 Shortly after securing their Olympic quota, the team travelled to Hungary to compete at the Budapest Trophy where they managed to clinch the title and experience hearing the Armenian national anthem Mer Hayrenik (Our Fatherland) and seeing the Armenian flag raised in their honour. It was a fitting coincidence that Gurgen Vardanian, Figure Skating Sector Sports Director at the Hungarian Skating Federation, who is a diaspora Armenian himself, awarded the medals.
"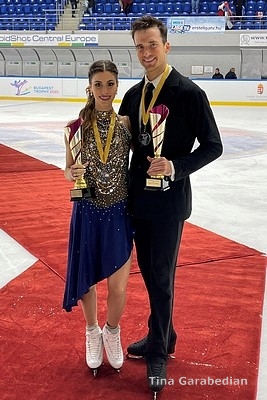 It was a last-minute decision to go there. We went just to get another competition under our belts. But it turned out to be the most fun we've had in a competition. Almost every night we went out for dinner with our coach Pascal Denis and our training mates who competed there. The amazing result was an added bonus. Seeing our hard work pay off with the flag and the anthem was lovely," Tina recalls.
In the free dance the team skates to Autumn Leaves and Luck Be a Lady. Although those are the same two musical pieces they used for their first free dance after re-teaming, the actual routine was revamped almost completely after its last international outing at the 2020 Europeans in Graz.
"We had already introduced a lot of changes for Stockholm. We considered trying something different this season, but with the Nebelhorn Trophy being so close after our return to the ice, we decided it would be better to stay with something that was comfortable and worked," Tina explains.
"Right now, it is pretty much a new free dance," she adds. "We altered the music cuts a little bit; the Autumn Leaves segment is now longer and the Luck be a Lady section was changed too. It helped to showcase the quality of both our skating and the dancing side. We are much more comfortable with what it is now," Tina added.
The ice dancers see this program as telling a story. "The first part is very romantic and nostalgic, about looking back at our experiences together, what we lived through, about letting go and being alone," Simon explains. "When the music changes we move from reflecting about what we have lost to thinking about everything we have gained and accomplished, making sure we are having the best time of our life. Let us have fun, let us party, let us dance together."
"Having worked with this music for so long I feel that we have created a story that speaks to us, and that we are able to project and show that effectively to the judges and spectators, so they are able to have fun with us, especially during the last segment. This is what I felt during our free dance at the Europeans in Tallinn."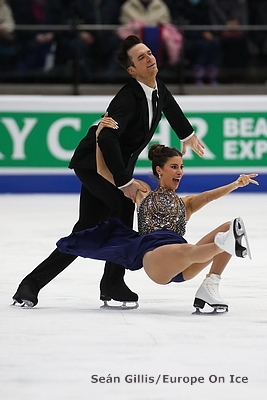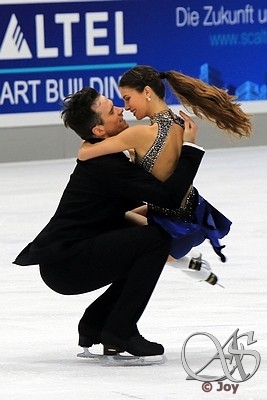 Simon adds: "I feel at this point in our skating career, in addition to being ready for training and competition, we really need to have fun and bring the audience with us and to make sure we are enjoying the whole process."
At the 2021 European Championships in Tallinn, which served as the last stop before the Olympic Games in Beijing, Tina and Simon finished 11th in the Free Dance and 13th overall, which is their best result to date.
Training at the powerhouse of international ice dance
Tina and Simon train at the Ice Academy of Montreal (I.AM) headed by renowned coaches Marie-France Dubreuil, Patrice Lauzon and Romain Haguenauer. At the upcoming Olympic Games almost half of the ice dance field will come from this sports school, with 11 out of 23 ice dance teams in Beijing calling I.AM their training base.
Tina and Simon joined this prestigious center for ice dance in autumn 2017. "We wanted to make this change even earlier, but I.AM is such a sought-after school, and they already had many teams, so we got there as soon as an opportunity came up," Tina says.
At the I.AM, Tina and Simon train alongside a dozen world-class ice dancers including four-time World Champions Gabriella Papadakis/ Guillaume Cizeron from France as well as multiple World medalists Madison Hubbell/ Zachary Donohue and Madison Chock/ Evan Bates from the United States.
"It is very motivating to train with competitors at your level and also with competitors who are at the top. Seeing the hard work around us every day and its results inspires us and pushes us. It is fun, yet sometimes stressful in a good way. It always keeps us going forward, which can be needed on days when one might not feel like it. It is great to have a team that supports you," Tina notes.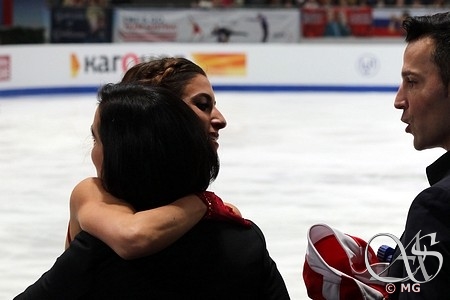 "It feels amazing to have so many people around who are going through the same process as you, especially now getting ready for the Olympics. We are putting the final touches on our programs, making sure we feel comfortable with everything. Just being a part of a big team of strong skaters makes you realize you are not alone in going through that. We are all facing the same difficulties, doing the same hard work with the same motivation, trying to get the best we can get and making sure we are ready," Simon adds.
The duo works with a team of 11 coaches and experts. "Patrice Lauzon is the head coach in charge of schedule. We receive our schedule in advance and it is always very detailed, down to every 15 minutes. Patrice determines who needs what. If we have special wishes, we can request them in the schedule," Tina explains.
"Having different perspectives helps us get better," she adds. "The approach is very different from coach to coach, and sometimes they say things that can almost contradict each other, but we then figure it out all together and see what works. It is definitely good to have different outlooks. We never do the same thing and improve each time."
When asked which skaters they looked up to as they were developing in the profession of ice dance, Tina and Simon in unison name Canadian two-time Olympic gold medalists Tessa Virtue and Scott Moir, with whom they even had a chance to share some practice time during the Armenian duo's first months at I.AM.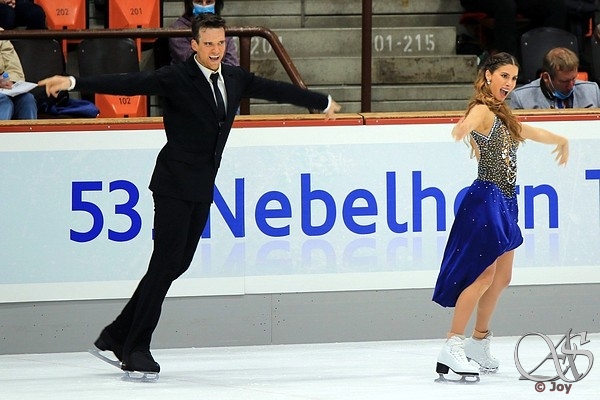 "Over the years Tessa and Scott always brought something different, and they did it perfectly, in every style and type of dancing. For me they were the best ice dancers in the world. They had the whole package; they could do anything and make it amazing," Simon says.
Currently the team benefits from the stimulating environment at I.AM and takes inspiration from their eminent training mates. "Both US teams bring different things to the table that I can learn from. Madison Hubbell and Zachary Donohue have so much speed and power. Madison Chock and Evan Bates are so artistic and perfect. You have to take whatever you can from each of them. I really appreciate whenever we are on the ice with them, it motivates me to do better," Tina explains.
"It kind of forces you to try different stuff too," Simon adds. "You see them doing it and you try it yourself. It is great to have so many different teams and coaches. It makes you experience a lot, get feedback and know what is good for you."
Eyes on Beijing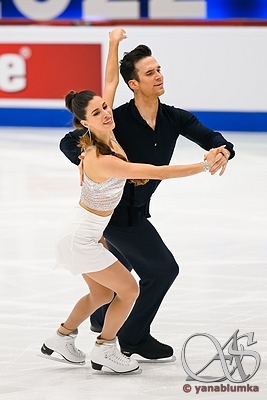 The ice dance field at the XXIV Winter Olympic Games will have 23 competitors with only 20 advancing to the final. Making this cut is Tina and Simon's ambition for Beijing which, if achieved, would serve as a worthy testament to their progress.
"We don't know what to expect: everybody around us keeps saying that it is going to be different this time around with Covid testing every day. This makes me a bit scared, that we have to be so careful," Tina says.
"As for the competition, this is the Olympics, what we have been dreaming of. We will put on a show and have fun. We have to do our best with what we have. That is all we can do during our first Olympic experience."
Tina was also given the honour of being Team Armenia's flagbearer at the opening ceremony alongside cross-country skier Mikayel Mikayelyan.
Although figure skating remains a small sport in Armenia, Tina and Simon are optimistic that the spotlight they are receiving on the world stage can help stimulate its growth in the country. "I hope we have inspired others to go into this beautiful sport. To have more people represent our country would be amazing. We receive many messages – it is great to have this support and we will do the same for whoever comes next," Tina says.
Tina Garabedian and Simon Proulx-Sénécal will step on the Olympic ice in rhythm dance on 12 February. The free dance is scheduled to take place on 14 February.
Tina and Simon's GoFundMe page: https://www.gofundme.com/f/armenias-road-to-the-2022-winter-olympics