Beijing 2022: before and after
March 20, 2022
By Reut Golinsky
Photos © Iana Saveleva, International Skating Union (ISU), Reut Golinsky
Spread over the span of the Games - from the team event which started before the Opening Ceremony to the gala just before the Closing Ceremony - figure skating competitions brought us two weeks of emotions, feisty performances, and amazing personal achievements. Also, plenty of drama, skaters stuck in isolation, a lawsuit claiming a copyright violation, and two (at the time of publication) doping scandals.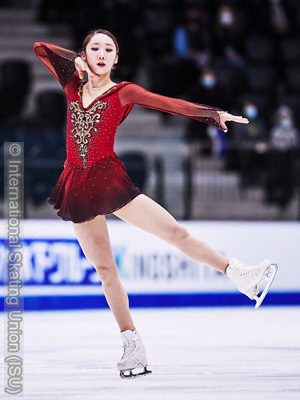 At the competitions preceding the Games we asked skaters about their brightest Olympic memories, experiences some of them have already gained, and things they are looking forward to doing the most when they are in Beijing. Now, a few weeks later, we look back at their answers and check whether their expectations were exceeded or partially met.
Yelim Kim (KOR)
"The Vancouver Games were very, very special for me, because Yuna Kim won a gold medal. Back then I was seven or eight, I only started figure skating, so, yes, the Games 2010 were the most special ones for me."
Indeed, Yuna Kim was a trailblazer for Korean figure skating, and now, twelve years later, we can enjoy this constellation of brilliant Korean skaters inspired by her outstanding career.
"Actually, I still can't believe I'm going to the Olympic Games," Yelim said during the Four Continents Championships, just a few weeks before the Games. "Maybe when I come to Beijing, when I go on the ice, it will sink in. Now I'm just very, very happy that I will go, I'm already a member of Team Korea, I can't believe that!"
After a close to perfect - expressive and elegant - performance of the short program Yelim was ninth, and, placing eleventh in the free skate, she finished ninth overall.
Posting a photo on the Olympic ice, she thanked her supporters and wrote: "Thanks to you we were able to finish the Games with satisfaction."
Natasha McKay (GBR)
"I have a vivid memory of Turin 2006, I just started skating not that long before that. I saw Sasha Cohen competing there (Sasha got silver - ed.) and I fell in love with this sport from that moment. It really pushed me, I was only 9 years old, but I wanted to get to the Olympics from that point, and that's the Olympic memory I have."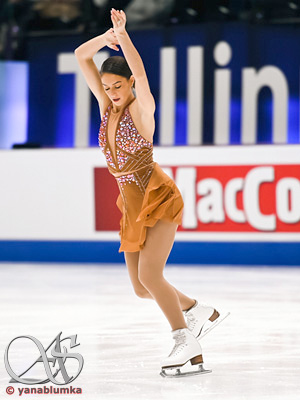 "We're going to be there together with all the different sports. And I hope to have time to get to know all the other Team GB athletes, to learn how they got into their sports, how they got to the Winter Olympics. I think it's going to be really nice."
"Proud is an understatement," Natasha's coach, Simon Briggs, wrote on Twitter a day before she stepped on the Olympic ice. "Such an inspiration to so many. Her never die attitude and total commitment over the last 4-year cycle has been out of this world. Tash, you are a super person and a wonderful athlete who once as a little girl had a dream of skating at the Olympic Games. That dream is about to come true and all I can say is go and enjoy every single second."
Natasha finished twenty-eighth in the short program, and, unfortunately, did not advance to the free skate. On her Instagram she posted a proud capture "officially an Olympian" and later added more posts describing her experience in Beijing as "unforgettable" and a "lifelong dream".
Ekaterina Ryabova (AZE)
Ekaterina represented Azerbaijan at the 2020 Winter Youth Olympics where she placed eighth. She was also a flag bearer at the Opening Ceremony.
"I think no other competition has this special atmosphere, this festive feeling," she shared. "This is probably the main reason why the Olympics are such a difficult competition. Yes, we have them only once in four years, but also this atmosphere is more joyful and less competitive, and you need to know to switch this off and not to pay attention to it. It is the most complicated but also the most pleasant part of the Games."
"The biggest difference between the Youth Olympics and the coming Games is that Lausanne 2020 was before the pandemic had started. It was great because we had an Olympic Village, a lot of people there, no masks. I think during these Games the atmosphere will be totally different. Still, I can't wait to go,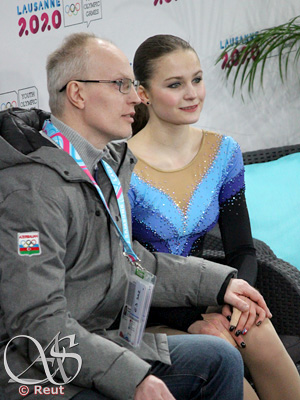 I hope everything will go well with all the tests, because nowadays you don't know what to worry about more - your performance or daily tests and their results. I just hope all the tests will be negative and that I will skate well."
In a very strong field Ekaterina had two decent performances. Sixteenth in the short program and fifteenth in the free skate, she rose to fifteenth place overall.
Ekaterina was coached by her parents as a child, changed a few coaches throughout her career, and recently, in December 2020, got back to work with her family. She dedicated her Olympic performances to them.
"The Olympic Games were never my dream," she confessed in an Instagram post. "But seeing the reaction of my family, close ones, friends, those who are around me, fans, I understood that actually the Games were my dream! Dream of a child to thank her parents for their work, love, for believing in her, for all the efforts, time, money, opportunities, health invested in me, for everything! It's a chance in the truest sense of the word to show them: look, all this is yours. Thanks to you I'm here today."
Rebecca Ghilardi and Filippo Ambrosini (ITA)
Rebecca and Filippo's brightest Olympic memory to date was Turin 2006 and Carolina Kostner being a flag bearer at the Opening Ceremony. And they couldn't hold their excitement when talking about their Olympic expectations and plans.
"We want to experience everything! To live in a moment, every single day," Filippo said. "These are our first Olympics, this was our dream since we were very young, a very big dream. We want to skate our best but most importantly to live together through every moment."
"We want to gather a lot of nice memories and to enjoy competing with our programs, to show our work. But also, to enjoy this whole Olympic atmosphere and spend time with the team. We've never been to the Games, we just watched them on TV, but even through TV you could feel all those emotions and excitement. And now we will be able to experience it from the other side [of the screen]!" Rebecca added.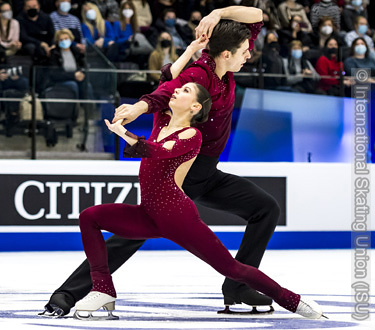 The competitive part of the Games didn't go quite as they hoped. Italy didn't qualify for the free skates in the team event, so they didn't get a chance to compete there. After a subpar performance of the short program in the individual event they were the final team to qualify for the free skate and moved up to fourteenth overall.
"Today this experience has officially ended, and we will carry it forever in our hearts. The time spent here has taught us a lot, we shared this journey with fantastic people who supported us from the first to the last day. Let's go home with these five circles imprinted in the heart and mind, so that they can remind us that hard work always pays off. Thanks to all the people who have accompanied us hand in hand towards this goal," Rebecca wrote on her Instagram on the last day of the Games.
Alexandra Nazarova and Maxim Nikitin (UKR)
The 2018 PyeongChang Olympians, Alexandra and Maxim felt more experienced and prepared this time.
"Four years ago, we were anxious about how the Games would be," Maxim said. "We had previous experience from the Youth Olympic Games (Innsbruck 2012, where they got silver), Universiade (2017 Winter Universiade, which they won), but we were still quite worried, because we didn't know how this specific competition would go. Now we already know how everything works at the Games. There is still this feeling of uncertainty though.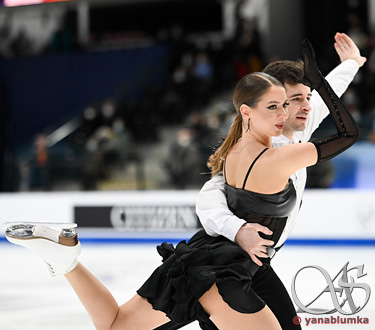 During the pandemic, all competitions went through a certain transformation, with different events having different sets of rules, every time there was something new, all this created uncertainty. Apart from that I feel that we're ready, we worked really hard, did everything in our power, and I really hope we will be able to represent Ukraine well."
As four years ago they were lucky to stay from the beginning till the end of the Games, they feel they've tried and seen everything possible. "But maybe this time it will be different, maybe there will be something new," Alexandra suggested. Considering she was chosen to be Ukraine's flag bearer at the Opening Ceremony, she was proved right. "I'm sure it will be interesting for everyone, even for those who are more experienced than us, they will also find something new this time," Maxim added.
Alexandra and Maxim started their competition with the team event; they skated the rhythm dance segment only as team Ukraine didn't proceed further. They finished twentieth in the rhythm dance in the individual event, becoming the last team to qualify for the free dance and the first Ukrainian couple to do so since Vancouver 2010. Eighteenth in the free dance, they remained twentieth overall.
Official Instagram of Team Ukraine talked to them after the competition: "We're glad that we could perform at these Games to the fullest, to present to spectators both our programs. We're grateful to the fans who supported us. After our rhythm dance, we got a lot of messages, encouraging words. Even from the people who don't follow the sport. Today we performed for you!"
Natalia Kaliszek and Maksym Spodyriev (POL)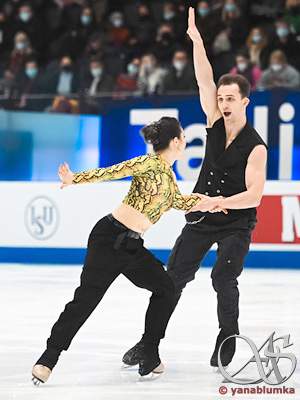 First time Natalia and Maksym qualified an Olympic spot for Poland was at the 2017 World Championships in Helsinki. Finishing twelfth in Stockholm, they did it again, reserving a berth for a Polish dance team in Beijing.
"Coming to the Games is reaching your dream, and to think that this will be our second time!" Maksym said. "Of course, the score is very important, everyone wants to place as high as possible, but becoming an Olympian is such a big dream that I'm just happy about fulfilling it again. I hope that everyone is healthy, will be able to compete, and do their best."
PyeongChang 2018 brought a lot of bright Olympic moments, one of the highlights being skating at the same event as the Canadian legends Tessa Virtue and Scott Moir. "After we finished [our competition] we stayed to watch them from the stands," Natalia recalled. "Their free dance was so beautiful, watching them perform was something special."
These Games were less successful for the Polish ice dance couple. An unfortunate fall right from the ending pose resulted in the last place in the free dance. And, after being fifteenth in the rhythm dance, they dropped to seventeenth overall (four years ago they finished fourteenth).
Ioulia Chtchetinina and Márk Magyar (HUN)
Ioulia: "My first conscious Olympic memory is from the Summer Olympics 2008, also held in Beijing. I was at my grandma's house in Russia, watching the Opening Ceremony, I remember that vividly. It was so exciting, so great."
Márk: "My Olympic memory is connected to figure skating.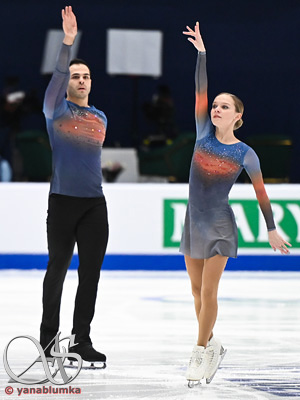 My mother was my coach, so obviously we watched figure skating competitions. When I was little, I never really wanted to watch them. It was boring for a little kid to sit in front of the TV for so long. The first time I really got interested was in 2002, my favourite skater was Alexei Yagudin. And when I was a child, I said: 'I'm going to be like him someday!' Big dreams. So, I remember rooting for him, thinking it was so cool that he won. Later, there were some other small personal things, like when I was talking to other athletes in the dressing room, and they shared their experiences from the Games. Maybe not even about the event itself, but more about meeting so many other athletes, not only figure skaters, when it's so huge, hundreds of athletes. All these little stories made me want to go, to experience it. Obviously, I left behind a dream of becoming an Olympic champion, as you're getting older you understand which goals are realistic. I just want to acquire memories like those athletes from the dressing room I looked up to. And then maybe share similar memories with skaters from younger generations."
Ioulia: "I want to enjoy all those Olympic traditions which are unique to the Games. Unfortunately, we won't take part in the Opening Ceremony because we compete later in the event. But I'm really looking forward to the Closing Ceremony because I've seen so many of them. It's always unique and there is a lot of secrecy about how it's going to be.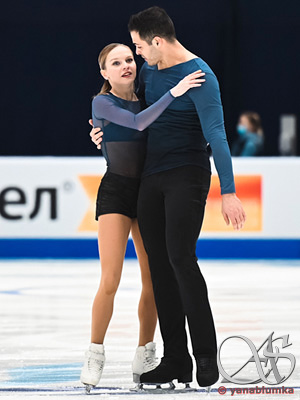 Exchanging clothes, gear with athletes from different countries... The Olympic Village... Of course, it's not going to be like a normal Olympic Village experience because of the pandemic, but I think it's still going to be really cool and really unique. In a way these are going to be even more unique Games..."
Theirs was the saddest story of them all... While Ivan Shmuratko, Nolan Seegert and Vincent Zhou (who were also forced to quarantine following positive PCR tests) had at least partial Olympic experience - Ivan and Nolan missed the team event but were able to compete individually, Vincent competed with Team US and performed at the gala - they came just in time for the pairs' event but then Márk got an unclear result for the PCR test from the airport, later followed by an additional positive test.
"There are no words to describe my feelings," Ioulia wrote in an Instagram post confirming the news. "We had a long journey to these Games and I'm extremely heartbroken that it ended this way".
The Olympic Games 2022 were definitely different and left a mixed aftertaste. Now they are officially closed, and it's over to Milano Cortina 2026. In a world hit by pandemic and war, divided by hatred and sanctions, what will they look like in four years' time?