Team Ukraine is heading to Worlds
March 20, 2023
By Reut Golinsky
Photo © International Skating Union (ISU), Reut Golinsky, Absolute Skating
The opinions expressed in this publication are those of the author.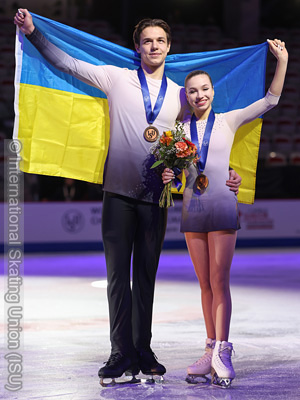 Get to know Team Ukraine skaters as they gear up for the upcoming World Championships, learn their inspiring stories, and gain insight into their programs. For all of them these are going to be their debut Worlds.
Violetta Sierova and Ivan Khobta
It's been an intense season for Violetta and Ivan. Silver at two Junior Grand Prix events earned them a ticket to the Final where they finished 5th. A few weeks ago, they also finished on the junior Worlds' podium with bronze. As seniors, they got bronze at IceChallenge and finished 6th at Warsaw Cup. Higher scores than the senior pair Holichenko/Darenskyi led to their selection for the Europeans and Worlds. "It's a good experience for us to compete with pairs that are much stronger than us. We see a big difference in skating skills and presentation of the program, so we're glad to compete here," they said in Espoo. The Ukrainian-born pair ladies left a remarkable legacy which Violetta certainly hopes to carry forward, "but under the Ukrainian flag."
Since the Russian invasion that forced them to leave Kyiv, Violetta and Ivan trained all over Europe. First, they went to Sweden, then to Italy, during the off season they also attended a camp in Oberstdorf, and now train in Chemnitz. "In Bergamo we got the opportunity to train with top senior pairs. In Oberstdorf the emphasis was on choreography and skating skills. We worked with [ice dancer coach] Rostislav Sinicyn. And it was also a great experience to learn from such champions as Robin Szolkowy and Vanessa James," they said.
"We want to say a big thanks to the German Skating Federation and the German club where we train, with really good facilities. And also, we would like to thank the Italian Federation; they helped us a lot when we skated in Bergamo," their coach Pylyp Zalevskyi added.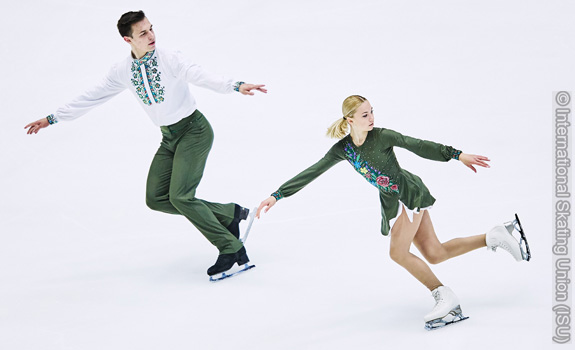 Ahead of the Junior Worlds, held this season in Canada, the team was invited to the two week camp at Bruno Marcotte's in Oakville. During the press conference after winning bronze, the team thanked both their coach and Marcotte for the effective preparation towards the event. "We are very excited to perform for Ukraine. We feel all the support. These Junior Worlds were very important for us and for our country. We are very happy to be on the podium with these guys and hopefully next season we will also show our good skating to the world. We'll try to fight for the podium next season, too," they added.
For the next season the team definitely plans to stay skating in juniors but will consider doing senior Challengers and maybe will be chosen to represent Ukraine at Europeans and Worlds.
One year later families are still separated: fathers stay in Ukraine, Ivan's mom and sister are in Sweden, Violetta's brother is in Sweden, too, studying, her mom is with them in Germany. "For one year I've been living not in my country. I want to go home. Today is the 24th of February. My 16th birthday. I haven't seen my dad and brother for one year. Help me. Help Ukrainians. Help Ukraine. Stop the war," Violetta wrote in her recent Instagram post.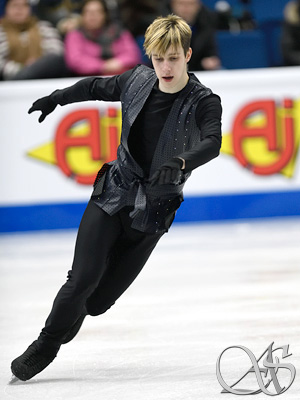 Kyrylo Marsak
Despite finishing only 21st overall after a disappointing free skate, Kyrylo captured the hearts of many at his debut Europeans.
When asked to describe figure skating in one word, he chose "inspiring", explaining that watching skaters like Kevin Aymoz, Nathan Chen, and Yuzuru Hanyu perform leaves him in awe, and motivates him to work harder. "I chose this word because when I watch figure skating, my first reaction is: 'Wow, how do they do this?!' And then I think for a moment: 'Well, but I also can skate!' When you watch other skaters, you say: 'They are great, I want to be like them!' And then you just start working [harder]."
To clarify: his "Star Wars" free skate was not inspired by Adam Siao Him Fa. "I'm a really big fan of 'Star Wars' and I wanted to skate to this music for 3-4 years already, but back then I was not ready for it, it's strong and emotional and you need to really show it. But now was the best time to skate to it." In case you want to know what the story portrayed: "My program covers the first six episodes. I start it as Anakin Skywalker, I fall in love, like in episode 2, then I turn to the Dark Side and become Darth Vader. The second half of my program is the Dark Side, but in the end, of course, Darth Vader returns to the Light Side. And that's the end of the program. I take my mask off."
Kyrylo learned only a week and a half before the Europeans that he would be competing in place of his injured teammate Ivan Shmuratko. "We're really good friends. Of course, I talked to him [after I learned about his injury]. I always ask him how he is doing, about his leg, etc. I really care about him," he said. "The preparation period was challenging because I got an injury a day before New Year's. Fortunately, it wasn't serious, after ten days of rest I was able to resume training. I was motivated to recover quickly, knowing that I would be competing at Euros."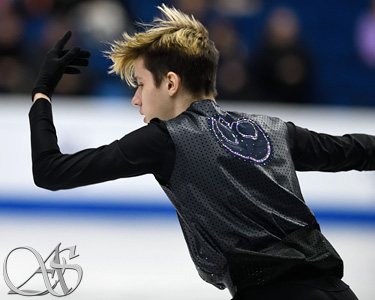 Support of the audience means a world to him: "It matters a lot! It gives you additional strength, gives you the energy to go on and on. The audience here was clapping, supporting me, and it felt great. I'm grateful to everyone."
After Russia invaded his home country Kyrylo found safe haven in Finland, with Valtter Virtanen's family: "It feels good. We are already like one family". On the day of his free skate, he unfortunately learned that his Ukrainian coach, Dmitri Shkidchenko, passed away. Kyrylo dedicated his program to him: "This performance was in his honour. It wasn't super good, but it was from my heart. I wanted to thank him for everything."
Mariia Holubtsova and Kyryl Bielobrov
Mariia and Kyryl were forced to leave their hometown Kyiv following the Russian invasion. After moving from place to place, in July, they settled in Montreal to begin their training in the Ice Academy.
"It used to be very chaotic. In the beginning of the off season, when we were in Germany, everything was very unclear and very sad," they recalled. "But now we can say that we adjusted our training process, and decided about the place where we are going to stay.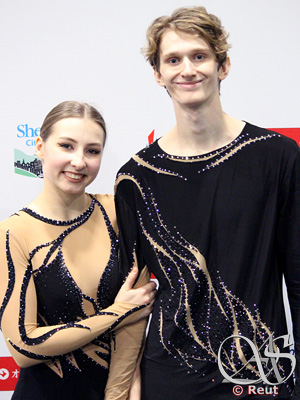 We like it very much in Canada and we hope we'll be able to train there until the end of our skating career. It's important that we're happy to come back to Montreal, to live and work there. The Ice Academy has 20 couples and all of them are friends, every single one will always support and help."
Of course, adjustment is a process that takes time, they explained: "It is complicated to move to another country, with different people, different mentality. Learning French - Qu├ęb├ęcois (Quebec French to be more precise) - is among our main goals now. Our English has improved too. We understood it but didn't feel comfortable enough to talk, but now we have to, as nobody would understand us in Russian."
Mariia and Kyryl were invited to two Grand Prix events this season and were excited about it. Their first event, Skate America, impressed them with its level of organisation and the overwhelming support they received from the crowd. Although they noted that the organisation of their second Grand Prix event, held in Sheffield, felt somewhat rushed, they were grateful that it was organised at such short notice. And they loved their visit to the UK, which for Mariia was her first. "It's been wonderful," she said. "We had an hour and a half drive in the bus from Manchester and what I remembered the most were the views, the gorgeous golden trees, and bushes. I fell in love with the nature here. And the architecture here won my heart." "We would really love to come back here and to travel around," Kyryl added.
They came in tenth in both events.
Just prior to the Europeans, the couple also participated in the Winter Universiade, where they earned a top-five finish.
"It is indeed pretty difficult to have two competitions one right after another, but it helped that we live and train in Canada, which was just a two-hour ride to Lake Placid, it was like competing at home," they explained.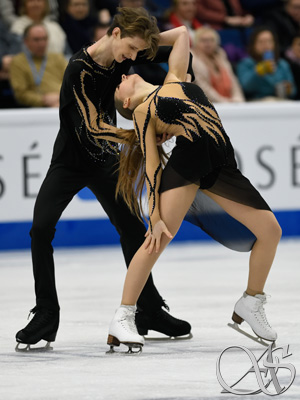 "And it was a really cool competition, we have great memories from it, from people, from all the events. Everything was so bright, the streets were decorated, each country had their own pins and you exchanged them, and this created a connection with other athletes. The atmosphere was great, and we felt very relaxed there. We really loved this experience and would have loved to participate in something like this again, especially, of course, at the Olympic Games."
"We feel that we improve with each performance, but it's not always reflected in points. We think that the score could be better, but we understand that it takes time to improve, so overall we're happy with our work," they said after their rhythm dance in Espoo. "If in Sheffield we felt 50% ready, now it's solid 80%. Our physical condition is great but there are still things to work on - in technical details, in choreography - to make everything bigger. We want to progress at a fast pace but unfortunately miracles don't happen fast, you need to work hard first. And then we'll get good scores," Mariia said. "We had almost two months between competitions, so we finally had time to whip our programs into shape and to have more confidence in what we do. I think now we are 100 times more confident than we were in Sheffield," Kyryl added.
Overall, they were satisfied with their Europeans' experience. "We had two good skates. I feel we had the best free dance this season so far. And the rhythm dance was good enough, so overall we're glad," Kyryl said. "I'm pleased with our consistency. I'm satisfied with our free dance, but the rhythm dance requires more work," Mariia added.
When asked about the contrast in their costumes: colourful for the rhythm dance and toned-down "boring" black for the free, the meaningful story behind suddenly emerges. "With the rhythm dance it's more or less clear," Mariia explained. "It's Latin, it's vivid colours, it's a sun tan, something you can't really say about us. (laughs) So, we added even more colour to the costumes. As for the free dance, its main theme is this year for us, the changes our life underwent.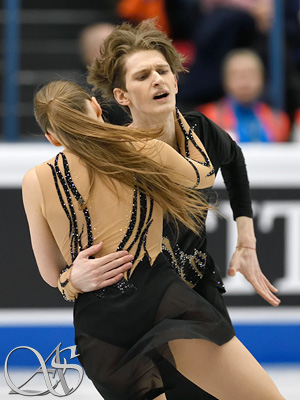 My idea behind this costume was that these black straps wrap around us as if it's a tar, swallowing up all the negativity while we try to get through this difficult period of our lives, this black streak. Colours are neutral, my make-up is neutral, I don't even put on earrings, because it should look simple and not distract from the program itself."
Although the skating community has warmly embraced Ukrainian skaters and skating centres have provided them haven to continue pursuing their passion; although athletes are constantly cheered on during the events with Ukrainian flags overflowing the stands at every competition, this year has been and continues to be a significant source of trauma for them. The "black tar" is still holding them tight. Just like in Mariia's story about their costume, something they didn't tell before "because nobody asked", just like in Anastasia Gozhva mixed zone interview when she casually revealed that "it was very difficult to skate, because there was a missile attack, my father was travelling through the country at that moment, and I was very nervous about his journey." The news from home, worries about their loved ones left behind, and the necessity to accept that they cannot be with them or go home under any circumstances are constantly at the back of their minds, are part of their daily reality.
So, the biggest hope and wish, like I said to Mariia and Kyryl at the end of our talk, is that next season their costumes will be white, representing freedom and victory and happiness.