Interview with Viktoria Pavuk
by Helga Dobor
Photos © Helga Dobor

Viktoria Pavuk, the pretty lady skater from Hungary, was introduced to the international figure skating world with a bang when she achieved an exciting 4th placement at the European Championships in Budapest, the capital of her own country.
Of course her skating in junior ranks and earning several medals there didn't go unnoticed either.

AS-reporter Helga Dobor witnessed Viktoria winning her first competition this season, at the Ondrej Nepela Memorial in Bratislava and sat down with the charming teen to find out how it all started.
Do you remember your first competition?
I was 7 years old; the competition was named Kubota Trophy and was held in Budapest. I won and I enjoyed it, it was my first test but I don't remember it so well, I was very young.
How do your parents support your skating?
When I was younger, they paid for everything, every competition. Now, I have a little support from others too, but I owe very much to them. Especially to my mother who made great efforts to obtain my results.
Are there other sports you are interested in as well?
I would have liked to do so much, skiing for example, but I don't have enough time and it's a completely different movement from skating, and my coach doesn't allow it anyway. And there's tennis too. When I was a child I played tennis and rode horses. I tried myself out in many sports, but in the end I decided to skate.
What is your best skating memory so far?
The Europeans 2004, of course! I think that and the JGP Final in Sweden last season, I had a big success!
You are tall for a skater. Has your height ever been a handicap in your skating?
Well, the taller you are, the more elegant you are on the ice. On the other hand, if you are smaller, you have better jumps.
Last season, you had some ups and downs, but you won the two JGP events. How do you like competitions and how do you get along with other skaters?
I very much like going to competitions, it is very varied and I can visit lots of fantastic places. I get along well with other skaters, usually we talk in dressing rooms and usually these connections are good. However there aren't close friendships.
You got bronze in the JGPF in Malmö. How did you feel about you performances there and were you happy with bronze?
I'm very pleased. You know, the winner has the quadruple salchow in her repertoire, so the competition was at a high level. I was very happy with bronze and I had a flawless freeskate.
The Swedish audience loved your free program and music by Swedish composer Robert Wells and "Rhapsody in rock". So many were clapping and cheering for you, did you expect such a support?
I was extremely happy, and I received a letter from a fan saying they liked my program very much. The audience was very supportive at that competition.
You also skated really well and finished 4th at Europeans before the home crowd. What was it like?
It was a fantastic experience, the home crowd supported me so much, it was a great feeling. I was third after the short program, but I wasn't worried about it, it was fantastic being in the final flight.
Euros were widely televised and many skating fans "discovered" you and expectations were great at Junior Worlds, where things didn't go so well. What happened?
The Europeans and Junior Worlds were very close together in time, and because of the over-practicing I contracted an injury. It didn't turn out well, but I do think that my sixth place finish is good among juniors, and after all, I was the best placed European skater. I would have liked to finish higher, but overall I was pleased.
What are your plans for this season?
I would have liked to do well in the senior Grand Prix circuit, but I haven't received an invitation. My supreme goal is the Europeans. As for the Worlds, the international results and the Hungarian Nationals will decide whether Diana Poth or I will go.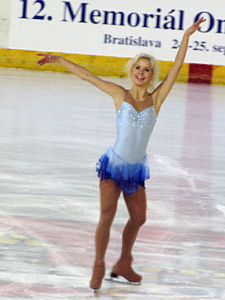 Who has choreographed your new programs?
My choreographer is Igor Tschinyeyev, a coach living in Canada. He made fantastic programs for me. I think that I progressed more this season than the last, and I worked very hard during the summer. I hope that it will show good results.
What's the music and who picked it?
The short is Beethoven's Fifth Symphony in Edvin Marton's version; the free is a nice piece by Ennio Morricone.
These were your choices?
Well, it was a common decision with my mother.
Who makes your costumes?
It's my mother who designs and makes my costumes. I think that without my mother I wouldn't succeed. She finds the music for my programs; she makes my costumes and helps me with everything.
Who is your figure skating idol?
Maria Butyrskaya is my favorite. I loved her presentation, but unfortunately she doesn't compete anymore.
What kind of relationship do you have with Julia Sebestyen, Zoltan Toth and other members of the Hungarian team?
I get on well with them of course, especially with Nora Hoffman. I used to share rooms with her at junior competitions. I like when Hungary has a great team.

Is the training situation different now that someone of your national team won Euros?
We have a bit more ice time than before, but it's for the whole National team.
What kind of training do you do?
Ballet is essential, unavoidable really... We have many kinds of off-ice practices, especially in the summer. Summer practices are very important as all results in the up coming season are based on these.

What are your favorites element?
Well, my favorite jump is the triple lutz, and I like the Biellmann spin a lot, the flying camel with illusions, the spirals… Oh, I like it all!
What do you need to work on the most?
I have to work on my triple-triple combination and make it more confident. I have to skate in a more elegant way, and I have to add more speed to my jumps.
What would you miss the most from the skating world if you weren't in it?
Well, I like skating very much; the costumes, the music... it's an enjoyable sport! I don't think I can even imagine my life without skating.
Vikt├│ria with another reporter, Titanilla Bod

Where would you like to be in skating in 5 years?
I don't want to say something exact, but the most important thing is to keep getting better and better, to progress.

What is your ultimate skating goal?
To participate in an Olympic Game.

Do people recognize you?
It rarely happens, but I'm happy when I'm recognized because I know those people have watched the Europeans.
What do you do in your spare time?
Unfortunately, I don't have that much spare time. I like to go to the movies, or just rest at home. I watch TV or films on video.
What kind of music do you like?
I mainly like classical music; my favorites are Edvin Marton and Vanessa Mae. That's why I chose their pieces for my programs.
Where is your favorite place?
Well, I haven't been there, but I'd like to go to Australia.
What is your favorite food?
Maybe csirkepörkölt (special Hungarian dish made with chicken and paprika), but I can't eat it whenever I want because it's fattening, I have to stop myself.

Do you have any pets? Your ISU bio says that you like cats.
Oh, yes, I like cats! And I love my stuffed animals; I have a (stuffed) mouse named Elemér. He's there with me at every competition, always in the hand of Szabolcs when I'm on the ice.
Which was the last movie you saw?
Dirty Dancing 2. I liked it.
Are you studying any languages besides English?
No, right now it's only English. I would like to have a degree in English, and I would like to study to obtain a coaching degree in figure skating.
What would you do if you weren't a skater?
Oh, that's a tough question! I would probably have put more into my studies and gone to university. It would be a completely different life, but I'm not at all sorry I chose skating.
Ladies podium at the Ondrej Nepela Memorial in Bratislava
Viktoria Pavuk, gold, Jenna McCorkell silver, Zuzana Babiakova bronze
After this interview was made, Viktoria took a nasty fall in practice and injured her foot, which caused her to withdraw from several competitions. It is not yet known when she'll be able to begin training again.

Copyright © 2004 - 2022, Absolute Skating
All rights reserved.