Skating in Mexico: An interview with Adrian Alvarado
by Helga Dobor
Photos © Helga Dobor

Adrian Alvarado is a young, talented skater from Mexico, a country that isn't well-known in the field of figure skating. How hard is for him to skate at home? How much difference is there compared to skating in other countries? How is the life of a figure skater in Mexico?
I met Adrian at the Karl Schaefer Memorial 2004, in Vienna. He was there without coach or anybody else, but with his friendly behaviour he picks up new friends easily and is never really alone. Read how Adrian describes his life, in a sincere and witty way and get to know this spirited and hard-working skater, a little better.
When and why did you start skating? How do you remember to your first time on the ice?
I started skating at the age of 13. Really late! At that time, ice-skating was a novelty in Mexico. First, I went to skate with all my friends and just had fun. It was very pleasurable!- laughs. I remember that two friends took my arms and I began to skate. It wasn't so scary because I had already learnt to rollerskate before. So I got more and more interested in skating. I chose hockey in the beginning, but I got bored very soon and I switched to figure skating, because it was more complex and more beautiful!
Was there any skater, whose style inspired you? Or in your family does anyone else skate?
No, there wasn't any skater who inspired me, but my mother did skate! -laughs. She got some figure skating lessons from my coach! She also participated in some competitions here, at lower level. My coach used to tell me that she trained more seriously than me!
But do you have favourites, don't you?
Yes, I like very much the style and the skating of Ilya Klimkin and, of course, Alexei Yagudin.
Why do you like them?
Not only because they are great jumpers, but they really feel their music and they are gorgeous artists.

What is the thing do you like mostly about figure skating?
Mmmh... -smiles. I love everything about figure skating. I like the feeling of gliding on the ice very much.
What is the best and the worst for you in figure skating?
The best is to have the feeling you can always improve in skating. And personally I cannot find anything bad in figure skating.
What are your strengths as a skater?

I think I have a strong body because I had only one or two small injuries in my whole skating career and actually I never had any serious one. I hope that this will always be the same!

And what do you need to work on the most?

My brain!! -laughs. My old problem. Now I think I have improved and I am dithering less. And besides I took some ballet lessons to improve my physique, my presentation and interpretation too.
What is your favourite program and why? And what are your new programs this year?
Hmmm.. My new short program is a well-known tango, La Cumparsita, and my free program is Swan Lake. Actually I like my long program very much - the Swan Lake. I particularly enjoy the music of Tchaikovsky and music like The Nutcracker or Onegin, which are very skatable!

What are your favourite elements, jumps?
My favourite jump is the salchow- smiles. Also, I very much enjoy some complicated variations of spins.
Who are your coach and choreographer? What is your training like?
My coach is Elena Loboda and my choreographer is Ricardo Olavarrieta. Elena takes care of the great lines in my program and Ricardo takes care of the steps and spins, especially when it comes to the level of difficulty.

What is your connection like with the other skaters from your National Team?
Our National Team is quite small. We are good friends because we have a lot of competing years together.
What is the situation of figure skating like in your country? Is it popular?
Figure skating is not so popular in Mexico. Football is the national religion! But more and more people are getting interested in figure skating.
What is the life of a skater like in Mexico?
Ohh well in order to have a good training, you have to get up in the early morning (like at 5:30) to avoid the rush hours. Mexico is a really big city and usually you have to drive a lot to get to the ice rink or to the school.

You have skated in Karl Schaefer Memorial, Vienna. The audience very liked your skating style, and found you as new favourite. What do you think of the audience? Is there a big difference between audience in Mexico and in Europe?
First, I am very happy to know that some people liked my programs. Thank you! In the Karl Schaefer Memorial the audience was very cool! I think most of the people were very nice in Vienna. There is not such a big difference between an audience in Mexico and in one in Europe because everybody is very enthusiastic and you can see that they love figure skating. The only difference in competitions in Mexico, is that the fans and friends support the skaters with vociferous cheers there! Like in a football stadium!
You were alone in Vienna, without coach, family. What was it like? What has energized you?

It was the first time I didn't go with my coach, my family or a team leader, but I never felt alone because Michelle (Cantu) was there and she is a great friend of mine. Besides in every competition you meet new skaters from all around the world and that is the thing I enjoy most in international competitions. These competitions energize me very much because all the experiences are awesome. You travel to another country representing your own, you train and work hard to get to there, you meet new people and see new places. And a personal remark; it is a great challenge for me to get controlled, concentrated and relaxed during my programs. It gets better every time.
And how does the reaction of the audience affect you?
It makes me very happy and energized. I am very happy to notice when the audience enjoys my perfomance a bit. For me, it is the greatest reward in figure skating.

Have you been in Europe before KSM? Or do you have friends here?
Yes. I have been in Europe so many times for holidays and sometimes for other competitions. I have friends here in many countries like the Czech Republic or France where I mostly go.

Do you like giving autographs or posing for photos?
Personally I very much enjoy it - laughs. I am always happy if people like my skating. Besides I also enjoy to talk them and to be in their company a bit! To get to know them is a very pleasant experience!

In which competitions will you skate?
This year, I skated in the Winter Universiade in January. Then in February I am going to skate in Korea, Four Continents Championships with the whole Mexician team. And finally, I hope I can compete in the World Championships in Moscow! I have to work hard to get physically and mentally prepared for that!

What are your short-term and long-terms goals for skating?
In short-term, really, get mentally controlled in competitions; skate well in the Four Continents Championships. If I can concentrate and skate well, hopefully our Federation will choose me for going to the World Championship!
There are so many long-terms goals for my skating career. First of all, I want to represent Mexico, in the next few years. I want to improve my artistic presentation and I want to work on my jumps - hoping I will have some quads - and I want to be a really good skater- laughs.

And what keeps you motivated?
Ohhh.. It depends on what is the season like! To be motivated is one of the most important things. I always think about my next international competitions and the possibility going to the Worlds Championships. These goals keep me motivated. Besides I think to improve in this sport is above all… It is my life - winks. Always improving in skating is the key to be a talented skater - one day.
Do you have any hobbys?
Hmmm.. When I have time I enjoy playing PC Games. Or playing on piano.

Do you study? If so, where?
Yes, I study at a University here in Mexico - Universidad Iberoamericana. I study International Relations; it is my fourth semester - so I have a long way to graduate! - sad face.

Do you use a computer? For what?
I use my computer a lot working on my homework for the school. And I also like chatting when I have time for it, to get in touch with my friends around the world.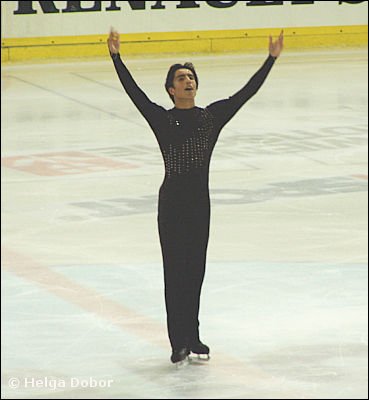 Thank you for taking the time to answer our questions!