Indepth with Canadian Meagan Duhamel
Part II

by Helga Dobor & Mireille Geurts
Photos © Meagan Duhamel & Lisa Prenty
What is it like to work with Ryan?
It is great. Ryan is very patient and helpful with teaching me all the pairs elements. He has lots of pair experience so I can trust that he knows what he is doing. Ryan is also supportive of my singles skating as well and understood that I had to focus my training on that a lot of times this fall prior to international events.

How would you describe him as a skater?
Ryan is a great, consistent skater. He has good basics and a nice style.
And as a person?
Ryan is a really friendly, outgoing person. He is positive and can usually turn any situation into something good. Our personalities are fairly simular in a lot of ways and I think that helps us get along well. He is very caring and understanding of people as well.
Are you friends?
Yes we are good friends.
What is your connection like with the members of your National Team?
Oh, I love going to competitions or the team training camp and seeing all my friends!! I get along great with them and consider many of them my very good friends!! I train with some of them at Mariposa, and others I talk to frequently on msn.
Don't you see each other as rivals?
Oh not really. Of course we are competitive with each other once we hit the ice but off the ice we like to hang out and be friends. You share so much of your life with these people and have so much in common it's great to be friends first before rivals.
And what is your connection like with the skaters in your club, Mariposa? Do you have common schedules?
Oh all the skaters at Mariposa get along very well!! We are like one big family!! Some of my best friends are my competitors!! The elite session skaters all use the program, daily program (except me because of the pairs) but mostly we are all together.
And with Absolute Skatings affiliated Ken Rose in particular?
Ken and I have travelled to alot of competitions together and often share the same result!! haha!! We both finished 4th in juniors at Nationals the year before we both won and when we attended the junior worlds together we both had the same placement again! Ken is a great guy and has a great family!! I love going to competitions with him and sometimes Ken comes to Mariposa with his coach to train for the day. I am so lucky to have grown friendships with him and so many other skaters. Those are what will last long after I am done my skating career.
At the Canadian Nationals you skated a great short (we just loved it!) and a quite disastrous long program, both in pairs as in singles. Any idea what happened?
Oh, thanks so much!! That was a very exciting day!! The longs were nothing to write home about but that happens I guess.....
I have watched my video tape from the Canadian Nationals over a dozen times trying to figure out what went wrong and I have just finally come to some conclusions. For the ladies- I knew I had a chance to win the bronze medal. I was focusing so much on that as I stepped on the ice that I forgot to just have fun and skate my best. I know next time not to focus on the result so much. For the pairs, the answer is simple. We were not prepared to be in the postition we were in. Skating in that final warm-up group with world level pairs teams was a bit overwhelming for our first nationals as a pairs team. There was alot of hype after the short about our lutzs and we hadn't expected that either. I think we were not ready for that position yet. These were difficult lessons to learn and it was a hard way to learn them but it happens to everyone....
How do you deal with such moments? Alone and in the new pairs team?
Well, I have never experienced a performance such as that before. For my singles, I had to try to put it behind me ASAP because I still had to perform with Ryan the following day. It was nice that my family was there for me and Ryan as well after my singles. Chris Mabee also helped to console me and get me prepared for my pairs competition. With the pairs- we again couldn't dwell on it for long because we needed to begin training for the junior worlds. The first week of training after Nationals was extremely hard. I was crying all the time because I couldn't not stop thinking about my programs from the past competition. I was so disappointed with myself and it was difficult for me to train. But after having long talks with friends, family and my coach I feel SOOOOOOO much better and Ryan and I are ready to redeem ourselves at the Junior Worlds!!
Will this experience have any influence on your skating plans?
The experience of Canadian's has given me so much determination!!! I am going to be at Canadian's next year and I guarantee that will not happen again. I know I will be in the same position again one day and I am going to be prepared to handle myself next time!! I also plan on working harder then ever before for this season because I don't ever want to feel like i did after those programs at the nationals again! I will do whatever it takes to never have to experience something like that again.

How is it to be the first pair to have landed sbs 3 lutzes and end up in the world record book?
It's great!! Ryan and I were not planning on being the first to do it, we didn't know no one had done it before. We just have good timing and consistency on that jump so we used it in the short program. Everyone was telling us after that we were the first to do it and that was exciting.
You were the Junior National Champion in 2003. Did this put more pressure on you before your first Senior Nationals?
No, I dont think it put more pressure on me but it did change my expectations going into my first year as a senior. I think I expected a little bit too much that season.

Is it harder to skate in the senior field?
It definitely is harder as a senior skater!! There is more focus on the total package and not just the jumps as it is in juniors.
In Canada there are more skaters who skate at the same level, how do you feel about that situation?
It is great because it challenges us to work even harder!! The top 10 senior ladies in Canada (minus Joannie and Cynthia) are all so close to each other. On any given day one can be 3rd or 8th, you know? It will be a great race for the 3rd spot at the Olympics next year if Joannie and Cynthia qualfiy 3 ladies.
How do you see their skating skills and your chances for that spot?
I think Joannie and Cynthia have a great chance to get Canada a 3rd lady for Torino. I believe that if 3 ladies spots are attained then it is possible that I might be that 3rd lady going to the Olympics because this year at nationals I was 3rd in the short program but I will not focus on that. I will focus to skate my best- after this nationals I know what focusing on a bronze medal will do! *winks*
Do all of you know each other?
Yes we all know each other because most of us have been competing with each other for years!!
You talked about Junior Worlds next week. What are your expectations?
I can't wait to go to Junior Worlds!!!! The best part- Ryan and I have no expectations. Unlike wanting a spot on the national team and wanting to be picked to compete at Junior Worlds at the Nationals, we don't have those pressures now. We have been training better then ever these past few weeks and just want to bring those performances out in the competition. For us, the true victory would be to skate a clean short and long program and have to have fun while we are skating!! *smiles* We have not competed with many of these teams so we don't know what to expect placement wise
Ok then we will just hope you have a lot of fun!
Thank you!! I think that is the main thing.
You skate on very classical pieces of music this season, is this the music you also listen to in your free time?
No way!!!! Haha... I do not pick the classical music, my coaches do that for me!!
I enjoy to listen to a variety of music!! From the top 40 to country!! Haha... Chris Mabee and I sometimes call the country station on the radio and request songs!!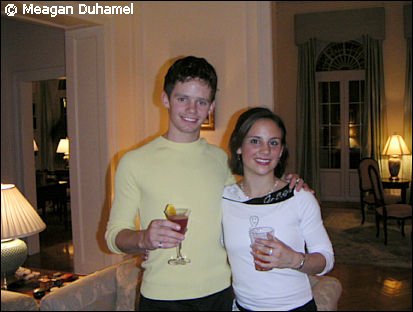 Never plan to skate on a country song then?
Oh maybe one day *winks* haha
Can you express yourself by the choosen music?
Yes I feel most skaters choose their music because that is what they feel they can express the best. Sometimes it's difficult though when you have to skate to multiple music selections in order to figure out what you express the best



Go to part 3