Indepth with Canadian Meagan Duhamel
Part III

by Helga Dobor & Mireille Geurts
Photos © Meagan Duhamel & Lisa Prenty
What is your most memorable skating competition? Why?
My most memorable skating competition was the JGP in courchevel this past August. It is memorable not only for the gold medal I won but for many reasons. First of all, for the first time ever in my skating competitions, I was able to skate a CLEAN short and long program in the same competition! That in itself was a huge accomplishment to me. Secondly, it was memorable because I got to see the Canadian flag being raised while I was on the podium for the first time!! That was very special to me. And, it was also memorable because it proved to me that everything I had been doing was the right choice. My performances in Courchevel showed me that skating pairs has not hurt my singles (something I was afraid of). I had quit skating after nationals in 2004 and it was a difficult choise for me to decide to come back skating or not. That event proved to me that I belong in this sport.
You quit skating last year?
Yes after Nationals I was so disappointed with my season and I was upset because I felt I could not bring my great practices out to the competition rink. I quit for 3 months before deciding to continue.

And what made you decide to continue?
Pairs Skating!!! *smiles*
After beginning pairs, so just fooling around trying it, I fell in love with skating again. It was refreshing to be doing something new I guess?
And I found something else I loved about the sport....

Is it true, that in the last years you competed more in Europe than at home, Canada?
Well.... this season alone, I have competed twice in Canada and 4 times overseas!! haha
How do you like Europe?
I LOVE travelling to Europe!! It's so different from Canada and I love to explore the cities I am in!
Which places would you like to visit again?
Courchevel is soooo beautiful!!! I am so lucky to have had to chance to go there twice!! It is a nice little mountain resort. I really enjoyed Prague as well.
Is there any favourite country or a country you would like to visit?
I would love to go to Russia of all places!! And I really hope I get the chance soon! I just think it would be so different there.
Different how?
The culture and the history of Russia is very interesting. And this past season, I was hoping to get the JGP in Budapest but it wasn't meant to be I guess.

Who are your favourite skaters?
Irina Slutskaya and Sasha Cohen!!!!
I love Irina's determination! When she gets knocked down she comes back twice as strong!! I think this is a great trait to have. I love Sasha's attitude! She is confident and knows what she wants.
Have you ever met them?
No!! I wish I had to chance to even see them skate live but I haven't... maybe one day!!
What are your short and long term goals?
Short term goals are to compete on the senior grand prix circuit next season and long term are to become Canadian ladies champion and pairs champion and skate for Canada at the 2010 olmypics in pairs and ladies
How do you see yourself in 5 and 10 years? ( not only skating career)
I want to be a school teacher so I hope to be in school for that or already have completed it.
Do you study somewhere?
Not right now. I have finished highschool and with the hours I am training daily and the expense it is not possible to attend university right now. But for sure I will, as I said I want to be a school teacher so I have to go to unversity in order to do this.
Is there any university near to Barrie, or do you have to move and change icerinks if you start to study somewhere?
Barrie is close to Toronto and there are lots of schools there to study at. It is only a one hour commute.
Don't you want to work as coach later?
I would like to coach a little bit but I don't want to make a career out of it.... I would prefer to move on with my life once I am done skating...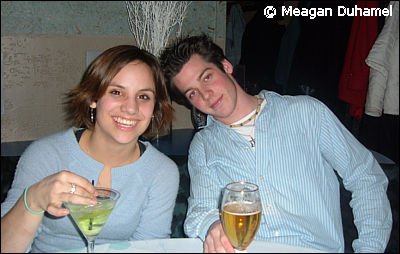 Have you skated in shows?
Yes and Ryan and I have a few shows to do after Junior Worlds as well.... I do not see myself being a show skater though... I do like them... They are fun and help prepare me for competitions....I like the competing part of skating and if I was doing shows that thrill would be taken away from me....
And professional competitions?
I don't think there are many professional competitions around anymore these days.
What is your connection like with your fans? How important is it for you that they like your performance?
I really love having fans tell me that they enjoyed my preformance and stuff..... It means a lot to me when someone tells me that I skated well or something.
Does their support energize you?
Yes!! It makes me confident with my skating and helps give me a reason to perform at competitions.
What is the most memorable thing that has been thrown on the ice for you?
I don't really have anything special... I like the stuffed animals I get and I keep them all in my rooms at home and here at my uncles!!!
What was the best decision you ever took? And the worst?
The best decision was to skate pairs!! It completely turned my skating around. The worst... I don't know? Lol....
Which book was impossible for you to get through?
Anything Shakesphere!!! I don't think I even spelled that right.
What is the most stupidest thing you ever bought?
Stupidest thing I ever bought? Oh I have no idea!!! I buy lots of stupid things... haha...
Like what?
Haha well I have this pic here, so I will say, one time Chris and I bought these cushiony pillows before going to Finland.. We wore them as hats... It was so random...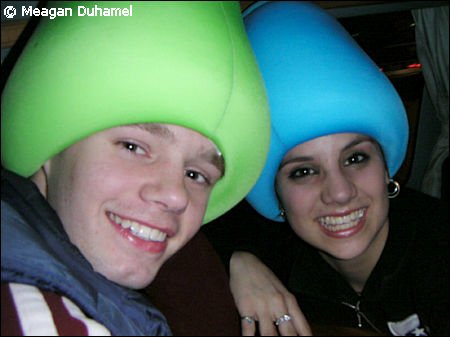 Whats your most favourite property and why?
My skates!! They are so important to me and without them I would not feel the same.
What is the biggest treasure in your life?
The biggest treasure in my life.... hmm...I don't know this answer that's hard. I think it would be my first medal I ever won. I have it still but the ribbon is not in good condition

Do you keep your medals in a special place?
They are all on the wall in my room.... except my nationals medal and my medal from my JGP.. my mom has those in a cabinet.

Now we have some more general questions, that only need some words as answer:
How could you live without your skates?
Don't think I could. At the moment I would not feel complete without having them near me.
Without sport?
Without sport... I have many more goals to achieve.
Without music?
I think I can live without music.... I don't listen to music too often, only when I am driving.
Without credit card?
I don't have a credit card!! HAHA
Without computer?
OH.... that would be hard... I am always on the computer talking to my friends..
Without friends?
That would be hard as well.. my friends keep me balanced after a long day of skating.
without dreams?
There would be nothing to live for.

Which of the above would be the worst?
Without friends.

Please associate with one or two words :

Figure skating is ...
my life
Family is ...
always there for me
Friends are ...
always there for a good time
Money is ....
nice to have
Sport ...
gives me the mental toughness I need in all areas of my life
Love ...
makes the world go round
Peace ...
would be great
Belief ...
makes all things possible

One final question, what is your most favourite skating memory?
My favourite skating memory....well this is my most embarrassing one... I think it would be one time when Jamie Sale and David Pelletier were skating with us one day... I was really excited and Ashton Tessier and I were bouncing all over the place.. we were skating and I fell just skating, doing nothing, because I was getting too excited!! haha.... it was really embarrassing but now I think about it and I laugh.
But fave skating memory would be France again.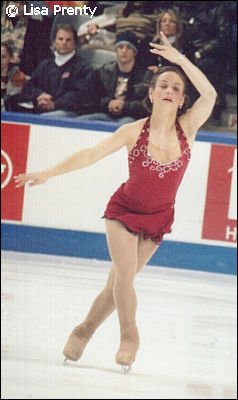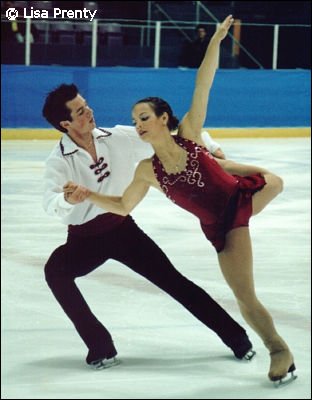 Thank you very much for taking this long time to answer our questions and good luck at Junior Worlds, have FUN!


Copyright © 2004 - 2023, Absolute Skating
All rights reserved.