Interview with the British Icedancers James and Phillip and their Towler-Green girls
Part I
by Helga Dobor
Photos © Helga Dobor


Candice Towler-Green & James Phillipson, Phillipa Towler-Green and Phillip Poole, two young icedance teams from Great Britain. The girls are twins and they are being coached by their mother who is 4 times European Champion and 4 times World Champion icedancer Diane Towler.
Pippa and Phillip debuted last season together, and this is the second senior season for Candi and James. I met Pippa and James in Bratislava, where they placed second.
Let these lovely skaters find their way into your hearts too :)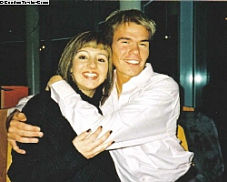 Phillipa Towler-Green & Phillip Poole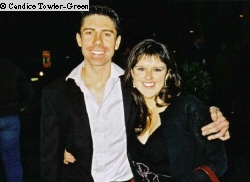 Candice Towler-Green & James Phillipson

When did you start skating and how do you remember your first time on ice?
Candi: We started in 1991, I remember our mum taking me and my sister when we were around four and we had these little pink tracksuits on and we had these little double runner skates on, I remember having so much fun because all of the older children were taking me and my sister around really fast and spinning us around really fast too! After that day mum could not get rid of me and Pippa every time she went to the rink we had to go with her because we wanted to play with the other kids!

James: I started it in 1992, My dad took me along to the local ice rink because he said that I was a hyperactive child and it might burn off the extra energy, I went with him and my stepmother and I instantly loved it.

Phillip: In 1986, and having lots of fun!
How much influence did your mother have in getting you started in ice dance?
Candi: Actually she did not want us to skate at first she used to try and get me and Pippa to do loads of other sports instead of skating. We have done nearly everything - Swimming, Horse Riding, Gymnastics, Dancing and so on. But each time we tried something new we would do it for a couple of months, then we would just say 'When can we go back skating again?' - so mum knew that she was fighting a losing battle because no matter what she tried we always went back to skating.

Pippa: Not a lot! She has been through it all herself but she is great . She supports us so much and gets up early in the morning with us, six days a week, even though she has been doing the same thing through her whole life
Phillip, James, was there any skater in your family, too? Or any skater whose style inspired you to start skating?
Phillip:
There were no skaters in my family. Torvill & Dean inspired me when I was five years old to start skating.
James:
It was actually my stepmother Caroline! She was already a recreational skater and it was her idea for my dad to take me along to the ice rink.
Do you remember your first competition?
Pippa: Yes it was a little club one. I was so excited because I won a medal.

Candi: It was club competition and I was skating "Hello Dolly" I had this really cute little cerise pink dress and my mum curled my hair and put flowers in it I felt like such a grown up. I cant remember where I came, I just enjoyed myself so much I did not really care where I came.

James: It was an open dance competition and I also came third.

Phillip: Yes, it was a competition at Richmond. I won a bronze medal.

Did you ever consider skating as singles instead of dance?
Phillip:
I started as a single free skater and won two championships at novice and primary level. I switched to dance when I was sixteen, which I preferred.
Pippa:
I started off doing singles and pairs but then decided when I was ten to switch to ice dance. I liked it much better.
James:
No I have always wanted to dance and have a partner. I get too bored skating on my own.
Candi
: I have never really liked skating on my own. The first few competitions that I did were fun but then I started to get a bit bored on my own. I wanted some company so I started skating with one of the guys the same age as me in the rink. We did actually start as pair skaters but then after a couple of years my partner said that he did not want to do it anymore - so we switched over to dance.
Pippa and Phillip
British Nationals 2004

You are coached by your mother, Diane Towler. Do you take help from anyone besides your mother, who is creating and choreographing the programmes?

Candi: We have help from a ballroom dancer, his name is Michael Styllianos, he is a former World Champion in Latin American dancing.

Pippa: Yes, Michael Styllianos, We both work well with him as he understands ice dancing a lot. He can put movements from the ballroom on to the ice.
Have you been to training camps with other coaches?
Pippa: At British squad camps I have worked with Muriel Zazoui and her assistant Roman, Annie Shelter and Bermard Ford.

Phillip: I have worked also with Mureil Zazoui and Annie Shelter.

Candi: James and I have both been at the same skating camps where Annie Shelter has been teaching, she does really great edge classes and also she works on presentation and just learning how to feel on the ice.
How does that differ from working with your mum?
Pippa: It isn't any different at all. Mum has brought us up to understand that she is our coach on the ice and our mother off. She has the same approach as them on the ice.
Many skaters go to the US to train. Are you happy with the conditions in England? Do you get all the ice time you need?
Candi: It is always good to see how other people train because you can get ideas that might help you with your training. But at the moment we are very happy with our current conditions! Our ice rink is very old so it is not a great place. It is often very cold, but we are very lucky when it comes to ice time, we have lots of time available to us.

Pippa: Yes we are very happy. We have grown up in this ice rink. The rink is really very old and cold but we have good ice time, 4-6 hours a day.

James: And I have also learnt how to drive the zamboni so I can do an ice cut anytime we want one - which really helps.
About your new programmes.. Who chose the music? How important is the music for you?
James: We chose the music along with our coach, it is all a joint effort! We try to get a selection together and we play it on the ice and see which we like the most and how many ideas we get to each tune, because if you don't get any ideas to the music then you know it is going to be hard to make anything up to it.The music is the most important thing because if you don't feel the rhythm inside then it is going to be hard to skate too. You need to be inspired by the music and really feel, because then you know that you are going to perform it well.

Phillip: Choosing the music is a group decision. We just keep looking until we find what we like and makes us feel good.

Which is your favourite skating programme, and what is your favourite music to skate to?

James: Our favourite program so far would be this year's Original Dance, it was mainly the quickstep that we loved, we skated to Girls,Girls,Girls, and just had so much fun skating to it.

Phillip: We really liked our Original Dance and Free Dance this season, they where both fun to skate to. But we both like skating to dramatic music too.



Candi and James
Oberstdorf 2004

Copyright © 2004 - 2023, Absolute Skating
All rights reserved.