Interview with the British Icedancers James and Phillip and their Towler-Green girls
Part II
by Helga Dobor
Photos © Helga Dobor


How much input do you have in your costumes?
James: We have great costume designers. We go to a company called 'Dance Sport International.' They make Latin American and ballroom dancing costumes too! We go to them and play our music and tell them what sort of ideas we have, and then they draw up a few designs for us and we pick which ever ones we like the most.

Pippa: We all have an input to the costumes! The fantastic designer who works for Dance sport International is called Marina Popov. She has fantastic designs and ideas
And in colour and style?
Candi: We either tell them what colours we were thinking of having, or they will come up with some ideas too and we just pick which ones we like the most.

Pippa: Well I love Baby Pink but I mostly like black or white on the ice.
You are team-mates, but also rivals. What is it like to compete against each other in a competition like Nebelhorn?
Candi: Pippa and I have skated against each other since we were 6 years old. Now we are so used to it we are not at all worried about it! I dont know why but it always makes me feel more confident to know that she is there! Except for one competition when we were young Pippa has always beaten me in competitions. So I know that it is one less rival to worry about and we can just support each other through the competition!

Pippa: We have been doing it from such a young age it doesn't bother me. Candi is always so supportive. I love it with her around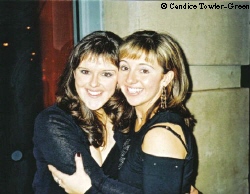 Candi & Pippa

Were you happy with the outcome there?
Pippa: We were both very happy with the outcome in Nebelhorn. We had just been together one year and it was our second international competition together and our first international medal together.

James: We were extremely happy with our placement in Oberstdorf; we were not expecting it at all, it was only our second senior international and to come 5th definitely made us happy!
How do you feel about the Code of Points?
James: It is going to be hard to get used to, because we are so used to the old system, but time will tell how good it is.

Pippa: I think it is good, but I am still trying to get used to it. The only thing I feel at the moment is maybe all of the dance lifts are going to end up looking the same.
Did you have to make a lot of changes in your skating to accommodate it?
Phillip: No not really. But we just had to think a bit more to make things a bit harder.
In what competitions will/did you compete this season?
Pippa: Obertsdorf: we came 3rd, Bratislava: we came 2nd , Nationals: we were third and we are now reserves for Euros.

Candi: We have already competed in the Nebelhorn trophy in Oberstdorf back in September, where we placed 5th! We were also the reserve couple for the Golden Spin in Zagreb which we were eventually offered, as one of the British couples decided not to go - however we were unable to go either, as the week before I was involved in a collision on the ice during training. I crashed into another guy and his blade went straight in to my foot. I ended up with three stitches in my foot and I had to have two weeks off the ice. So it prevented us from competing at any other competitions before Nationals.

What moves are you working on the most this season?

James: We will be working on as much as we possibly can from the basics upwards. But I think the main thing is to really study the levels for the elements and make sure that we are getting the highest levels we possibly can.

Pippa: Phillip and I will be working on everything: lifts, spins, steps, basics. As much as we possibly can.
British Nats Pippa and Phillip

What are your goals for the season?

Pippa: We are just going to work hard and hopefully keep moving up. Phil and I would love to compete in Euros next year.

Candi: Our goals for this season were just to skate well at the competitions that we were competing in! This is only our second year in Seniors and we are still adjusting to it, you don't realize the difference between Junior competitions and Senior competitions until you actually make the switch, and you need some time just to gain some experience
And what are your plans for Torino 2006?
Candi: We know that we are not yet at that stage in our career. The Olympics is definitely one of our goals but most likely not until the Games after Torino in 2010!

Phillip: Well it would be nice to go but the Kerrs are the likely team to go. But we will still keep working hard.
And your overall goals?
Pippa: To make the European, Olympic and World team and go as high as we possibly can. As long as I am still enjoying it I will keep going and fighting!

Candi: My overall goal is just to keep on loving what I am doing, the obvious goals are Europeans, Worlds and Olympics, but none of that is worth it if you are not enjoying it!

James: Just to keep on enjoying it and skating well!
Where do you see yourself and what do you see yourself doing in 10 years time?
Pippa: First of all I hope we are all healthy and still skating. But I would really love to have a top place at Euros and Worlds. I would also love to do shows as I love performing. It is great fun!

Candi: Nobody knows what the future holds for them but we just hope to be happy and healthy and still enjoying skating.
What are your hopes for British ice dancing in the future?
Candi: The last few years British dancing has been coming along well with good international results from most of its dancers. We also have two spots for Euros this year and it would be great if this could continue! Gaining the spots for the major championships is important for the progression of our country's skaters, it gives us all something to strive for!

Pippa: Well it would be great to have a finish at worlds like they did in 1968 with British dance teams in 1st , 2nd and 3rd. You never know.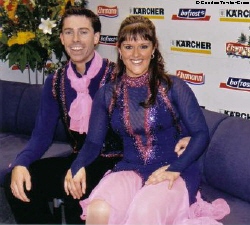 James and Candi
Oberstdorf 2004

Who are your all time favourite ice dancers?
Pippa: I have a few: Marina and Gwendal, Galit and Sergei.

James: We both absolutely love Galit Chait and Sergei Sakhnovsky. They are our favourites by far, they are just so passionate when they skate. You can see that every performance they do they put everything that they have into it.
Which eligible team do you look up to the most this season?
James: It has to be again Galit and Sergei for the determination. I just love how fast they both are.
What is your connection like with other skaters in your national team? Do you usually meet?
Pippa: I have loads of friends and we all get on really well. We all have lots of fun when we are away or at squad camps. We are all crazy. We normally meet up with Jenna McCorkell and other skaters.

Candi: I get on really well with the members of our National team, I have known some of them since I was seven years old. We always have so much fun! The only problem is that we all live pretty far away from each other, but we do try to meet up as much as we can! We either go and see them or they come down to London to see us! We do all keep in contact by email and by phone too.

James: We have some great friends, we keep in contact as much as possible and meet up whenever we can. It is just the distance part that does not help.
Do you know the Kerrs? Are you friends?
Pippa: Yes we know the Kerrs, they are really nice. We are friends and I think they are doing a really great job for British Ice Dancing.

Candi: Yes we know them and we are friends! They live quite far away from us but we keep in contact and when we do see them we always have fun!
James: And we keep in contact by phone and email!