Adrian Schultheiss: "Gold is always golden"
 
By Melanie Eley
Photos © Absolute Skating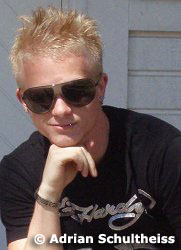 Adrian Schultheiss is the 2006 Swedish figure skating champion, coming 2nd to Kristoffer Berntsson for two years.  Adrian was 6th at the 2008 European Championships and he placed 13th at his first World Championships this year.  He is the first male skater from Sweden to win a Junior Grand Prix event - the 2005 Croatia Cup in Zagreb.
How did it feel for you to skate at World's in your own country?
I was happy for it, because it was in my own city and it felt good for me - to get some recognition and attention - and also be able to perform to my home crowd. I did not expect the audience to be that good to me, so in the beginning it was scaring me, but it felt awesome anyway, and I'm grateful now, when I think back, for all the support I've had and it will be a good experience I will carry with me.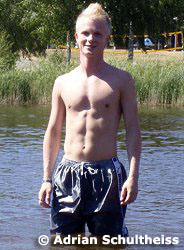 How much pressure did you feel?  Did you enjoy it?
It was my first senior world championships so I did not put any pressure on myself - more that I tried to enjoy it at the level I was at that point. 
Do you think about any thing while you're waiting for the music to start before performing your programs to a big audience?
No, I'm just standing there waiting for my music, normally, trying to localize were I'm at, or some times I'm just inside my head, concentrating. 
 You have a different style in your programs and costumes from many skaters. Is this something you have set out to achieve or is it your natural, creative style? 
I am? :)
No I don't try to make it "extra", it's just natural creativity, following my own thinking. Costumes, hairstyles - I have people to help me with those, but I have a say in it as well, so I get what I need.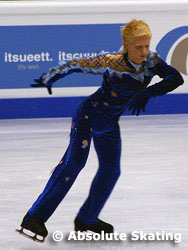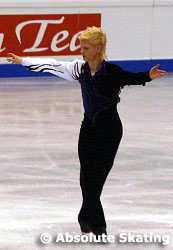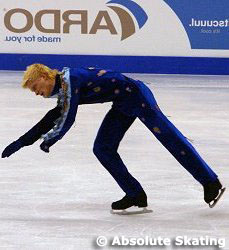 What are your views about the skaters who do not strive for uniqueness, innovation and creativity?
I think it's more interesting and important when people try to make some difference from all points of view.
There have been recent changes in the Code of Points marking system. How will this affect you?
I have to adjust to the system and I don't have any complaints.  :)  The changes are not a great concern, so I have no real opinion.
Can you tell us anything about your programs for this season and your schedule? 
I will keep the short program, but make some minor changes - and my free, I have changed. It's a modern choreography, in part inspired by hip hop, and for me really enjoyable music. My choreographers are Galina Lutkova and Igor Luytikov, and my coach is Evgeni Lutkov.
I have 2 grand prix events (Skate America and NHK) and one international competition in Germany before the GPs¬Öand after, I don't know yet but there will be nationals and then it's European and World Championships.
What is your biggest achievement?
I have to say this last season with European's and World's was very good.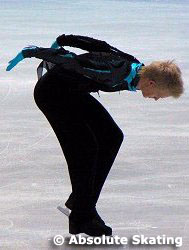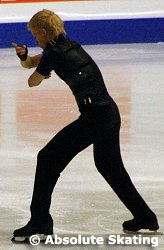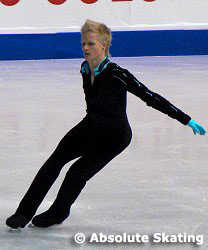 Who inspires you and what motivates you to train so hard?
I just want it. It feels good to have done something every day that you can be proud of and if that's not the case I'm looking forward to the next day. 
What is your most memorable moment? 
I think something that special has not happened yet.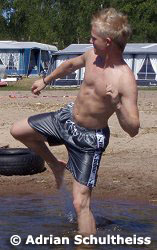 Really, what about Worlds? Or landing your first 3 axel?
I think I'm still waiting for something more, that's why I think always try better and continue, not stop and be happy, but of course I'm happy about my experience at world's or landing my first triple axel clean, but for me they're just small things at this moment. Life has much more to give, I hope. 
What do you do to relax away from skating?
I'm kind of relaxed when I'm not having nightmares, but having nightmares doesn't happen very often now ¬Ė I haven't watched any good thrillers recently. I don't do anything special - just living life.¬†
If you were a pair skater who would you choose for a partner?
She would be a hot, gooood looking female, a little smaller than me, with a tight body - probably a model.
We need a name Adrian!
Hahaha! There are many girls like that but I haven't chosen anyone in specific, just described the look she should have so she can call me when she wants to hang out!    I hope this answer is fine or else I have to buy some magazines to find a woman like that!   
If you could be a skater from the past, who would you be?
I would choose myself at my current level - that would have rocked.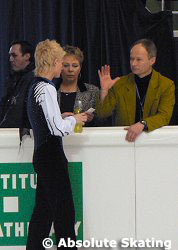 We all have habits, routines and rituals. What rituals or routines do you have related to skating?
No I don't really have things like this. I just talk with my coach, then concentrate and go. 
Which is your favourite country you have visited and why?
Hmm I don't know.  I like Spain because it's warm and chilled, also I liked Japan as it was big and cool, but I like many countries. It's always nice to visit a new one as well. 
Do you have a party- trick?
Naaa, I don't do party tricks, I just enjoy. I don't need tricks to fulfill myself, and if somebody wants a trick I'll see what I can pull out.    How many body piercings do you have and where?
At the moment I just have my ears and lip. I had 4 more, but maybe later on I'll have a new one and maybe some tattoos because I like those as well. 
Aw, did you let your brow piercing close up?
No I just took it out and then after some time when I wanted it back, it was closed.    
Have you thought about what kind of tattoo?
No I haven't thought about what kind of tattoos yet ¬Ė I'll see.¬†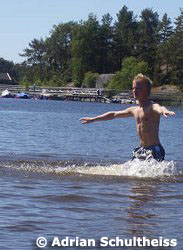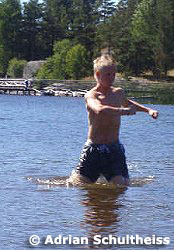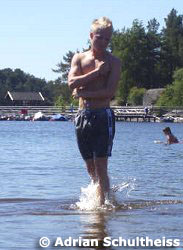 What is your most valuable possession?
My health and my family are most important for me. 
Are you left or right handed?
Right handed.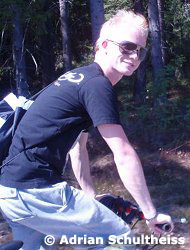 Do you have strange dreams? Have you ever dreamed your teeth were falling out?
I have had some dreams with monsters and zombies haunting me or I'm falling off a cliff and will die, or I remember one when my brother turned into a monster and tried to kill me! 
But this was when I was younger. Nowadays very rarely do I have strange dreams. I mostly go to sleep with a smile and keep it through the night! ;-) 
How would you spend 3 million kronor?
I would probably save most of it - maybe buy a house/apartment like an investment. Also I would use it for living, family, skating etc. 
What's the naughtiest thing you have ever done?
I don't feel comfortable to in telling the truth here about naughty things, because that would be naughty to do. 
What's the bravest thing you've ever done?
Bravest? I have no idea. 
Do you still keep reptiles? What animal would you like to own if you had the time? 
My reptiles are in my parent's house. I don't have the space or time for them here, but if I could own an animal, it would be a small dog :) I love dogs, but small ones.
You were injured recently? Can you tell us about this please?
Unfortunately I have an injury which started at the beginning of summer because I did my new programs with my new skates and it was really hard for my foot. Since then it has become very painful every day, so that's why I'm resting now. My doctor said it's inflammation, and I need to be off the ice for 2-3 weeks, but everything depends on how my foot heals. Now I'm trying out some extra silicone in the skate, so the skate is softer around the area of the injury, and I really hope I can start skating again on Monday. I will try at least. I'm doing off-ice exercises and dance, so I hope I'm in good shape to compete - but it all depends on how it feels on Monday or Tuesday next week.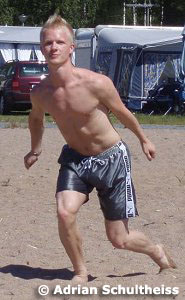 Sun or snow?     sun 
Tennis or football?    football 
Spiders or snakes?    snakes 
Apples or oranges?    apples 
Blonde or brunette?    both [that's cheating, Adrian!] 
Film or book?    film 
Mohican (hair style) or piercing?  mohican AND piercings Tea or coffee?    coffee 
Wine or beer?    wine 
Salad or burger?    burger 
Olympic bronze or World gold medal?  yes please, I want them, send to this address...   but seriously, gold is always golden 
Yagudin or Plushenko?   Plushenko                     
Break-dancing or skateboarding?   Break-dancing 
Money or love?    love - and then the money comes hopefully J   I have to change that, because it sounds        strange. I don't have anything against both! 
Federer or Nadal?       Federer or Nadal ? What is that?
You don't watch tennis? Roger Federer¬Ö.Rafael Nadal?
Adrian's favourites: 
Colour: blue
Food: pizza, fondue
Drink: cola, Red Bull
Place: Where the sun is shining
Movie: "Saw". I like thrillers and horror movies but I don't have anything against comedy or other kind of movies - they are just as good.
Sport: K1- it's like kick boxing
Book: don't have any favourit
Band/artist: Eminen, Sido, Dr Dre, most rap music, but I also listen to a lot of other music depending on my mood. 

Learn more about Adrian on his brand new site. Click here!