Adam Rippon: "It's good to meet the challenge early in the season"
 
By Reut Golinsky
Photos © Reut Golinsky, Adam Rippon
At the Trophée Eric Bompard in Paris, I had planned to talk with Adam Rippon about formal things related to all the competition stuff. Things didn't exactly go as planned, because he responded that he already knows of our site. How he got to AS? That's simple: he "googled" his name. You see, everybody at some point in his life "googles" his name; didn't you? I did. So did Adam.
Was there something good written about you?
It wasn't something bad, which is good already.
You're such a positive person, you're like sunshine, how can somebody write something bad about you?
I try to be positive, yes. I think if you're positive to people, they will return it.
Ok, back to the competition. The field in this competition was strong. Were you surprised to be on the podium? What were your expectations before you came here?

I didn't have a specific expectation. I knew that I wasn't a favourite to medal. We had Brian Joubert, Tomas Verner, and Nobunari Oda here. So I didn't think about medals, I was just focussed on my own skating. Before the Short Program, I was a bit nervous. However, my main goal was to show to the public and the US federation how well I am prepared for this season and to show my programs
Your next GP will be in NHK, with lots of strong contenders again. Brian will be there too; you also will meet there with your countrymen – Johnny Weir and Jeremy Abbott.
Yes, the men's field is even deeper there with Daisuke Takahashi and Takahiko Kozuka. I know I am not one of the favourites there either, but you never know how it will come out; I need to try to do my best, that's all. When I think about medals, I just get more nervous, so it's even better not to think about them. I try to see it in a positive way. It's good to meet the challenge early in the season; you'll feel less pressure later on. It's also an opportunity to see the programs of others and to learn something. Most of the skaters I am meeting during Grand Prix series this season will probably retire after the Olympics, so it's my last chance to compete with them and to learn from them.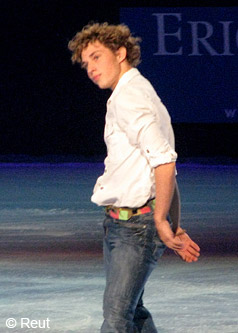 You say 'less pressure', so actually NHK will help you in a way to prepare for the Nationals? "The" competition this season for guys and girls of US team.
Yes, we have a tough competition in ladies, especially with Sasha Cohen's comeback. And in men, for three Olympic spots, we have at least 6-7 men with the reigning World Champion among them.
How do you try to learn from other competitors? Do you usually have time to watch others during the competition?
Not during the competition. I am a bit superstitious and it's not that I'll start to change my programs two minutes before I go to take the ice, adjusting them according to how others skated, but sometimes I happen to check the scores during the competition. I do watch a few performances when I am back home to learn and to improve. I watch and if I note something interesting, which can be useful for me, I show it to my coach. For example, I will watch the performances of Oda and Verner from this competition to understand why they got better marks than I did and how I can also make my marks higher. If, when I am back home, I just say, "Oh, I have a bronze medal," then I will always have only bronze medals.
Speaking of improvements, obviously I should ask here about the 4T, which you don't perform yet in the competitions. Yesterday, in the free skate, all three Frenchmen tried the quad, but in the end they placed lower than you.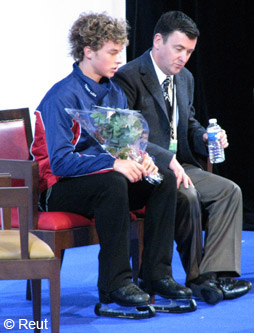 They placed lower; you're right. Of course I'm working on my quad, but I think it's better to perform the jumps you know well and to constantly improve them. That's why I'm doing 'Tano triple lutz' (lutz jump in which the skater raises his left arm above his head), for example. It's a bit ironic; my coach, Brian Orser, trains an American skater who performs the jump invented by his main rival, also an American, Brian Boitano.
I read in Brian's interview that you had an injury this summer, what happened?
I had a sprained ankle, it was hard to skate and I couldn't jump for about a month. It was a scary summer; I wasn't sure I would be able to start the season. We have very good therapists though. They helped me. I could start skating again at the beginning of September and I had a month and a week to prepare for this competition.
(Someone interrupted us asking for an interview, Adam had at least four or five that morning overall.)
You're very popular today. Do you love all this stardom around you?
Yeah, I like it. I like to talk to people and if someone wants to talk to me I will never say "no".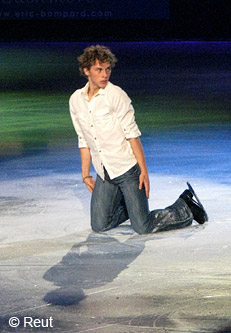 You said that you found us through Google; are you an "Internet person?" Last year in some interview you mentioned that you don't have much time for Facebook, but I see that you're updating your Twitter quite often. I enjoy reading it, by the way.
Yes, I like to share positive things with people. I didn't write there about my injury because I didn't want people to feel sorry for me, but I love to share good things there. I even drew Yu Na into Twitter, but she mostly writes in Korean.
You should learn Korean then, especially because you're so popular in Korea.
Yeah, I try. We have a "little Korea" in Toronto: Yu Na, her mother, her Korean coach and her agent. I try to learn words here and there. This is actually my problem: I know a few words in different languages. Before, I was training with Russian coaches, so I caught a few words in Russian. We had Japanese skaters in our team, so I talked a bit of Japanese with my friends and now Korean. It is my goal in the future, to learn at least one foreign language. I just haven't decided yet, which one.
One more "non-skating" question for you. I read your biography before our interview and found out a very interesting fact, that you are one of six children in the family. That is a bit unusual for the US.
Yes, normally there are two or three children in American families, and we have six. I love all my brothers and sisters so much. I'm always excited to be back home. I'm in contact with them and miss them a lot when I'm in Canada. During my stay here two of my brothers had their birthday: one turned 9 and the other one turned 18. So it was a big family celebration. Pity that I missed it; I almost always miss those things.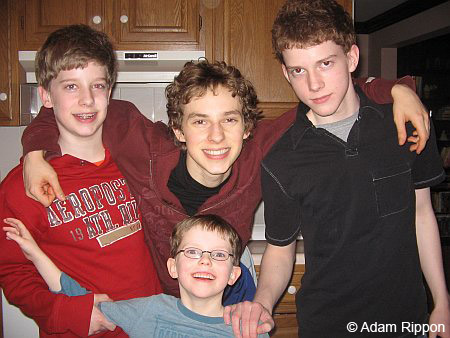 Your results here could be a good present for them. You can say that your SP was for the younger brother and the LP for the older one. Are any of them skating too? I read that you started skating because of your mom.
No, it's just me who skates in our family. It was a winter hobby of my mom's. She took me with her a few times and I liked it. Suddenly on my 10th birthday, I was signed up for group skating classes as present and it continued from there.
It is actually rather late to start skating when you're 10 and in 10 years become a two-time Jr. World Champion. Wow, it's an impressive achievement. I wish for you that the next 10 years will be even more fruitful than these. And good luck in Japan!