Meryl Davis and Charlie White:
"We'd like to mix up the order in the US team!"
 
By Reut Golinsky
Photos © Reut Golinsky, Mireille Geurts & Joy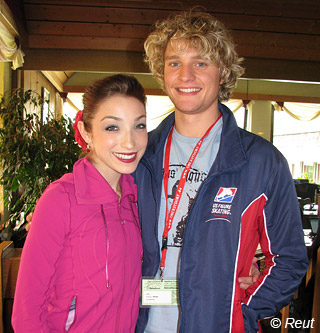 The start of this interview was a bit unusual as it was me who was wearing skates.
We were in Oberstdorf, during the Nebelhorn Trophy, and we agreed with Charlie and Meryl to meet after the draw for the original dance. But, shame on me, I was late! There was a public skating session on at one of the rinks; I couldn't miss that chance, as in Israel the nearest rink is situated four hours' drive away from my home. I enjoyed my (stumbling) skating so much that I totally forgot about the time and I missed the draw! A few minutes later realising this, I ran out to look for them with my skates on, hoping that they still were not gone. Thank God, they were there!
Test for the longest-tenured team
As Meryl and Charlie have the honourable title of "the longest-tenured U.S. ice dancing team" (they've been together since 1997), we started with a fun "test" to see how well they know each other. Each one received a piece of paper and pen, and needed to answer a few simple questions about the other one. When we finished, they switched the answers, confirmed them or not and we talked over them a little.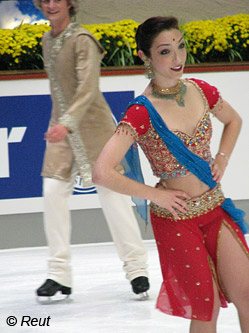 I love this game, because it gives people the opportunity to learn something new about them - to see how the other one sees them. Also I agreed with Meryl's note - sometimes you even don't have the answer for yourself, but when the other person says it, you realise that it was the precise answer you were looking for.
Favourite movie
Meryl about Charlie: "Monty Python"
Charlie: Yes, that's true.
Charlie about Meryl: "Notebook"
Meryl: No, Charlie, no. I do love the "Notebook". But my favourite one is "Troy", I just love it.
Charlie: But it's like a two-star movie!

If not a skater who would you be?
Meryl about Charlie: Wayne Gretzky
Charlie: I wouldn't be Wayne Gretzky (explains to me: He was the best hockey player!), but I would be a hockey player, so it's close, yes.
Charlie about Meryl: anthropologist
Meryl: Yeah, I was going to be an anthropologist, yeah, sounds good.

Your ideal music for the free dance
Meryl about Charlie: "Phantom of the opera"
Charlie: Yes, "Phantom", you got that.
Meryl: He really loves it.
Charlie about Meryl: "Beauty and the Beast".
Charlie: That's based on the fact that you always bring this music. (to me)For several years she kept playing it.
Meryl: I did bring it in. It's not the Disney cartoon, by the way, it's an old TV-series from the 1980s.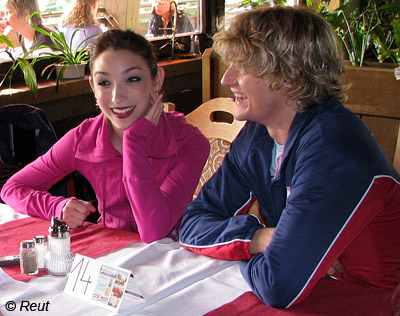 Favourite type of books
Meryl about Charlie: sci-fi
Charlie about Meryl: fantasy

Hobby, something you love to do apart from skating
Meryl about Charlie: play NHL 09 (hockey video game) with Trevor, Evan and Shibu (Trevor Young, Evan Bates and Alex Shibutani)
Charlie about Meryl: baking, reading, travelling

How many children do you want to have?
Meryl about Charlie: 2.5
Charlie: (chuckles) There was some fact page on Facebook, some information...
Meryl: Two and a half children is the average number of children in the States.
Charlie: But, no, I still hope to have a complete child.
Charlie about Meryl: 7
Meryl: Seven children?!?! Nooo.

Favourite place to compete in
Meryl about Charlie: Japan
Charlie: Yeah, Japan. We have the NHK Trophy this year and, hopefully, Grand Prix Final.
Charlie about Meryl: US
Meryl: US? Yeah, probably.
In Los Angeles during Worlds 2009? How was it?
Both: That was really nice.

Favourite place to visit for sightseeing
Meryl about Charlie: Japan
Charlie: Right, Japan again.
Charlie about Meryl: Italy
Meryl: Italy for sure.
Where in Italy?
Meryl: Positano. It's on the Amalfi Coast. I went there with my family on vacation this summer.
Do you have time to visit those places you love?
Charlie: Right after we're done competing for the year we have time...
Meryl: A few weeks usually. It's nice to be able to get away with our families.
Both: We do it separately, with our families, yes.
New programs, new ambitions and Russian jinx
While reading the article in which Marina Zueva explained how she got the idea of your original dance from colourful scarves, I imagined Meryl in Indian costume, and when I saw you, Meryl, in the practice, it was absolutely like I imagined, very beautiful.
Meryl: Thank you.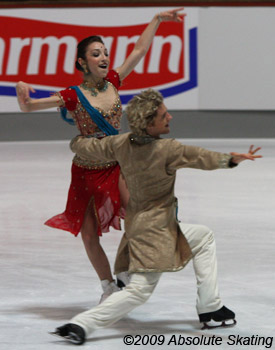 This program is very complicated though, this is what your Indian dance coach said.
Charlie: Yes, lots of different hand and arm movements, definitely.
Meryl: Yes, very intricate movements as we tried to maintain the authenticity of the dance.
Charlie: We learned so much about Indian dance and culture, and were able to incorporate it when it came to choreography.
The music comes from the film, "Devdas", have you seen it? I'd call it the story of "Indian Romeo and Julia"...
Meryl: Yes, I've seen it.
Charlie: I saw part of it. If we did it for the free dance, you'd probably be able to see more of that story. But we just wanted to interpret it more as the traditional Indian folk dance.
Meryl: We used mostly a bhangra dance, the folk dance which comes from the northern parts of India. So we're not doing the story of the movie, but we try to incorporate the authentic dance.
Who brought you this music? The coach?
Charlie: We didn't know much about Indian music, so we asked our Indian dance instructor to bring in some music for us, something we would be able to skate to.
Meryl: Something energetic and fun.
Charlie: She brought about fifteen different songs and we really liked the ones we chose.
Now to the free dance and Charlie's favourite music. This music is often used in skating, which usually doesn't excite skating fans. Your music choice provoked some disappointment in summer.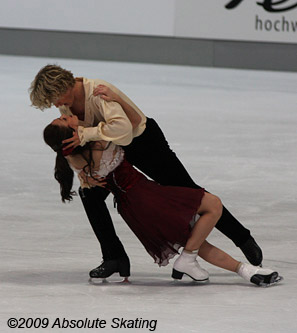 Charlie: The thing about the "Phantom of the Opera" is that it's not really overused in dance. It's been used in other disciplines in skating in general, maybe. During the last fifteen years, for example, in dance it was used maybe a handful of times, compared to a lot of the actual overused pieces. It is obviously very popular, it is still amazingly popular as a musical, and everyone is very familiar with it. But in terms of interpreting it, I don't think that we're similar to any of the other teams.
Meryl: We definitely took the fact that "Phantom" is such a well known piece into consideration before deciding on using it. Between the coaches, Charlie and me, we decided it wasn't at all a drawback. Overall, "Phantom" epitomised where we wanted to go with our skating this season.
Which music are you using?
Charlie: The instrumental parts we use are from the film and "Music of the night" is from the original musical.
Have you seen the movie? The musical?
Charlie: Yes, we saw the movie. The musical was in Detroit, recently. We were hoping to see it, but the tickets were sold out, so we were unable to go. But as kids we both saw it in Toronto.
Meryl: Yes, the musical made a great impression on us when we saw it as children. It's been a piece we've both loved for years. To have an emotional attachment to a piece before beginning choreography is a very exciting experience.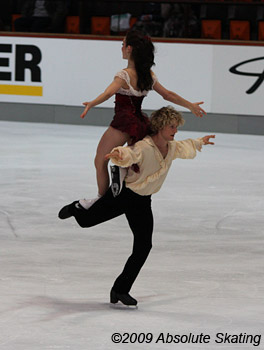 So why is this music your favourite?
Charlie: From childhood I always enjoyed the music of Lloyd Webber, he is truly a great composer, and this is one of his best creations, in my opinion.
Great that in Olympic season you could fulfil your dream. Did everybody agree immediately with your choice?
Charlie: It was one of the first music choices we listened to. We listened to a lot of other music because obviously it's important to get it right. We ended up comparing every piece to the "Phantom of the Opera" and decided that the "Phantom" was really what we wanted to go with. It's been very exciting process, for us, developing our program.
You're going to be a Phantom there, right? Any surprises? Will we see the mask on you?
Charlie: No. You're just gonna have to watch my skating and imagine. We considered a mask, but decided it was too dramatic, and we want our skating to be the focus. The story should come across, I think.
In your original dance the image perfectly suits Meryl, less you, Charlie. Once, when you had a Russian dance, everybody wondered if Charlie had Russian origins...
Charlie: (laughs) It's a similar case to the "Phantom". We're doing an Indian traditional dance and we hope that this is what people are going to see, they are not going to say: "Wait, he has a blond hair, we're confused". The music is playing, we have the correct outfits on and we'll be interpreting it authentically, so it's not going to be a big deal.
While talking about Russia, in the Cup of Russia 2008 you had a painful moment there... (they had a disastrous original dance there when Charlie had two falls and a huge stumble on the twizzles They got the lowest technical score and were 8th in OD)
Charlie: Oh, no...
Â…which you handled so well. I really admired you. Your advice to other skaters, other couples how to deal with similar situations.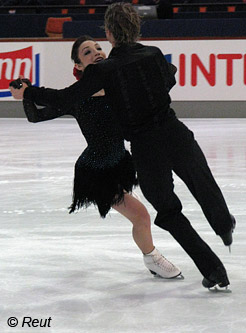 Charlie: For the situation like ours, you just have to accept that sometimes these awful things happen and you have to move on. We still had competing to do. It was a little tough to get over it because it was so incredibly bad. (laughs) But we just had to concentrate on our job in the Free Dance the next day and to skate like we usually do. And it was no problem.
Meryl, and your advice how to restrain yourself from blaming the partner. We know other examples, with "death stares" in such situations.
Meryl: I think one of the biggest assets Charlie and I have is that we respect each other, having the long partnership that we have. It can be one person one day and the other person the next day. It's your job to be there for the other person, it's a team.
Charlie: I think after being the other person, you understand the idea, the concept of being a team. That we are the team, even if one person messes up, still we are in it together.
This was definitely a test and you came out of it stronger. You have the Cup of Russia again this year. Any worries? Do you have some superstitions about "bad places to compete"?
Both: NO!
Meryl: No, definitely not. Charlie and I both felt how great the Russian audience was for us, they were very-very supportive. I think that going back there this year we have a new appreciation for their support and understanding.
Charlie: Yeah, absolutely. That's not the kind of thing we worry about, we just go out there and we skate, we do our job, we know all those little things we should think about in our program, we won't be thinking "Oh, my God, we are back in Russia!" (laughs). In general I'm not superstitious at all.
Your goals and hopes for the coming season.
Charlie: Oh, our hope is just to skate.
Places, medals you expect to win. Have you checked who are going to be your main rivals on the Grand Prix series?
Meryl: Oksana and Max (Domnina/Shabalin) are going to be with us at both events.
Charlie: Oksana and Max, yes. But, again, this is not something we worry about. We'd like to focus on ourselves. So our goal generally from competition to competition, is to skate our best. You never know what judges are going to do with you, so if you go up there and show them everything you've got, hopefully there will be only one thing for them to do and that's to put you at the top. But that's not our job, so we'd like to skate well.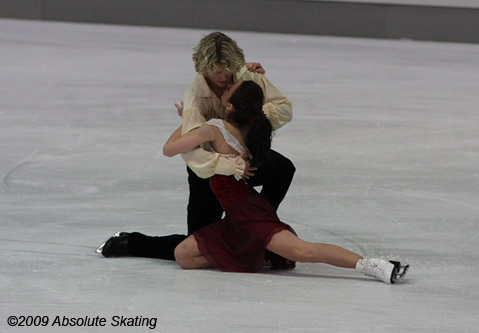 Judging in dance is especially "politically complicated", I'd say. And all this "first team of the country/second team of the country"... Though I'm not so sure the order in US team is obvious now.
Meryl: Yeah, we'd like to mix it up a little. (smiles)
Charlie: It'll come down to the results of the competitions this year, I think. That's definitely the case.
And this reminds me of one more "title" you have. You're always given as an example of rivals who can also be friends; you, Charlie, and Scott set a good example to follow.
Charlie: (smiles) Oh, yeah, absolutely. It's the way of thinking - you go up there to compete and really you're competing against yourself, the best that you can do. What everyone else does on the ice is their problem. And in no circumstances it should stand in the way of whether you're friends with someone, because there are a lot of great people in skating and I'm much better off having them as friends.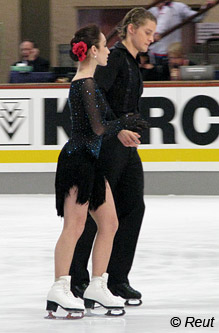 That's great that your best friends are also your mates at the rink.
Charlie: Yeah, that's great, having them at the rink is just amazing. They are such amazing skaters and we like to think that we really push each other, every day.
Do you have separate times for your practices?
Charlie: We sometimes have different schedules just because of the school times, but generally we are on the ice at the same time. And it works out really well.
Different topic: Charlie, I understand, you are quite an Internet-addict, aren't you? Internet is even listed in your "favourites" on the official site.
Charlie: Yeah, I have a problem. I'm on it way too much.There is just so much information...
Problem? I don't think it's a problem. I think it's the most amazing media!
Charlie: Yeah, absolutely. I try to get the most out of it. And Twitter is something I've really begun to enjoy.
Are your parents reading your Twitter?
Yes! Yes, they do. They love it, to stay in touch, even though I live with them from time to time.
What about you and Internet, Meryl?
Meryl: Ah... less. I'm on the Internet a lot, but I haven't done the whole Twitter thing yet, but I will (and she did about a month ago, she is @meryl_davis there).
Are you also checking some skating forums?
Charlie: No. Generally I stick to Twitter, Facebook, and then sport websites about hockey and football. I get enough of skating on the ice, during the competitions. Sometimes I watch skating on YouTube, as it's very helpful to go back and see a lot of classic programs you cannot find anywhere else.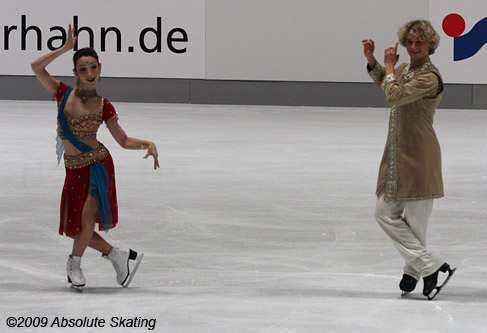 I was absolutely charmed by these two. So different in how they look, how they think, how they communicate, in spite of this (or thanks to this, perhaps) they have an amazing bond, on and off the ice, a team which is always together, in good times and in bad. They were ultimate leaders at the Nebelhorn Trophy and this, apparently, was a good omen for them for how this season continues. They did great, claiming gold at both their Grand Prix events and Tokyo is waiting for them in the Grand Prix Final at the end of this week. They have exquisite, interesting, very differing original and free dances, which are among my favourites this season. They are smart, hard-working and talented young people - the whole package to succeed during this important Olympic season. Fingers crossed.