Albena Denkova & Maxim Staviski:
Behind the Boards
(Trophée Eric Bompard 2009)
 
By Romain Gazave
Photos © Olivier Brajon & Absolute Skating
Although they were very busy at the Trophee Eric Bompard competition and had to leave Paris immediately after the Men's competition, the 2006 and 2007 Ice Dance World Champions Albena Denkova and Maxim Staviski took the time, on Saturday morning, to have a chat in a café close to the Bercy ice-rink.
About Brian Joubert:
ROMAIN: How's the collaboration with Brian Joubert going? [regarding the choreography of his new free program, his practice] How does it work, how was it for you being the choreographer for a figure skater such as Brian, did you find it challenging?
ALBENA: Yes, it was challenging for us, especially at the beginning. We weren't sure that we could do a good program which fit him well, but I think Brian is enjoying it a lot, and in summer we had a very good artistic routine and to our surprise he was doing very, very well. His condition was very good, with good technique and movement, he was appealing in every move.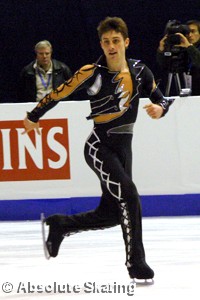 MAXIM (interrupting Albena): He actually wasn't - he didn't immediately feel every move, but he tried very hard when we showed something, and it was all new for him, but he worked a lot and he did a lot of things that were new for him and difficult.
(Albena agrees)
ROMAIN: Brian has the reputation of not being the most artistic skater, but he's always willing to learn. Lots of people are saying that he has such a good attitude at practice?
MAXIM: This is right, but we can't really say that he's not an "artistic" skater, because once he feels his moves and he understands what he's doing, then he starts to do it more artistically.
ALBENA: I also think it's a misguided reputation because, I told you, we were really surprised how well he was doing and how hard he was repeating and learning all the movements for his free program. Now of course when he's tired, adding all the jumps and preparing for the OG season, it's a bit more difficult and some of the movements fall away, because maybe it's too much when he's not 100 percent ready.
MAXIM: For a single skater, it's still so important to do all the jumps and technical elements, so for example if he's missing the first jump, it is more difficult to do all the choreography with the same intensity.
ALBENA: But I think he's doing very well, and we hope to improve until the OG because this is the most important competition for him this season, and he has 3 or 4 months and many competitions ahead to grow.
About Their Future Plans (Choreography, shows)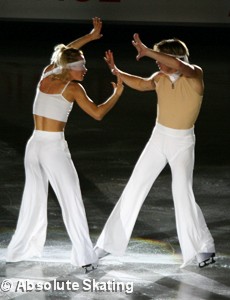 ROMAIN: Did you enjoy doing some choreography for competitors, and do you think that you will do more in the future for skaters?
ALBENA: We liked it a lot and we hope to do more. We do a lot of choreography for ourselves especially now that we've turned professional. We do all the choreography for ourselves by ourselves!
ROMAIN: How do you choose the music?
MAXIM: It depends. Usually for some specific show, we have to use a "hit" – this has to be a very popular piece of music, which I don't like so much at first, but knowing it's popular, I'm working hard on it. But for example when we did the Justin Timberlake program, we both really liked the music and enjoyed so much doing it, but the bad thing is because we used it for one year, we had to stop using it… unfortunately… and choose a new one (to always renew ourselves).
ROMAIN: When you were competing, you were considered one of the most creative couples and you were famous for being different, original and taking some risk in ice dance.
So what was your inspiration, and where did it come from? Do you think it came from your coach? Or did you just have a different vision of doing something more creative from the start?
MAXIM: We always had our own vision but our choreographer helped us a lot with the process, because we wanted to do something interesting but didn't know how to do it and he showed us and taught us a lot!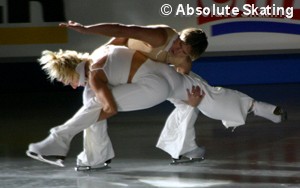 ALBENA: And after a while we were starting to think and feel the music the same way, then we could do some strange movements and also invent some new lifts and movements by ourselves as well. And I think that also, we didn't have much choice while competing because coming from Bulgaria, which doesn't have great figure skating "traditions" (especially in ice dancing), we had to do something different for the audience and for the judges to be able to notice us. If we were doing the same as some skaters coming from "big figure skating" nations, obviously the preference would have been for skaters coming from Russia, France and Canada.
ROMAIN: Albena, are you still involved and working in the Bulgarian federation? I heard you were president?
ALBENA: Yes, I am president, and it is very difficult because I think the previous head of federation didn't put so much effort into teaching and helping the youngest skaters.
And now of course, we are trying to give more money to support the youngest skaters (first of all to find more money in order to be able to give it to the skaters), in order to have (in 5 or 6 year's time) other good competitive skaters coming from Bulgaria. It's actually very difficult because FS is a very expensive sport, so you need money to pay for the ice. We don't have so many good coaches in Bulgaria or ice rinks (only 1 or 2 in the whole country), so you can imagine how difficult it is to practice this sport and have good results.
ROMAIN: Apart from the choreography work, are you still doing some professional shows like the Russian version of DOI and the "Ice Age" tour?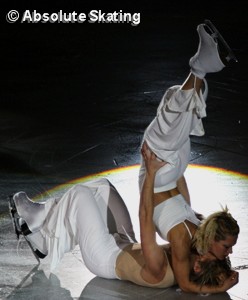 ALBENA: Actually we still love to skate in shows so we are doing it a lot.
Now most of them are in Russia, but we were in Korea for 3 shows in August, and last week we just did the "Golden Skate Award" in Italy. We have a lot of other invitations and we're trying to go everywhere and not getting stuck in Russia because we have some fans from Japan, France and other countries.
ROMAIN: So what's coming next?
ALBENA: We're planning of course to work with Brian.
MAXIM (adding): More…
ROMAIN: Brian's coach told me you're coming often… and keeping an eye on the choreography work?
MAXIM (interrupting): We don't come so often, but we will come more often because we really want to help Laurent to prepare him well. Of course we have professional shows and a project of DOI in Russia. We've got a lot of jobs to do actually.
ROMAIN: By the way, how is it to be concurrent in this Russian TV show? Is there a bit of rivalry, competition?
MAXIM: There's no competition, not between me and Albena or between the skaters.
ROMAIN: Are you helping each other with the celebrities?
ALBENA: Yes… yes.
MAXIM: Yes… yes, a lot. Why not?
ALBENA: Actually for the skaters, it isn't so much competition, mostly probably more for the celebrity… :)
About The Olympic Games In Vancouver:
ROMAIN: What's your prediction for the Ice Dance podium for the OG?
MAXIM: It's almost impossible to tell and predict the podium this year because there are so many teams. There are maybe 4 or 5 couples that could win.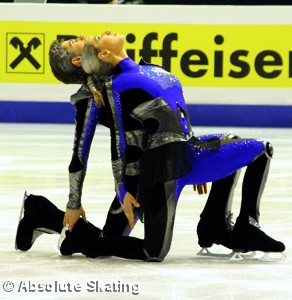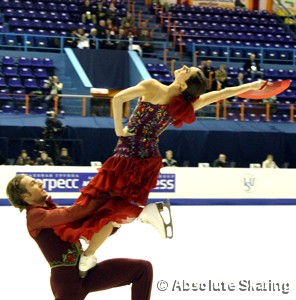 ROMAIN: Who's your favourite ice dance team? Your 4 or 5 favourites.
MAXIM: I don't know, but I like Pechalat/Bourzat very much. I think Virtue/Moir are a very good couple with good programs. I haven't seen yet Shabalin and Agosto.
I like the Kerrs but this year I wasn't so impressed with their compulsory dance yet, but this is an Olympic year and everything can still change in dance; when we were competing in the past with Albena, at this time we were making some changes every week. I think each couple will prepare very carefully, and change a lot of things and they will be in very good condition.
ALBENA: I cannot say who's my favourite as I haven't seen most of them yet, but from what I saw yesterday I really enjoyed the program of the Canadians, I think there's a lot of creativity in the program.
MAXIM: Young, strong, very creative, very nice couple and interesting lifts.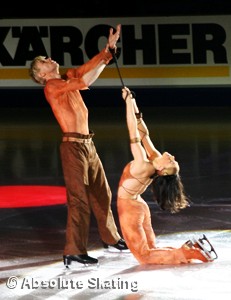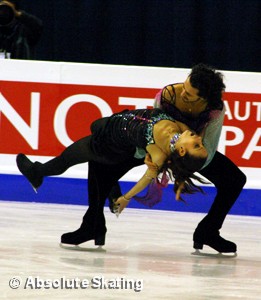 ALBENA: But I like Pechalat/Bourzat of course, the Kerrs, and Faiella/Scali and I really support Natalia Linitchuk with her team as she's our former coach. I hope she will succeed at the OG too, but I also think that Isabelle and Olivier, if they come back, could have the possibility to win because they are the only team who have the experience, are mature, so it would be from this position easier for them to get the gold at the OG.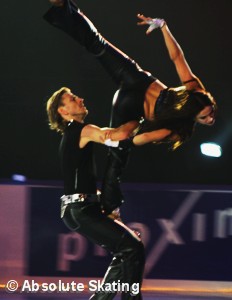 ROMAIN: Who was your inspiration skating-wise?
MAXIM: For me, as single skater it was Yagudin, but in dance I can't really tell you who were my favourite skaters, because all of them really had their own qualities, for example I really like Gritschuk/Platov, Krilova/Ovsianikov and Anissina/Peizerat, and also Dobriazko/Vanagas had some very nice and interesting positions.
ROMAIN: And in the older ones?
MAXIM: I think it would be the Duchesnays! I loved them because they were really different, really changed the world of ice dancing, they really became a legend in their first year of competing.
ALBENA: I think the French skaters are really creative in general. I enjoy Candeloro...
MAXIM: Laurent Tobel and Stanick Jeannette...
Eating breakfast while catching up since we hadn't seen each other in 6 years while also trying to do an official interview. This is the result! We hope you enjoyed reading about Maxim and Albena's opinions, and we all wish them the very best of luck in all they do in the future.