Elene Gedevanishvili - Elene at a Glance
4 September 2009
 
By Suzanne Herrmann
Photos © Suzanne Herrmann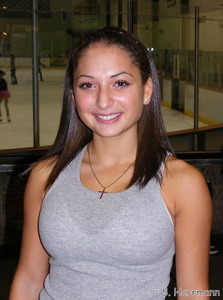 Elene Gedevanishvili is a National Champion and Olympian from Georgia. Following Europeans, she made a coaching change and began to train under the guidance of Robin Wagner. This season Elene is preparing to skate in her second Olympic Games.
I had the opportunity to watch Elene compete at the Moran Memorial Championships at the Ice House in Hackensack, New Jersey. She skated strong and finished second in the short and first in the freeskate. The following week, Elene graciously sat down with me after practice to discuss the current season and a few fun questions.
You are working with Robin Wagner now, correct?
Yes, since Europeans.
How did you come to find her as a coach?
She always came and worked here at Ice House. I knew who she was and asked her to coach me. At first she did not because she quit coaching, but then she came three times a week to work with me. Now she comes five times a week. I am excited and happy about it.
Do you work with any other coaches?
I still work with Roman [Serov] for jumps and Elaine [Zayak] sometimes—but not right now.
You are skating to Fever for the short and Carmen for the long, correct?
Yes.
Who choreographed your programs?
Robin choreographed for me. Vakhtang [Murvanidze] choreographed the short.
You looked strong and confident at Moran. How did you feel about your programs?
I felt really good. We are still working on the programs and hopefully they will get better… and better and better! We still need to finish a couple of things in the long including the footwork, but the short is fine.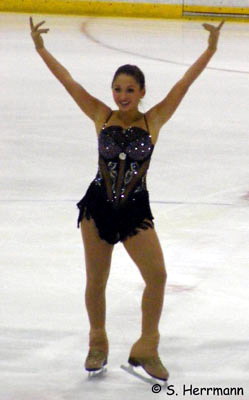 You are competing at Trophée Eric Bompard in Paris and Skate America in Lake Placid, right?
Yes, and I will also compete in Mids to just get out there and skate my programs one more time. [Elene placed second overall at the Middle Atlantic Championships].
What are your goals this season?
I hate making goals! I like to go with the flow and do my best every time. But you never know with ice—it is slippery. You never know.
Did you already qualify for the Olympics?
Yes.
Do you spend your entire year training here at Ice House?
Most of the time, yes.
Training regimen
How many hours do you skate per day?
About three.
Do you designate certain sessions for certain moves, programs or just what needs to be worked on?
Sometimes I am tired and I do not jump. Sometimes we work on my programs, sometimes not. It is based on how I feel each day and each session.
Do you do any off-ice training?
Not right now, but I did a lot of off-ice during the summer. I am going to be doing ballet and Pilates.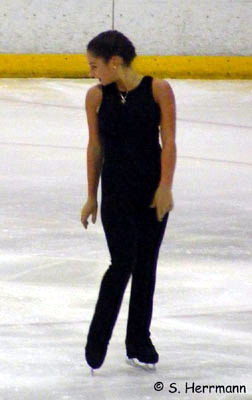 What do you do to warm-up?
I run around and do off-ice jumping. I do the same thing every time before I get on the ice.
What is your favorite part of living by New York City?
I can go to the city any time I want. It is pretty close. Also, my college is in NY.
What are you studying?
Theatre!
Good choice!
What is your favorite place to visit in New York City?
Fifth Ave probably and Times Square, of course! I like shopping… so Fifth Avenue!
What is your favorite restaurant?
I do not really go to a lot of restaurants in the city. It is so much work getting there with the traffic and parking but we still go sometimes. I like Little Italy and a lot of the places there.
What is your favorite move on the ice?
Lutz, Toe… I do not know. I do not have favorites!
What is your most challenging move on the ice?
Loop.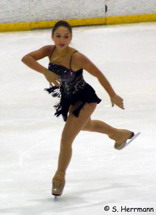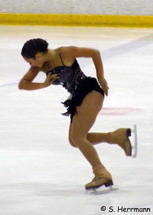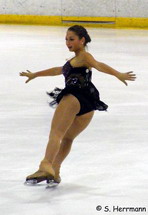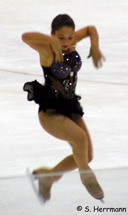 What is your favorite off-ice activity?
Jumping.
What are three favorite songs from your iPod?
It's My Life – Bon Jovi. It is so hard… I LOVE music! What else? Help – Beatles. What else do I love? Ohhh it is so hard! Third one: The Show Must Go On – Queen.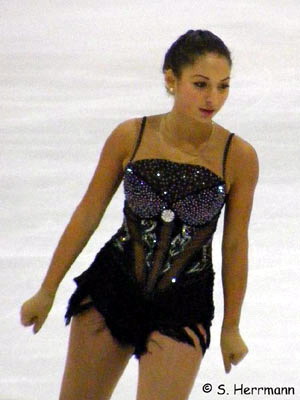 Do you play your own music while you are skating?
Yes, definitely.
What advice do you have for other skaters?
To warm up before they skate OFFice.
How do you begin working on your programs?
First I practice them in sections. Then I add the steps. Then I skate run-throughs without jumping and then run-throughs with jumps.
I notice your mom is with you a lot. She must be very supportive.
My mom is always supportive, she never yells at me and she is not one of those crazy skating moms. She helps me a lot and cooks for me.
What is your favorite food you should not eat during the competitive season?
Bread. I still eat bread! *laughs* I mean, you should eat everything, but just a little bit. If you say, "I cannot eat that," that is what you want to eat! I try not to give myself limits. Ice cream and French fries, but no burgers. Sometimes you have to!
What is your favorite healthy food?
I eat cheese, a lot of lettuce, salad, fruits and meat of course—meat definitely—Fish… all that stuff!
What is your favorite place to travel for competition?
That is hard. Hmmm… I do not know. Paris?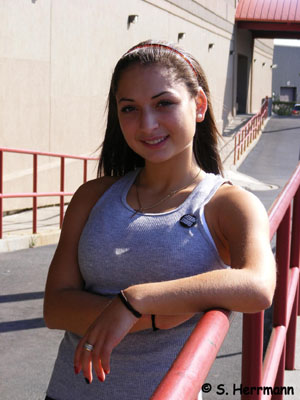 You will be there this year! Do you go shopping in Paris?
I do not really shop before competition.
You are not there long after to enjoy the city, right?
Yes.
What is your favorite place to travel for fun?
Home!
What is your favorite movie?
Pirates of the Caribbean
Which one is your favorite?
All of them! I love Twilight and Some Like it Hot—Marilyn Monroe. I also like The Hangover. Hahaha the brothers! I like all funny stuff!
What is your dream?
*Shakes head no* I do not have any dreams.
Do you have any aspirations?
Well, yes, but nothing is impossible.
Elene, thank you for taking the time to share with Absolute Skating and we wish you the best of luck this season!