A short update with Ingo Steuer
(after the first practice of the Trophée Eric Bompard 2009)
 
By Romain Gazave
Photos © Olivier Brajon
Since we recently learned that Aljona likes to spell her name with a J as Nadin found out during her interview with the pairs couple we will do so as well, in this little update Romain had with their coach Ingo Steuer, at TEB 2009).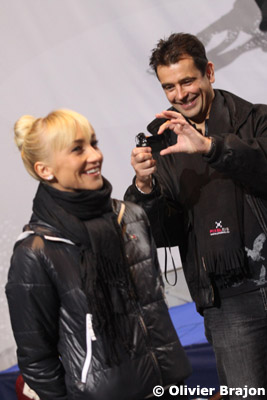 Romain: Ingo, I've seen that the first practice seemed to go well for Aljona & Robin this morning?
Ingo: Yes, it was not bad. We had a little problem last week after the Nebelhorn Trophy. Aljona got a little bit sick and we didn't have too much practice as we couldn't train as normal, but yes, I have to say that the first practice was ok!
Romain: What will be the main focus this year (competition wise)?
Ingo: Well, of course the major event and goal this year is the Olympics but before that, the other competitions we have are this one and then Skate Canada and obviously we hope to go to the Grand Prix Final and that we can win all of them.
Of course we'll also have the German National Championships in December and then the Europeans after that.
There are a lot of events before the OG and for us each competition is very important (and we'll take them one at the time!
Romain: What are Aljona and Robin's strengths?
Ingo: We work very hard. The key to their success is also to be very consistent without any major injury and of course I think that the coach is a little bit part of it! (laughing)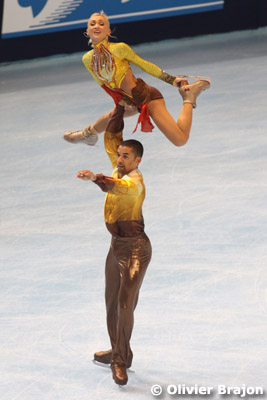 Romain: What about the practice? Can you give me a typical weekly practice schedule and how you are training?
Ingo: (Laughing)… no, this is my secret for all my 3 couples (they've all been very successful this past season and made a big step up).
I really hope Aljona and Robin will win the gold in the OG. That's our main goal.
Romain: What do you think will be the pairs skating evolution in the future (in the next 10 years)?
Ingo: I looked recently at some old videos of pair skating while I was still competing and I think there isn't that much of a difference compared to now… but of course, because of the new judging system, the couples are getting more creative, working more with the transition, and the competition is tougher!
I think that in the future, the young couples will train earlier for quad jumps (for now it's still very dangerous to put them in competition) but I really think that in 10 years we will see more quadruple jumps in pairs skating.
As we all know by now, Trophy Eric Bompard unfortunately wasn't Aljona and Robins dream competition (read more about that here) so we wish them more luck at Skate Canada!