Kento Nakamura
 
By Atsuko Kuryu
Photos © 2009 Absolute Skating provided by Atsuko Kuryu, Kento Nakamura
Let me introduce Kento Nakamura from Japan. He won a silver medal at the JGP Lake Placid just before this interview was taken and won another medal (bronze) a few weeks ago at the JGP Istanbul to make Junior Grand Prix Final.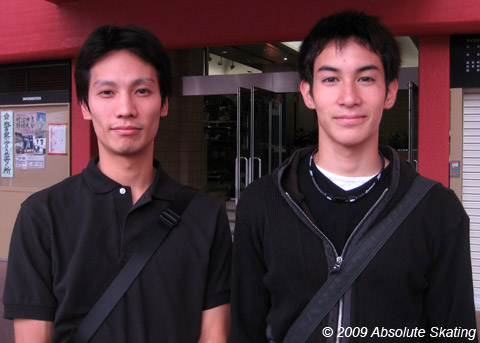 I had a chance to speak to him, along with his coach, Naoki Shigematsu, who was the silver medalist at the Junior World Championships in 1993. We talked a lot about that JPG event, because I was really interested in how a skater feels after a wonderful result at one of his first international events. We also talked about his skating in general, his private life and future prospects. I liked how openly he answered my questions, and the way he mentioned his mother, with respect and love, made me envious as a mother to my own son.
He moves gracefully on the ice and I love the way he expresses the emotions (you can watch his performaces from JGP 2009 Bosphorus: SP and FS). After our conversation with Nakamura and his coach, I came to the conclusion that the union of a skater with such artistic talent, like Nakamura, and a coach with highly valued artistry, such as Shigematsu, will certainly take him to the heights.
Please enjoy getting to know who the young Nakamura is. I'm sure you will like him.
Thank you very much for you sharing your time for this interview. More than anything, I'd like to hear something about the Lake Placid Grand Prix event. Congratulations on winning the silver medal!
Thank you.
It was the second Junior Grand Prix event in your career. Was it much different from the first one which you attended two years ago? (Nakamura claimed 10th place then - ed.)
Yes. Even after competing at Grand Prix once, I felt like it was the first JGP for me, so I was very nervous.
Mr. Shigematsu, did you expect that he would finish on the podium?
SHIGEMATSU: Maybe he had his own goal, but I didn't expect a medal from him or the score he earned. I just wanted him to do what he had been doing during practice.
Did you have your own goal? Were you sure you would win the medal after learning who you would compete against? I aimed for a medal, if possible. I didn't know much about other competitors, except Ross Miner.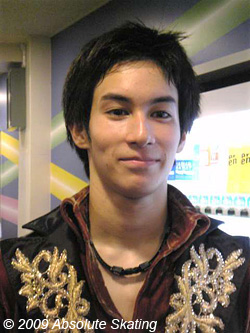 You were the first skater to perform. How did you feel when you finished?
I couldn't say anything except for, "Oh no, I did it!" (Laugh)
You took time to skate around the rink before you started. Was it because you were too nervous? What were you thinking about then?
There are some reasons for taking my time before I start. I was trying to calm myself down and to find the balance. I skated well during the practice session, but I skated poorly in the six minute warm-up. I told myself not to skate too enthusiastically.
Mr. Shigematsu, did you say something to him? SHIGEMATSU: WellÂ… (To Nakamura) What did I say?
NAKAMURA: You said, "Move!!"
SHIGEMATSU: Oh, yes. Sometimes he blacks out and stops moving. I knew if he felt, "Oh no, oh no!" and pushed himself into a difficult situation, he wouldn't be able to do elements that usually come to him easily. The feelings you may have while skating may change from one day to the next, but if you focus on moving your body, it helps things go properly. That's why I told him to move. That's all I said.
Do you think being first to skate was good for you?
WellÂ… I can say that it could be easier since you don't have to care about how other skaters perform. On the other hand, you might be tired when you start because you don't have time to rest. If you want to have a rest before you start, you have to cut the warm-up short, which means you can't fully utilize the six minutes. I can only say "Yes and no."
Mr. Shigematsu, what did you think while he was performing?
SHIGEMATSU: I wished him nothing but to move until the end. Saying, "Don't stop! Don't stop!" without vocalizing. When he competes, he sometimes skates worse during the second half if he knows he had a good performance because he gets the jitters. Even when he skates poorly in the earlier part of the program, he sometimes gets nervous because he doesn't want to mess up anymore. In both cases, he tends to stiffen up. I just wished for him to move without thinking as much as he can as he always does during his daily practice.
This short program, "Mission," is not a new program. Is it good for the skaters to continue to use the same program?
NAKAMURA: Yes. In the second year of the program, I am more used to it, so I feel more comfortable moving because the timing of the jumps are almost same even if the order or the varieties are changed.
SHIGEMATSU: Well, it depends. Some like to continue using an older one since they skate well to it, but others may get bored.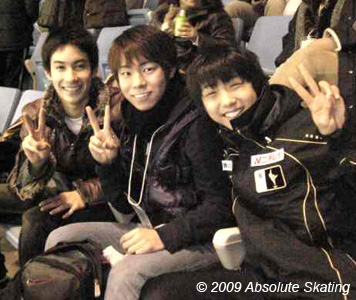 How did you feel that night after the short? What did you do? Could you sleep well?
Yes I did because I went out with other skaters after the short program was over. We had the most fun that night. We had planned to go for bowling first, but we found the alley was closed by the time we arrived, so we walked back to the hotel and had pizza together in the pizza restaurant in front of the hotel. It helped me to relax. Actually it was not easy to get out because there was a caretaker in our lodge. If he had seen us going out, he would have made us come back right away and bar in our room. We moved as if we were hiding and sneaking around when we left there. (Laugh)
You seemed to have a pleasant chat with other skaters at the award ceremony. Do you speak English?
Yes, I can manage with my English. I can understand on some level, but I cannot speak well enough to approach others myself. But still during this event I made friends with other skaters.
Good for you! Who teaches you English?
The teachers at school and my mom teaches me a little too because she is a professional interpreter.
You drew first to skate again; in the last group, though. How did you feel?
I felt horrible. I could stand it for the short program, but not again in the free skating. I always think it would be convenient for me when I can skate second or third because I can perform best in then. I was really nervous when I knew I would have to skate first - especially this time because I was not satisfied with my training and I was not in shape.
And again you were not able to use six minute warm-up fully, right? How much earlier did you finish?
Basically, I want to finish it in 5 minutes, but I used the full six minutes this time. So I was tired a little. I had a hard time before I got started
Mr. Shigematsu, did you give him some special advice?
SHIGEMATSU: I knew he was completely caught up with ambitions such as medals, standings, results, and scores. He knew it was wrong to be too devoted or conscious about those things, but he could not help but think about it. I didn't say anything like, "You are getting a medal." I just told him to skate just as he had done in practice.
I could tell you were nervous by your face. However, I thought you'd skate without mistakes after you landed your first triple axel because you are usually steady in these situations. Unfortunately, you did make mistakes on more jumps after that. What did you think?
The axel was at an earlier point, in the first half of the program. It looked like it was done successfully, but it was supposed to be in combination. If only I could add even a single jump after it, there might not be any problem. I didn't because I felt unsure. Once I missed it, I felt discouraged. I attempted a combination with the other axel and made it only a single because of my timidity. I hesitated just for a moment and it was too late.
You also fell during the step sequence. But you seemed to collect yourself again after that fall, didn't you?
I heard Mr. Shigematsu shout to me "Move it! Go for it!", which pushed me a lot. Also the audience gave me a warm hand and cheered me up so I thought I had to hang out.
When I was watching you on live streaming though the internet, the commentator said you could be proud of yourself because you skated such a good performance after those failures. Anyway, what did you think when you saw the score?
I didn't care about the score; I was not satisfied with my performance, so I was very disappointed.
Your name remained at the top of the score list until Miner performed. Did you know that?
No, I didn't. I was in the locker room and when I went back to the rink, all the skaters had finished. I knew they usually skate well and naturally thought they would have defeated me.
Then you found yourself in second. What did you think? What did you feel?
I was so happy, oh, I was. I was relieved, too, and thought it was a good thing that I never gave up.
(To Mr. Shigematsu) Is this going to be a very good experience for him?
SHIGEMATSU: Yes, it is. He had repeatedly made errors, though he held out this time. When I saw him fall, I was already prepared for two outcomes; either he would blow up or made a big splash. Thinking that the result depended upon him and his training, he proved that he was prepared very well this time and could trust himself.
If you had had a successful free program, you could have won. Do you think you can compete among the top juniors on the international stage after this event?
If I can do my best or show the benefit of good preparation at the competition, the result will reflect this. I try not to think of such things. If I were too conscious of these things, it could have a bad effect on my training.
Kento, you mentioned you like Stephane Lambiel. Did that affect your choice of music for your free skate, "Poeta"?
No, it didn't. I am trying to perform my own Poeta.
Go to Part II