Kento Nakamura
 
By Atsuko Kuryu
Photos © 2009 Absolute Skating provided by Atsuko Kuryu, Kento Nakamura
Let me ask some more questions about your training. How difficult is it to find ice time?
SHIGEMATSU: Since figure skating has gained more and more popularity, there are too many skaters in the rink during the general opening time for eligible skaters. We have to make special time for them such as privately chartering the rink.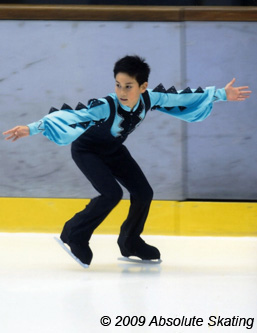 That makes me overwork. Even when I know I have to stop in 30 minutes, I find myself skating for an hour or more.
Do you stop him when he overdoes it, Mr. Shigematsu?
SHIGEMATSU: Not really, because he usually doesn't have enough time to practice. Of course when he has an injury or there is something he needs, I cut his work.
Have you ever had an injury?
I have had so many injuries that they call me the master of injury. I feel like the injury is my friend. I owe injuries a lot.They taught me how to keep well conditioned and how to handle skating with an injury.
Some fans call you "Prince." Have you ever heard them cheering you, shouting out, "Come on, Prince!"
No. I hear weird cheering from my friends usually.
Oh, really? I thought you had many female fans. Have you received fan letters?
Yes, I had one last year.
Now let us talk about your future, both near and far. You are 18 on October 19th. Are you going to compete on the senior stage next season?
I haven't thought about it because I am devoting myself to what I have to do now.
You will have All Japan Junior Championships in November. What is your goal?
If I think too much about medals, I'm sure I will be very nervous because Shinyokohama Skate Rink is kind of my local rink. I just hope I can do as well I do in practice. That's all what I want.
Mr. Shigematsu, he was 4th last year, what do you expect him to achieve?
SHIGEMATSU: I expect just as he said. Of course I want him to reach the podium because it means he can compete at the All Japan Championships at the senior level, but I don't know. Just let it go and see what happens.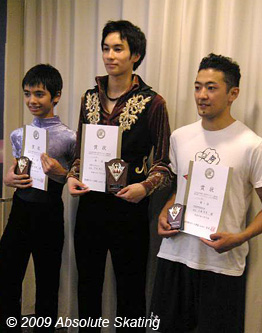 When I saw you in Tokyo in 2007 for the first time, I thought you were a good skater, but I wasn't hugely impressed. However, you looked really great in the summer skate this year. How have you improved so much?
I felt like I could get myself together and was very comfortable in my sophomore year in high school. Maybe I could somehow free myself from too much pressure.
Mr. Shigematsu, what do you think made the difference?
SHIGEMATSU: I noticed that he had great creativity even when he was very young, though he hardly unfolded it. As he grew up, it gradually came out by itself. I didn't teach something special to cultivate it. I think he just started to show it and it is on the way to flourishing his artistry.
Do you think his biggest advantage would be the artistry?
SHIGEMATSU: Not really. I'd rather say it's "touch"; touch of skating rather than artistry. Of course he had kind of some antennas which easily capture the emotion of art. I guess he can feel music more deeply than others.
Do you often listen to music?
Yes. I listen to music from many different genres because my mother likes many different styles such as opera, classic, or popular songs; but I don't like rock very much.
Have you found some music which you want to skate to? Did the choreographer decide your music?
Yes, sometimes it's me, usually it's my choreographer: this year we chose the music after we listened to several pieces together.
You have the awesome triple axel. Some skaters say they are scared when they execute it because they have to take off forward. Do you not fear it?
Not at all. Triple axel is my favourite jump. I love it very much. I also feel good with the flip or lutz if I land them, but I'm not confident in myself yet.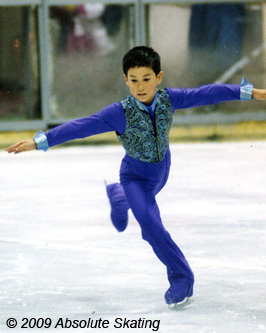 With his awesome triple axel, natural artistry and his physical talent, we can expect great success for him as a figure skater. What would be some issues in the future?
SHIGEMATSU: He has not achieved his goal yet to keep moving through the program which we set for the JGP of Lake Placid. We will target this point for the time being because it will be more and more important as he grows up. If he achieves it, then we can see some more positive and specific goals.
He might need a quadruple in the future. What do you think?
SHIGEMATSU: Well, I think it is possible for him to have the technique to land a quadruple jump. I have to prepare him both physically and mentally.
After watching you, everyone knows you move your upper body gracefully and effectively to show emotion. Mr. Shigematsu once said in the interview when you were an eligible skater, "I have never been moved by the performance of a skater who regarded figure skating as just a sport even if he could skate very well." He also said as a coach, "You can teach a skater how to move his body or hands in a program, but it is difficult to teach how to feel the emotion that comes from within. It is important to build up day by day from the time the skater is very young."
Did you do something special for him to help him become an emotional skater?
SHIGEMATSU: I have never told him anything specifically, but told him so many times to make a lot out of every movement while he skates. Even when he does a simple crossover, I ask him to never be half-hearted. It is very important to give his whole mind to it even during practice.
Of course I want him to flourish not only as a competitive skater but also as a person who skates. He must face some difficulties which he has to overcome. What I really expect from him is for him to continue enjoying his daily life as a skater and then he will feel deeply satisfied with his skating life when he retires.
Now we have 3 top skaters such as Takahashi, Oda and Kozuka in Japan. And after they retire, your time will come. Mr. Shigematsu, do you want him to become a leading contender on the international stage?
SHIGEMATSU: I don't want him to be; he will be. He will be in that situation if he continues. But we don't set that goal too far ahead. It is important for him to practice hard each day and put tomorrow ahead of the far future.
What do you think, Kento?
I think it is easier for me to set an accessible goal, too.
I will ask you 15 questions for readers to know you better. Please answer quickly. OK?
1. Who are your close family?
Mom and grandparents.
2. What's your favorite subject?
English and World History.
3. How do you do at school?
I've been having the best result of all.
4. Which do you like better, skating or studying?
I like skating better.
5. Do you have many friends other than figure skating?
Yes, I do.
6. What your school fellows say about your skating?
They always say they expect me to go to the Olympic Games. Olympics, nothing but Olympics. (Laugh)
7. How many times do you skate in a week?
I can't tell because the rink was always crowded now and it is very difficult to find consistent training time. I skate when I have chance to use the rink. Maybe 14 to 15 hours in a week.
8. What do you do when you don't skate?
I have a rest or sometimes go for a walk on the bank of Edogawa River nearby. I also like to go to the art museum with my mother.
9. When did you start skating?
When I was in kindergarten.
10. How?
My mother asked me to choose something that others don't do. Most boys chose baseball or football at that time and I had two choices at the nearby sports center: swimming or skating. First I tried the skating class and definitely loved it and decided to continue before I tried swimming class.
11. Good for you! Who was your idol when you were very young?
I adored Yagudin.
12. Who is you idol now?
I like artistic skaters like Stephane Lambiel or Jeffery Buttle.
13. Who's your rival?
There are so many that I can't name one. However, I am trying not to lose myself.
14. What is the most gratifying moment at skating?
The training is very hard but when I feel it really pays off, I feel very happy.
15. What do you like best of Mr. Shigematsu as a coach?
He is particularly good at soft movement and footwork. I really respect him.
This is the last question. What do you think about your skating and life?
I have had many experiences through skating which normal students can't have and have been drawing up from such experiences in daily life, so I think figure skating is great thing for me in my life.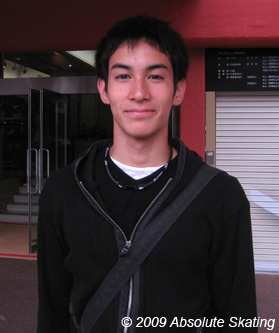 Thank you very much.
As a young man, Kento Nakamura seems to have everything that male teenagers want, such as good outfit, wonderful grades in school, good friends and a loving family, which I'm not sure teenagers really want. He can also skate exceptionally well.
Despite these advantages he is a very humble and nice guy. He seems uncertain about his recent good results and didn't share his ambitions too much. As his coach Shigematsu said, a future will be waiting for him as one of the top eligible skaters in Japan. If he is televised in the Junior GPF and has a good result, he will be very popular among Japanese fans. I hope the Japanese media won't hurt him as some of them have done with some of the senior skaters.
He is going to University after he graduates from high school and he has already passed the exam. He said he wants to get a job associated with cooking in the future although he might skate as a professional skater for a while if he has the chance. Everything depends on how things turn out. I'm sure he'll have a wonderful life ahead of him and I wish everything goes well for him!
Back to Part I