Nebelhorn Trophy 2009:
Quick update with Kiira after the short
 
By Reut Golinsky
Photos © Reut Golinsky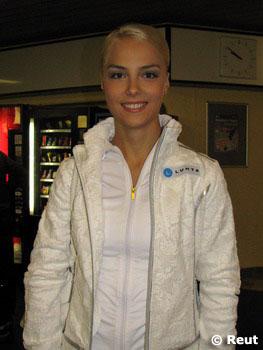 The draw for SP was not ideal for Kiira Korpi, she was scheduled to skate first and it was rather early in the morning. On the other hand it was comfortable for me to have a quick update with her after her performance.
How is this season starting for you? Is everything OK with your health?
Everything is great, the health is great. I've been training like we planned. I'm feeling good and am happy to be here. I've never competed at Nebelhorn Trophy before, but I was here once in the summer camp, maybe about ten years ago, when I was a little. So I had very good memories, but I didn't really remember the ice rink. Of course now, when I saw it again, I recalled everything. It's such a nice village. And I was surprised that at 8:30 there was some crowd here, cheering for us.
- Was it hard to be the first lady on the first ladies competition here?
Maybe it's not the best time to skate, so early in the morning. But skating first was never a problem for me. I'm not superstitious. It's mostly the hour which was hard: I woke up at about 4:30, at 6:00 we had practice here, so I've been awake for quite a long time already. But now I can have a rest, enjoy and then start focusing on tomorrow. And we don't start so early tomorrow.
How in general do you feel about your performance? You did your best?
Well, I did very well, it wasn't perfect, with a bad landing in the lutz, but otherwise, I think, it was pretty good for the first program of this season in the competitions. It is also a new program, and it's always a bit more exciting to perform the new program for the first time to the public.
The music was really interesting, what was it?
It is performed by some Japanese violinist; it's called "Caravan", so maybe it also has some oriental motives. I think it has a lot of variety, not just the same concerto or something like this. I chose this music myself, for this year I wanted to show a bit softer side and more classical maybe. Last year I had tango, and also my free program is quite strong.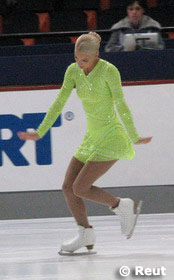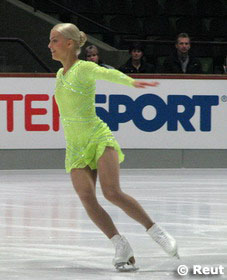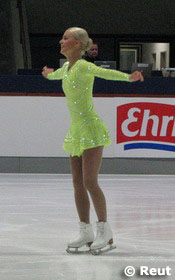 And what is the story behind the costume, the color was unusual and catchy.
I am working with some Finnish designer, who lives in Paris and is working for "Givenchy". Three or four years ago when we started working together it was a bit different, 'cause he had such crazy ideas, but they did not always work on the ice, but now it works better.
I remember the dress you had once, white and black with strips, it looked amazing on the ice!
Yes, it's also his work. At first when I looked at the picture, I said "no way", those strips are going to make me look fat. When I tried it on the ice first, my coaches were also hesitating if it was going to work. But at the end it looked great at the competitions.
I'm always trying to find something different, both with music and with costumes. To choose the music that has not been played forever in the competitions. And with dresses it's always nice to bring something new, not just a swimming suit with a skirt.
Or, you shouldn't be worried; you'll look great even in the swimming suit.
Good luck for tomorrow!