Marc Lindegger: "We are glad he is back"
 
By Reut Golinsky
Photos © Reut Golinsky, Marina Nastevich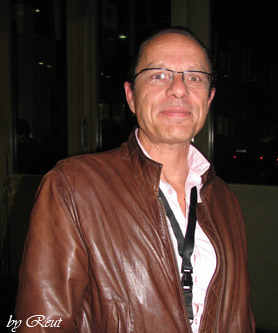 Marc Lindegger is the specialist for the Art on Ice Production AG and Carré Event AG team when it comes to communications. A journalist himself, he is now responsible for all communications activities including publications, media relations, PR and advertising. We met for the first time during the "Art on Ice" show in Zurich. He is the one I should thank for the amazing experience of being present at the rehearsals and watching how the miracle of the show is created.
We met again in Oberstdorf and he agreed to answer a few of my questions about Stephane's comeback and his work with him.
The Swiss press likes to say that Stephane has a lot of "spins" not only on the ice, but off-ice too. He had a few very big changes in his life during the last year: his decision to train in US, his retirement, and his comeback. What influence did it have on your work? Was it more work to do?
Well, we have a lot of work anyway. For sure when we have some changes or corrections, it adds to our work, but that's our job. The team around Stephane is doing what he wants to do because he is an artist, he is a skater, and he is a sportsman. We are here to help him to accomplish his goals. Naturally, we also give him some tips, but at the end he is the one who decides what to do. We are very happy he is back, and as you saw yesterday, it's good he is back. He is back in a way we hoped and expected. I think he is the new and old Stephane Lambiel. His short program yesterday was just great. You see, he was quite sure about his decision. It took a long time, probably, to decide to come back. He only said, "I will be back," when he knew for sure he would be healthy enough to do it. He is not coming back to be tenth or twelfth. He is only coming back to really try to be one of the best again; he cannot come back just to joke around and be fifteenth. He had to know about his health first and that his injury was under control. He has it under control now and we hope he can keep it like this. He needs to stay healthy; that's the most important thing so that he'll be able to reach Vancouver.
Was it a surprise for you when he announced that he wanted to come back? How many days before the official announcement did you know about it?
To be honest, we knew it just a few days before. We knew he has to take the decision sometime, but we didn't know the news about what he decided much before anyone else. He just said: "OK, I will do it," and we had to react after that. We were not prepared for this.
You didn't expect that he would say this?
Oh, a lot of people expected it. But you can expect something and sometimes the opposite happens. SoÂ… we're just happy he is back. That's good for us, good for Swiss skating, and good for world skating. I think it's good for skating in general and to be honest, it's also very good for "Art on Ice," for sure.
So, this is your way of working with Stephane: to wait for his decisions? First he decides and then you go with it?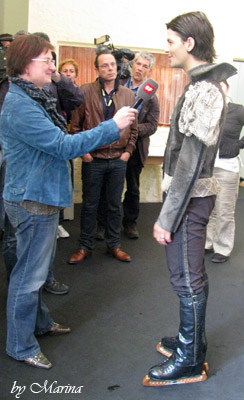 We can't decide for him. He has to skate; he takes all the responsibility. He has to train. He has to work. We can't decide for him whether to quit, or to come back. In certain things, we can inform him and we can help him, but the final decision about what he wants to do with his life is his.
I'm asking because there were a lot of rumors about pressure on him to come back. The Swiss Federation and the ISU were pressingÂ…
No, that's not true at all. There was no pressure neither from ISU, nor from the Swiss Federation; no pressure from our side, not at all. We let him decide. Also, he would not react to pressure. I am sure.
The date when he made his decision depended on the deadline of this competition in Oberstdorf, I supposeÂ…
Not only for Oberstdorf, but he really had to make the final decision then because we were late in arranging the entire itinerary for the year. We knew that Nebelhorn Trophy would be a very important date if he came back. We needed to arrange a lot of things concerning the Olympics too, which has to be prepared very seriously in every detail. The program needed to be prepared and there was a lot of administration work to be done. So it was the latest moment to decide, yes. And he knew that.
Because unfortunately he was too late for Grand Prix assignmentsÂ…
That's right. We hope he'll have a good free program tonight and he'll assure the spot for Switzerland first. After Nebelhorn, we hope the ISU will give us a Grand Prix event. We still hope he'll be able to go to one of them. We are in kind of a "stand by." He'll be very happy to have one because he has to earn 195 points to qualify him [for Olympics] according to what the Swiss Olympic Committee requires. He'll do it here and he needs to do it one more time. Swiss Nationals cannot count as it is not an ISU event and we have only the Swiss judges there. He can do it only at Europeans, but that could be too late. He would be very happy to have a Grand Prix and to participate in one more competition, but we have to wait.
But it would be a very stupid situation if they don't let him, the best Swiss skater, go to the Olympics because of this rule.
I think it'll be OK. He is improving now. The most important part now is to be healthy and to go step by step.
And the last question. I don't like all the "what if" questions, but still, what if he is not on the podium in Vancouver? Will it change something for you? For him?
You have to ask him. We are working in the sports area, and in the sports life, everything can happen. You can have a bad day or you can have the greatest day. You cannot go and buy a medal there. You can just go and do your best. There are some other guys who want to do it too and Stephane is aware that there are a lot of good skaters around. Nothing will come easily there, so he will just fight and do his best and then we will see. If some other guys are better, we'll need to accept this. Life will go on.
I can assure you that even if he doesn't go to the Olympics at all, he is already one of the best skaters and is in the history of figure skating.
Yes; I think he doesn't have to prove anything to anyone anymore. But he wants to do this. It's his life and we let him go [with it].
This talk was on Friday morning, before men's free program. That's why Marc was talking about still getting an Olympic spot for Switzerland. Friday evening, after a winning performance of the beautiful Tango, I met him again and congratulated him with their victory. "Oh, you shouldn't congratulate me, I did nothing," he said. But I don't agree with him. I think that Stephane's good performance at Nebelhorn was a result of the hard work of all of his team and this victory was thanks to all of them. Hopefully, there will be many more to come in this important season.