Nathalie Pechalat & Fabian Bourzat
If You Were...
 
By Romain Gazave
Photos © Olivier Brajon
The first of the Grand Prix events of this Olympic season was the Trophy Eric Bombard in Paris, France. Romain Gazave, himself being a pro-skater, took it upon him to have a short chat with several skaters, asking them a few fun questions. Current French Ice Dance Champions Nathalie & Fabian happily obliged for the third and final part of the series.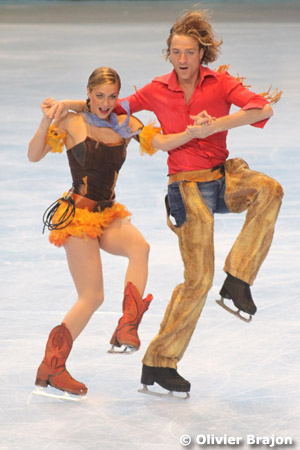 IF YOU WERE……?
A Colour:
Fabian: Yellow
Nathalie: Purple
A Season:
Fabian: Winter
Nathalie: Winter
A Music Piece:
Fabian: "Where Is My Mind" (Pixies or even Placebo's cover)
Nathalie: A nice Rock Ballad (from Radiohead or even better from Massive Attack)
A Movie:
Fabian: Fight Club
Nathalie: La fille sur le pont (the girl on the bridge)
A Book:
Fabian: "Les racines du mal" (The Roots of Evil) by M. G. Dantec
Nathalie: "Lorsque j'étais une oeuvre d'art" (If I were a work of Art) by E. E. Schmitt
An Animal:
Fabian: Salamander
Nathalie: Cat
A Piece of Clothing or Accessory:
Fabian: A pair of shoes
Nathalie: Some nice little underwear with lace (as Marlène - my costume designer - is making for all my competition costumes, I love it!!! *smiles* )
A Country:
Fabian: A country from Africa... (thinking…): Ethiopia
Nathalie: France
A City:
Fabian: Moscow
Nathalie: Moscow
A Meal:
Fabian: Blanquette de veau (French specialty: a ragout or stew of veal in a white sauce)
Nathalie: Salé aux lentilles (Pork loin with green lentils)
A Personal Quality:
Fabian: Perseverance
Nathalie: Exigent (demanding instant action)
A Flaw:
Fabian: Perseverance
Nathalie: Capricious (i mpulsive and unpredictable)
One of the 4 elements:
Fabian: Water
Nathalie: Fire
A Perfume:
Fabian: Black code (Armani)
Nathalie: Coco mademoiselle (Channel)
A Drink:
Fabian: Long Island ice tea
Nathalie: Mojitos (without alcohol)
A Musical Instrument:
Fabian: Violoncello
Nathalie: Saxophone
A TV Show:
Fabian: Scrubs
Nathalie: House
A Celebrity:
Fabian: Paris Hilton (laughing)… no seriously: Vincent Cassel (That is a famous French actor and the husband of Monica Bellucci))
Nathalie: Vanessa Paradis (famous French Singer - Actress, wife of Johnny Depp)
A Skater:
Fabian: Just myself
Nathalie: Me
A Skater (inspiration):
Fabian: the Duchesnays
Nathalie: the Duchesnays
(I very much liked Stojko, Candeloro, Bonaly, Gordeeva / Grinkov, but the Duchesnays still are the top for me…)
With this one we have a little surprise for you, it didn't just stay at these questions. Fabian took the time to sit down with Romain. Check back with us next week for the result of that talk!! (or if you read this later, check later in the list of interviews : ) )