Introducing Romy B├╝hler (SUI)
 
By Nadin Vernon
Photos © Jeannine Bourdiau, Miriam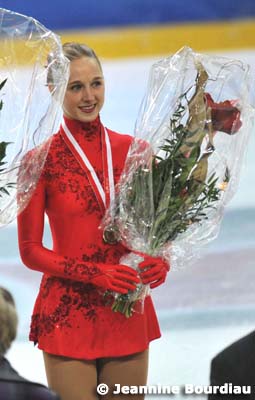 Romy Bühler came third behind Sarah Meier and Bettina Heim at the Swiss Nationals in Lugano last weekend. After a somewhat disappointing short programme, she found herself in sixth place, but showed strong nerves and came back in the free to take the bronze.
Fifteen-year old Romy trains in Küsnacht and attended her first World Junior Championships last season. Following on from that, she had many appearances on the international stage and was invited to two Junior Grand Prix events this season.
Romy spent the summer holidays at Alexei Mishin's training camp, and aside of the group sessions had half an hour a day of private training with the Russian coach.
I caught up with Romy after her short programme to find out a bit more about her.
Romy, how did you get into skating?
I started skating when I was four or five and used to just go once a week. Then a coach asked me if I wanted to start with proper figure skating and I really enjoyed it.
So when did you start skating competitively?
I changed coaches with nine and then with ten I had Mini Swiss Championships and at that point really started training quite hard.
How do you combine all the training with school now?
I go to a secondary school which is focused on sports and art. Our hours are different to a normal school, so I get more time for training.
It's not a grammar school, but I'm not one of those people who can be perfect both at school and in their sport, so for me it's quite good. Because there is less pressure at school, I'm able to concentrate more on my sport. I think if my school was more demanding, I'd find it difficult.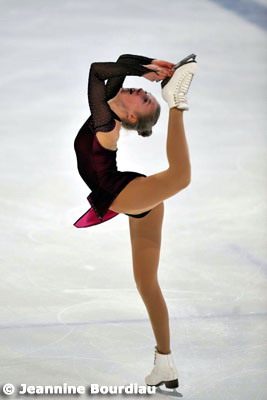 How much time to you spend on the ice and what other off-ice training do you do?
I'm usually on the ice every day but have one day off in the week. Other than that I do dancing and ballet and probably once or twice a week general off-ice stuff like fitness and weight training.
You're skating to Summerime and a Tango this season. Do you come up with your music choices?
My mum is always on the look-out for pieces I can use, but then sometimes I might have an idea or my coach, so it depends.
And do you do the choreography with your coach?
No, usually I get my programs choreographed in Oberstdorf, when I'm there for summer camp.
You showed a triple toe-loop and salchow in your short programme today and I think you have a Lutz in your free skate. How are you getting on with the other triples?
Yes, in competition I show the Salchow, Toe-loop and Lutz but I also train the Flip and Loop. The Flip is coming along nicely, the Loop not quite yet.
Are there any elements that you prefer to others?
I just really enjoy skating, so I don't have any favourites.
And what about favourite skaters?
For a really long time now it's been Carolina but lately it's also Yu-Na, I think she's the best. I saw Carolina live at the Merano Cup though and it's really amazing how beautifully she skates.
What other competitions have you got planned for this season?
I'd like to go to the World Junior Championships again but it depends a bit on what happens tomorrow. I need to qualify myself. (Romy did qualify herself with her final result as she was the best amongst the ladies who are still eligible for Junior Worlds).
And then there's also another competition in Italy that I'd like to attend in order to get some more points for the rankings.
What do you like to do in your free time?
I like to dance and I don't just do that because of the skating, even though it's good for that. I would probably do it anyway because I really enjoy it. I also like to talk to my friends on the phone and just spend time with my family.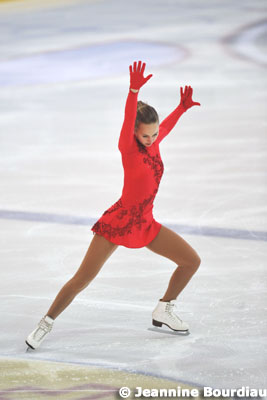 How involved are your parents, do they come to training?
(Since Romy's dad was also present during the interview, he answered this one)
Usually we don't come to training, if we do then it's on the weekends, and then we take it in turns for the competitions. But even if we're there, we don't really say anything (laughs). I'm a physiotherapist though, so that's quite handy.
Romy, you're in sixth place at the moment, does that make you more nervous going into the free skate tomorrow?
It's difficult to say right now. Generally I do get a little nervous, but not too much, so probably just the right amount.
Do you watch the other skaters?
I don't usually watch the ones that skate before me unless there are many entries and the competitions goes on for a few hours.
Afterwards I look at the judges scores with my coach and if my programmes were recorded, then we'll have a look at them.
Thanks for the interview, Romy and best of luck for the rest of the season, especially the World Juniors in February.
Romy is part of the talent team zweiplus Art on Ice sponsorship project which supports promising young Swiss skaters.
Watch this space for more information on this project, and in the meantime you can find out more at www.artonice.com.