Sarah Meier: "I can be aggressive on ice".
 
By Reut Golinsky
Photos © Reut Golinsky
After her practice before the last "Art on Ice" show in Zurich, Sarah Meier was able to spare a few minutes to talk to me about her health, her near and distant future plans, her programs and about the last European championship which she was, unfortunately, only watching on the TV.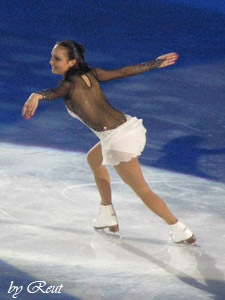 Good evening, Sarah, thank you for agreeing to meet me. The first question would be of course about your health. How are you now? How is it going with your injury?
It's Ok. Now it is not getting worse which is already a good sign.
The problem was with your spine, right?
No, actually the problem is in my right hip. First doctors thought that it's in my back, but now they are sure that it's in the hip.
I also heard that you might need a surgery...
Yes, maybe. But we'll really try to avoid this if it's possible.
So how do you train with this injury? Do you train less? Do you train at all?
I didn't skate for two and a half months at all, and now I started to skate a bit, for shows. In general it's going Ok, but jumps are very problematic and when I jump I start feeling the pain in my hip again. So in shows I'm doing only few jumps and only doubles.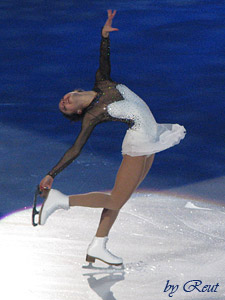 So, if you didn't train it means you suddenly have a lot of free time?
Not really, I spent lots of time in treatments, visiting doctors. I need to do some therapy, to go to my doctor which is two hours ride from my home.
I see. And in general, when you have time off, what do you usually do?
If it's a day off after a busy competition or a show I prefer just to relax, to have a rest, to spend time with my friends.
I've been in Switzerland twice and I am totally in love with this beautiful country. Do you have a chance to travel here? Hiking on mountains, going to different places?
Not much. Only when some of my friends are coming from abroad to visit me, so I travel with them. But this is a really beautiful country, I agree. It has these mountains and valleys. Maybe it would be nice to have a sea here, and warmer weatherÂ… And I also like Zurich very much; it is a very good and convenient place to live in.
We missed you a lot during Europeans: suddenly Europeans were without both Swiss prince and Swiss princessÂ…
Yes, very sad, I know.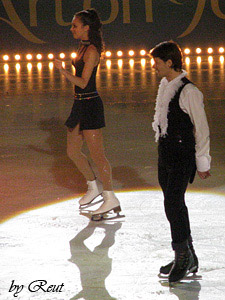 Did you have a chance to follow the competition?
Yes, I watched it on TV.
Anything you especially liked?
I liked pairs' competition, Alyona and RobinÂ… I also enjoyed watching ice dance. But I didn't enjoy singles much. I think Carolina had to win this. No, I'm really happy for Laura, too, but I think that Carolina should have won. The judgment decision was really strange.
So will we see you in Los Angeles?
I'm sorry, but I really don't know yet.
And about your short term plans: what are you going to do after "Art on Ice"? Show in Davos? What else?
There will be also a show in St.Moritz and after that I'll have a rest.
BTW about your future plans and updates, unfortunately your official site is only in GermanÂ…
Yes, I know I need to fix it. It's just that my web master is busy, so maybe I'll translate it to English myself.
Because it's really beautiful and nice, and has wonderful photos, butÂ… I couldn't understand a word. :) For your programs this season, you had a very interesting choice of music for your long program - the music of a Chinese composer. How did you find it?
Oh, I just got a disk with different kinds of music: classics, and themes from movies, etc., and I liked this one. I asked what is on that specific track and this is it.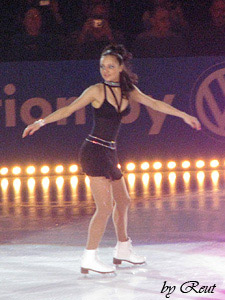 Talking about programs in movies themes, I really liked your last season's "Amelie", it suited you so much.
Thank you, I liked that program too. I didn't skate it for more than half a year, I think, maybe I'll do it again sometime.
In general in your programs you're so graceful and delicate on ice. Are you like this in your life off ice too?
Yes, maybe. Well, it depends. It depends, I think, on my mood.
So you can be even aggressive and strong?
And I can be so, even on the ice. For example, in the program "Here come the girls" with "Sugababes" in this show, which is more energetic and "hard", but I like this way too.
About more distant plans: have you thought about planning to quit eligible skating?
I'll stay till Vancouver. And as I almost missed this season, maybe I'll stay for one season more.
So then maybe you will participate Europeans 2011 in Bern?
Yes, maybe. I don't know for sure yet.
And do you have any ideas about what you're are going to do after you quit?
Yes, I have few plans, but none of them is certain yet.
Thank you very much, and I'm wishing you to get well as soon as possible and come back. We miss you a lot.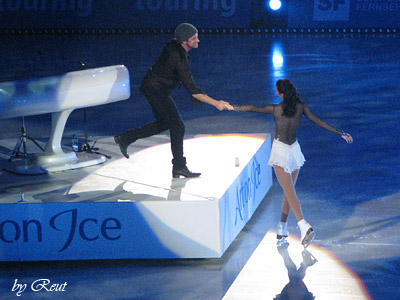 After the interview I also had a chat with Marc Lindegger, who is responsible for press contacts. He is less optimistic about Worlds in Los Angeles, but he is sure that she'll come back. I hope she will, 'cause me personally, I really miss her very gentle, very feminine skating. And I'm sure I'm not the only one who misses her.
Dear Sarah, get well! We'll wait for you!