Aljona Savchenko and Robin Szolkowy: "We like to feel the atmosphere of the arena before we go out to skate"
 
By Nadin Vernon
Photos © Silvia Ulenberg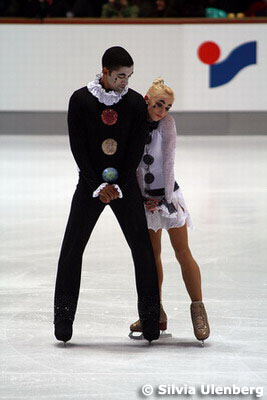 Coach Ingo Steuer had three pairs starting at the Nebelhorn Trophy in Oberstdorf last week, including two-time World Champions and three-time European Champions Aljona Savchenko and Robin Szolkowy.
They showed a spellbinding performance of their new short programme 'Send in the Clowns' on Thursday evening which was received with standing ovations.
While the free skate on Friday wasn't flawless, it introduced their powerful new programme for Vancouver. With the Olympics coming up this season, no wonder they chose such a heroic theme.
Aljona and Robin won the competition, 20 points clear and I had a chance to catch up with them and their coach Ingo on Saturday.
Congratulations on your first place. How did the week go for you, are you happy with your performances?
Robin: We saw this competition as a bit of a test to try out the new programmes. Of course we had some mistakes in the free skate, but it wasn't a catastrophe and they're all elements that we can do and that we'll improve. So yes, overall we can be happy with what we showed here.
Ingo: I wasn't even really concentrating on every single element, I was watching the performance as a whole, to see how the programme comes across. This was only the second run-through or so that I've seen of the free skate.
How did it feel to present the programme for the first time in competition?
Aljona: I found it quite difficult yesterday because for some reason I couldn't find my orientation in the arena. All our trainings were on the practice rink. When you skate at home you always know exactly where you are, but here I really had to concentrate on that.
How do you select your programmes? Ingo, do you make the initial suggestions or does the input come from everyone?
Ingo: I have a huge repertoire of music, so it makes sense for me to pick things and then go through them with Aljona and Robin. I know their strengths and what works for them, so I can pick something that really suits them. We've seen it with the piano music in the short programme, and how they interpreted it. It really was in a class of its own.
Tell me a bit about your music choice for the free skate.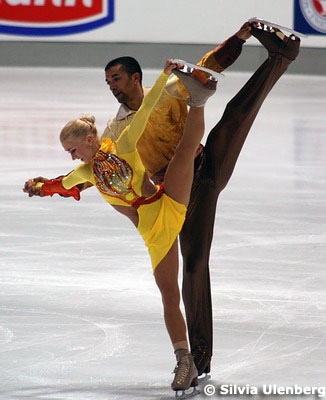 Ingo: It's 'You'll never walk alone' by André Rieu. The project with André has now been going for about two years and we were in Maastricht where the music was recorded for us with an orchestra. It's a very powerful music and we had a great response here. People keep coming up to me commenting it. The first thing they talk about is not so much the actual programme but the music.
You've had very strong free programmes in the past seasons, and you had to come up with something even better for the Olympic season. Would you save a good idea for an Olympic season or do you take one season at a time?
Ingo: We definitely take one season at a time. You can't really think ahead like that because you don't know what's going to be current in that time.
You've got an incredibly busy schedule. Your first Grand Prix is in three weeks time and before that you still have the Golden Skate Awards and an exhibition back home.
Ingo: Yes, it was too much. That's why we have just cancelled the Golden Skate Awards.
It must really disrupt your training cycle.
Aljona: Yes, sometimes you just get used to being back home again, and then you're off somewhere else. It's not so much the actual performance at the exhibition but the packing and the travelling. And at either end it always takes a while to adjust.
Ingo: On the other hand it takes you out of your training rut which can be quite good sometimes.
I assume you're not really able to train properly when you're away from home?
Ingo: No, it's nothing like training at home at all.
Aljona: And with the exhibitions you usually have to study a new group number, too so that takes a bit of time away from training.
How much time do you spend on the ice? Do you do a lot of off-ice work, too?
Ingo: We usually do two hours in the morning and two hours in the afternoon on the ice, and then we do off-ice training in between. We especially practice many lifts off-ice. We start at 9am and by the time you add a massage, you've spent a full day.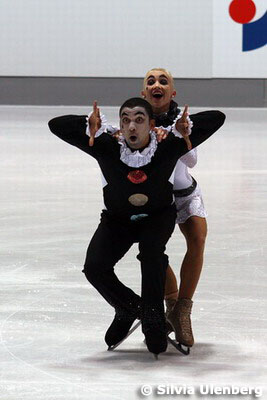 How did you find the very late training schedule you had here?
Aljona: It was quite difficult because you're used to your normal rhythm. At home we train in the daytime, so when we had the session here after 10pm, I was already quite tired.
Do you ever train in groups or with one pair at a time?
Ingo: Always one pair at a time. At this level, you really have to concentrate on the nuances of each pair and work on individual aspects.
You tend to warm-up in the arena while the competition is going on, do you actually watch the pairs in the first groups?
Robin: Yes, I always watch. It's part of my preparation.
Aljona: I never watch. Even though I may be standing near the barrier, I don't really take in what's going on. It makes me too nervous. If I see someone fall in a lift or so, I get worried.
Ingo: Yes, you're both quite different. I always used to watch when I was competing.
Aljona: What's really important for me though is to feel the atmosphere of the arena. Sometimes you have a layout where you can't really go out and have a look. That's the worst for me.
Robin: Yes, I agree. I need to soak in the atmosphere before it's our turn.
You have so much experience now from different competitions and also doing shows, do you still get nervous?
Aljona: I'm always nervous. It doesn't really matter how many times you've done it, you still get nervous. But you just have to deal with that.
With the Olympics, you now have a very clear goal you're working towards. How do you mentally prepare for that?
Ingo: We don't do any mental training, it's something that everyone has to work out for themselves.
One of your trademark elements is a throw-salchow at the very end of your free programme, you can't relax until the very last second of your performance.
Aljona: That last throw-jump always works really well for me because by the end of the programme I have warmed up properly.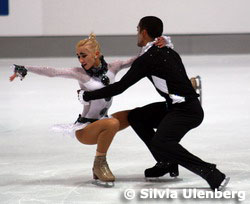 Do you have a favourite element?
Robin: I don't have any favourites.
Ingo: Really, Robin doesn't even like to skate. (laughs)
Robin: There's one that I don't like at all, but I'm not going to tell you which one it is.
Aljona: I don't like that one either (laughs)
What do you like to do in your free time?
Robin: I like to ride my motorbike when I can.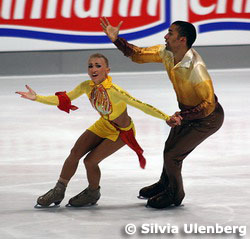 Ingo: That's one of my hobbies too, but there really isn't much time. So far this year, I only got as far as putting some petrol in.
Aljona: And I like to decorate our costumes.
Do you actually make the costumes?
Aljona: I design them.
Ingo: And we have a tailor who puts them together. But Aljona decorates the outfits with stones. When she comes to training with backache, we know she's been working on the costumes again. (laughs)
And there were a lot of stones on your free skate costumes.
Ingo: From the feedback we got about the free skate costumes, we need to coordinate the colours of Aljona and Robin's outfits a bit better. But that's the reason we came to this event, to present our programmes and see people's reactions. If the Olympic Games were tomorrow, it would be too late but now we can still fine-tune things depending on the responses we get, and improve them.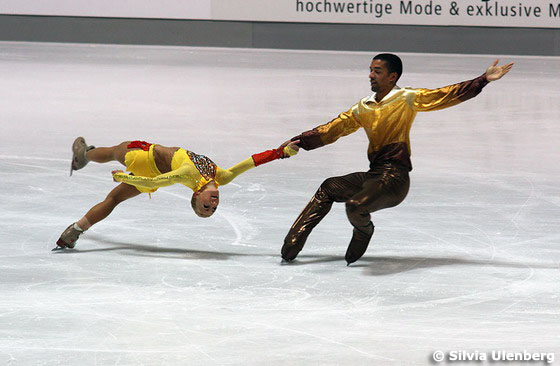 Ingo, you are here with three pairs, two of which skated back to back in the free. How does that work logistically?
Ingo: It's very difficult. I must say in all fairness though that my focus at this competition was on the Swiss pair because they still had to qualify.
If you look at all the disciplines in figures skating, there are only very few pairs. Why is that?
Ingo: Because it's the most difficult discipline. It's not easy to find two people who can skate in harmony together at this level. Anybody can be a single skater.
Overall, the interest in figure skating is still very low in Germany. What can be done to change that?
Ingo: It's all to do with TV, there's currently hardly any TV coverage. As soon as that would pick up and they would broadcast competitions, people would be interested again.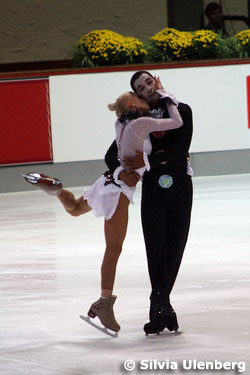 And hopefully go to events and fill some arenas, like Art on Ice manages to do. Speaking of Art on Ice, you showed a very creative exhibition there this year: a programme with Aljona & Robin and Tatiana & Stanislav doing double death spirals, etc. Where did that idea come from?
Ingo: It was Oliver Höner's idea. He asked me if I could choreograph a programme like that, so I went for it.
In Switzerland, Stanislav couldn't skate and you stepped in at very short notice. We saw that you're still in top condition. Do you still train?
Ingo: Not really, no. There's no time for that. But I do join in with the elements when we train them. And of course I know all the programmes. Even when I watch my teams skate, I'm at the barrier and I'm doing everything with them, so for example yesterday, I skated three free programmes. That's why it worked to step in at the push of a button.
After the Olympics, the World Championships are being held in Turin. Are we going to see you there?
Ingo: Yes, we'll be skating in Turin.
And what about next season?
Ingo: We're not going to say anything about that yet. We have made our decision though and we are planning to announce it after the World Championships.
Thanks so much for this interview and best of luck for the season.