Adrian Schultheiss answers fan questions
 
By Melanie Eley
Photos © Adrian Schultheiss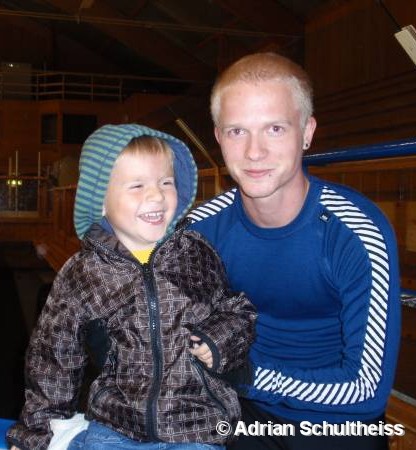 Adrian Schultheiss is working hard and looking forward to the season ahead. He did manage to have some fun during the summer. He generously gave Absolute Skating some time out from his busy training schedule to answer a few questions from fans on his message board.
Hi Adrian, firstly who are you working with this season?
I will work 2 weeks with Rafael Arutunian in Lake Arrowhead next month, and here at home I'm working with my coach Evgeny Loutkov, and choreographer. I have two new choreographers who dance in a group called Twisted Feet. They are twins Tony and Denny Hulten. I worked with them for my new free program and I also work with Galina Loutkova.
What music will you be skating to this season, and why did you choose this music/theme?
For the short I have classical music by David Mnatsakanyan. The free is a mix: "Teardrops" is the main theme, and then I have some different parts cut into the music. I'm supposed to be crazy in that program, and I will be. J With composer David Mnatsakanyan
I chose this music because I like it and I wanted just classical for the short program so I can show I can do well with classical music and show good skating.
The free music I chose because I wanted to make something fun and try to push the limit a bit.
Short prog
Name of music: My way, Christmas Fantasy
Composer: David Mnatsakanyan
Choreographer: Galina Loutkova

Free prog
Name of music: Teardrop by Massive Attack, Insane In The Brain by Cypress hill, Smack My Bitch Up by Prodigy
Choreographer: Tony Hulten, Denny Hulten, Galina Loutkova
What events and competitions are you taking part in this season?
16 September - 4 October ~ Training camp in Lake Arrowhead, CA
10 - 11 October, Elitserien, Swedish competition (Uppsala)
22 - 25 October, Cup of Russia (Moskva)
12 - 15 November, Skate America (Lake Placid)
26 - 29 November, Crystal Skate (Romania)
16 - 20 December, Swedish Nationals
1 - 4 April, Triglav Trophy (Slovenia)
9 - 11 April, Elitserie Final (Sweden)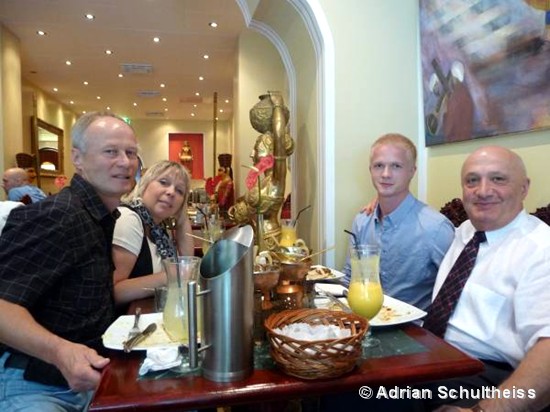 What are your goals for this season and who do you consider to be your main competitors?
My goals are to skate at the Olympics and to do a good job in every competition this season - also to push myself closer to the top.
What is your favourite spin? Can you spin both ways?
My favourite spin, I guess, is the sit spin. It's not like they taste different, to me it's just a spin - yeah but not too good in the wrong direction.
What jump has been going well for you in practice?
All jumps are going well and I have gotten a really nice flow in my 3 axel, so that feels good.
Have you ever "played hookie" from training (missed training without permission, to go do something else)
Yep I have done that, but more back in the days. Sometimes I need to do something else than just training and do some thing for myself. Now it almost never happens. I think that's a normal thing to do.
What do you think about Mr. Evgeni Lutkov's actions in the kiss and cry?
(Some coaches rarely let their feelings show; Adrian's coach easily and freely shows his feelings out there. Sometimes he looks so much happier than Adrian and sometimes he has a more despairing look. I like to see how he reacts after Adrian's performance).
Yeah I know. He is living his own life there. Maybe it's too much - some people might think - but it's not wrong to be happy. Why I don't let out my feelings like that after my programs is because I only do it when I deserve it, so it has to be a really good skate to make me gesture. So if I skate clean and everything was super maybe you could see me dancing out there after my programs! J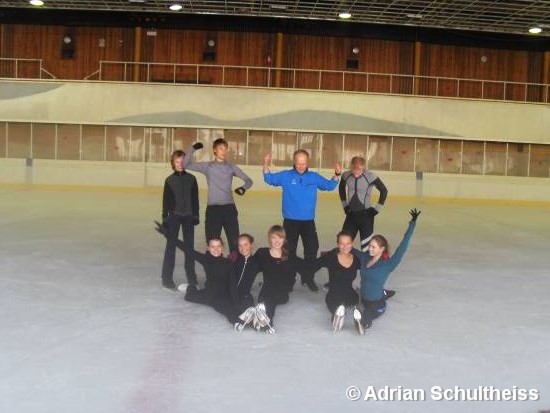 Who, in your view, is the best male skater in the world right now, and of all time?
- A long pause in replying…. 2 days in fact!
Can you not answer this one Adrian?
No I cant, maybe some other day :)
Do you have any tattoos, and if so what?
No I don't have any tattoos but I have nothing against tattoos and in future I think I might have some.
Are you considering any new piercings?
I don't know about getting more piercings - sometimes I think about it but I'm happy right now with the ones I have! :)
Did you go to training camp this summer?
Yes, the training camp was in Kaunas, Lithuania. We were there for 2 weeks on a skating camp with my coach and he held the camp there.
You went flying this summer?
I don't know how to explain, but it was when I was in Lithuania - a skater's father knew some people who are flying those things so we went there one day and socialized. :)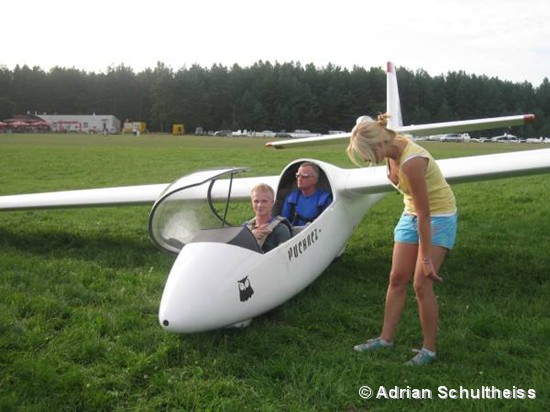 Have you ever played ice hockey?
Yes I played hockey for about 6 months when I was a little kid but I didn't like it because all the protection was in the way when I did crossovers etc, but when I was playing, I remember I liked to fight and play! I thought that was the only fun. I also did many different sports when I was young: handball, football, kung fu, wrestling, swimming etc. and, of course, always figure skating.
Do any other family members skate?
Yes Raoul (see first picture in interview) skates. He says: "I wanna be a figure skater like Adrian."
He wants to become like me he says, but I try to convince him that he has to become better than me! :)
And one of my other younger brothers, Franz, who is doing military service now, is a qualified figure-skating judge here in Sweden. He was a skater before.
Do you have any messages for your fans, Adrian?
Yeh, thanks to all the people who have written nice things in my guestbook and thanks to all the visitors [on his website and message board] I've had so far.

We wish you all the very best of luck at your competitions this season, Adrian!