Let us introduce: Tamar Katz
Part I
By Reut Golinsky
Photos © Tamar Katz, Goerge Javor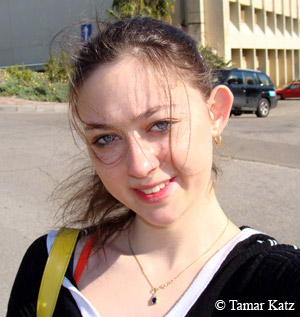 Tamar Katz has recently joined AbsoluteSkating and while presenting you her official website, we have decided to give a more detailed introduction to who she is, how she started skating and what her goals are. She is three-time Israeli National champion and our hope in the Ladies competition at the coming Olympic Games in Vancouver. I say "our" because I'm Israeli too and the chance to talk to her obviously added additional meaning and excitement for me personally.
When people hear "Israel", the first association would be Jerusalem, Dead Sea, heat, but for sure not figure skating. How did you become a figure skater?
Yes, Israel is not a country known for its winter sports but more for sailing, judo, swimming etc. Skating is not part of the Israeli culture. But Israel is full of immigrants: every 5th to 6th person is Russian or from Eastern Europe. These countries have long, bitter winters and they are more familiar with figure skating, as you probably know from the sell-out show that Averbuch puts on every year in Israel with little to no advertising. The influence of immigrants' cultures has been immense on the Israeli lifestyle and in sports as well. Most of the skaters in Israel have Russian backgrounds. Immigrant skaters and athletes in general come to Israel for new opportunities.
So, they come for new opportunities. Do they always find them?
I think some of them do, but not everyone. Galit [Chait] and Sergei [Sakhnovsky], and the president of the Israeli skating federation Boris Chait (who is also of Russian origin), have found their opportunities, and as a result helped to develop the sport. See, when I started skating for Israel, figure skating was already established, thanks to [Michael] Shmerkin, Galit and Sergei [Chait/ Sakhnovsky], Yossi Goldberg, and Boris [Chait]. So yes, when you say "Israel" the first thought that enters one's mind is Jerusalem, great sea shore, excellent food and wine - but we are also a mix of other cultures, such as Russian and Eastern European, in which figure skating plays a prominent part.
But the first time you came to the ice was not in Israel, right?
Right, it was in Maryland. I was exposed to the sport while being in the US when my dad was sent to work in DC. Even before skating, when I was in Israel, I was interested in musical sports - I was competing in rhythmic gymnastics. I started skating rather "late" or what is considered late in the figure skating world. I started skating for fun at the age of 9 but didn't start skating on a more regular basis until I was 10.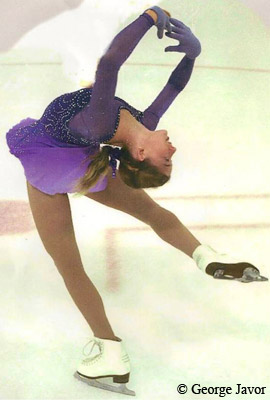 Most kids start as young as 3! In fact, I started out as a completely American skater and went to Junior Nationals twice. My father's time in DC had ended, my mom and I tried to stay in the States so I could continue to skate but it became very difficult to be apart and we returned to Israel. We moved to Metula, though we have a house in Zichron Ya'akov, because that's where the only Olympic ice rink in Israel is situated.
Actually there was another reason why I decided to come back to Israel, which seemed very appealing to me as a young skater and it's kind of funny. In the United States there is something called a "moves test". I have completed all novice moves, but have never been tested on junior and senior ones. This is a goal of mine in the future though - to take all moves and freestyle tests through to seniors in the States. It's never too late to do it and I don't believe that it will be very hard for me: since the beginning of the new judging system, my ability to do steps has increased tremendously and taking the moves test should not be a problem, and it is definitely something that's good to have. But then, when I was 12-13, I absolutely abhorred working on moves, I wanted to jump, to spin etc. And someone mentioned to me that if I skated for Israel I wouldn't have to do moves. So I was an intermediate in the States and in the end I just jumped right to junior international in Israel. That's a major jump for any skater. I don't think we had any other juniors at the time, we had some senior skaters like Rachel Lior, Darya Zuravicky and Karen Shua-Chaim, but I think I was the only junior. Later we had Jenna Syken, Rima Beily and some other American skaters.
And the last reason was that it was easier financially as well: in Israel I did not have to pay for ice time or coaches or any of that, it didn't cost me anything, and figure skating is a VERY expensive sport. Now, while I'm training in the US, my parents and my federation support me financially. The federation is very supportive of me and my career and I am very thankful for that.
Were your parents so serious about your skating from the very beginning? It's less typical for Israeli parents to push their children towards sports.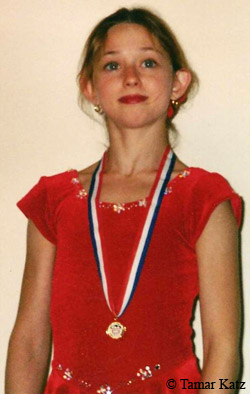 I think that every professional athlete knows that you can't do anything without the support of your family. My family is my backbone. They are the first I turn to when things don't go as planned (which is often in figure skating). Every decision I make I first run by my family. At the end of the day, your family is the only source you can truly count on.
And you're right, most Israeli families, true Israeli families, like my family, push more for education than sports, and this is actually a unique story as well. I used to go to Cabin John, an ice rink in Maryland, every day from 4-6 and skated during the public session. It was just for fun but I was an extremely ambitious child and I was always serious about everything I did: I came in every day and skated with the brown rental skates. I used to skate in the middle between the cones and would do many spirals. I loved doing spirals because they combined rhythmic gymnastics and skating. I never noticed that there was an office overseeing the rink and that someone was always watching. He was the director of the skating club, an elderly man called Walter. One day the guards called me off the ice and into his office. I barely spoke English at the time and I thought I was in trouble because skaters are not allowed to be without parental supervision. They took my skates away and brought me my shoes. Then Walter came and put a pair of white skates on my feet. He said something but I didn't understand. So he pointed to the ice and I understood that he meant, "go skate".
He gave me my very first pair of skates and said that I should always remember where my first pair of skates came from.
Walter had cancer, he was bald, but of course at the time I didn't understand what it meant. He died a few years later. I wish I had remembered his last name...
I started taking lessons, once a week for thirty minutes, with my very first coach Nina. After a while Nina invited my parents for a cup of coffee and a talk, trying to persuade them that I should take more lessons, because I was very talented. So, my dad said: "Many kids have talent, how can you say that she will actually stick to it if we supported her?" And she answered: "Have you seen your daughter skate? She has a connection with the ice; it's as if she is having a conversation with it."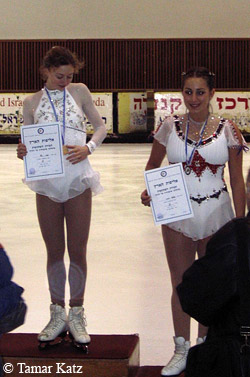 My mom tells me that story often, but I guess after that I got more lessons and stuck to it; my parents realized I was serious and it just took off from there. And they always supported me, because, as mom said, they saw my talent and they believed that it was their responsibility to help me to nurture it.
This is an amazing and very touching story. So, you came to Israel, and then what happened? When and why did you decide to go back to the US?
I lived in Israel for two years, the first year I really tried to skate, but it wasn't easy. Right before coming to Israel, I took up independent study at the North Dakota Center for Distance Education and I continued that in Israel, but I also attended the Har Vagai High School in Israel. Therefore, I was studying at two schools during that time, and of course I had training. Ice time was very limited, so I had to skate late at night, like 9 in the evening, and then again at 6 in the morning, which was extremely unproductive.
There isn't an excess of coaches in Israel and I mostly worked with Tania Stolina and Sergei Sheiko. They were the only two coaches there at the time. I also went to Russia a few times to work with Mishin: I've attended his seminars before and worked with his group while I was there. I tried to split training, part time in Lake Arrowhead, California and part time in Israel and eventually skated mostly in Lake Arrowhead. However, Lake Arrowhead was very far from Israel and it was difficult to be so far away from home when I was only fifteen or sixteen years old.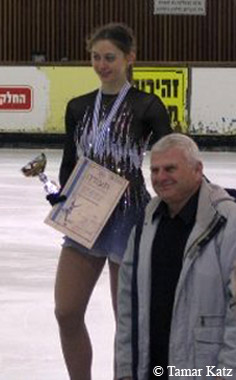 When I got injured, it was season 2005/06, I returned home. I missed all the competitions of that season; I was upset about having to watch the Olympics on TV and not be able to participate; at that point I really understood how I wanted to be a part of something big like the Olympics and to represent Israel in Vancouver. For the first time I knew that I wanted to be the best I could be, not just to skate because I liked it, but to see where I could really go with it. And the only way to do that was to move to the States and skate. That's when my mom and I left Israel and moved to Wayne, NJ to train with Galina Zmievskaya. I skated with Zmievskaya for one year, during which I had no financial support, and I left because she was too expensive for us at the time. I first moved to Hackensack, NJ and trained with a coach there, but there was and incident when he was extremely drunk during one of my competitions, so I ended up with Mr. Peter Burrows in Monsey, NY. To date, he is the best and most supportive coach I have ever had. Furthermore, I now receive funding from the federation and I can afford to work with a top-tier coach like him.
Now I understand HOW important this coming season is for you.
This coming season is everything to me in every aspect of my life, not just skating. My two goals are to make it to the Olympics and to start learning for SAT II, because I would like to attend an Ivy League school in the fall of 2010. My family has supported me through skating but they have always taught me that without an education you are lost.
My nearest goal is to skate really well at Oberstdorf. I have these two amazing programs that Lea Ann Miller choreographed for me which show who I really am. And I want to skate two clean programs there for the first time in my career. But I'm trying not to put too much pressure on myself.
Do you have something before Oberstdorf to test yourself?
Yes, I am competing at Wilmington Delaware at the end of July, Montreal at the beginning of August, Moran memorial at the end of August, and possibly Mid Atlantics in September.
So, you want to start university in the "season after the Olympics"? What about skating?
Skating is something you can do forever. It is something I love to do. I will never stop skating, as long as my body allows me to skate, I will do so.
Go to Part II