Plushenko wants to make history and sets his sights on Olympics in Sochi
 
By Titanilla Bőd
Photos © 2010 Absolute Skating, EMJO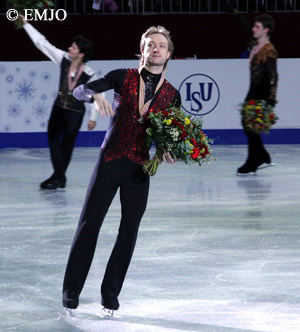 If you thought that Evgeni Plushenko would be satisfied with his sixth European gold medal, you'd be wrong. After tasting the victory again, Plushenko wants to compete as long as possible, maybe also in Sochi. However, he will still do shows, for example in Slovakia, where he promoted his Olympic Ice Tour (planned for April 2010). Here's what he said at his press conference in Bratislava on Wednesday 27th January.
In December you had some problems with your knee. Is it all right now?
Yes, Europeans was the first competition since my comeback and I had no pain. I didn't have to care about how to place my legs to avoid pain. We have changed the system of the practice as well, I used to jump 10-12 quads, now I have just three or four per session and I don't care if I land them.
In two weeks the Olympic Winter Games start in Vancouver. Was it the main motivation of your comeback?
The Olympics are the biggest event in the life of every athlete. Now I'm going to attend my third Olympics. I will do everything to win the gold, but I won't have to fight with other skaters but mainly with myself.
Who do you think will be your main rivals in Vancouver?
Everyone wants to win, however, I heard at the Europeans from many skaters that they wanted to beat me, and they didn't manage to. That's why I ask when I hear these statements: what are you talking about? Anyway, there are 10 skaters with a real shot at the gold: two Frenchmen, a Swiss, a Canadian, three American and two Japanese guys…
How does it feel that everyone wants to beat you and only you?
It's always been like that. Throughout my career I had to face such great skaters as Elvis Stojko, Todd Eldredge, Ilia Kulik and Alexei Yagudin. I tried to learn something from each of them. Now I'm competing against a new generation, and I already have an Olympic gold and an Olympic silver medal, that's why I would be satisfied even with the bronze in Vancouver.
Could you compare the new generation with the old one?
It's hard because the scoring system has changed since then and the Code of Points still has its flaws. If the judges want someone to place high, they can arrange it. Like in Tallinn, Brian Joubert got more points for his transitions than me, although we did exactly the same transitions on the ice. In fact, we don't have any transitions because we focus on our jumps. So there are lobbies in the new scoring system as well, and the judges can influence the result. But I think the old generation had more charismatic skaters. Urmanov, Stojko, Browning, Boitano, Kulik and Yagudin had their own style, charisma, artistry.
You have been touring a lot in Slovakia lately. Do you like the country?
Yes, I do and I'm planning two brand new exhibitions numbers for the shows in spring. One is going to be fun, the second one is dramatic. My good friend, Edvin Marton will also present his brand new compositions and we will try to bring to Slovakia as many Olympic and world medallists as possible. There will also be some acrobatic numbers, too.
You have been working together with Edvin Marton as a composer for many years, which is unusual in the figure skating world.
I'm lucky to have such a friend as Edvin, because he is really patient. We had to rearrange the music for my tango free program at least thirty times and he didn't complain about it at all. We wanted to make the music fit the program perfectly, to emphasize every jump or step. I'm grateful for Edvin that he bears this without complaining. By the way, during the years he has become really familiar with figure skating.
Do you plan any major changes in your long program before the Olympics?
There will be changes. I'm going to work on my jumps and on my steps as well. But I'll be glad when I hear "Plushenko after comeback is better than the Plushenko who won in Torino".
Do you want to compete after the Vancouver Olympics? Will you attend the Worlds in Torino?
Torino is one of my favourite cities. I won my fourth European title there and one year later I won the Olympics. It would be nice to win the Worlds in the same town. If I'm not injured, why not try it? I'm motivated. Now I'm a six-time European champion but Ulrich Salchow won nine European titles at the beginning of the 20 th century. Only four guys skated back then, but still it is a great result. I also want to reach this, I want to make history. And the Olympics in 2014 will be held in Russia, Sochi, and I want to take part.
There is a clip on Youtube of your triple axel, quad toe-loop combination. You could make history also with this, if you landed it at the Olympics.
But I won't and I think no other skater will in the next ten years. But it's a great feeling that now we are talking about this combination and tomorrow all my rivals will be practicing it. When I landed it at practice I realized I still can jump and my comeback wasn't senseless. But to land such a hard combination you have to be in peak form, because after three and a half rotations you still have to add four rotations. I'm not practicing this combination now, it's risky - you can easily get injured.
How do you spend your time if you are not skating?
I'm writing a book about the three and a half years without competing, when everybody laughed at me if I mentioned my comeback. I admire all the athletes who managed to come back after a longer break, because it's not easy, believe me.
There have been movies or documentaries on several skaters. What about you? Will there be any movie about you?
I had some offers, and a Russian channel wants to make a documentary about me, but they wanted to see how I would do at the Europeans. I think I have convinced them.
Europeans ended on Sunday. Since then you are travelling over Europe – you were in Budapest on Monday, in Prague on Tuesday and now in Bratislava on Wednesday.
Shouldn't you practice instead?
I will be on the ice on Thursday again. I don't think it's good to train everyday. An athlete should feel what is best for him. The season is long and the practices are tiresome. Sometimes it is better to skip a session, go for a walk to the city or to the countryside, and go back to the ice next day with new strength. That's my method, but I wouldn't be happy if all my rivals started to use it from now on.
How do you rest?
In the summer I love motorcycling, but last year I had the chance to ride a motorbike only four times, because I had so much training. I also fell in love with paintball. I played it four days before the Europeans. It helps me to switch off my brain. Sometimes I'm more tired after a paintball match than after a figure skating practice session.