Ivana Reitmayerová is looking forward to her first Olympics
 
By Titanilla Bőd
Photos © 2010 Absolute Skating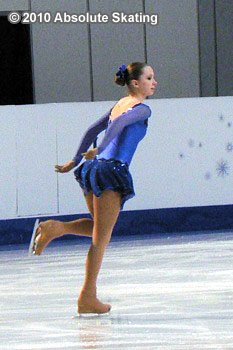 She was 11th at the Europeans and 14th at the Worlds last year, but had some problems at the beginning of the current season. However, in Tallinn she performed two clean programs and placed 15th. Ivana Reitmayerová of Slovakia is now getting ready for her first Olympics.
How do you feel about your performance in Tallinn?
I'm really satisfied with my short program. I was nervous before the competition because at the beginning of the season I had some problems with motivation, almost every jump, many things. It was really hard. But here in Tallinn I really wanted to skate well and even if I was a bit insecure at the beginning, the program was okay. I loved the atmosphere of the rink, the crowd was really great.
What about your free skating?
Except the combination with the salchow it was quite a good program. I'm happy about it because I was really nervous again.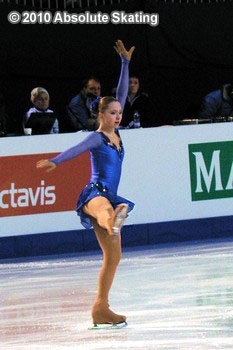 How did you manage to deal with it?
There is nothing really you can do about it, you just have to go on the ice and skate.
You surprised everyone by your 11th place last year in Helsinki. What were your goals here?
I really only wanted to get into the final. This year it was even harder to make it to the free skating and I'm so glad that I managed to.
Is this season different from the last one for you?
Not really. I'm looking forward to the Olympics, and just like before I want to skate for pleasure and make my mum and the people who believe in me happy.
Your younger brother, Peter also competed in Tallinn and you are coached by your mother. Was it a family trip for you?
I arrived on Wednesday so I didn't see my brother's short program. I was sorry about it.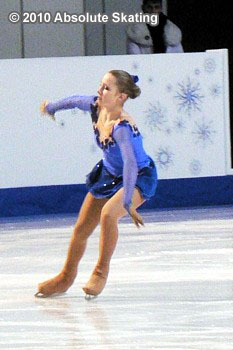 What are your plans until you leave for Vancouver?
I will train in Ostrava. I won't have any special preparations and I try to think about the Olympics as a normal competition.
Who do you think will win the Olympics?
I don't dare to pick a winner but I like the skating of Mao Asada and I think she can beat Yu-Na Kim. Olympics mean such a big pressure for everybody and nobody knows how each skater can deal with this pressure.
Do you also feel this pressure or maybe for you it is easier because you are young and going to your first Olympics?
It's true that the older you are, the bigger the pressure is. These Games are going to be the first in my life and I'm really looking forward to them. I just want to enjoy my time there. I will have separate practices because we don't have much ice time but I will be staying in the Olympic village.
Do you plan to watch some other sports events at the Olympics, maybe ice hockey, which is so popular in Slovakia?
I will see, if I have time, it would be great.