Júlia Sebestyén: "I decided not to care about the judges"
 
By Titanilla Bőd
Photos © 2010 Absolute Skating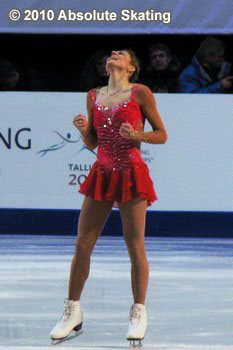 At her 14th Europeans she placed 6th. Many fans thought she should have been placed higher especially in the short program, but she didn't seem to worry about it. In her last competitive year she enjoys every single moment out there on the ice and says the fourth Olympics will be an encore in her career. The shining star of Hungarian figure skating, Júlia Sebestyén had fun in Tallinn, and we met up with her after the long program.
After your scores for the short program appeared the audience boo-ed because they didn't understand how you could, with a clean and flawless program be behind someone who missed the combination.
I don't know what to say about it. It's the second year in a row that I didn't get the score I deserve but after last year's disappointment I decided not to care about the judges and the score. I wanted to skate two great programs and I managed to do it in the short program.
Are you satisfied with your free program?
There were mistakes but I think it was a good free program. Last year when I was injured and had to withdraw from the Worlds, I could only hope that I'd be able to skate competitively again, because the doctors were not optimistic. I started to prepare for the new season in June and luckily my foot bore the pressure. Here in Tallinn I had a flawless short program and a good free program. I think I did what I was capable of - the other things were not up to me.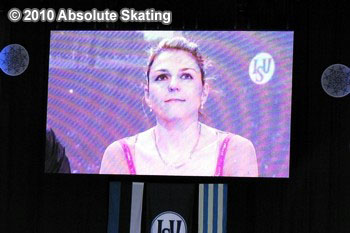 The audience also loved your performance. They started to clap spontaneously during your free program, although they were quite cold throughout the event.
I'm glad that the Estonian audience received my programs so well and I hope they enjoyed my skating. I'm so grateful for their support.
This is your last season. Did you feel that you took part in your last Europeans?
When they announced my name before the long program I thought about it for a while, and it was a sad moment, but then I just focused on my program. I knew that I could have done a flawless program again, so I tried to concentrate. Even when I doubled a jump, I tried to forget the mistake and fight until the end, no matter what happens. That's why I managed to land, at the end of the program, a triple toeloop, double toeloop combination, which was very important and gained me lots of points.
You will attend your fourth Olympic Games in two weeks. How do you feel about it?
I think this is just an encore in my career. There are many athletes who fight for years to get to the Olympics and they don't succeed, while I can now travel to my fourth Games. I try not to think about my placement or result, just to do my best and enjoy every minute in Vancouver. That's the most important thing.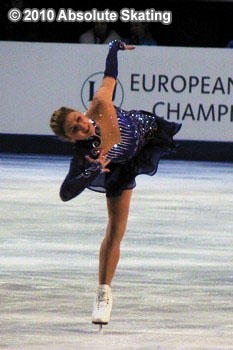 You are going to be the flag bearer for the Hungarian team. What does it mean to you?
It's amazing honour which has to be earned. I've never been to any opening ceremony, so now I havejust one request to the Olympic committee - to be there for the opening. There is 10 hours time-difference in Vancouver, so we'd need some time to get over the jet-lag anyway. I'd love to see the opening live, because every time I watched it on TV, I was fascinated by the promenade of athletes. It's broadcasted around the whole world, so it is an amazing thing. And I'm just speechless about the fact that I will be the flag bearer.
So you didn't expect it, did you?
Some friends told me I might be chosen after I said that I was going to go to the opening ceremony. But I didn't believe until it was official. When the Olympic committee asked me, they said they are so happy that I agreed, while I was so excited and grateful that they actually gave me this honour and I can carry the Hungarian flag.
Even though the flag is quite heavy at eight kilograms?
Once I had the chance to carry it: in Salt Lake City at the Closing Ceremony I was the flag bearer as the best competitor of the Hungarian team. I had no problems carrying it, so I won't have them either (laughs). We get a belt in which we can put the flag and while waiting, we can put it down. So may nobody be worried about me and the flag.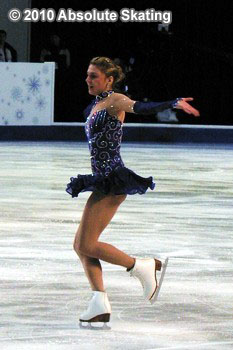 What memories do you have at your previous Olympics?
In Nagano I was 15th and that was my first big world event, because before that I was just at one Europeans and no worlds. It was new to me that all the athletes from different sports live together in the Olympic village. I was so glad to be able to meet the icons of the sport, like Michelle Kwan. I was so enthusiastic that I got a photo with her. The Salt Lake City games turned out really well, much, much better than expected. I have a really clear memory from there. We were watching the last group of the men. We were upstairs, I just looked around the full packed ice rink and thought: "Oh, God, what a feeling it must be to skate down there." In a few days I had a great short program and I could skate my free program in the last group! It was such a mesmerizing moment that I didn't know whether to smile or cry with joy. In the end I was 8th. Before Torino I had a very tough season, I was in kind of a crisis. Maybe I wanted a good result too much and I couldn't get into the shape I wished. Maybe that's the reason why I was only 18th in Torino, but it still was an Olympic event and a great competition.
You were injured at the end of the last season. Was the possibility of the fourth Olympics an extra motivation to try to come back?
Yes, because after the Games in Torino I said I'd love to skate for one more quadrennial. I was desperate after my injury when it looked like my career would end. But then I said: I will try to train systematically and I will see how my foot reacts. I knew that I still had to qualify for the Olympics in Oberstdorf, I also knew that only one competition decides. That's why I was much more nervous than usual, because I knew I wouldn't have another chance. But I managed to qualify and it made me relieved, there was no pressure on me - that's why I skated well at the Grand Prix. I would never have believed I'd be in the lead after the short program in a Grand Prix, while the world champion, the junior world champion and the American champion were behind me, but it happened. Even for this single moment it was worth skating in this season.
What are your plans in Vancouver? Will you just practice or do you want to attend to some other competitions as well?
I'm going to spend more then two weeks in Vancouver, ten days before my competition. At first I have to get adjusted to the time zone, and then I hope to visit some other sports events. Of course I will cheer for the Hungarian team and I want to enjoy every single moment at the Olympics.
Some skaters mentioned they will have separate practice sessions because there won't be too much official ice time. What about you?
I haven't seen the practice plan yet, but I don't think we will be given many practice sessions. However, we have to use wisely what we get and we have to adapt to the situation. If we don't have enough ice time, we have to train more off ice. I hope I will get used to the circumstances soon and I can just skate for pleasure in my programs.
Who do you think will win in Vancouver?
It's a hard question. In ladies competition, Yu-Na Kim is considered the main contender, but the Olympics has always been an event full of surprises, especially in the ladies event. It's a special competition, which cannot be compared with any Worlds. I wish all the best to the favourites but somehow I feel we will see some surprises in Vancouver.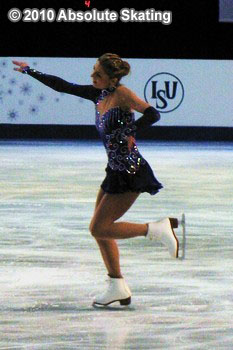 Why can't Olympics be compared with worlds if there are just the same skaters? Are those the five rings that make such a huge difference?
The Olympics have their own atmosphere. Everybody knows it is held only once in four years, that's why there is a tense vibration in the air. For some it is an extra motivation and it helps to inspire such programs as Arakawa four years ago or Sarah Hughes in Salt Lake City. Someone can do their best, while someone can stumble under the pressure. I'm really curious about the competition now.
What do you think about the numerous comebacks? There are skaters in each category who decided to come back because of the Olympics.
I wonder how they will do because not every comeback turns out well. But the Europeans proved that a lot of people who came back are hungry for success while the others want to beat them. Olympics are an additional motivation to everyone.