Alexandra and Roman Zaretsky: "We never left Israel"
 
By Reut Golinsky
Photos © Reut Golinsky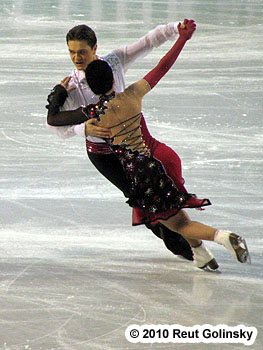 They were born in Belarus but represent Israel, and for almost ten years now they've lived and trained in the United States. One of the first questions I planned to ask them was about their identity; who do they feel they are - Israelis, Russians or Americans? Well, I only started asking and without giving me time to finish, they interrupted after "Israelis" and claimed that was the only possible choice for them. The next issue was language since again there were three options: Russian, Hebrew or English. In the end the "off the record" talk was in Russian, as this is our mother tongue, but we agreed to do the interview itself in English (which is convenient for me as I don't need to translate to write this article). And we could always resort to some Hebrew words here and there when talking about the army and other Israeli realities.
It's a big honor and joy to interview skaters from your own world; a rare case for someone from Israel. But since my chat with Tamar Katz I decided to introduce more skaters from my country to the Absolute Skating readers. So I was happy I had the opportunity to talk to Alexandra (Sasha) and Roman Zaretsky, who worthily represented Israel in the Vancouver Winter Games a few weeks ago.
Let's start from the very beginning, how did you start skating?
Roman: I started in Minsk when I was 4 years old. It was my mom's idea; she used to be a skater. You know, the kid needs a sport, some activity... It could be soccer, but figure skating was very popular in the Soviet Union, so she put me on the ice. In 1991, when they opened the borders, we immigrated to Israel. And when Sasha was six, she also started skating. She was in rhythmic gymnastics...
Sasha: ... and they made me skate instead! I was crying when I learned to skate!
Roman: I wasn't that good as a single, but I always loved ice dancing; I loved watching Zhulin, Platov, Torvill & Dean. So after a year we switched to ice dancing and our parents teamed us up, we were eleven and seven at the time. The first almost six years our mom was the coach, but we also traveled around the world and we've been to training camps. We learned from great skaters like Gorshkov and Povilas Vanagas. It was really exciting when in -97 we went to a training camp with Povilas…
Sasha: ...and then he [and his wife and partner Margarita Drobiazko] competed in the 2006 Olympics and we competed "against" him.
Roman: Well, not really against him, not even close, but we were in the same competition.
In 2001 we moved to the US and trained almost two years with Irina Romanova and Igor Yaroshenko. We learned a lot from them, they are amazing coaches. We focused a lot on the basics of skating. And then we had to go back [to Israel], because I had to serve in the army. I'm an Israeli citizen and I would never run from that duty. There are people who try, but I represent this country and couldn't do such a thing.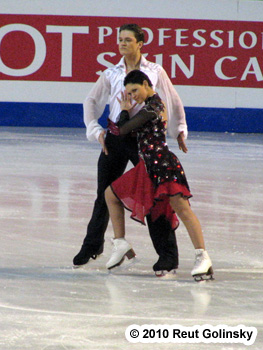 The Israeli elite sportsmen get "light" army duty which enables them to keep training.
Roman: Yes, I served "lightly", but I still served. I did my duty, "tironut" [the recruit training of the Israel Defense Forces] and everything, I was in artillery and responsible for preparing all the equipment. I lived in Metula and drove to the army base near Rosh Pina every day. Then I drove back to skate. Or skated, then drove to the army base and back again to skate. And I could go to competitions as usual. But all this wasn't easy at all.
Sasha, what did you do during that time?
Sasha: I went to school. I was in Kiryat Shmona's Danziger High School.
Roman: It's the school where I came from. It was partially destroyed during the Lebanon war in 2006 and our Dad, who is an engineer, helped rebuild it. The flag our parents wave for us at competitions was actually presented to him by that school.
You then trained with different coaches. What did you learn from each of your then?
Roman: Oh, this will be a hard task... Not that we don't have good things to say about them, on the contrary, but we had so many coaches and they taught us so many things. We tried to learn from everybody; different techniques, different styles…
Sasha: And we are very thankful to them. Everyone helped us a lot and we took a lot from each one and slowly, slowly this brought us to where we are right now.
Roman: Lots of people stick with the same coach for years, but we didn't have that privilege. Because we are from Israel and nobody coaches there, we had to move wherever life would throw us and find a coach wherever one could be found.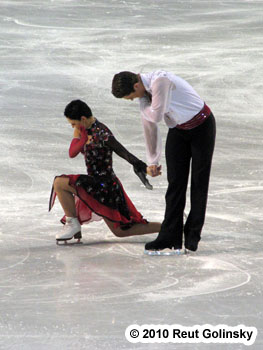 I see, but for example you say your first coaches, Romanova and Yaroshenko, taught you the basics of skating.
Roman: Well, our very first coaches were our parents and they taught us to work hard! Then we worked with Gorshkov a lot, and he was amazing; you can see how many great skaters he raised.
Sasha: We also skated with Maxim and Oksana [Domnina/Shabalin] and Maxim Staviski... we were very young then, I was ten and he was fourteen. But we basically learned how to work; we understood how much work you have to put into this to get anywhere.
Roman: It was very hard. Our older friends told us "it's gonna get easier some day", but it actually never did *laughs*. With Irina Romanova and Igor Yaroshenko we started to compete as juniors on an international level. Igor is technically very strong, especially in the compulsory dances.
Sasha: Irina was more like a choreographer; she worked with us on emotions.
Roman: And she taught us to think outside the box and try new things each season, try to change something so your programs won't look same. Because there are skaters who always look the same, you know. We always try to change and I think we do a good job. For example, our first year in juniors we did a Ukrainian folk dance and then "Moulin Rouge". The next year we took on "Matrix", and then we did "the Phantom of the opera". We've tried jazz music, "Carmina Burana", "Let my people go", "Jesus Christ Superstar" and now "Schindler's list". There are so many ideas!
Who usually chooses the music?
Sasha: We do, we try to find it ourselves. That is unless the coaches get very involved and have something against the music we chose...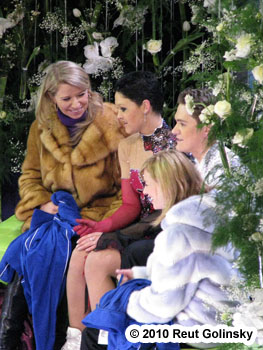 Now you work with Galit Chait. This should be special for you as you were once team mates. Does that make it easier or harder?
Roman: I don't know... it wasn't that hard. It's more like she is growing up as a coach with us, and we are growing up as skaters with her. And I feel we've grown up a lot lately. We are doing pretty well together with her and we like it!
And what was your relationship when you were on the same team? Were you friends?
Roman: Well, we had different coaches then, and Galit and Sergei [Sakhnovsky] were a bit older. But we looked up to them; we always watched their competitions on TV. And when we switched to Galit of course it helped that she knew us and we knew her.
You left Israel when you were very young...
Roman: We never left Israel! We just don't live there at the moment because of our training circumstances.
Rephrasing: how was it to move from Israel at such a young age? Was it very hard?
Roman: It's still hard!
Sasha: It got easier, but it's still hard.
Roman: It got easier because we grew up, we know English now. And Sasha can finally drive by herself, thank God! *smiles*
Sasha: But it's still hard not being at home, being so far away from family and friends.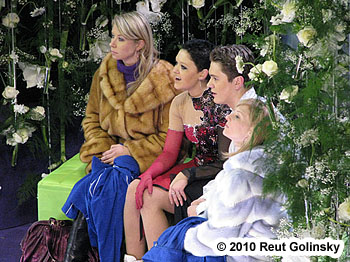 Your friends are still in Israel?
Sasha: Yeah, our best friends, pretty much all of them, are in Israel. They've been our friends since childhood and we try to see them whenever we get the chance.
Roman: But we can always keep in touch, thanks to Skype and e-mail. And when we have a chance during vacations we spend time with them.
They are not skaters?
Roman: No, no one is a skater.
Do you prefer friends who are not skaters?
Sasha: No, we have a lot of skater friends so it's not like we're not friends with a lot of people at competitions. But the longest relationships are with the people we grew up with; we have known them since we were 5-6 years old.
And they follow the ups and downs of your career?
Sasha: Yeah, everything. They understand when we don't get good results, it happens to everyone, but in the next competition we try again. Our friends always try to cheer us up!
There are several brother-sister teams in ice dance. Does your relationship make it harder to show love and passion?
Sasha: Well, you learn to act because you have to. But it's hard, especially at practices.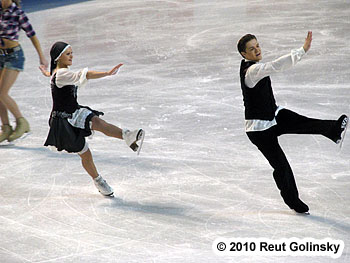 In your free dance, do you portray a family who survives the Holocaust, or lovers?
Sasha: None of the above actually. When we built the choreography, the story was more about me being a person and him being the hope of getting out of this situation I was stuck in. He is my dream, my hope for survival. Because we can't show love the way lovers would, we try to find a different angle to this music.
But on the other hand, being brother and sister is probably a comfort when you're so far from home.
Sasha: Yes, but sometimes we get sick of each other. You can't be with someone 24/7, it doesn't matter if it's a brother-sister or a couple; you get tired of each other! So we try to solve it, he will go with friends for the weekend, and then it's my turn. And even during the week I can take off for a few hours after practice; just to go somewhere, to walk around. Or our friends come over which kind of "separates" us, because it's not just the two of us anymore. When we feel we're about to fight over nothing because we're so fed up with each other, the smarter one at that moment just leaves for a while.
You participated in a show for the Jewish community at Bryant Park in New York. Are you involved a lot in the community life?
Roman: We do a lot of shows for the holidays - for free of course. They help us with ice time so we're always glad to do shows for them, or to skate with the kids. That specific show in Bryant Park was to promote friendship between the United States and Israel; the idea came from the consul in New York.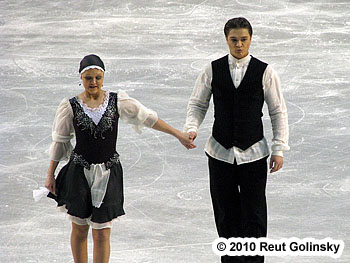 Your mom is still coaching. Do you follow her work, know her students?
Sasha: Of course and we help, always, where we can. I know all the kids she's working with and when we are home I always go with her to practices and check if she needs any help. It's good for the kids too see somebody else; to see what they are doing, someone who can tell them something new. Even if I tell them exactly the same things as my mom it still sounds different to them, because it comes from a different person who doesn't see them all the time. We are really close to our mom!
Did your parents go to Vancouver with you?
Sasha: No. It was too expensive and no rooms in the hotels. It's the Olympics, too many people wanted to go there so our parents had to watch from home.
I'm sure their parents were very proud to see their children finishing in the top ten.
And during the Games I was asked about them a few times by people who usually never watch figure skating. But they saw Sasha and Roman in Vancouver and were excited about their programs, especially their original dance to "Hava Nagila". People here suddenly understood that Israel has good skaters who represent our country! It's still not much, but it's a good start!