Zoltán Kelemen: "I'm not on holiday in the US"
 
By Titanilla Bőd
Photos © 2010 Absolute Skating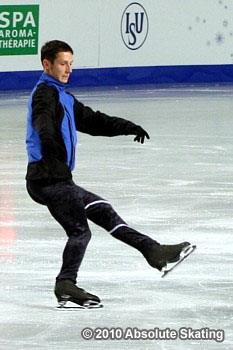 He comes from a country with two ice rinks but he impressed people at the Olympic qualifier so much that a sponsor offered to help him to get to the US. Zoltán Kelemen, the new hope of Romanian figure skating makes big steps forward and hopes to do his best in Vancouver.
You qualified for the free skating for the first time in your life in Tallinn at the Europeans, but straight after your long program you didn't seem satisfied. Why?
I messed up a few jumps, the loop, the first lutz and the flip. But the others were all right, especially the triple axel. I've landed it here for the first time at a competition. The one in the short program was a bit shaky but in the long program it was really good. I'm so happy that I could make it to the top 20 but I know that it can be even better.
You made a big step forward since last year. What have you changed to improve so much?
I've changed only one thing: the place where I practice. In Romania there were really bad conditions for practice, but now I have a sponsor who helps me a lot and thanks to him I could move to the US. Now I train in California, it's an amazing place.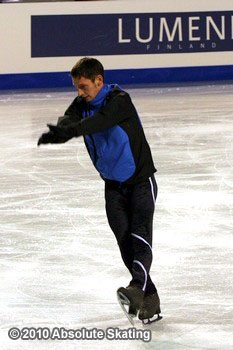 How did you manage to find a sponsor?
He saw me skating at the Olympic qualifier where I earned my spot to Vancouver and he thought it was a good result. Also people started to get interested in figure skating and he decided to help me. It means a lot.
What is your life like in the US?
I'm practicing very hard. Some of my friends were a bit jealous that I could go to the US but they don't realize that I'm not on holiday there. I have incredibly hard training sessions. I train four times a day all week except Sunday. There is not much time to rest but I have to push myself hard, especially in the Olympic season.
What is the figure skating situation in Romania?
It's very bad. There is no possibility to skate. There are only two ice rinks in the whole country, so the future of the sport doesn't seem too bright. But I hope things will change in ten or twenty years.
How did you become a figure skater in a country with two ice rinks?
I wanted to play ice hockey but my mum was worried that I would be beaten or injured. So she didn't allow me to play hockey, she sent me to figure skating instead. I liked it and I still do.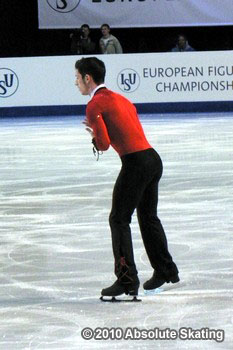 When you were a little boy did you dream of a career as a figure skater?
No, I never thought once that I would make it to major competitions, and now that I'm in the top 20 I'm really speechless. The next competition will be the Olympics. I hope I can do even better there.
You have really interesting music selections. I loved your SP music (Amelie soundtrack and Ballade by Emilie Lassaria), how did you find it?
I like this kind of music, it's modern, dynamic, has a good rhythm. It is perfect for a short program, but for the long program you have to find something slower. You can't skate 4 minutes 40 seconds at such a pace, that's why I have a different music for my free skating.
It is from the Pirates of the Caribbean but not the well-known main melody. Was it intentional to choose something unique?
I didn't want to skate to overused music. I always want to be unlike the others, I want to have music like nobody else.
What about your costumes, who designs them?
My choreographer has a friend, she can sew really well and she creates my costumes according to the ideas of my choreographer.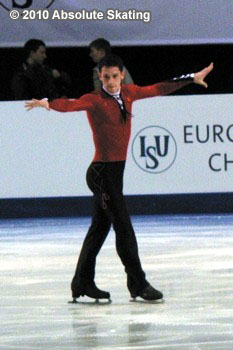 Who is your idol?
Alexei Yagudin. When I saw him for the first time we still had black and white TV! I loved his skating and I said I want to be like him.
Have you ever met him?
Not yet and I haven't even seen him skating live. But I hope once I can meet him.
What is your favourite element?
Now that I have it, it's the triple axel! But I also like the lutz and the death drop.
Are you nervous before the competitions?
I'm nervous until I'm on the ice. I really feel every possible way before the competition but as soon as I step on the ice, it's over. On the ice it's like a routine, because I'm practicing these programs over and over, sometimes I'm even fed up with them. Actually I have spare time at competitions, because there are less practice sessions.
Did you go for sightseeing in Tallinn in your free time?
I've heard Tallinn is a beautiful city but in minus 26 degrees I really didn't feel like going outside. So I was just in the hotel.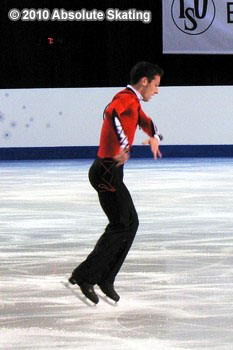 Do you consider this 19th place the biggest success of your life?
I can call it the biggest success so far, but we will see what happens at the Olympics. I hope that I can skate well in Vancouver. Olympics is the biggest dream of every athlete. It's already a big success if you can take part, but I don't want to just take part, I also want to qualify for the long program and skate a better long program than in Tallinn.
How stressful was it at the Europeans that only the best 20 skaters qualified for the long program, instead of the previous 24?
It meant a lot of stress for everyone. I was also thinking about it a lot. Last year I was 32nd, so I wondered if I could make the top 20. I hoped so, because last year I had many problems: I trained only in Romania, I was injured, so I didn't do my best at the Europeans. At the Worlds I somehow managed to pull it off. But still it is much better now that I train really hard in the US and so I can get better results.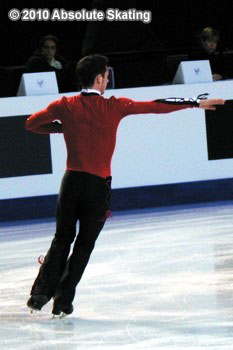 How often do you go home to Romania?
Not too often, and even if I go to Romania, it's just for a few days between travelling. And I get to my home town maybe twice a year.
Isn't it too hard for your mother?
She is used to it. And we talk via internet or phone almost every day.
Doesn't she say: it would be better if you played hockey because you would be at home?
No, never. She is proud of me and my achievements. She never ever mentioned that I should quit skating because we don't have money. So far I'm improving and I always try to do my best.
What are your goals for the future?
I'm only 23 years old. I think I'm only at the beginning of my career. I want to get to the next Olympics in Sochi and we will see.