Ali Demirboga: "I wasn't as nervous this time round"
 
January 25, 2011
By Nadin Vernon
Photos © Nadin Vernon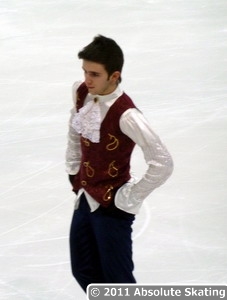 Ali Demirboga from Turkey placed 11th at Monday's preliminary round and as such successfully qualified for the Men's short program which will take place on Thursday. I caught up with Ali to find out about his experience at Europeans so far.
Congratulations, Ali. Yesterday went really well for you.
Thank you. I'm really happy I skated well and qualified. Training's been going very well and I was planning to make it through, but of course you never know.
What do you think of the ISU's decision to introduce the qualification round again this season?
I think it's good that they changed it, we had to go through qualification anyway with the short program, but for me it's better to have to do my free skate as part of the qualification. In the short program there are only three jump elements, so if you miss one, it makes a big difference. In the free skate you have more chances. I'm sure there are some skaters who prefer to skate the short, but for me this is better.
What are your expectations now from this competition?
Of course I'd like to qualify again with my short program to stay on until the final and I think I have a good chance. I need to skate a clean program, which I have been doing in training, so we'll see.
You retained your title as Turkish Champion at this season's Nationals. Last season Kutay Eryoldas skated in Tallinn, so these are your first Europeans.
That's right, I skated at Worlds once before but it didn't go so well. Prior to that I hadn't participated in any major international competitions, I hadn't been to Junior Worlds either, so I was very nervous. It was a bit better here because it was my second time.
The arena was still quite empty yesterday, what was it like to skate?
Of course it's always nice when you skate in front of a fuller audience, for me that's always great motivation. It's already looking busier today, though.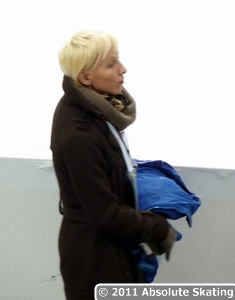 Tell me a little bit about your programs this season.
I have a friend in Ankara who always helps me with my music. My free skate is to a selection of Balkan music by Goran Bregovic and my free skate is to the soundtrack of Fifth Element. Looking at the scores so far, I think my programs are being well perceived by the judges which is great.
Did you have them both choreographed in Turkey?
My coach Rana Belkis Gocmen choreographed most of them, but I went to Mishin's summer camp and received some help there, too.
How did the summer camp go?
It went really well, there were three of us from Turkey and we went to Estonia together. I learnt a lot about technique and it's also due to this camp that I'm doing well so far this season and am skating here at Europeans.
Tell me a bit about your home rink and how you got into skating?
I'm training in Kocaeli and when the rink first opened, it was quite a big thing. I got into skating quite late, when I was around nine or ten and have been with my coach for ten years now. I train six days a week and have one hour fifteen minutes ice-time a day. That's not a lot but during competition time I get a bit more. Ice time is always tight as we also have ice hockey and curling at the rink. But there are about six or seven of us in figure skating, and we also work together on off-ice training. We take dance classes and do lots of running and conditioning.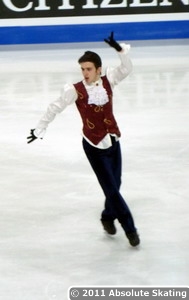 Figure skating has become more popular over the years in Turkey, no doubt due to Tugba Karademir's ahchievements.
Yes, that's right. Tugba has done a lot for our sport. Hopefully I can follow in Tugba's footsteps and do my part for the sport in my country. There is a lot of development right now thanks to the federation, so it's very exciting. Many new rinks have recently opened, there is a new one in Izmir now and a second rink will be opening in Ankara soon.
Figure Skating gets a lot of air time on Turkish Television too which is great.
Yes, TRT is very good at broadcasting skating. I started watching it on TV during the 2002 Olympics, I remember the duel between Yagudin and Plushenko, I was supporting Plushenko. And since then I've been following every year.
What do you do when you're not training?
I'm at university at the moment and I'm studying to be a coach in figure skating. And outside of that, I enjoy all the usual things really like going to the cinema and listening to music.
Will you be going to Worlds in Tokyo?
I'm not sure yet. We have one entry for Turkey and the federation still has to decide who to send, so it could either be Kutay or me. Whoever it'll be, I'm happy for either of us to be there and to represent Turkey at the World Championships.
Insallah! Thanks for making time to talk to me Ali, and best of luck for the rest of the competition.