Kamila Hájková, the Young Ambassador for the Czech Republic
 
February 2, 2012
By Reut Golinsky
Photo © Innsbruck Youth Olympic Games Organising Committee (IYOGOC), Reut Golinsky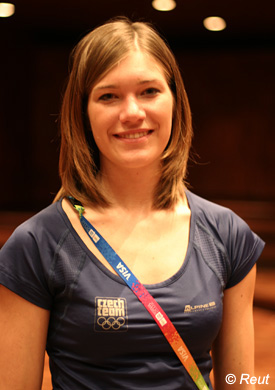 Kamila Hájková, Czech ice dancer and 2006-2010 national champion with David Vincour, came to the Youth Olympic Games (YOG) in Innsbruck in a different capacity: as a YOG Young Ambassador. Young Ambassadors were nominated by their National Olympic Committees to help promote the Youth Olympic Games in their regions and communities, and support the athletes before and during the Games as well as encourage them to get involved in the Culture and Education Program (CEP). So Kamila was chosen to be an Ambassador for the Czech team. "It's great to be part of these Olympic Games. I'm looking forward to seeing the faces of young people who are happy to be and compete there. For me the most important thing is to show young athletes that everything is possible. If they have dreams, they just need to believe in themselves and move forward", she says in her video profile on the official YouTube channel of the Games.
We met during one of the CEP activities, where Kamila, Olympic champion Yuna Kim, young athletes and local youth, learned to dance a special YOG dance. After that she found a few minutes for this short update about what she is doing now, if her life is still connected to figure skating and what her future plans are.
Kamila, I was surprised to see you here. How did you come to Innsbruck and what are you up to these days?
I'm here as the Young Ambassador for the Czech team. I retired after the Olympic Games in Vancouver and I'm happy that I can be part of these Youth Olympic Games, especially because they are the first Youth Winter Games. My task is to support the athletes and help them to be part of the Culture and Education Program. And I'm here if someone needs some help.
Other than that I coach figure skating in Germany and Switzerland. And I study languages, so to travel and meet new people gives me more experience.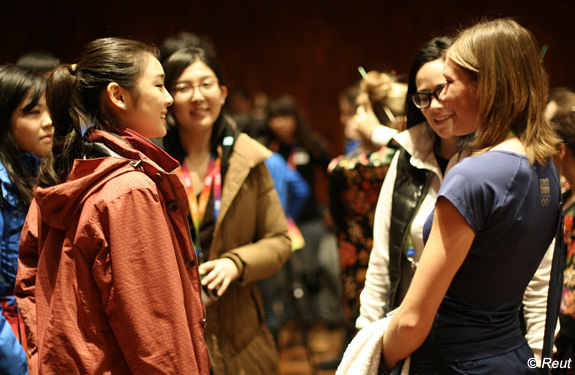 Do you have some young Czech skaters here?
Yes, there is one ice dance couple (Jana Cejkova/Alexandr Sinicyn). I don't know how they skate because I never saw them on the ice. I'm looking forward to watching their short and free dances. I will be here and watch every figure skating competition.
In general, do you follow competitions?
Yes. As a coach I need to watch TV, check rules to know what is new. Now I enjoy it, because without stress it's much easier to watch a competition. I'm still in touch with my friends, with other ice dance couples. After Vancouver a lot of people retired and now they are coaches like me.
Some say that ice dance has become more technical. Do you agree?
Yeah, I agree. The new rules are more difficult, you need to have more power, because technical elements like spins and steps became more difficult than before.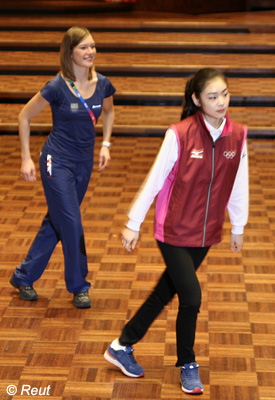 Do you think it would have been better to leave ice dance more "dancey"?
I'm not sure... There is now more sports in figure skating than there used to be. Before it had more show to it; each ice dance couple skated a story about love or something else. Now they need to think more about technical elements, and that's a problem because they need to collect points, while the story, love and music disappear.
So you watched programs this season and you didn't like them?
No, I liked. For example, I really like the programs of Kaitlyn Weaver and Andrew Poje. We trained together with them in Detroit, with our coaches Anjelika Krylova and Pasquale Camerlengo, and I cross my fingers for this couple because they are great people. And they look so nice on the ice. I enjoy this couple every time I see them.
I also liked the American couple (Davies/White). In general the first five couples are the best. It's up to the judges to decide who is first, but for me they are the maximum of what can be accomplished in ice dance now.
You didn't compete in short dance. What do you think about it?
I think it's a good idea, because now the figure skating competitions are shorter. For me the compulsory dance was not as interesting, but it's a basic thing for skating. So I think for novice and junior categories it can stay, but seniors don't need it, they can already skate well. With short dance the competition becomes more interesting. But for good basics, as a coach I train my students in compulsory dance. This way they learn to hold each other better, to perform steps together with the music.
In 10 years, do you still see yourself in figure skating?
Yes, of course. I will continue to coach, because it's such a wonderful sport. I can't imagine my life without it.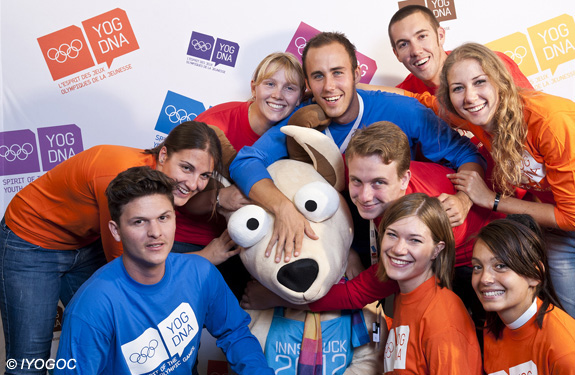 With Young Ambassadors from other countries