Stefania Berton and Ondřej Hotárek:
"We never like to play safe"
September 20, 2013
By Oxana Shkrebtienko
Photos © LMDJ
Stefania Berton and Ondřej Hotárek both used to skate as single skaters and both had other partners before teaming up. Stefania in ice dance and Ondřej in pairs. In 2009 they came together and started to skate as a pair. They worked very hard to achieve their goals and in ┬á2013 they became the first Italian pair in figure skating history to stand on the European podium and win a bronze medal.
What is the goal of these talented and ambitious skaters? I asked them about their plans during the Italian Summer Tour.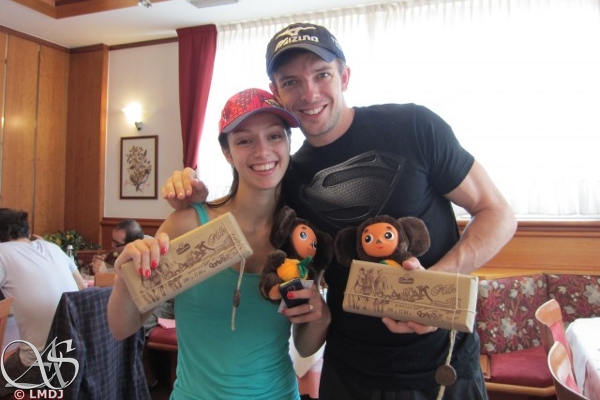 Please, could you tell us something about your two new programs this season?
Ondřej: The short program we decided at the end of the last season. I always wanted to do something light and easy, funny, which would bring more spice to the ice. I always loved The Mask as a character, so I actually liked the idea. It is really a challenge to skate, so I think that the role fits us.
Stefania: And we are very explosive in the program.
Yes, it looks like a number for a show!
Stefania: Exactly! It starts out being very funny. Our purpose was to have fun skating and for the people watching to have fun as well. So, we decided to do something very explosive, from the beginning to the end.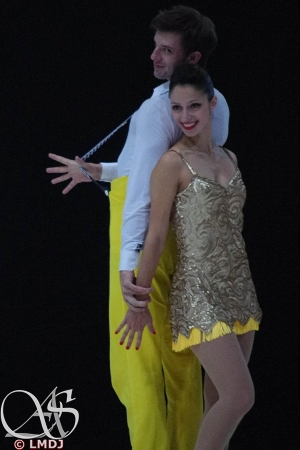 Ondřej: The choreographer is Pasquale Camerlengo. It was a kind of a team idea. We decided we wanted to do this; Pasquale made the choice. He is great and fun to work with. We invited him, and it worked; we had a lot of fun with him.
With a long program it's a little bit more complicated.
Stefania: It is a long story!
Ondřej: We always have ideas, and it looks good, then we find out the tradition of the music, and we try to look for some other ideas, then it all comes together when you sit down and decide what you're going to do... We wanted to do rock'n'roll, and it was only about the music.
Stefania: Well, the main idea was that we wanted to bring something very classical and understandable. But at the same time we wanted to bring something different as well. It was a hard combination to put together. My dad has helped us with the music for around 4 years, and he suggested this piece of music about 5 years ago when I was still a single skater. I told him, "Dad this is amazing music, but it's so hard! You must be great to do that." And every year I was saying, it's great, but we are not ready to do that, not yet, and he knew it too.
Ondřej: The first year we listened to this music, yes, it was great. But it was probably going to be a waste to use this music in the first year of skating together. I had a thought - maybe, we could skate to it at the Olympics. Stefi's dad also did so much to help us with our music.
That first year we also wanted to have our choreography created by David Wilson, but it didn't happen.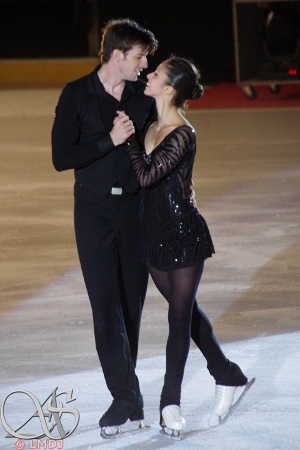 Stefania: We were not ready for that. David is such a great artist and a great choreographer. He was used to working with very high level people. We were good, but not good enough for him. We decided to wait until we improved enough. Then I met him last year and I fell in love with his personality. When I told Ondřa we were going to work with David, he said: "Oh, my God! I wanted to work with him since forever!"
It was very hard to find a moment to work with him, but we finally made it and found a week when we could meet all together. When I told him an idea about Dracula from Phillip Glass, he was like "Oh, my God! I always wanted to choreograph this music! I already suggested it to other skaters, but it's never happened." So, he was so excited to work with us on that.
This was great for all of you, for the whole team!
Ondřej: Actually, it was a kind of click, because it was something we had in mind, but we weren't ready for, we couldn't do it in our first year. I think it came at the right moment. In our short career together, everything has come at the right time, when we actually needed it. I mean, luck comes to ready person. Also we were ready to make a choice, even if it was a hard choice or something that is very risky. This program is not going to be safe. It's hard and it's risky so it brings us one step higher.
So in this program you are taking a risk?
Ondřej: Yes, we never like to play safe.
Stefania: We never do!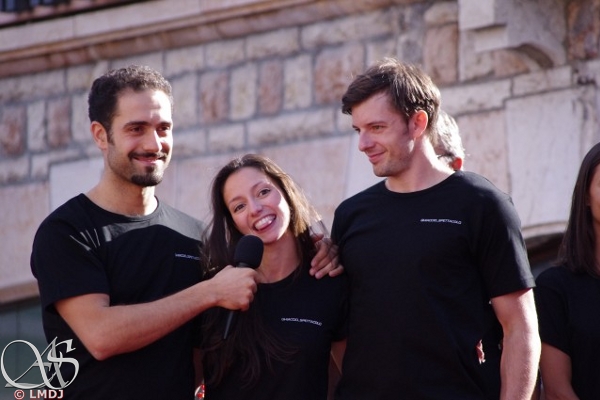 And what about your triple twist? Does it work?
Ondřej: We worked a lot on it with Jason Dungjen in Michigan and it's going very well. We added some new features to it. So we hope that the level will be higher in The Mask. Definitely, we feel secure about the elements right now. We don't do it in shows because of the safety risk.
Stefania: Mostly because of the size of the rink.
Ondřej: Yes, if we have enough ice space we could easily try the triple - we are ready. We added new steps before the twist, which changes the rhythm, but the thing is that we need the whole ice of the rink. We can't do these steps and then the triple twist on smaller rinks - we'd end up on the carpet. That's why during the shows it will be only a double. It's just safer. We like taking risks, but not stupid ones.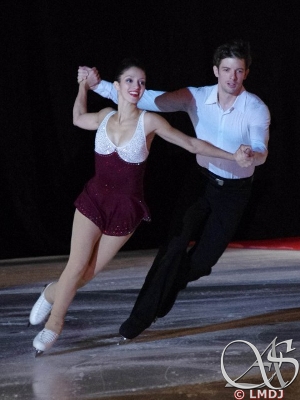 The choreographer of your free program is David Wilson, and the choreographer of the short is Pasquale Camerlengo?
Stefania: Yes. With Pasquale we know how it works; we've been working with him for years. And we always have a great time. With David we wanted to try something new. He gave us some positions that could be dangerous, but exciting at the same time.
Ondřej: David gave us such inspiration! It was unexpected; he is more than just a choreographer. He was like a guide into this art - he gave us spirit. He used up a lot of energy during a choreography. Every transition for him was like a new story. He wanted us to feel great and happy! And actually, it makes you like feel that, when the program starts to be great!
Stefania: He is always in a good mood! There was one time when we were getting upset because one transition didn't work well. And he was great: "Oh, honey, it's ok! Why you are getting upset?" Finally everything began to come out right!
Are you happy working in Detroit? Are you going to continue your practice there?
Stefania: Our base is Milan. We are definitely going for one month to Detroit, because we have two competitions there - Skate America and Skate Canada.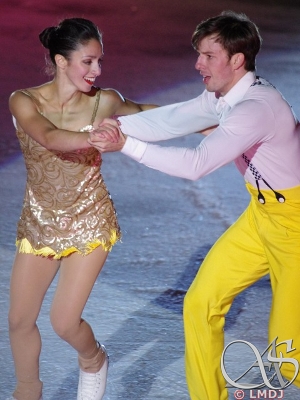 Ondřej: For this season it would be pretty good to have a base in 2 countries. We can divide the season into 2 parts. In the first part we have 2 early Grand Prix events, in the second one - the Europeans and the Olympic games. We are actually happy about this because we have more time to get ready for our events.
What do you expect from this season?
Stefania: We'll try to improve the results we had last year, as we try to do every year - step up, step up. Europeans was a great event last year. We'll try to go there without expectations, because usually that's what kills you. But obviously, we'll fight to get to the top again! And then, we just expect to be happy at the Olympics and enjoy every moment of the Games, the village, Team Italy, being a part of a huge group, being all together, fighting for a team and feeling at home with other athletes.
Ondřej: With our programs we feel really confident. We'll try to make a big impact on the judges and also the audience. It is always hard in the Olympic season. For us it's important to show that we have so much to offer. And we will still continue to improve.
Stefania: And we're going to be here after the Olympics!
Ondřej: And then it will be our time. And we want to show it during this season.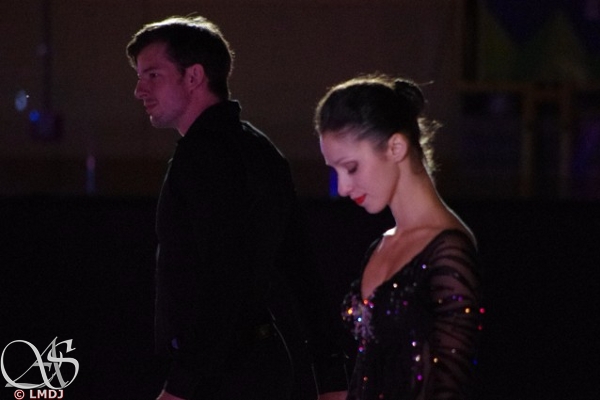 Do you want to continue after the Olympics?
Stefania and Ondřej: Yes!
Ondřej: Yes, we made plans up till the Olympics in 4 years. We never really planned anything after that. Then we decided to take it season by season. And after the last season we sat down and talked about how things were working out.
Stefania: We have a great life right now. We work a lot and we're supported by our Federation.
We are building our future too, not like we are just skaters. We are traveling all over the world. We are meeting many people; we are learning so much every year. We still have so much to learn! And we have a lot of people that we haven't worked with yet! I'd like to work with Igor Shpilband or Marina Zueva. We learn so much every time we work with a new coach or a choreographer! We don't have a reason to stop! Ondrej told me: "We'll stop when we can't improve anymore." You don't know when that's going to happen or why. It can be a health problem, who knows? But what's for sure is that we want to push each other.
We definitely want to stay after the Olympics.
What do you think about the team competition at the Olympic Games? Are you going to take part in it?
Stefania: I didn't understand the rules!
Ondřej: We have mixed feelings about this team event. After the retirement of Samuel Contesti the team is not as strong as the other disciplines. It's very hard at the Olympics. The other problem is that the two events are really close, especially the team event and the pair event. It's a matter of four days and we don't really want to waste all our energy in the team event or just to be even a little out of focus for the main event. The main event is what we train for.
Stefania: Obviously, the team event is a great experience. We did it two years ago in Tokyo. We had such a great time, it was amazing! We loved it! You fight for a team instead of for yourself.
Maybe you can get a medal with the team, which is amazing! But when I saw that the team event started even before the opening ceremony... then continued the day after the opening ceremony. Too stressful. I'd like to be a part of it, but on the other hand, the main event is actually the most important thing.
It must be hard for skaters to work around such a schedule.
Stefania: Exactly! I don't understand the rules and nobody understands what's going on. It is also very hard for the girls. Carolina [Kostner] and maybe Valentina [Marchei] have to come at the beginning, two weeks before their main competition. They can't stay there, because there is no good practice ice.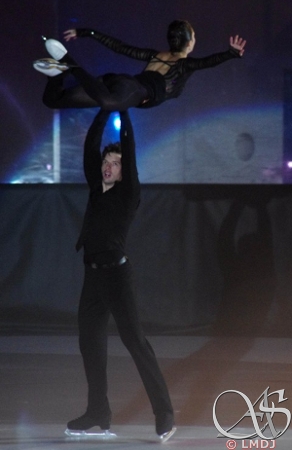 Ondřej: You can practice only 20 minutes a day; not enough to maintain your form. This makes the main competition very complicated. It's a great idea, but it's complicated. The Federation and ISU have to decide what they really want most and to focus on it. If they want to have a great main event or... there is still an Olympic medal at stake...
Because the price is too high!
Stefania and Ondřej: Yes!
Ondřej: And the biggest thing is - we don't know how the team event will work for us. The first time for us it was in Tokyo. We enjoyed it very much as a group.
Stefania: The spirit of the event was to have fun with the audience and the audience had fun with us. But at the Olympics it will be totally different. Everybody will think about the medal. It will be totally serious and everybody has to do their best! Then you have to do your own event too. A little hard!
Do you plan to do any other events?
Ondřej: Yes, we start with the competition in Milan, in September, then another one probably in December. We don't know exactly how it will be scheduled.
Stefania: At the moment our plans are: GP, Italian Championship, Europeans, Olympics and then Worlds. We signed for a few small competitions, but we don't know yet which ones.
Ondřej: We always want to do one minor competition before the GP. It is a good idea, to show the program to the judges, to receive their feedback, how it works with elements, if there is something to change. Then we still have a month to do this.
Thank you very much and good luck this season!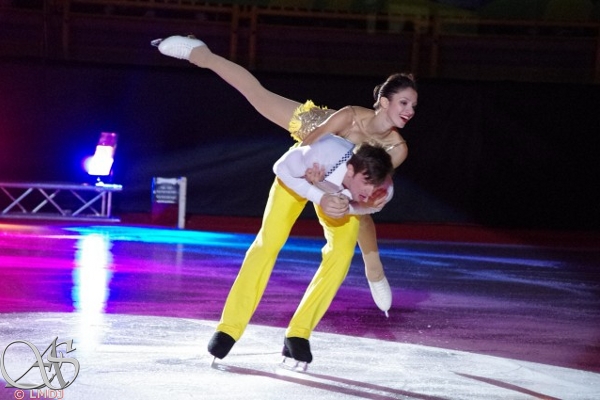 Their first competition of this season, Lombardia Trophy 2013, will take place in Milan on 19-22 September. The seniors part of the competition starts on 21 September. Keep an eye on our facebook page and Twitter for tidbits about the event. Good luck Stefi and Ondřa!