Olga Beständigová and Ilhan Mansiz: "Our message is to encourage people to chase their dreams"
December 10, 2013
By Titanilla Bőd
Photos© Mireille Geurts, Joy, Susanne Schutz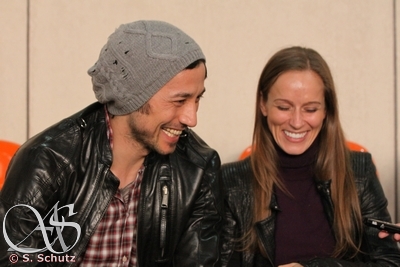 In the beginning nobody believed in them. A football player was turning into a figure skater? It might work in a TV show but not in a real competition. But Olga Beständigová and Ilhan Mansiz showed the world that seemingly impossible things can be done if you believe in your dreams. The debut competition of the Turkish pair was in Oberstdorf, and even though they placed last and didn't qualify for the Olympics their story impressed the audience. When the stress of competition was over they kindly commented on their performance and spoke about their future goals, too.
How do you feel about your performance in your first competition ever?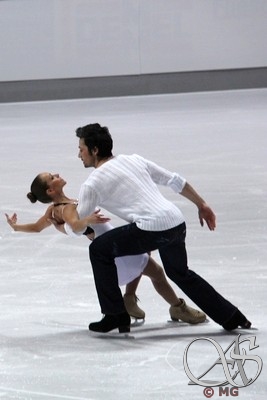 Ilhan: The short program was pretty good for the very first competition, especially if we consider that Oli hadn't competed for eight years, and it was my first competition ever. We did pretty well. We know that we are able do better, but for the first one, we'll take it. And the long program… We unfortunately missed two elements and got deductions for a random fall. But in the end it was okay for our very first competition.
Olga: We cannot be mad at ourselves, because we had a very short time to prepare, and we had so many things to think about. For example, I don't have to think about how my arms go, because I know it is second nature to me but for Ilhan we had to think about the element itself. There was so much stress on those points. It wasn't an easy thing. Still, we were thinking that the long program was going to be much better because we were physically ready. But experience is experience. We have to work on the choreography itself, because his skating skills have become much better, and then we have to push the elements for quality, so we can qualify for Europeans and Worlds.
In the short program you missed the minimum TES for Europeans by only 0.77 points.
Olga: We could have gotten those points anywhere, for any single element.
Ilhan: We got -2 GOE on the lift, which we can do way better. We could have released one arm after one turn or done the flip-out exit. But now we have more experience, and we hope in Bratislava, at our next competition, we can do better and meet the minimum score for the short program. (Editor's note: they succeeded in Bratislava at the Ondrej Nepela Memorial, where they earned 20.43 TES in the short program; a score of 20.0 is required for Europeans.)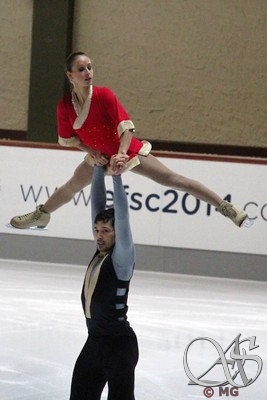 Were you very disappointed by your long program?
Olga: We re-watched our program later, and I was more sad than mad. We've worked for this for three years, and those three years were not easy physically, and mentally it was even harder. And when we saw our skating… It actually looked pretty nice, but we felt worse during the skating, throughout the program. Our depression and frustration came through on a couple of elements that are consistent for us! That's the worst thing! If you fail at an element you cannot do, or you are not sure about it, whatever; but if you know that this element is a done deal and still miss it, then it's sad.
When we talked about this crazy project for the first time you said you were the most secure in the lifts, because Ilhan is strong and you were never afraid. But in Oberstdorf the lifts didn't work in the long program.
Olga: But the reason we had problems with the lifts was not because we felt insecure! I'm still secure, and Ilhan has never dropped me from any lift. We've never had a bad fall because he is very strong and he is very stable. It wasn't working because of timing and technique. I have a little trouble keeping calm under pressure, I rush everything, and that's what happened. I want to do everything very, very fast, and in the end it's not helping; it's not working. I cannot blame Ilhan for that at all. I still think that lifts might be our greatest strength even though we have other beautiful elements, I think, and there is nothing to be ashamed about. I'm proud of Ilhan, he did a great job through our years of training. It wasn't easy for me or for him. We're just going to keep on working, and we're going to prove that we deserve to compete and to get to some high level competitions.
What were your thoughts and emotions when you finished your long program? You looked a bit pissed.
Olga+Ilhan: We were, of course we were!
Ilhan: As we said, we know that we could do better. In the lift you have to have perfect timing to be able to lift up the girl, but we didn't have it this time. Oli jumped too soon and she hit me. Whatever, it can happen. But to fall in the spin entrance, that was pissing me off the most. If I had been flying out from the spin it would be okay, but not before entering! But it happened. Actually, I had already felt Oli's stress during the warm up.
Olga: Noooooo!
Ilhan: I thought to myself: maybe we shouldn't skate today at all. She was really nervous, even more than me. Her nervousness reflected on me, and I felt it throughout the whole program.
Olga: The beginning started kind of nicely. I calmed down after the throw. During the warm up we popped all the throw double loops. I had just got my triple throw loop very shortly before we got to Oberstdorf. We were never really focusing on doing it in a program. They said: "Oli, it's up to you, if you feel okay with the double in the warm up then we might go for a triple." But after the warm up this was not an option. When I did the double, I was like: okay, breathe out. Then we got to the lift and from that lift things started to get worse. That middle part was just a mess. In the last part, even though everything could have been better, nicer, higher level, we at least accomplished the elements. But the middle part… I would like to skate that again, at least to get the basics!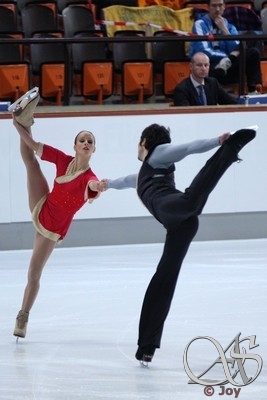 Did you feel the sympathy of the audience during the program?
Ilhan: Yes! When we didn't get the lift up people cheered even more, they tried to motivate us, and then right after that I fell from the spin entrance. I guess the audience gave up as well.
Olga: No, they didn't! They kept on clapping and cheering. That's a great thing.
Ilhan: We paid the price for a first competition. We had to gain experience, to see how we would work under pressure, under competition circumstances.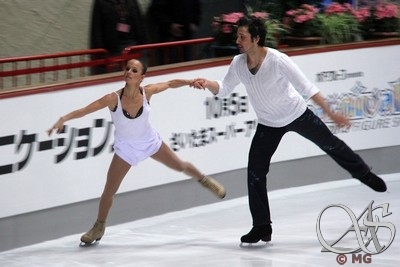 Olga: Another good thing is that we gained respect, even from the other skaters. I had never met most of the skaters that are here, but they were coming up to us saying, "Guys, good job, hats off." I think this is important. At the beginning of this story people were thinking that Ilhan was going to kill me on the lifts, that it's just a joke, and they asked me: "why are you doing this, are you crazy, Oli, you can have any partner, you can skate at shows…" But sometimes you have to choose the more difficult path, break through a wall and leave a message.
How did you deal with the people who didn't believe in you?
Olga: We used their negative energy for our positive energy. Every time somebody tells me: "This is not going to work", I'd reply: "Just wait and watch it work." But it was definitely not easy.
Ilhan: I have the same experience from soccer. When you play at home your own fans are cheering for you, and you can use their energy on the pitch. When you play away games and the whole audience is against you I always used it for extra power or extra motivation. I was pretty used to it. I got it every second week! And you cannot blame those people. If some former skater had said to me: "I want to be a soccer player in three years", I would have reacted the same way.
How did your football fans react when they learned about your skating career?
Ilhan: They didn't understand. They wanted me to be more involved in the soccer business, coaching or playing or managing. But when I was playing soccer I always told myself I wanted to learn some other sport when I was done with soccer. Of course, I wasn't thinking about figure skating! (laughs)
Olga: And I always wanted to do something different, something big, that nobody had ever done before. But I also wasn't thinking about skating with a soccer player! And it happened somehow. (laughs)
Ilhan: It's kind of destiny. I enjoyed our first competition even though we were not able to perform our best, but I guess nobody is able to perform their best straight away. Now we have extra motivation to work more, to see what we get wrong and what we can do to improve. We worked for three years, so we can easily work one or two years more.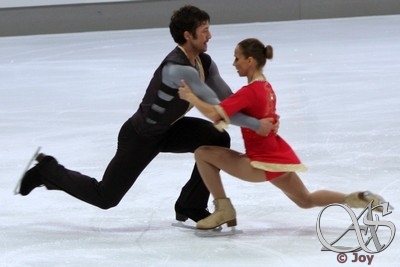 So you plan to continue? Right after the long program in Oberstdorf you said you'd go to Bratislava, because it's Olga's home town, and then you'd see if you wanted to keep going.
Ilhan: We will continue; I want to improve! I don't want to finish after just one or two competitions. There is still a lot of work to do. Before we came to Oberstdorf I was working on some triple jumps on the harness. We want to do the elements better, to have better jumps, better skating.
It seems, Ilhan, that you enjoy figure skating! It seems that you like the challenge of it.
Ilhan: Sure! I am competitive!
Olga: I recommend you spend a week with us and you will see that it's not always so easy. (laughs)
Ilhan: I am competitive, and of course our first competition wasn't the best, so I want to prove I can do better. We can do better.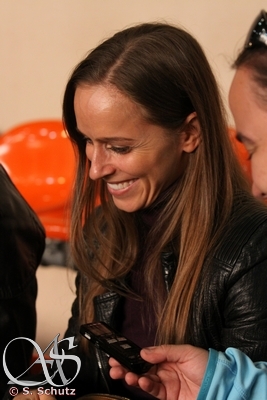 Olga: Yes, we can do better!
Olga, you said after the short program that you asked yourself the question: "What I am doing here?"
Olga: I still have that question. Eight years without competing is such a long period of time.
Ilhan: The people Oli was skating with are coaching right now!
Olga: I don't know nearly any of the skaters. So sometimes that's why I ask myself: "Why are you here?"
Ilhan: Well, I can easily get another partner! Younger, more flexible…
Olga: It was me who struggled with you through this whole crap! I'm not giving up! And I'm not going anywhere!
So you don't regret your decision to go with this crazy plan even though you didn't qualify for the Olympics?
Ilhan: We knew it wouldn't be easy. It wouldn't be the Olympics if it was easy to qualify. It was hard work, determination, and sacrifice. We tried, we failed, but we said that if we didn't qualify for the Olympics, we would try to qualify at least for Europeans, or even for Worlds. That's our next goal, we will keep on working. Yesterday I told Oli: "we spent a lot of time, a lot of work, a lot of money, and we didn't make it. But honestly, I don't regret the decision."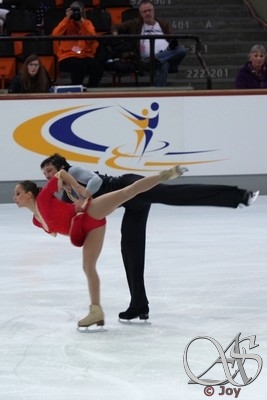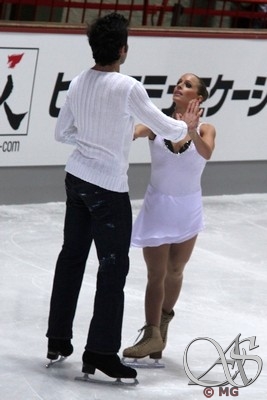 Where did you get the money for this project?
Ilhan: It's from my savings. In the beginning if we would ask somebody to support us as a sponsor they wouldn't believe in us. First we had to prove that we have some possibility for success. This competition was a good opportunity. It's over, but we think that something might come up. We talked about the support with our federation and they see the potential of the story. But so far I financed it all on my own.
Olga: And it was not a small sum of money. I know from my experience as a kid that my mother paid so much money for me and my brother to skate, and now it's even more. It's a very expensive sport if you want to do things right. We have to treat our bodies a little more carefully; it's not only about getting the ice time and paying the coach. It's so many other things.
Haven't you received any offers from movie directors or writers? This is a story for a Hollywood movie!
Olga: There are not many people as crazy as we are. Ilhan had to invest so much money in it, but there are not many people who would do the same, who would say: "Hey guys, let's do this, I will invest the money and let's see what comes out of it." There were minor things that came up, but they never came to fruition. We will see what happens in this case.
Ilhan: This whole story is about the message to encourage people to chase their dreams, to believe in it, to work for it and to achieve it. And to not give up because of reasons such as lacking the skills for it. When I started to play soccer I was fourteen years old, which is pretty late. I guess many of my coaches were saying: "You don't have the talent, you won't make it." They were trying to help other kids more, because they had more ability than me. But I was always a hard worker. If something didn't work, I tried to find my weak spots and work on them. In the end hard work beats talent if talent doesn't work. You can reach your goals by working hard. This is the message of our story. It doesn't matter what the conditions are, how old you are, how far away your goals are from you – if you work and you believe, you can reach them.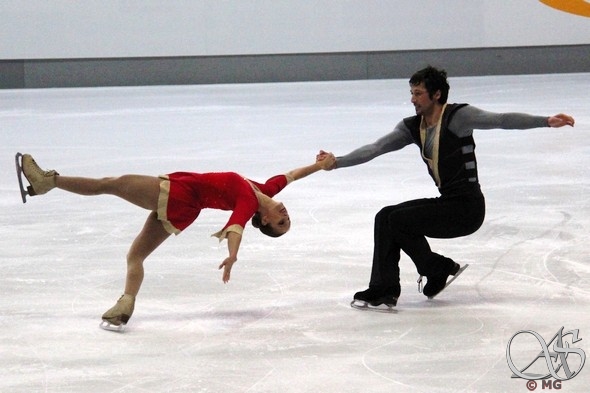 P. S. When the interview took place, Olga and Ilhan planned to compete in Zagreb at the Golden Spin. However, a few weeks later they realized they needed a break. In the German and Slovak press there appeared news citing their coach Knut Schubert who said they were ending their career. Olga contradicted this news, clarifying that they are just taking a break.
She also explained it to Absolute Skating: "So far we've been working hard without a break. We couldn't afford to have a few weeks off like the other pairs do after the season, because Ilhan still had a lot to learn. The hard work has affected our bodies and it was also tough mentally. We realized that we needed a break. We are not quitting, and if we did so we wouldn't announce it through a coach. We will still continue with off-ice training, running, cycling. We want to get ready for the next season. I think we are on a good path. In the short program we earned the technical minimum for Europeans and success with the long program is just a matter of experience. What made us angry was the statement of the coach who said we retired because we couldn't match the other pairs. This is absolutely not true, our story was never about being compared with the others, but about chasing our dreams."