Sparkling Madison, elegant Evan
November 2, 2013
By Ia Remmel (Pia)
Photos © Eva Maria Jangbro (EMJO), Ia Remmel, Keiko Kasai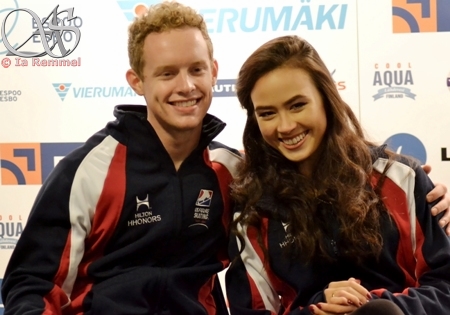 They haven't always worked together, AmericansMadison Chock and Evan Bates. However, in 2011 they came together and formed a team that immediately started adding their own page to the colourful album of ice dance.
I saw them for the first time at the 2011 Finlandia Trophy and loved their skating. Madison wore a flowing violet dress, and Evan appeared so chivalrous. Their free dance was created around Chopin's "Prelude in E Minor". The piece was an interesting music choice for ice dance and later it transformed into a "jazzy" Chopin. They were not quite ready yet for the ice dance elite, but they already had their distinct personality. The 2012/2013 season was very good  for them as they charmed the audience with their virtuoso, flying "Doctor Zhivago" program and witty "Cirque du Soleil" short dance.
This year I was again very excited to see them at the Finlandia Trophy. Their programs this season turned out to be very captivating; inventive, complicated and full of fine details. At the Finlandia Trophy the ice dance competition has always been scheduled late. Despite that, Madison and Evan found a moment to share some thoughts about their programs and their work with coach Igor Shpilband.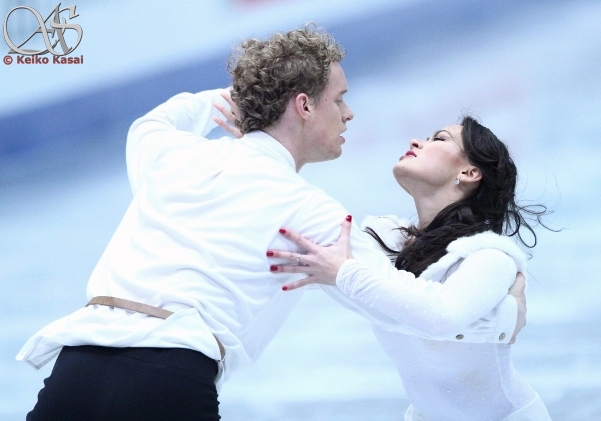 It's always a hard task to choose music for new programs and even harder to choose music themes for a demanding Olympic season. How did you make the choices?
Madison: Well, I think the free dance was a little bit easier for us to choose. We had already picked the music from "Les Misérables", and were then prepared enough to announce it at our last competition, which was the World Team Trophy. For sure that was very beneficial for us. It took a little more time to find the music for the short dance, there were so many choices and we wanted a different program. Last year our "Cirque du Soleil" short dance was very well received because it seemed different and interesting and we wanted something along those lines. We wanted something that would be very entertaining to the audience (their short dance is Quickstep-Foxtrot-Charleston).

It seems to be a little bit in 1920s–1930s style. Your costumes, especially your dress, also indicates that. Did you choose the style yourself?
Madison: Yes, it was my choice. I wanted this style and the dress as golden as it is. I mean – I get inspired by anything and everything, and I just happened to find this fabric, this gold, loved it and built the dress idea around it.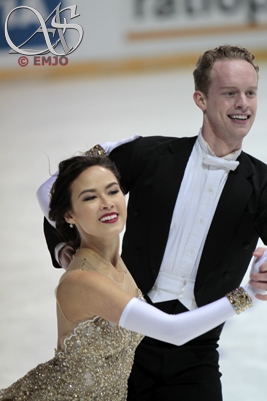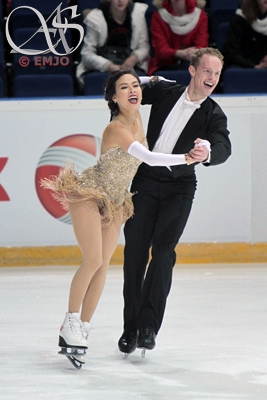 As you said, "Les Misérables" for your free dance was an early and firm choice. Was it your coach's suggestion or did you want to skate to this music yourselves?
Evan: It definitely was our own choice.
Madison: Igor is certanly influential in our decisions of picking music, but he saw how much we loved this music and how much we connected with it, so he just let us go for it.

Who are you portraying in your "Les Misérables" program?
Madison: We are playing Marius and Cosette, young lovers in the middle of the French revolution whirl. The theme is a bit similar to our "Doctor Zhivago" program.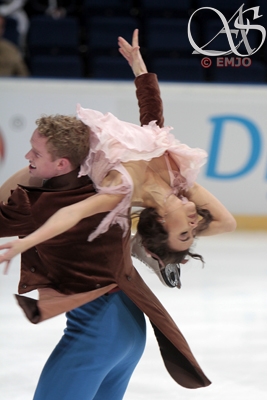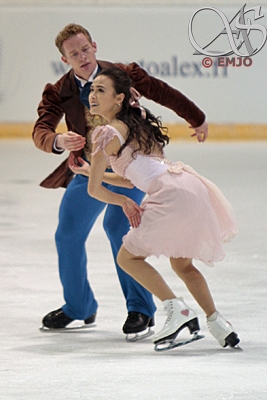 You had a very successful last season with "Doctor Zhivago", it was also your first full season with Igor Shpilband. How does it feel to work with him? I mean – you worked with him before, but how does it feel to completely be his team?
Madison: We have a fantastic relationship with Igor. He is amazing, he is such a genius as a coach, and as a person he is also so nice. We just love the relationship we have and it has grown so much stronger over the past few years.

Was there any area in which he started working extra hard, or something he wanted to change or fix?
Madison: I do not recall anything in particular...
Evan: It's our third year together and we feel more comfortable than ever. If I could bring up only one thing, it would be that he told us how to become tougher and stronger, and be able to perform well under any circumstance. Each competition is different and situations are different. Here in Finland we had to do things we've never done before, but we handled it well.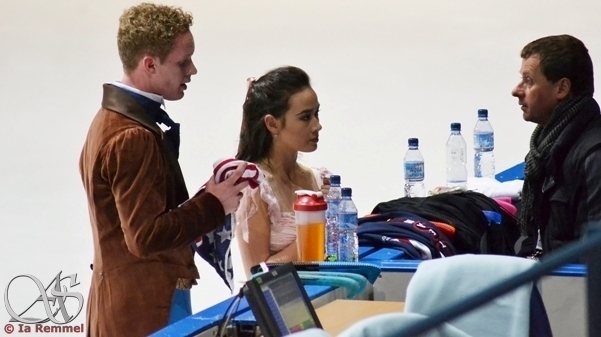 How do you feel after this competition; which elements do you have to polish?
Madison: Probably everything, overall we'll keep training.

What about twizzles?
Evan: Well, my twizzles – they definitely need to be worked on more. (Both laugh – Evan made a mistake in the twizzles in their short dance.)
Madison: Twizzles are usually a good element for us, but we have to go back and train and train to be more consistent. And we keep working on our lifts. Before we came here we made some quick changes on a couple of lifts, but we will change them back when we get home.
Which skaters are an inspiration for you and who do you look up to?
Madison: Obviously Tessa and Scott (Virtue/Moir, Canada) and obviously Meryl and Charlie (Davis/White, USA). They are amazing and I feel so fortunate that I got to train with them. I was with them for a long time with my previous partner Greg Zuerlein and it was amazing to train with such fantastic athletes. They are so positive, so motivated; it was a really nice experience.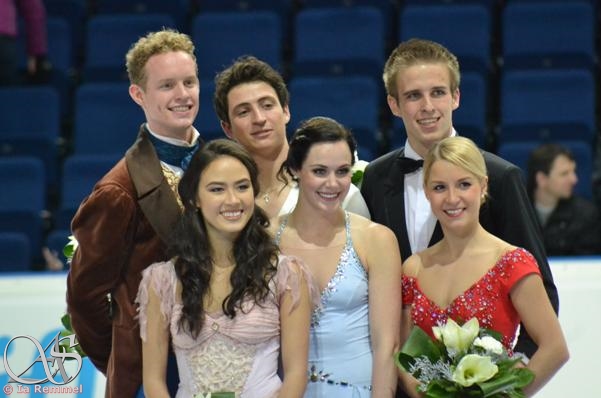 That's great to hear! Is someone from the past your source of inspiration as well?
Evan: We really like Marina Klimova and Sergei Ponomarenko (Soviet Union ice dancers, 1992 Olympic champions).

What off ice activities do you enjoy?
Madison: We don't have much spare time, skating does take up a lot of our time. Even during the summer we skated. (Both laugh.)
Evan: I go to school and I'm actually enjoying the break from skating while at school.

Which school are you attending?
Evan: I'm attending the University of Michigan.
Madison: I coach a lot after my skating sessions. I love coaching, it really gives you a very different perspective of how things are; coaching as opposed to being a student. I have to say, Igor has a tough job!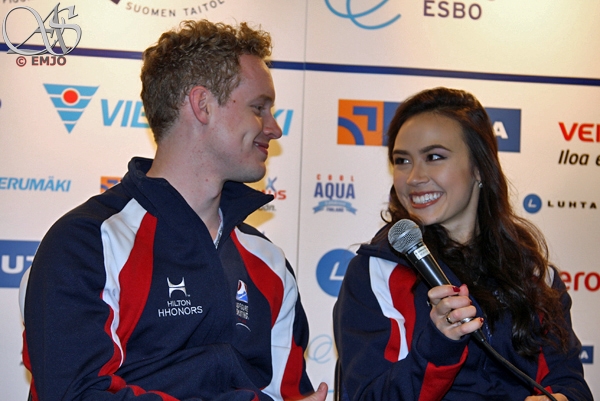 This weekend they are competing at the Cup of China. We already enjoyed their 20–30ies "chic" Short Dance, with which they ended up in the third place. Today they will skate the Free Dance, their touching story of Cosette and Marius. Fingers crossed for the twizzles!