Elizaveta Ukolova: "The most important thing is to enjoy what I'm doing"
December 13, 2013
By Titanilla Bőd
Photos © Eva Maria Jangbro (EMJO), Mireille Geurts & Joy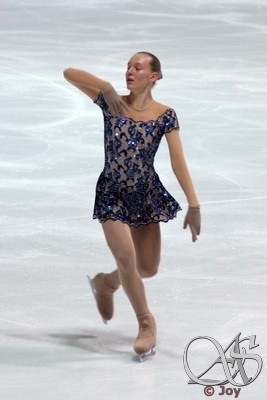 Fifteen-year-old Elizaveta Ukolova from the Czech Republic placed 10th in Oberstdorf at the Nebelhorn Trophy. In the reduced ranking (counting only the countries who hadn't earned an Olympic spot already) she was 5th so she earned one of the six spots for the Winter Olympic Games. She was a real professional on the ice, concentrating on every element and she also stayed serious in the mixed zone. She seemed very down-to-earth and focused when she answered the questions of Absolute Skating.
How would you comment on your performance in Oberstdorf?
The short program was good, the long program could have been better, and some jumps could have had better quality. But overall I am satisfied.
Were you nervous before the competition?
Not really. It was my first senior competition, so I had nothing to lose; it was more like a test for me.
How were you chosen for this competition?
In August we had an internal competition in the Czech Republic which I won, so they sent me to fight for the Olympic spot.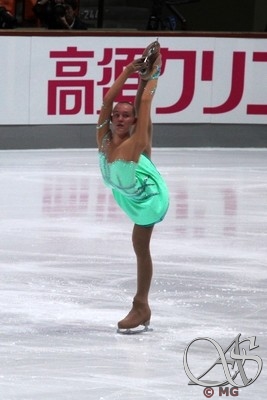 Were you aware of the fact that there is a lot at stake or did you try to block such thoughts?
I didn't really think about that. I concentrated on my programs.
What are the main differences between the senior and the junior circuit?
The level is much higher, and the other competitors are already grown-up women! Miki Ando has a daughter, for example. It is very interesting.
Do you have any skaters you admire?
Yes, of course. It changes year by year, but my favourites are Yuna Kim and Carolina Kostner. But I look up to all older skaters.
How did you start skating?
I often went to public skating sessions with my family, and I liked it so much that I started to attend courses and since then I've kept skating.
What are your plans with this sport?
I want to skate as long as possible. The most important thing is to have fun on the ice and I hope to avoid injuries.
Aren't you dreaming about the Olympics? You have just earned a spot for Sochi!
Well, for me the most important thing is really to enjoy what I'm doing.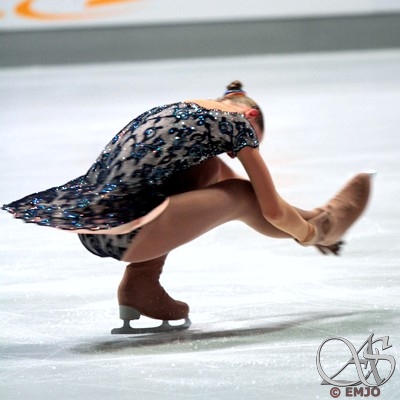 You have a Russian name and you were born in Kirov, Russia. Tell me something about your roots.
My parents moved to the Czech Republic when I was two years old. I don't really know anybody in Russia; I was brought up in the Czech Republic so it is my home. I don't even speak Russian fluently.
What do you like about figure skating?
I like that it changes every year. The rules change a little bit each season, so you have to have new ideas all the time. It's not like football where you just kick the ball again and again.
You probably only have memories of the 6.0 system from TV. What do you think about the current judging system?
I think this system is much more fair so I like it much better.
You train in Oberstdorf. How often do you travel there and how do you like it?
One week of every month I spend in Oberstdorf. I love it, the atmosphere is great and there are brilliant coaches with lots of experience there. The town itself is beautiful, with the marvelous mountains and fresh air. When I'm at home in Prague, I normally go to school; sometimes I spend eight hours there. But I enjoy school very much, too.
Since this interview was taken, Elizaveta competed in the Junior Grand Prix in Czech, where she became 12th, she grabbed a bronze medal at the Warsaw Cup, and was 5th at the NRW Trophy. It was a pleasure to get to know her better, and we hope she will do well at the Czech Nationals, which will take place next week.